The parasite clearance curve
Malaria Journal
2011
10:278
Received: 15 July 2011
Accepted: 22 September 2011
Published: 22 September 2011
Abstract
Parasite clearance rates are important measures of anti-malarial drug efficacy. They are particularly important in the assessment of artemisinin resistance. The slope of the log-linear segment in the middle of the parasite clearance curve has the least inter-individual variance and is the focus of therapeutic assessment. The factors affecting parasite clearance are reviewed. Methods of presentation and the approaches to analysis are discussed.
Keywords
MalariaFalciparum MalariaSevere MalariaParasite DensityArtesunate
Introduction
The objective of anti-malarial treatment is to cure the patient. A decline in malaria parasitaemia is essential for recovery from symptomatic malaria. Effective anti-malarial drugs given in the correct doses result a rapid decline in parasite densities. The parasite clearance time is the most frequently quoted measure of therapeutic response but it is an imprecise measure dependent on the pre-treatment parasitaemia. Most anti-malarials produce fractional reductions (parasite reduction ratios; PRR) in parasitaemia of between 100 and 10,000 per asexual cycle [
1
]. The graphic plot of the parasite densities that follow the start of anti-malarial treatment is commonly termed the parasite clearance curve (Figure
1
). It is an important measure of the therapeutic response, particularly in assessing the artemisinin derivatives, which accelerate ring stage clearance. The factors which affect the parasite clearance curve are discussed and suggestions for presentation, analysis and interpretation are provided. Many of these factors interact with each other, and several are general issues related to parasite counting.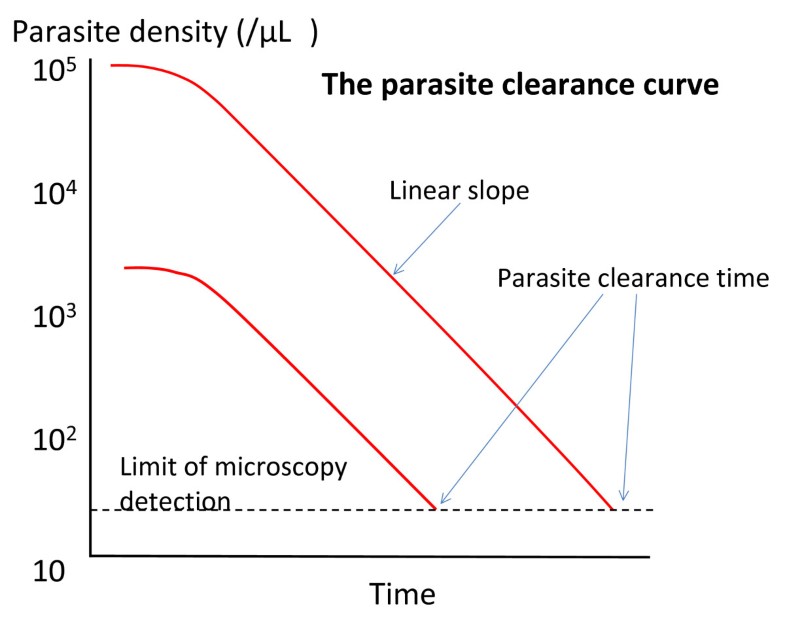 Factors affecting the parasite clearance curve
Presentation of data
Parasite clearance curves may be presented either as raw data (Figure
5
), or summarized in a number of ways. The simplest is as mean and standard deviation values on a log scale, which shows the range of parasite densities but may obscure the contributions of stage specificity and sequestration. Normalization is justified if clearance rates are independent of densities (i.e first order kinetics and not Michaelis-Menten kinetics) (Figure
6
). They generally are. However, high parasite densities are more likely in patients with little background immunity, so in studies conducted in areas of high transmission, a high parasitaemia may be cleared more slowly than a low parasitaemia simply because the patient lacks effective immunity against the particular infecting parasites, independent of any drug effects, but in areas of low transmission, where background immunity is lower, there is no evidence that parasite clearance within the range normally encountered in clinical trials is "capacity limited" (i.e. is saturable). Thus, in a series of patients normalization of parasite densities adjusts for their variance and is a valid approach. An alternative approach, which gives very little information about the initial changes in parasitaemia and therefore stage specificity of drug action, is to present the cumulative proportion of patients who are aparasitaemic by time (Figure
3
)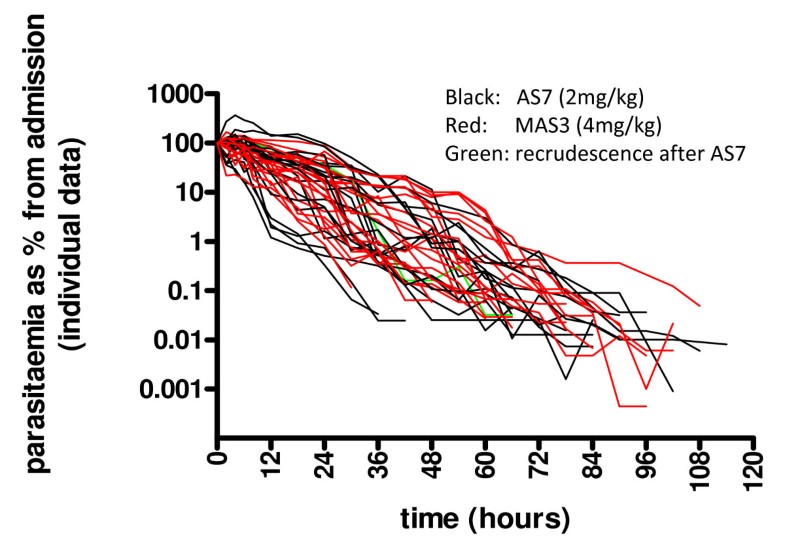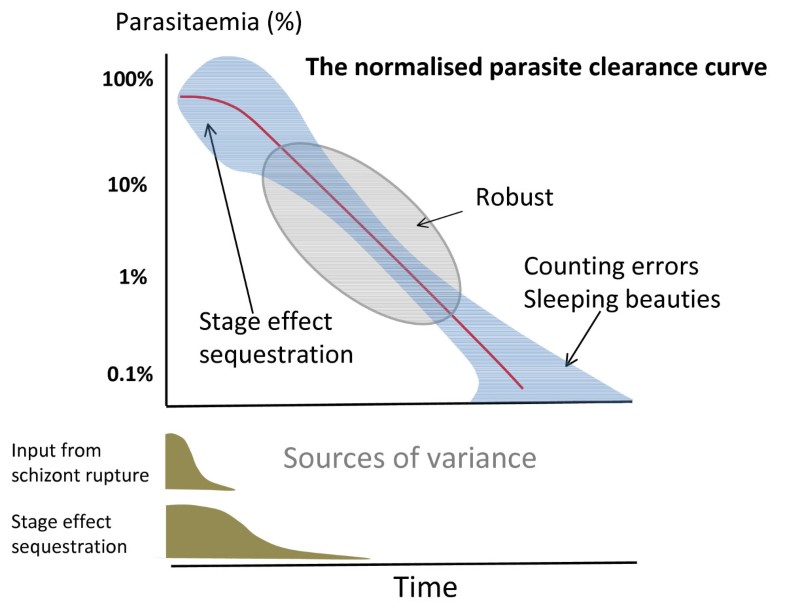 Analysis of data
Parasite clearance is usually analysed to assess the suitability of new treatments or to investigate changes in anti-malarial drug susceptibility. It is the drug effect (pharmacodynamics; PD) that is of primary interest, so the analysis attempts to account for the other confounders, which are drug-independent. Drug exposure (pharmacokinetics; PK) should also be assessed to determine how much of the observed variance in parasite clearance can be accounted for by inadequate drug exposure. PK-PD relationships for anti-malarial drugs are still poorly characterized, and most reported anti-malarial drug trials do not have a PK component, often leaving their interpretation uncertain. Parasite clearance has been expressed in a number of ways. The parasite clearance time (PCT) is most widely used, but this is a function of the pre-treatment parasite count (Figure 1), and it is critically dependent on the accuracy of microscopy and the frequency with which blood slides are taken. Any stage specificity of drug action is not reflected in this variable as PCTs are typically between 1 and 3 days. This may not matter in uncomplicated malaria but in infections with high parasitaemia and in severe malaria the speed of initial response is the critical determinant of outcome. The times taken for parasitaemia to fall by 50% (PC50) and 90% (PC90) have been used as alternatives, which are less affected by these covariates, but still require extrapolation from clearance curves [3]. The slope of the linear segment of the log parasitaemia versus time curve is a relatively robust variable as it is determined from a best fit to several data points well within the countable range, although it does not reflect fully stage specificity of drug action. The slope can be determined visually, using least squares regression, or by modelling. It remains to be decided what should be the criteria for defining the top of the slope (i.e. maximum value, or intersection of linear fit to the initial plateau, or modelled fit), and for the lowest densities that should be included at the tail of the curve [29].
Thresholds
As parasite clearance is a function of host, parasite, and drug factors [
1
,
44
] there will always be considerable inter-individual variability in parasite clearance curves. In the wake of the discovery of artemisinin resistance in
P. falciparum
there has been considerable interest in devising threshold values for in-vivo monitoring studies, which could "rule-out" or "rule in" artemisinin resistance. Based on the largest available data set of in-vivo parasitological responses the malaria blood smear on Day 3 (72 hours) proved a good predictor of subsequent treatment failure and provides a simple screening measure for artemisinin resistance [
45
] (Figure
7
). It was concluded that if "n" patients with parasitemias < 100,000/μl are given a currently recommended three day ACT the number with a positive day 3 smear should not exceed (n+36)/24; artemisinin resistance was considered highly unlikely if this proportion was less than 3%. The inclusion of a day 3 parasite count in routine studies provides a method for ruling out artemisinin resistance with a defined precision. Unfortunately, this has been misinterpreted to mean that if day 3 thresholds are exceeded then artemisinin resistance is present. It does not. It indicates the need for further study to characterize parasite clearance more accurately at the study location. In other words, the threshold "rules out" but it does not "rule in" artemisinin resistance. The day 3 value is also critically dependent upon precise timing of the samples - it should be a 72-hour value. Sometimes patients are treated in the afternoon and seen for follow-up in the mornings -in which case "day 3" is < 72 hours. Sometimes inclusive reckoning is practiced in which treatment starts on day 1, in which case day 3 is 48 hours not 72 hours.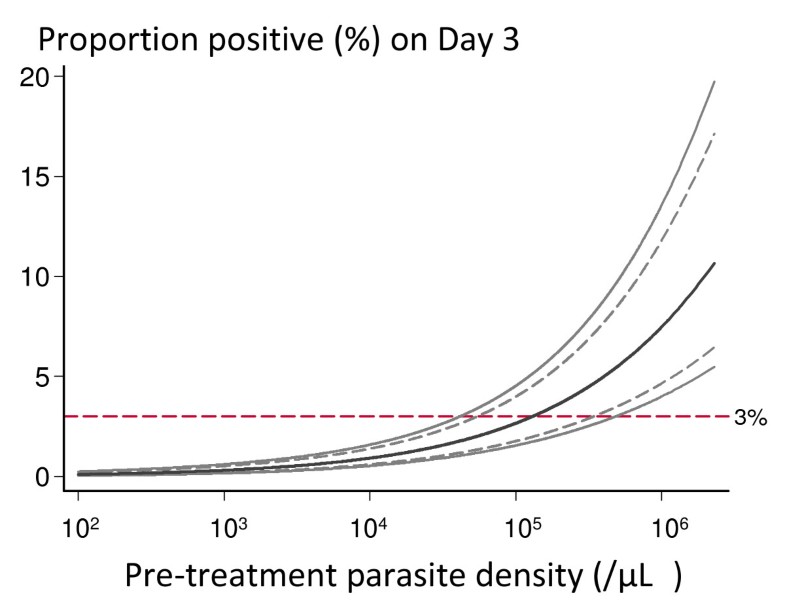 Conclusion
The parasite clearance time is a useful measure of anti-malarial drug effect but it is imprecise and depends upon the initial parasitaemia. More detailed assessment of the parasite clearance curve is needed to assess in-vivo responses to the artemisinin derivatives. Research is in progress to define the optimum methods and threshold values, which identify artemisinin resistance. Standardization of methodologies for the assessment of anti-malarial drug resistance is a primary objective of the WorldWide Antimalarial Resistance Network (WWARN) and a WWARN "parasite clearance estimator" providing a standard method of analysing parasite clearance data is now available as a freely accessible on-line tool [46]. This should facilitate comparison of in-vivo studies and help map the emergence and spread of resistance.
Declarations
Acknowledgements
I am very grateful for advice from my colleagues in the Mahidol Oxford Research Unit. I am a Wellcome Trust Principal Fellow.
Authors' Affiliations
(1)
Mahidol-Oxford Tropical Medicine Research Unit, Faculty of Tropical Medicine, Mahidol University, Bangkok, Thailand
(2)
Centre for Tropical Medicine, Churchill Hospital, Oxford University, Oxford, UK
Copyright
© White; licensee BioMed Central Ltd. 2011
This article is published under license to BioMed Central Ltd. This is an Open Access article distributed under the terms of the Creative Commons Attribution License (http://creativecommons.org/licenses/by/2.0), which permits unrestricted use, distribution, and reproduction in any medium, provided the original work is properly cited.