The anaemia of Plasmodium vivax malaria
Malaria Journal
2012
11:135
Received: 19 February 2012
Accepted: 17 April 2012
Published: 27 April 2012
Abstract
Plasmodium vivax threatens nearly half the world's population and is a significant impediment to achievement of the millennium development goals. It is an important, but incompletely understood, cause of anaemia. This review synthesizes current evidence on the epidemiology, pathogenesis, treatment and consequences of vivax-associated anaemia. Young children are at high risk of clinically significant and potentially severe vivax-associated anaemia, particularly in countries where transmission is intense and relapses are frequent. Despite reaching lower densities than Plasmodium falciparum, Plasmodium vivax causes similar absolute reduction in red blood cell mass because it results in proportionately greater removal of uninfected red blood cells. Severe vivax anaemia is associated with substantial indirect mortality and morbidity through impaired resilience to co-morbidities, obstetric complications and requirement for blood transfusion. Anaemia can be averted by early and effective anti-malarial treatment.
Keywords
Plasmodium vivax
Malaria
Anaemia
Epidemiology
Pathogenesis
Background
Plasmodium vivax threatens approximately 2.8 billion people globally and, because of its particular biological characteristics, will be more difficult to eradicate than Plasmodium falciparum[1–9]. Over recent years, case series [10–13], surveillance studies [14–17] and reviews [4, 18–24] have linked vivax malaria with a number of severe manifestations similar to those found in P. falciparum infection; observations that challenge the notion that vivax malaria is a benign disease. The causative role of P. vivax in some of these severe manifestations remains to be proven and many are sufficiently rare that they are unlikely to represent significant public health problems. Anaemia, on the other hand, is a common and frequently severe consequence of vivax infection [14–16, 25–27]. This review explores the epidemiology, pathophysiological mechanisms, relationship to transmission dynamics and consequences of anaemia caused by vivax malaria (highlighting similarities and differences as compared with P. falciparum). The impact of anti-malarial treatment on haematological recovery is also described.
Conclusions
Haematological morbidity associated with P. vivax infection is greatest in young children, especially in tropical countries such as Papua New Guinea and Eastern Indonesia where transmission is intense and local parasite strains relapse very frequently. In these regions, vivax malaria is commonly associated with severe anaemia both in the health care and community setting. The haematological effects of vivax malaria are likely to have complex interactions with gastrointestinal helminth infection, haemoglobin and red blood cell abnormalities and malnutrition.
Removal of uninfected red blood cells is a particularly important mechanism of anaemia in acute vivax malaria.
Plasmodium vivax-
infected red blood cells are minimally adherent and are more deformable than
P. falciparum-
infected erythrocytes resulting in relatively little red blood cell sequestration in the microvasculature and marrow sinuses and passage of a greater proportion of red cells through the spleen and other reticuloendothelial organs. The role of the spleen in the pathogenesis of vivax anaemia, particularly the removal of uninfected red blood cells, is an important area for future research (Figure
3
).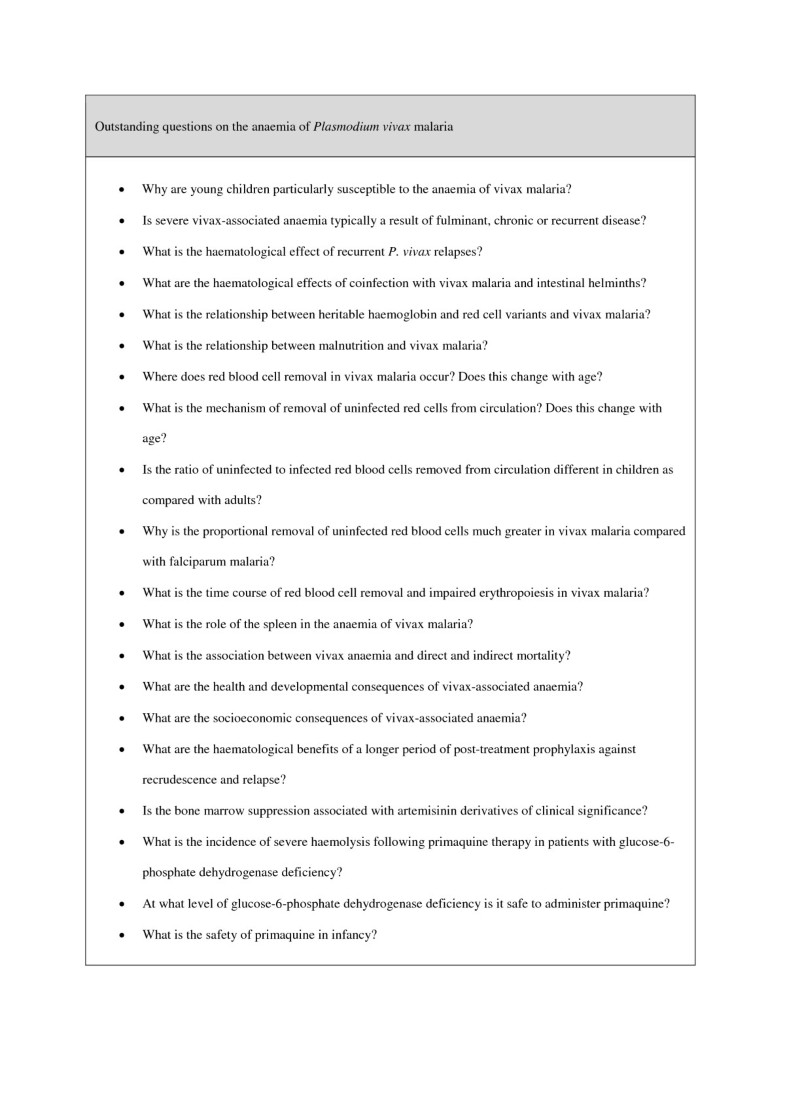 As the global control and elimination of malaria progresses, P. vivax is set to become the dominant Plasmodium species [4, 203], yet the health, developmental and socioeconomic consequences of vivax malaria and vivax–associated anaemia have received very little attention. Severe vivax anaemia may cause significant morbidity and indirect mortality via association with impaired resilience to infectious and non-infectious comorbidities, obstetric complications and requirement for blood transfusion (with attendant risk of blood-borne pathogen transmission). Early treatment with an efficacious blood schizontocide can reduce the initial fall in haemoglobin associated with vivax infection and thus help to prevent adverse outcomes associated with severe anaemia. Reliable prevention of recurrent haematological insults caused by relapses will require hypnozoitocidal therapy. Primaquine is the only licensed hypnozoitocidal agent available and can exacerbate haemolysis in individuals with G6PD deficiency. Policymakers need to weigh the potential benefits of this drug against the risks based on the local prevalence of this enzymopathy as well as the availability of G6PD testing. Vivax-associated anaemia is an important public health concern that underscores the importance of reducing global transmission of P. vivax.
Declarations
Acknowledgements
NMD received funding from the Rhodes Trust. NMA and TWY are supported by National Health and Medical Research Council Practitioner Fellowships. NJW is a Wellcome Trust Principal Research Fellow and RNP is a Wellcome Trust Senior Research Fellow in Clinical Science.
Authors' Affiliations
(1)
Global Health Division, Menzies School of Health Research, Casuarina, Australia
(2)
Centre for Tropical Medicine, Nuffield Department of Clinical Medicine, University of Oxford, Oxford, UK
(3)
Division of Medicine, Royal Darwin Hospital, Darwin, Australia
(4)
INSERM - UPMC, (Paris 6 University) UMRs945, Paris, France
(5)
Department of Parasitology, Pitié-Salpétrière Hospital, Assistance Publique – Hôpitaux de Paris, Paris, France
(6)
Institut Pasteur, Unité d'Immunologie Moléculaire des Parasites, Département de Parasitologie Mycologie, Paris, France
(7)
Mimika District Health Authority, Timika, Indonesia
(8)
Papuan Health and Community Development Foundation, Timika, Indonesia
(9)
Faculty of Tropical Medicine, Mahidol University, Bangkok, Thailand
Copyright
© Douglas et al.; licensee BioMed Central Ltd. 2012
This article is published under license to BioMed Central Ltd. This is an Open Access article distributed under the terms of the Creative Commons Attribution License (http://creativecommons.org/licenses/by/2.0), which permits unrestricted use, distribution, and reproduction in any medium, provided the original work is properly cited.