The evolutionary host switches of Polychromophilus: a multi-gene phylogeny of the bat malaria genus suggests a second invasion of mammals by a haemosporidian parasite
Received: 21 November 2011
Accepted: 22 February 2012
Published: 22 February 2012
Abstract
Background
The majority of Haemosporida species infect birds or reptiles, but many important genera, including Plasmodium, infect mammals. Dipteran vectors shared by avian, reptilian and mammalian Haemosporida, suggest multiple invasions of Mammalia during haemosporidian evolution; yet, phylogenetic analyses have detected only a single invasion event. Until now, several important mammal-infecting genera have been absent in these analyses. This study focuses on the evolutionary origin of Polychromophilus, a unique malaria genus that only infects bats (Microchiroptera) and is transmitted by bat flies (Nycteribiidae).
Methods
Two species of Polychromophilus were obtained from wild bats caught in Switzerland. These were molecularly characterized using four genes (asl, clpc, coI, cytb) from the three different genomes (nucleus, apicoplast, mitochondrion). These data were then combined with data of 60 taxa of Haemosporida available in GenBank. Bayesian inference, maximum likelihood and a range of rooting methods were used to test specific hypotheses concerning the phylogenetic relationships between Polychromophilus and the other haemosporidian genera.
Results
The Polychromophilus melanipherus and Polychromophilus murinus samples show genetically distinct patterns and group according to species. The Bayesian tree topology suggests that the monophyletic clade of Polychromophilus falls within the avian/saurian clade of Plasmodium and directed hypothesis testing confirms the Plasmodium origin.
Conclusion
Polychromophilus' ancestor was most likely a bird- or reptile-infecting Plasmodium before it switched to bats. The invasion of mammals as hosts has, therefore, not been a unique event in the evolutionary history of Haemosporida, despite the suspected costs of adapting to a new host. This was, moreover, accompanied by a switch in dipteran host.
Keywords
Polychromophilus MalariaHaemosporidaChiroptera Plasmodium Host switchPhylogenetic analysisOutgroup selection
Background
Five genera belonging to the order of Haemosporida (Apicomplexa) are known to infect mammals: Plasmodium, Hepatocystis, Polychromophilus, Nycteria and Rayella[1, 2]. The dipteran vectors of the first three haemosporidian genera are represented by Culicidae (Anopheles spp.), Ceratopogonidae and Nycteribiidae respectively, while the vectors of Nycteria and Rayella are unknown [1, 2]. Culicidae and Ceratopogonidae also act as vectors of the avian and saurian Haemosporida [1, 3]. These shared vectors suggest that haemosporidian parasites might have invaded mammals multiple times during their evolution. On the other hand, the switch to mammals is thought to have been an evolutionary demanding process for the parasite [4] and therefore a rare event [5].
Molecular phylogenetic studies to date have been able to detect only a single host switching event to mammals: mammalian Plasmodium and Hepatocystis, the main mammal-infecting genera, had a common origin and formed a monophyletic sister clade to sauropsid Plasmodium[6, 7]. However, these phylogenetic studies suffer from incomplete taxon sampling with most investigations including, besides the genera Plasmodium and Hepatocystis, only the avian Haemoproteus and Leucocytozoon. Consequently, with no knowledge of the evolutionary origin of the other mammalian haemosporidian groups (i.e. Rayella, Nycteria, Polychromophilus), a second move into mammals cannot be excluded.
One possible approach for resolving this standing question is to select a haemosporidian genus that could potentially have switched to mammal hosts independently of mammalian Plasmodium/Hepatocystis. A good candidate genus for this is Polychromophilus as it is well described, with the majority of its life cycle well documented, including its vector stage. Moreover, it infects mammals but is not transmitted by Culicidae like Plasmodium, nor Ceratopogonidae like Hepatocystis, but by Nycteribiidae (Diptera: Hippoboscoidea). Furthermore, Polychromophilus' vertebrate host species range is restricted to the insectivorous bats (Microchiroptera). A phylogenetic analysis of Polychromophilus can, therefore, elucidate whether it arose through an independent switch to mammal hosts [8].
Only five species of
Polychromophilus
are known to exist. While they can be distinguished by their slight differences in ultrastructure, they are mainly classified based on host-type [
9
,
10
]. Landau et al. [
10
] proposed dividing the genus into two subgenera based on their gametocyte morphology: 1) the subgenus
Polychromophilus
, with
P. (P.) melanipherus
as the type species, which has gametocytes similar to the type 'malariae'; 2) the subgenus
Bioccala
with type species
Polychromophilus (B.) murinus
whose gametocytes resemble the benign tertian parasites of birds and reptiles (see Figure
1
) [
10
]. Later, it was even suggested that the subgenus
Bioccala
be raised to genus level [
11
]; however, this was not reflected in the literature [
12
]. Moreover, the morphological distinctions between the species have been described as 'slight' [
9
] and how well they reflect the genetics of the genus has not been studied.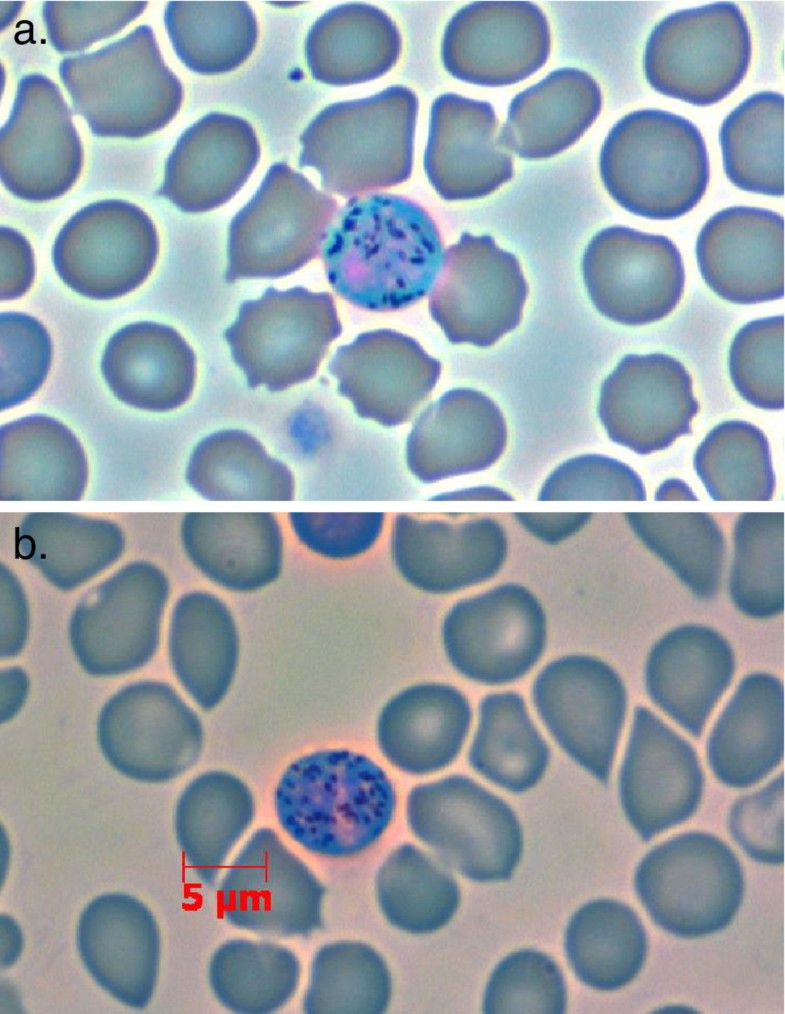 The Nycteribiidae vectors are also known as nycteribids or bat flies. These haematophagous flies are completely adapted to a parasitic lifestyle in the fur of bats in that they have lost their wings, have no or reduced eyes and possess hooking claws which allow them swift movements through the fur [13, 14]. Coradetti [15] was the first to detect sporozoites in their salivary glands and later studies confirmed his finding [12, 16].
When an evolutionary conservation of hosts is assumed,
Polychromophilus
' unique host-vector combination of Mammalia and Nycteribiidae gives rise to two hypotheses on its phylogenetic relationships: 1) it is monophyletic with the mammalian
Plasmodium
/
Hepatocystis
clade with which it shares the vertebrate host type, or 2) it shares its most recent common ancestor with the subgenus
Haemoproteus
(
Haemoproteus
), which has a similar vector. The genus
Haemoproteus
contains two avian subgenera which have different vectors.
H. (Parahaemoproteus)
spp. use biting midges as vectors, and
H. (Haemoproteus)
spp. are transmitted by Hippoboscidae, whose closest relatives are the bat flies [
17
]. A phylogeny based on ultrastructure and life-history traits grouped
Polychromophilus
together with both subgenera of
Haemoproteus
[
8
]. However, two recent molecular phylogenetic studies based on part of the cytochrome b sequence both suggest, despite their different topologies, a close relationship between
Polychromophilus
and sauropsid
Plasmodium
[
18
,
19
]. This fact provides a third hypothesis: 3)
Polychromophilus
is monophyletic with sauropsid
Plasmodium
(see Figure
2
).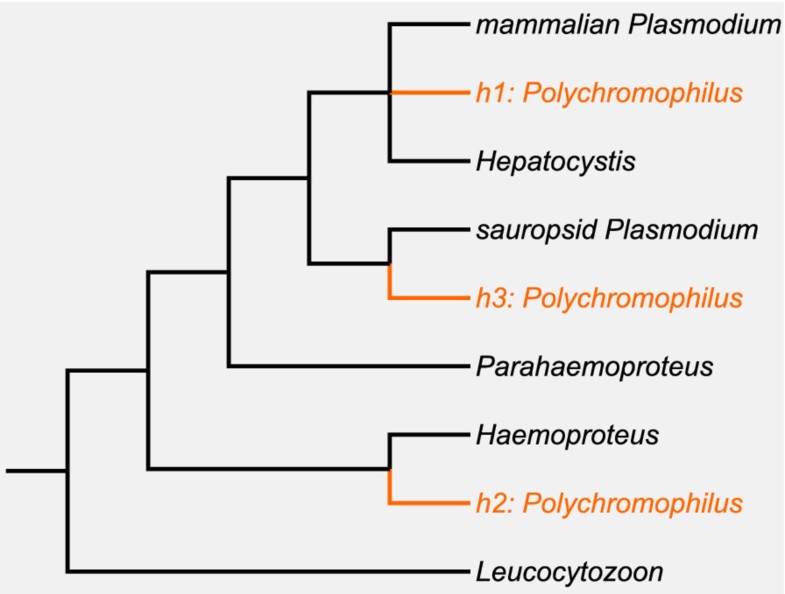 The aim of this study was to test these three hypotheses against each other. Though previous studies on the phylogenetic relationships of Polychromophilus have been done, all used only a single gene. Different genes in a single organism can show different evolutionary patterns and it is, therefore, recommended to use multiple genes for accurate relationship estimation [20]. The four genes from three different genomes sequenced for this study represent two species of Polychromophilus (being the two type species of the two proposed subgenera). These sequences were subsequently combined with an existing dataset of 60 species of Haemosporida to clarify the phylogenetic relationships and gain insight into the evolutionary host switches of Polychromophilus.
Results
The stained slides showed erythrocytes infected with slightly oval-shaped gametocytes (see Figure
1b
). The granular appearance and pinkish staining at the nucleus fit the description of
Polychromophilus melanipherus
as given by Garnham [
1
]. The morphology of the observed gametocytes could therefore be linked to the molecular sequences obtained from the infections (Table
3
).
Table 3
The haplotypes and corresponding accession numbers for GenBank per sequenced sample per gene
| | asl | | clpc | | coI | | cytb | |
| --- | --- | --- | --- | --- | --- | --- | --- | --- |
| ind. | ht. | acc. nb. | ht. | acc. nb. | ht. | acc. nb. | ht. | acc. nb. |
| 104 | Pmu1 | JN990725 | Pmu1 | JN990723 | Pmu1 | JN990718 | Pmu1 | JN990712 |
| 114 | Pmu1 | .. | Pmu2 | JN990724 | - | - | Pmu1 | .. |
| 156 | Pmu1 | .. | Pmu1 | .. | Pmu2 | JN990719 | Pmu2 | JN990713 |
| A2111 | - | | Pme3 | JN990720 | Pme3 | JN990714 | Pme3 | JN990708 |
| A2112 | Pme2 | JN990726 | Pme4 | JN990721 | Pme4 | JN990715 | Pme4 | JN990709 |
| A2113 | - | - | Pme5 | JN990722 | Pme5 | JN990716 | Pme5 | JN990710 |
| A2114 | - | - | - | - | Pme6 | JN990717 | Pme6 | JN990711 |
None of the topologies obtained by independent analyses of the separate genes conflicted with the topology resulting from the concatenated alignment (Kishino-Hasegawa tests: cytb: Δlnl = 2.8, pKH = 0.432, coI: Δlnl = 12.1, pKH = 0.234, clpc: Δlnl = 9.3, pKH = 0.270), except for asl (Δlnl = 81.0, pKH < 0.001). Despite this strong rejection, both the ML and BI trees of asl had only few supported nodes and only closely related pairs were recovered (data not shown). A possible cause of the incongruence detected could be positive selection events in the evolution of the asl nuclear sequence [34]. However, analyses performed with Codeml [33] did not show signs of positive selection on the nuclear gene.
Although the reasons for this DNA region to be rejected by the topology tests are unclear, the length of the asl gene fragment sequenced in this study is very small (186 bp). This could suggest that random errors are responsible for creating the incongruences observed with this gene. Adding other, and especially longer, nuclear genes would certainly bring more information to test if the evolutionary relationships estimated from the different genomes are congruent or if specific gene trees best represent the evolution of each DNA regions. Different cellular genomes often have different evolutionary histories; even within a single genome not all genes show the same phylogenetic relationships [20].
Figure
3
presents the reconstructed phylogenetic trees using the combined data of
cytb, coI
and
clpc
by ML and BI. The analyses produce no conflict on any of the major nodes. All major genera and subgenera are recovered and represented in the phylogenetic tree by separate monophyletic clades, with the exception of the sauropsid
Plasmodium
clade, which contains
Polychromophilus
within it.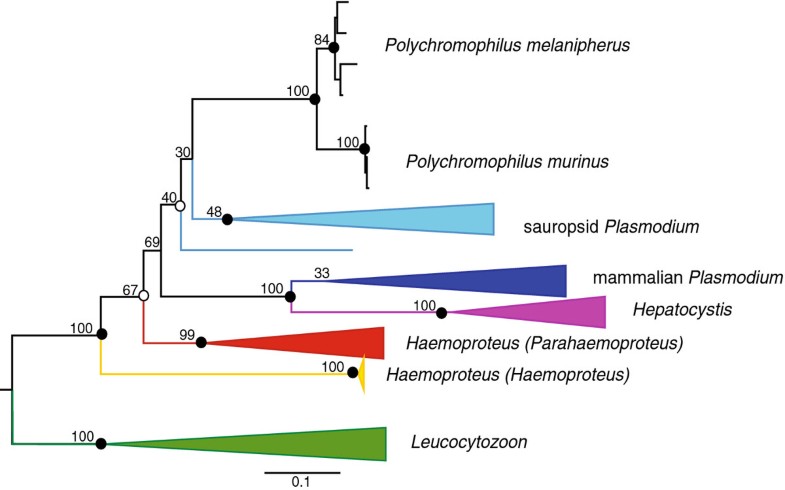 Conclusions
The phylogenetic reconstruction of three genes of Polychromophilus spp. demonstrates that the P. melanipherus and P. murinus are clearly two genetically distinct species. Only the addition of the other Polychromophilus spp. can validate the current division of Polychromophilus in separate subgenera. Polychromophilus is clearly not related to Haemoproteus (Haemoproteus). Instead Bayesian inference and molecular clock outgroup free phylogenetic reconstructions suggest that the Polychromophilus most likely had a bird- or reptile-infecting Plasmodium ancestor. The switch to mammalian hosts would, therefore, not have occurred once, but at least twice in the haemosporidian evolutionary past. This event was accompanied by the adaptation to a new, phylogenetically distant dipteran vector.
Declarations
Acknowledgements
We would like to give a big thank you to Anne-Lyse Ducrest and Céline Simon for advice on and assistance with the molecular work. We would also like to give our gratitude to Emily Clark and two anonymous referees for helpful comments improving this manuscript. We thank the Swiss Institute of Bioinformatics for their support and the availability of the Vital-IT facilities. This research was supported by grant 31003A_120479 from the Swiss National Science Foundation.
Authors' Affiliations
(1)
Département d'Ecologie et Evolution, Université de Lausanne, Biophore, UNIL-Sorge, Lausanne, Switzerland
(2)
Swiss Institute of Bioinformatics, Quartier Sorge, Lausanne, Switzerland
Copyright
© Witsenburg et al; BioMed Central Ltd. 2012
This article is published under license to BioMed Central Ltd. This is an Open Access article distributed under the terms of the Creative Commons Attribution License (http://creativecommons.org/licenses/by/2.0), which permits unrestricted use, distribution, and reproduction in any medium, provided the original work is properly cited.