Malaria control in Bhutan: case study of a country embarking on elimination
Received: 6 October 2011
Accepted: 9 January 2012
Published: 9 January 2012
Abstract
Background
Bhutan has achieved a major reduction in malaria incidence amid multiple challenges. This case study seeks to characterize the Bhutan malaria control programme over the last 10 years.
Methods
A review of the malaria epidemiology, control strategies, and elimination strategies employed in Bhutan was carried out through a literature review of peer-reviewed and grey national and international literature with the addition of reviewing the surveillance and vector control records of the Bhutan Vector-Borne Disease Control Programme (VDCP). Data triangulation was used to identify trends in epidemiology and key strategies and interventions through analysis of the VDCP surveillance and programme records and the literature review. Enabling and challenging factors were identified through analysis of socio-economic and health indicators, corroborated through a review of national and international reports and peer-review articles.
Findings
Confirmed malaria cases in Bhutan declined by 98.7% from 1994 to 2010. The majority of indigenous cases were due to Plasmodium vivax (59.9%) and adult males are most at-risk of malaria. Imported cases, or those in foreign nationals, varied over the years, reaching 21.8% of all confirmed cases in 2006.
Strategies implemented by the VDCP are likely to be related to the decline in cases over the last 10 years. Access to malaria diagnosis in treatment was expanded throughout the country and evidence-based case management, including the introduction of artemisinin-based combination therapy (ACT) for P. falciparum, increasing coverage of high risk areas with Indoor Residual Spraying, insecticide-treated bed nets, and long-lasting insecticidal nets are likely to have contributed to the decline alongside enabling factors such as economic development and increasing access to health services.
Conclusion
Bhutan has made significant strides towards elimination and has adopted a goal of national elimination. A major challenge in the future will be prevention and management of imported malaria infections from neighbouring Indian states. Bhutan plans to implement screening at border points to prevent importation of malaria and to targeted prevention and surveillance efforts towards at-risk Bhutanese and migrant workers in construction sites.
Keywords
BhutanMalariaEliminationControlMigrationMigrantDiagnosisTreatmentSurveillanceVector
Background
In recent years, there has been substantial progress made in reducing the malaria burden around the globe [1, 2]. From the deep Amazon and the coastal plains of East Africa to the Malaysian peninsula, incidence has been decreasing over the last decade, related to increased resources for malaria control and better access to new and improved tools [3, 4]. The South-East Asia region has some of the most pronounced declines, with five countries out of 11 reporting decreases of more than 50% of cases from 2000 to 2009 [2]. One of these success stories is tucked away, high up in the eastern Himalayas: Bhutan has achieved remarkable success in bringing down malaria transmission and announced a national strategy to eliminate malaria by 2016.
The progress made in Bhutan in the last 10 years is remarkable given the major challenges it faces. The country is placed in some of the most difficult terrain in the region, where landslides create impassible roads in the monsoon months and where 21% of households are located more than 4 h walk from the nearest road [5]. The low-lying southern region of Bhutan is at high-risk for malaria transmission [6] and has a highly porous border with India, through which there is significant population movement. In addition, large numbers of migrant workers enter the country to work in large-scale development projects in areas vulnerable to malaria transmission, creating a risk of continual importation and re-introduction of malaria into the area [7]. Given these and other challenges, the recent success in reducing malaria incidence may contain lessons for other countries [8].
This paper seeks to characterize the malaria programme of Bhutan over the last 10 years, exploring trends in the epidemiology of malaria, malaria control strategies and interventions, and the enabling and challenging conditions of Bhutan with emphasis on the endemic southern border and population migration.
Methods
Geography, population and climate
The Royal Government of Bhutan is a small country, spanning 38,394 km2, with a population of 677,343 bordered in the north by the Tibetan Region of China, and by India to the west, south and east with the states of Sikkim, West Bengal, Assam, and Arunachal Pradesh, respectively. The country is mainly mountainous, rising to a maximum elevation of 7,314 m and extending down to as low as 160 m above mean sea level in the southern foothills. Bhutan's economy is based on agriculture, forestry, and hydropower electricity exports to India [9, 10].
Bhutan has seasonal rainfall with monsoon rains occurring from June to September, when most malaria cases occur [11]. A winter northeast monsoon occurs from November to March, with snowfall in the higher elevations. Bhutan has only 2.3% arable land, most of which is in the west [10].
Malaria risk areas are mainly forest and forest-fringe human settlements, in particular those with irrigation or development projects, such as hydropower project sites [
5
]. Twenty-four percent of the population lives in areas considered free of malaria, located in four districts in the north-east and central part of the country (Figure
1
) [
12
]. These areas are not receptive to malaria transmission due to their high elevation and cooler temperatures. Indigenous cases reported from these districts are imported cases from other districts. Nine districts in a band running east to west across the center of the country are considered at risk for seasonal transmission, having a history of local transmission although some of them have not had an indigenous case in the last 3 years. This zone contains 34% of the population. Seven districts, with a population of 284,512 (42% of the total population), are considered malaria-endemic, where transmission occurs throughout the year [
11
]. These districts border the Indian states of Assam and West Bengal.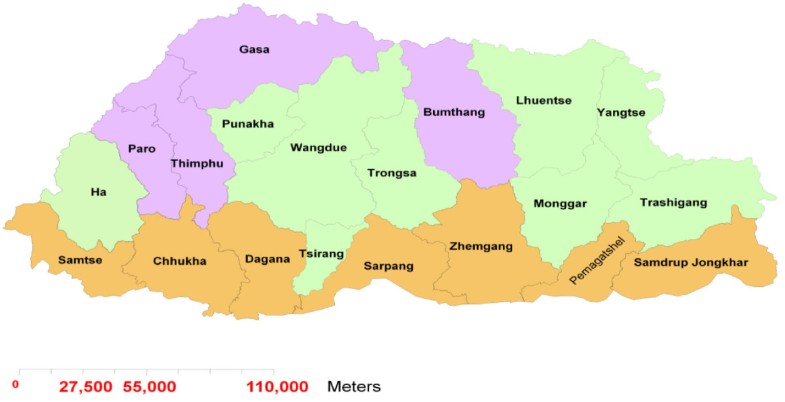 Programme data
A literature review was conducted using PubMed, Google Scholar, Google, SpringerLink, [13] World Health Organization (WHO) South-East Asia Region Institutional Repository, [14] World Health Organization Library Database (WHOLIS), [15] and through requests to the WHO Archives at the WHO Headquarters in Switzerland. Search terms were "Bhutan" AND "malaria" OR "prevention" OR "refugee" OR "Nepal" OR "India" OR "supply, supply system" OR "health system" OR "health supply."
Routine national health facility surveillance data were collected and reviewed in-country by two researchers (TY and CSG), for indigenous (cases contracted locally) and imported cases [16]. In Bhutan, an imported case is a confirmed malaria infection in any foreign national. The reported cases described in this study were confirmed by microscopy. Reporting of presumptive cases is not the policy in Bhutan and rapid diagnostic test (RDT) results are cross checked by microscopy. Results of the microscopy confirmation process are reported, not the RDT results. These secondary data were collected from the Vector-borne Disease Control Programme (VDCP) headquarters in Gelephu, which receives and compiles reports of confirmed cases from the districts. Other data collected were VDCP-derived estimates of population at risk and distribution and coverage of long-lasting insecticidal net (LLIN), insecticide-treated bed nets (ITN), and Indoor Residual Spray (IRS). Annual rainfall data were collected by the VDCP for the period 1996-2010 for 18 districts. When discrepancies between any of the data sources were found, follow-up information was sought from district offices by the VDCP programme manager (TY).
Data analysis
Surveillance and vector control data were plotted using Microsoft Excel and trends were observed. These trends were then compared with those described in the literature identified in the review and with information provided by the VDCP headquarters and district officers, using data triangulation to identify and confirm trends [17]. The WHO World Malaria Report surveillance data were used to corroborate the VDCP data records.
Ethical considerations
The Ministry of Health in Bhutan approved the conduct of the case study. Data from the Ministry of Health, Vector-Borne Disease Control Programme were analysed in aggregate form.
Discussion
Bhutan has achieved a 98.7% decrease in microscopy-confirmed malaria cases from 1994 to 2010. Declines occurred in the zone at risk for seasonal transmission in the interior of the country as well as in the endemic, southern border districts [24]. In 2004, Bhutan met and surpassed the Millennium Development Goals set by RBM, achieving over 50% reduction in cases well ahead of the 2010 goal. Stemming from this success, and building on the strengths of the national health system and the Vector-borne Disease Control Programme, Bhutan is embarking on malaria elimination.
The evidence-based strategies implemented by the VDCP are likely the root of Bhutan's malaria success, along with the economic and social development seen in the country. The programme benefits from a strong primary health care system and continually expanding access to health care, including malaria diagnosis and treatment, at the district and sub-district levels in rural and remote areas. A well-functioning health supply system allows few stock-outs. As a result of these improvements, access to timely diagnosis and treatment through PCD has likely improved, with weekly case reporting linking epidemiological trends to vector control measures. Evidence-based case management policies, including the implementation of ACT for P. falciparum cases, may have also contributed to the declining transmission [24].
The deployment of IRS, ITN, and LLIN with the use of strong stratification criteria has resulted in high coverage of targeted populations most at-risk, contributing to the downward trend in incidence [6, 24]. Global Fund grant support increased access to these prevention measures.
In order to maintain the progress of the last decade, Bhutan must address the challenges it faces to eliminate malaria. The increase in cases that occurred from 2008 to 2009 is an indicator that there is still more work to be done. Further studies on understanding mosquito vectors and their bionomics are warranted in order to formulate more specific intervention strategies. The Malaria Technicians deployed by the VDCP are a pillar of the programme and must be maintained in order to ensure vigilance and timely response. The integration of duties of Malaria Technicians could potentially lead to a weakened response to malaria outbreaks and this must be avoided. Increases in transmission across the southern border in Assam or West Bengal, India may directly impact transmission in southern Bhutan [24]. Adding to the risk is the continual migration into Bhutan from these states, regulated and unregulated and daily and long-term, which may continually reintroduce infections into all receptive areas of the country [7]. A clear understanding of the origin and pathways of migrants into Bhutan would facilitate the development of effective strategies to mitigate and manage imported malaria and the risk of onward transmission.
Limitations
This case study is based on a retrospective analysis of national surveillance data on confirmed malaria infections. The number of unconfirmed cases is not known, yet the relatively high level of access to public health facilities and lack of private sector facilities translates to a negligible level of unconfirmed infections. The epidemiology data does not allow for a more extensive analysis of the malaria infection of long-term migrant workers in Bhutan. National case investigation procedures have not collected enough information to identify the origin of infection, but will attempt to do so in the future.
Conclusions
Bhutan has made great strides towards elimination. The greatest challenge to this goal is in identifying and containing imported infections from the neighbouring Indian states. The malaria programme has identified two main approaches to face this problem. Firstly, implement border screening and secondly, develop cross-border and regional malaria collaborations [7]. A recent WHO report recommends border post screening for malaria not only to identify and treat infections, but also to install a way to measure increases in transmission in order to adequately prepare response measures [36]. Overall, though, evidence is lacking on the impact of border screening, with only a few available examples, most from island contexts which are obviously very different than landlocked Bhutan. The Thailand-Cambodia artemisinin resistance containment project has included mobile malaria clinics at border crossings in Thailand, but this activity has not been assessed for impact on transmission reduction [39]. Recent research on a passenger screening surveillance programme in Mauritius [40] and the acceptability of inter-province port screening in Solomon Islands [41] provides some examples of identification of imported malaria infections, but more research is needed. In Bhutan, where borders are porous and migrant populations pass daily over the border, other measures may be needed in addition to the border screening centers, which target longer-term migrant workers. Regional or cross-border initiatives may be an important tool to lower importation risk [1, 7]. Harmonized surveillance, case management and vector control strategies and their synchronized implementation in border regions are generally successful through a multi-country platform. Yet the history of cross-border collaboration between Bhutan and India attests to the challenge of developing such an initiative, from getting the key partners to the table to finding sustainable funding support. The cancellation of Rounds 11 and 12 by the Global Fund speaks to the latter challenge. As more countries near elimination, regional approaches, backed by sound evidence and supported with adequate funding, are likely to be the way forward.
Declarations
Acknowledgements
This study was supported by the Bill & Melinda Gates Foundation and the Asia Pacific Malaria Elimination Network (APMEN). The Bill & Melinda Gates Foundation funds the UCSF Global Health Group to conduct case studies on malaria-eliminating countries. APMEN is a network of 11 countries with a national goal to eliminate malaria. Major funding for APMEN is provided by the Australian Agency for International Development (AusAID), the Australian Government agency responsible for managing Australia's overseas aid programme.
The authors would like to thank the Ministry of Health and Vector-Borne Disease Control Programme of Bhutan and those that contributed to this work, including Dr. Karma Lhazeen, Mr. Tashi Tobgay, Mr. Tobgyel, Mr. Pema Samdrup, Mr. Sonam Gyeltshen, Heidi Moseson, and the Meteorology Unit under the Ministry of Economic Affairs.
Authors' Affiliations
(1)
Vector-Borne Disease Control Programme, Ministry of Health, Royal Government of Bhutan, Gelephu, Bhutan
(2)
Global Health Group, University of California, San Francisco, San Francisco, USA
(3)
National Malaria Control Programme, Ministry of Health, Colombo 05, Sri Lanka
(4)
Malaria Unit, South-East Asia Regional Office of the World Health Organization, World Health House, New Delhi, India
(5)
Global Malaria Programme, World Health Organization, Geneva 27, Switzerland
(6)
National Institute of Malaria Research (ICMR), Guwahati, India
Copyright
© Yangzom et al; licensee BioMed Central Ltd. 2011
This article is published under license to BioMed Central Ltd. This is an Open Access article distributed under the terms of the Creative Commons Attribution License (http://creativecommons.org/licenses/by/2.0), which permits unrestricted use, distribution, and reproduction in any medium, provided the original work is properly cited.