Measuring malaria by passive case detection: a new perspective based on Zambian experience
Malaria Journal
2013
12:120
Received: 27 November 2012
Accepted: 7 April 2013
Published: 10 April 2013
Abstract
Most measurements of malaria are based on cross-sectional data and do not reflect the dynamic nature of transmission, particularly when interventions require timely data for planning strategies. Such data can be collected from local rural health centres (RHCs) where the infrastructure is sufficiently developed and where rapid diagnostics are in use. Because in rural areas, the population served by RHC is reasonably static, the regular use of malaria rapid diagnosis in RHCs can provide data to assess local weekly incidence rates, and such data are easily dispersed by cell phones. Essentially each RHC is a potential sentinel site that can deliver critical information to programme planners. Data collected during this process of passive case detection over a five-year period in the Macha area of Zambia show the importance of ecological zones and refugia in the seasonal fluctuation of malaria cases. If this process is implemented nationally it can assist in planning efficient use of resources and may contribute to local management and even elimination of malaria in this region.
Keywords
Malaria passive case detectionRapid diagnostic testsZambiaMalaria incidenceRural health centres
Background
Controlling malaria in Africa has been fraught with difficulties, not the least of these is the tenuous ability to sustain interventions and build on recent success. Scaling up malaria control interventions has been costly both in terms of commodities and personnel. Further, this approach has proved to be expensive to sustain, yet maintaining the gains attained over the years by any National Malaria Control Programme is critical to reducing further the disease burden in that country. Programme implementers now have to be innovative and begin to explore alternative cost-effective ways of tackling malaria, amidst dwindling financial resources from mainly external partners. This paper is a reflection on the situation in Zambia which marries active research programmes with the operation of a progressive and coordinated malaria control programme with the hope that operations can be extended to other endemic countries[1]. Currently extensive efforts are being made to reduce the impact of this disease in Zambia[2] and it is important to build on these successes by implementing currently available technologies efficiently and effectively to develop strategies that can focus on identifying reservoirs and on targeting vulnerable periods of the seasonal cycle of malaria transmission. Data collected in real time can help identify any such periods of the parasite population so these can be targeted in a cost-effective manner. A new way is needed to measure malaria in the field to help facilitate new strategies, and of the various parameters in use, the case incidence rate measured in real time is a useful tool.
Tom DeMarco's influential 1986 book[
3
] "Controlling Software Projects: Management, Measurement, and Estimates" famously started with the aphorism that "you cannot control what you cannot measure". This applies to malaria, as well as software implied in the above quote. However, with malaria it should follow with the caution that what is not measured accurately could be misleading. In spite of the seasonality associated with malaria transmission, collecting point prevalence data is still very much the
status quo
. Prevalence data are given per age group and are then annualized; data are usually collected from periodic blood film surveys and do not reflect the dynamic nature of the disease[
4
]. The need for a change of measurement was demonstrated by Ryan Davis who examined weekly case incidence data from a number of local rural health centres in the Macha area in Zambia (Figure
1
). He showed not only how the weekly case incidence rate varied consistently over the annual season, but also how transmission was influenced by physical and geographical differences[
5
]. This can be seen in Figure
2
. Malariometric methods are laid out in a protocol reviewed by Baird[
6
]. Passive case detection and active case reporting is the technique that has most relevance to control strategies, and it is now more feasible and instantly available with modern diagnostic procedures such as the malaria rapid diagnostic test (RDT). Used appropriately this technique can reflect the case incidence rate and thus the seasonal ebb and flow of transmission foci and thus provide evidence for targeting reservoirs of the parasite population when vulnerable to targeting[
7
]. In fact, it is suggested here that measuring malaria as a dynamic event is necessary to understand the impact of control interventions and should become an integral part of data-driven strategies for malaria elimination.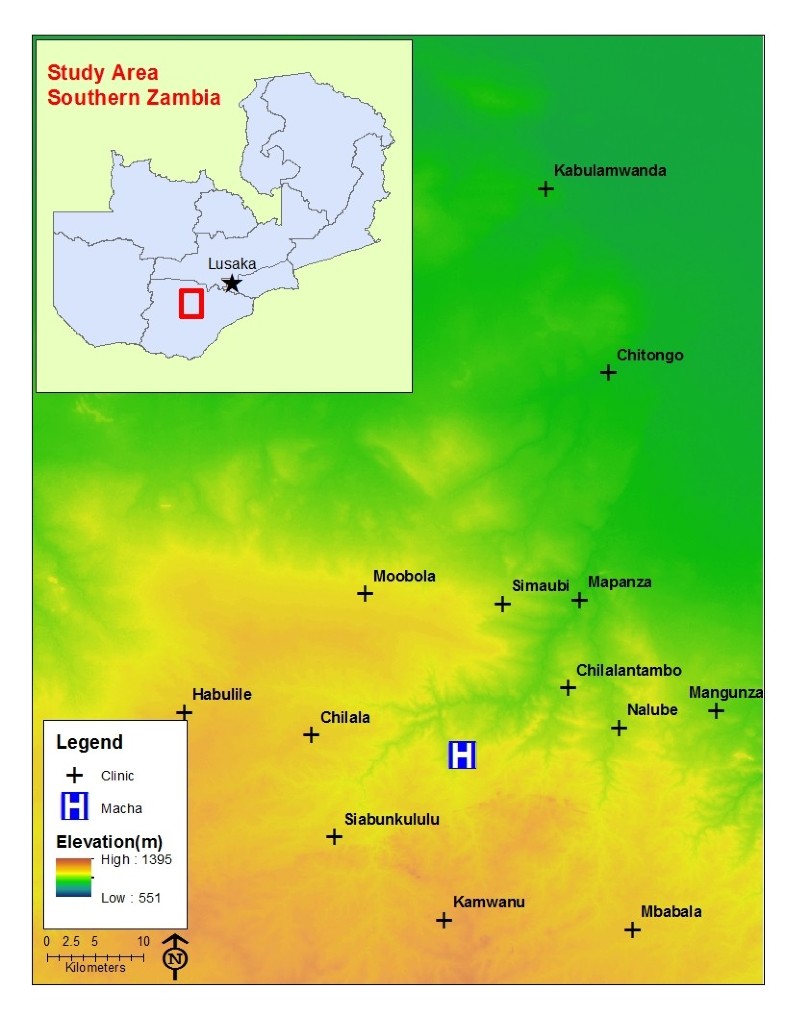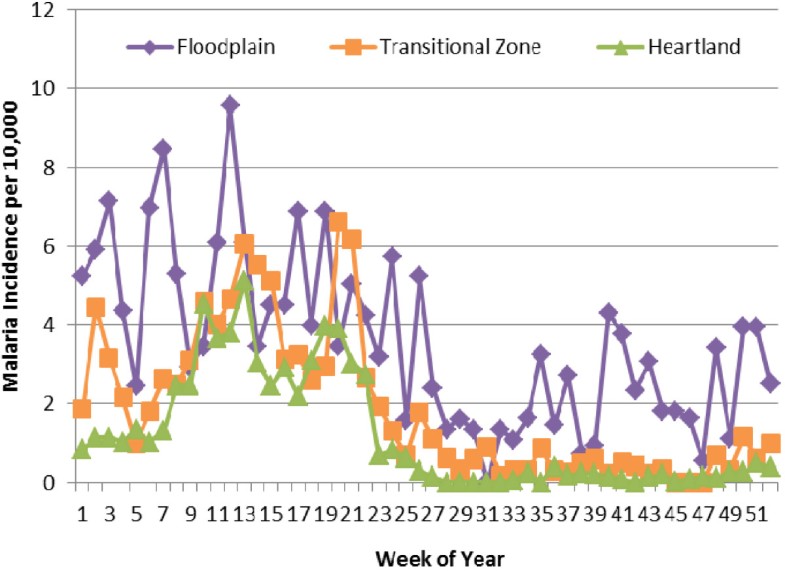 Malariometric methodologies
Declarations
Acknowledgements
The authors would like to thank the clinical staff at the various rural health centres that participated in the work. Their diligence and enthusiasm over nearly five years was a key to the successful acquiring of data. Thanks are due to Drs Sungano Mharakurwa and Phil Thuma who provided support and oversight when needed. Funding was provided through a Pilot Grant awarded to CJS by the Johns Hopkins Malaria Research Institute.
Authors' Affiliations
(1)
Johns Hopkins Bloomberg School of Public Health, Baltimore, USA
(2)
Malaria Institute at Macha, Choma, Zambia
(3)
London School of Hygiene and Tropical Medicine, London, UK
(4)
Copperbelt University, School of Medicine, Ndola, Zambia
Copyright
© Shiff et al.; licensee BioMed Central Ltd. 2013
This article is published under license to BioMed Central Ltd. This is an Open Access article distributed under the terms of the Creative Commons Attribution License (http://creativecommons.org/licenses/by/2.0), which permits unrestricted use, distribution, and reproduction in any medium, provided the original work is properly cited.