Air temperature suitability for Plasmodium falciparum malaria transmission in Africa 2000-2012: a high-resolution spatiotemporal prediction
Malaria Journal
2014
13:171
Received: 31 January 2014
Accepted: 24 April 2014
Published: 3 May 2014
Abstract
Background
Temperature suitability for malaria transmission is a useful predictor variable for spatial models of malaria infection prevalence. Existing continental or global models, however, are synoptic in nature and so do not characterize inter-annual variability in seasonal patterns of temperature suitability, reducing their utility for predicting malaria risk.
Methods
A malaria Temperature Suitability Index (TSI) was created by first modeling minimum and maximum air temperature with an eight-day temporal resolution from gap-filled MODerate Resolution Imaging Spectroradiometer (MODIS) daytime and night-time Land Surface Temperature (LST) datasets. An improved version of an existing biological model for malaria temperature suitability was then applied to the resulting temperature information for a 13-year data series. The mechanism underlying this biological model is simulation of emergent mosquito cohorts on a two-hour time-step and tracking of each cohort throughout its life to quantify the impact air temperature has on both mosquito survival and sporozoite development.
Results
The results of this research consist of 154 monthly raster surfaces that characterize spatiotemporal patterns in TSI across Africa from April 2000 through December 2012 at a 1 km spatial resolution. Generalized TSI patterns were as expected, with consistently high values in equatorial rain forests, seasonally variable values in tropical savannas (wet and dry) and montane areas, and low values in arid, subtropical regions. Comparisons with synoptic approaches demonstrated the additional information available within the dynamic TSI dataset that is lost in equivalent synoptic products derived from long-term monthly averages.
Conclusions
The dynamic TSI dataset presented here provides a new product with far richer spatial and temporal information than any other presently available for Africa. As spatiotemporal malaria modeling endeavors evolve, dynamic predictor variables such as the malaria temperature suitability data developed here will be essential for the rational assessment of changing patterns of malaria risk.
Keywords
Temperature suitability Plasmodium falciparum Africa
Background
The importance of temperature on numerous components of the malaria transmission cycle has been recognized for over 100 years [1–3], and been quantified in a series of progressively more sophisticated models [4]. Meanwhile, calibration of key temperature-dependent parameters, such as those capturing effects on mosquito survivorship and extrinsic incubation period (sporogony) has been refined by laboratory experiment [5, 6] and field observation [7–9]. One motivation for investigating temperature effects has been to incorporate them in spatially distributed models in order to map metrics of malaria risk across continental or global scales [10–17]. Recent studies [18, 19] have combined climatic datasets with mechanistic models that link temperature to transmission intensity to produce spatially and temporally gridded estimates of temperature suitability for malaria transmission. Such outputs can then be incorporated in risk models either as empirical covariates or as spatially distributed biological variables [15].
The importance of using realistic seasonal and diurnal temperature cycles within these models rather than simpler annual or monthly mean values has been demonstrated [20, 21], and these elaborations have been incorporated to varying degrees in existing temperature suitability maps [18, 19]. Common to these studies, however, is reliance upon synoptic climatic data representing the average seasonal pattern, typically based on annual temperature time-series averaged across numerous years of measurements. These synoptic products have been favored because, in averaging across time, the data gaps, erratic measurements and other errors associated with temporally disaggregated (asynoptic) temperature measurements can be mitigated [22]. This aggregation comes at a cost, however: in reality, temperature patterns in a given region can vary substantially from year to year – reflecting random fluctuation, cyclical climatic events, or long-term secular trends – and this inter-annual variation is not captured by synoptic data. Synoptic representations of malaria temperature suitability are adequate when used in spatial malaria risk models that are, themselves, essentially synoptic in nature (i.e., their focus is on assessing long-term spatial patterns of risk). Increasingly, however, the rationale for modeling malaria risk is to examine or predict changes in the patterns of risk through time [23]. This makes synoptic handling of temperature effects less appropriate [24] and the incorporation of inter-annual trends and variation becomes more important: whether the intention is to investigate the association between temperature and transmission, or simply to control for it when investigating other factors of interest.
This study builds on the temperature suitability model proposed by Gething et al. [18] and presents the first asynoptic model of malaria temperature suitability, applied to Plasmodium falciparum across the African continent. This modeling endeavor spans the period from 2000 to 2012, which aligns with the recent period of major investment in malaria control [25–27]. The analysis is based on a newly produced spatiotemporal data 'cube' derived from satellite temperature measurements and subject to a novel nested space-time interpolation algorithm to identify, remove, and replace erroneous and missing values without the need for temporal aggregation (personal communication with Weiss DJ, Atkinson PM, Bhatt SJ, Mappin BJ, Hay SI, Gething PW). Additionally, a new model is presented here to convert observed land-surface temperatures into predictions of ambient air temperature, which is more relevant to malaria transmission [3]. The remaining manuscript describes the construction and validation of this model, presents the resulting spatiotemporal predictions, and discusses their utility in studying the contributions of temperature to recent changes in African malaria endemicity.
Methods
This section describes the data, model construction and validation, and processing steps undertaken to generate the spatiotemporal predictions of temperature suitability. First, the input satellite-derived land surface temperature imagery is described, along with the steps undertaken to clean and validate those data to provide a robust space-time data product. Second, the statistical approach for conversion of land-surface temperature to air temperature is presented. Third, the additional temporal interpolation of these data to approximate realistic diurnal and seasonal temperature time-series is explained. Fourth, the propagation of these time-series through the Gething et al. temperature suitability model [18] is detailed.
Results
A total of 154 monthly grids of TSI were produced, spanning the period of April 2000 through December 2012. An animation showing the full set of monthly TSI rasters is available for download as Additional file
1
. The results show spatial patterns similar to average monthly conditions derived in previous analyses [
18
,
19
], but the utility of the new dataset is most apparent in its ability to characterize inter-annual variability. For example, Figure
4
A –
4
C illustrate noticeable differences in modeled TSI for the month of April in southern Africa, Madagascar, and to a lesser extent in east Africa (highlighted in the zoomed-in portion of the figures). All other months in the dataset show similar spatiotemporal variability when compared across different years in areas experiencing transitional seasons (e.g., in months during which changes from warm to cool seasons occur).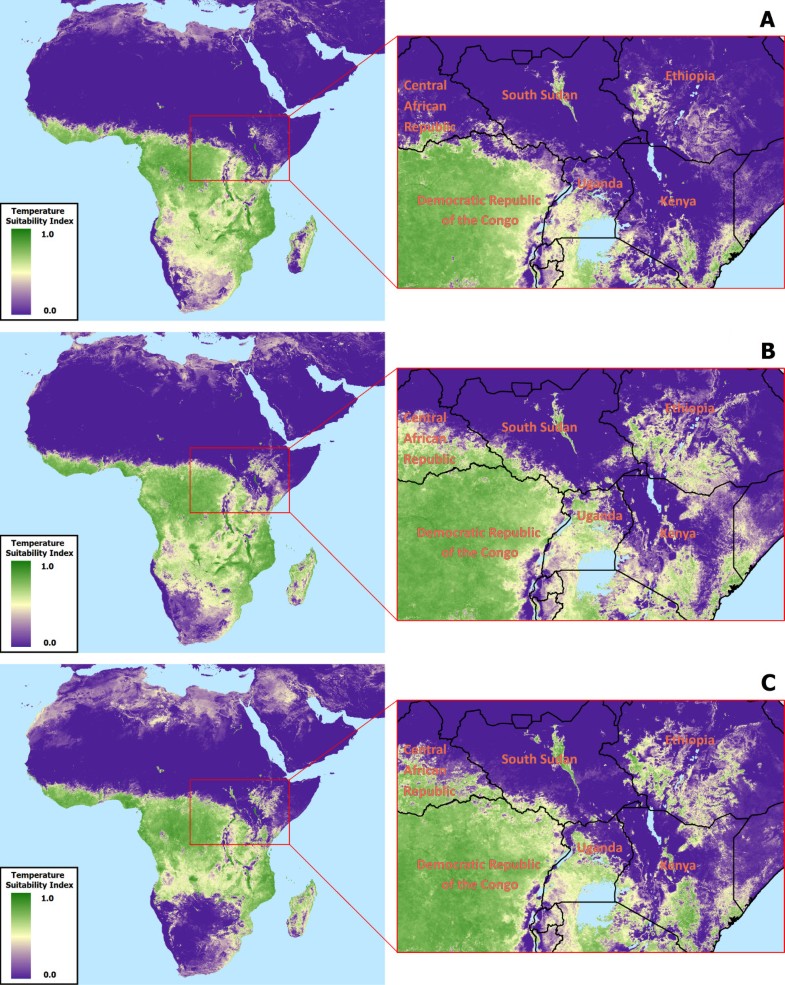 Additional file 1: This animation iterates through the full set of 154 monthly TSI rasters resulting from this research.(M4V 4 MB)
To further illustrate the utility of the dynamic temperature suitability dataset, longitudinal graphs were created for randomly distributed points (n = 50), twelve of which are shown in Figure
5
to highlight how synoptic data may fail to adequately capture variability within malaria temperature suitability (Figure
6
). Generally speaking, areas that experience seasonal variability in TSI can be characterized much more thoroughly through the use of a dynamic product than with a synoptic product, as the timing, magnitude, and duration of TSI peaks and troughs vary from year to year. In cases where TSI is always low, such as in the Sahara, or always high, such as in west African equatorial rain forests, synoptic TSI is functionally equivalent to the new dynamic TSI. This is also true in rare cases where intra-annual TSI patterns are highly consistent from year to year. However, the vast majority of areas with endemic malaria that experience seasonal variability in TSI have at least one month during year in which TSI (which ranges between 0.0 and 1.0) has a standard deviation between approximately 0.1 and 0.25, with some areas exceeding 0.4 (Figure
7
).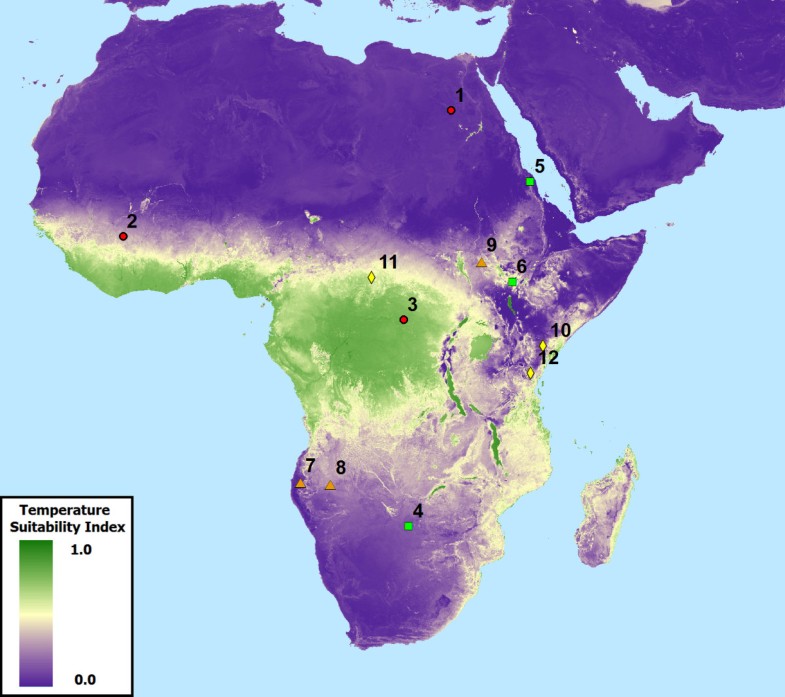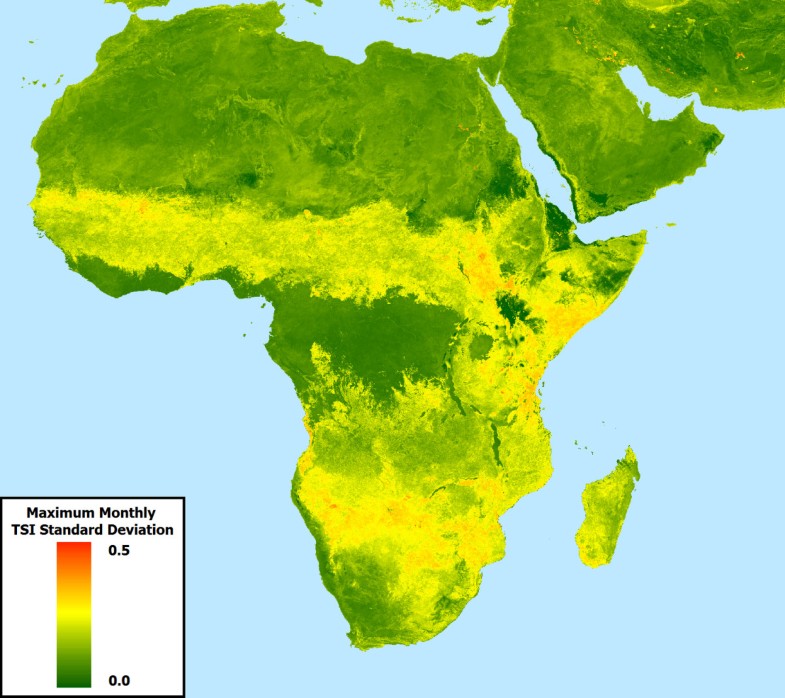 Discussion
As malaria mapping and research projects are adapted and expanded to include both space and time, dynamic spatiotemporal data products will be essential for modeling changing malaria infection prevalence and disease burden. This work creates one such dynamic covariate, building on the earlier, static, product established by Gething et al. [18] which subsequently proved the most informative covariate in the contemporary modeling of global P. falciparum malaria [15]. Ultimately, only downstream modeling efforts will fully demonstrate the benefit of dynamic TSI over synoptic products, but given the inter-annual variability evident within the dynamic TSI product, this dataset is expected to significantly improve the predictive capacity of malaria risk models.
The dynamic TSI dataset is particularly useful for capturing infrequent events that interrupt typical seasonal patterns of malaria transmission. Noteworthy examples of such events are (1) peaks in TSI that are higher or last longer than TSI peaks in a typical year, and (2) troughs in TSI that are smaller (or non-existent) or shorter than usual. Furthermore, in areas where the timing of seasonal transitions is irregular, synoptic data created from simple averaging will have an unrealistically low amplitude in cases where peaks or troughs can occur in different months (e.g., if peaks occur in either January or February the resulting synoptic average will have a peak spanning both month, but not as high as an actual peak due to the muting effect of averaging). From a malaria control perspective, areas that experience unusually high or long TSI peaks may experience outbreaks within human populations that have low acquired functional immunity or occur in areas poorly equipped to deal with an outbreak (e.g., without adequate stores of anti-malarial drugs) due to the ephemeral nature of local malaria infection periods [45]. Even in areas accustomed to seasonal malaria [46], unusual timing or durations of periods of transmission suitability have implications for malaria commodity procurement, control planning, and implementation.
Conclusions
Creation of dynamic temperature suitability products is the logical progression from previous research endeavors that established a methodology for creating synoptic products, as well as a necessary step for developing spatiotemporal malaria prevalence and burden models that utilize temperature suitability as a predictor variable. The datasets underlying the TSI data product resulting from this research are daily minimum and maximum temperatures, which were modeled from MODIS LST datasets using an approach described in this paper. The use of temperature data from MODIS facilitated the creation of output with a 1 × 1 km spatial resolution, which represents the highest spatial resolution malaria temperature suitability product currently available for Africa. The temporal resolution and extent of the MODIS data archive, in combination with substantial advances in algorithmic efficiency, allowed TSI to be modeled monthly from April 2000 through December 2012. With the operational TSI production methodology established by this research, data continuity can be maintained for the Africa TSI product for the life of MODIS sensor, as well as adapted for use with LST data produced from alternate sensors. Furthermore, the spatial scope of the TSI product can be expanded to include other areas of the tropics with malaria transmission, including those with endemic Plasmodium vivax, and potentially be adapted for use with other vector-borne diseases affected by temperature.
Declarations
Acknowledgements
We thank David Benz for his assistance in handling the MODIS data and Ursula Dalrymple for proof reading this manuscript. PWG is a Medical Research Council Career Development Fellow (#K00669X) and receives support from the Bill and Melinda Gates Foundation (#OPP1068048) that also supports DJW, SB and BJM. DLS acknowledges funding from NIH/NIAID (U19AI089674) and the Bloomberg Family Foundation. SIH is funded by a Senior Research Fellowship from the Wellcome Trust (#095066) and acknowledges funding support from the RAPIDD program of the Science & Technology Directorate, Department of Homeland Security, and the Fogarty International Center, National Institutes of Health.
Authors' Affiliations
(1)
Department of Zoology, Spatial Ecology and Epidemiology Group, Tinbergen Building, University of Oxford, Oxford, UK
(2)
Malaria Research Institute & Department of Epidemiology, Johns Hopkins Bloomberg School of Public Health, Baltimore, USA
(3)
Department of Ecology and Evolutionary Biology, Princeton University, Princeton, USA
(4)
Fogarty International Center, National Institutes of Health, Bethesda, USA
Copyright
© Weiss et al.; licensee BioMed Central Ltd. 2014
This article is published under license to BioMed Central Ltd. This is an Open Access article distributed under the terms of the Creative Commons Attribution License (http://creativecommons.org/licenses/by/2.0), which permits unrestricted use, distribution, and reproduction in any medium, provided the original work is properly credited. The Creative Commons Public Domain Dedication waiver (http://creativecommons.org/publicdomain/zero/1.0/) applies to the data made available in this article, unless otherwise stated.