Fine-scale malaria risk mapping from routine aggregated case data
Malaria Journal
2014
13:421
Received: 7 August 2014
Accepted: 25 October 2014
Published: 3 November 2014
Abstract
Background
Mapping malaria risk is an integral component of efficient resource allocation. Routine health facility data are convenient to collect, but without information on the locations at which transmission occurred, their utility for predicting variation in risk at a sub-catchment level is presently unclear.
Methods
Using routinely collected health facility level case data in Swaziland between 2011–2013, and fine scale environmental and ecological variables, this study explores the use of a hierarchical Bayesian modelling framework for downscaling risk maps from health facility catchment level to a fine scale (1 km x 1 km). Fine scale predictions were validated using known household locations of cases and a random sample of points to act as pseudo-controls.
Results
Results show that fine-scale predictions were able to discriminate between cases and pseudo-controls with an AUC value of 0.84. When scaled up to catchment level, predicted numbers of cases per health facility showed broad correspondence with observed numbers of cases with little bias, with 84 of the 101 health facilities with zero cases correctly predicted as having zero cases.
Conclusions
This method holds promise for helping countries in pre-elimination and elimination stages use health facility level data to produce accurate risk maps at finer scales. Further validation in other transmission settings and an evaluation of the operational value of the approach is necessary.
Keywords
MalariaHealth FacilityNormalize Difference Vegetation IndexTravel TimeLand Surface Temperature
Background
Mapping malaria risk is an integral component of effective and efficient resource allocation. Traditionally, risk maps have been based on infection prevalence data collected during cross-sectional surveys such as MIS (malaria indicator surveys) or national school surveys [1, 2]. In low transmission settings, because there are so few infections possible to detect in the community, the sample size requirements for both estimation and spatial prediction of infection prevalence are very large making such surveys operationally and financially unfeasible [3, 4]. Furthermore, such surveys are typically conducted every few years, yet elimination programs require timely, if not real-time, information on malaria transmission to ensure they can respond rapidly to changing epidemiological circumstances.
Using data from Swaziland, Cohen et al. [5] showed that routine surveillance data can be used to generate fine scale risk maps (relative probability of being an incident case) if the household location of cases is known using ecological niche modelling. Georeferenced case data is available in Swaziland due to a strong active surveillance programme, which aims to follow up and map all cases to their home [5, 6]. In most low transmission settings, however, household locations of cases is often not known, with routine malaria surveillance systems reporting only the numbers of cases confirmed at each health facility. Typically, this data is aggregated to sub-district or district level before modelling, making predictions only possible at this coarse scale [7, 8]. A method to predict fine-scale transmission hotspots to village and sub-village level from health facility level would give programmes actionable information to target interventions without having to first geolocate cases back to household.
Cross-scale prediction - predicting at fine-scales using data available at coarser scales - is a familiar issue encountered by ecology researchers [9–11]. One approach, tested by several researchers is 'direct prediction' whereby data are modelled at coarse scale and inferred statistical relationships are then projected onto the fine-scale covariates to produce fine-scale predictions [9, 11]. Modelling data at one scale and predicting at another can, however, lead to spurious and unreliable predictions. An alternative approach is termed 'point sampling' whereby a defined number of randomly selected pixels within each coarse scale unit are selected and modelled with the outcome [9, 12]. While this avoids some of the drawbacks of direct prediction, the arbitrary nature of selecting pixels within coarse units may lead to unreliable predictions.
More recently, Keil et al. applied a Hierarchical Bayesian Modelling (HBM) approach which treated fine-scale presences/absences of bird species in California as latent, or unobserved, variables, which were modelled as a function of observed fine-grain environmental variables and constrained by observed coarse-grain presences/absences using logistic regression [13]. This approach allows fitting of realistic and multi-scale spatial models with both the observation and the process components, and also enables estimation of the uncertainty in the fine scale predictions. Here, similar modelling methods were applied to predict malaria risk at fine spatial resolution from routine health facility level case data in Swaziland with the goal of devising methods that can be applied to other settings where aggregate health facility data are routinely reported. As health facility case data are influenced by treatment-seeking behaviour of the population, information on treatment-seeking, collected during the most recent Swaziland MIS, are incorporated into the modelling process.
Results
Of the 812 cases that occurred between 2011–2013, 471 (58%) received a case investigation. Of those, a total of 221 locally acquired cases occurred between January and April in the years 2011 to 2013 and were included in the analysis (Figure 1A). Using modelled catchment areas to estimate catchment population (Figure 1B), catchment area incidence estimates suggested a tendency for higher risk in northern and eastern regions of the country (Figure 1C).
Of the 2,377 individuals asked about seeking treatment should they believe they had malaria, 98% answered that they would seek treatment at a public facility. Despite these high rates, results from the model showed that the odds of seeking treatment for malaria at a public facility were slightly, but significantly, negatively associated with travel time (centered and scaled) to nearest public health facility (Odds Ratio 0.99).
In terms of pixel scale relationships between covariates and risk, following variable selection, the final model included only mean temperature which showed a positive association with probability of being a case (OR 8.15) and distance to health facility which showed a negative relationship (OR 0.12) (Table
2
).When predictions were scaled up to catchment level, the predicted numbers of cases per health facility broadly corresponded with the observed numbers (Figure
2
). The RMSE and the MAE of the observed versus predicted numbers of cases per health facility were 1.16 and -0.09 respectively, indicating good model fit with very little bias. 84 of the 101 (83%) health facilities with zero cases were correctly predicted to have zero cases.The mean, 2.5% and 97.5% intervals of the predicted posterior for each pixel are shown in Figure
3
A-C. This shows that the pixel scale predictions broadly correspond to the coarser scale catchment level data. Figure
3
D shows the value of the catchment level random effect (intercept) term mapped by catchment area. This shows that while risk in the majority of the very low risk western catchment areas was predicted correctly by land surface temperature and distance to facility alone, risk in other high and low risk areas of the country, particularly in the north-east, deviated from these predictions. Figure
4
shows the distribution of prediction values of cases versus 10,000 pseudo-controls as a box-plot. Prediction values were noticeably higher at case locations than control locations. This was reflected in the AUC value of 0.84 which indicates good discriminative capacity between cases and controls.
Table 2
Model parameters estimated from the final household and cross-scale models, showing pixel scale relationships between malaria and covariates
| Variable | Mean odds ratio | BCI |
| --- | --- | --- |
| Land surface temperature | 8.15 | 3.86 – 19.31 |
| Travel time to health facility | 0.12 | 0.01 – 0.75 |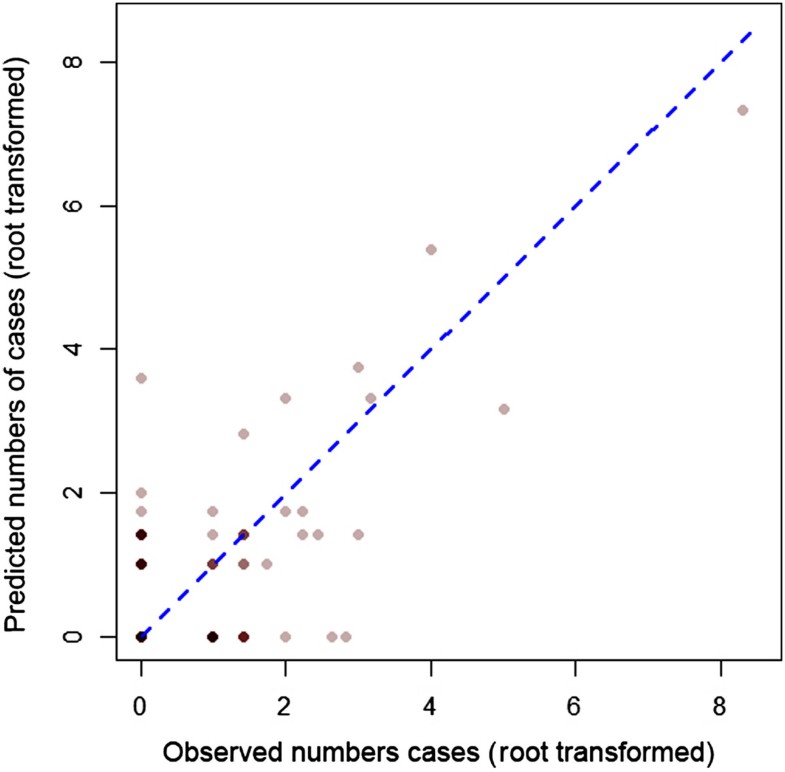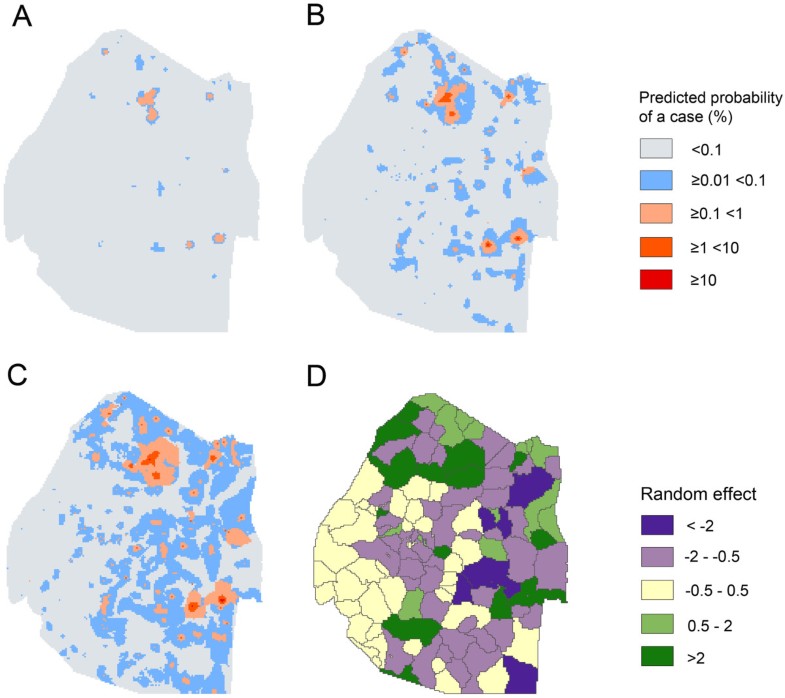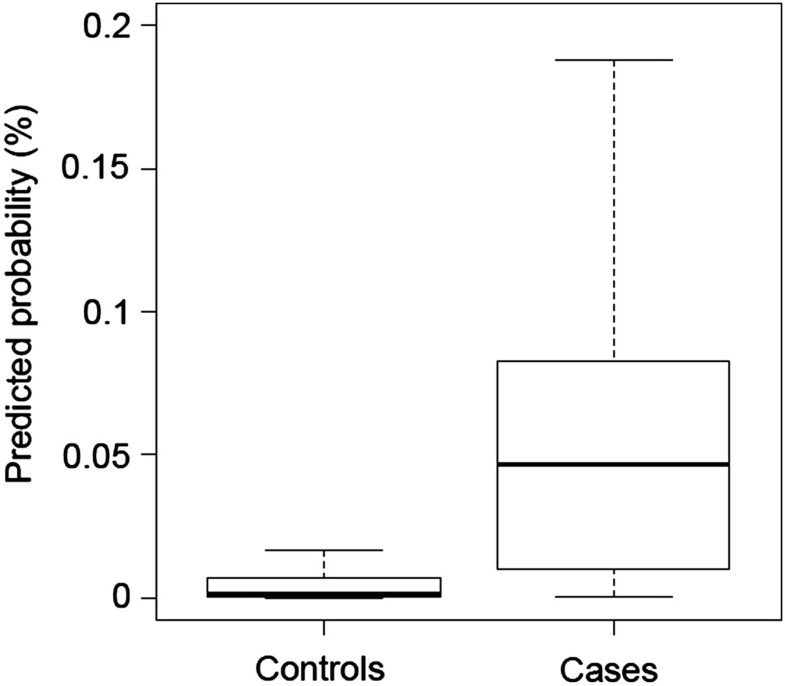 Discussion
As malaria transmission declines, it becomes increasingly focal. In order to target resources accordingly, an understanding of transmission risk over fine scales is required. Traditionally, such risk mapping is done using cross-sectional infection prevalence surveys, such as malaria indicator surveys. In low transmission settings such surveys do not produce the number of positives required for risk mapping or decision making [4]. While a handful of malaria elimination programmes, such as Swaziland [5] and the Solomon Islands and Vanuatu [31], map the households of malaria cases facilitating fine scale risk mapping, most countries have to rely on health facility level case data. This paper describes a method that uses routine health facility malaria case data in conjunction with freely available remotely sensed data to predict malaria risk, and associated uncertainty, down to a scale of 1 km2.
While this example is restricted to the cross-scale prediction of malaria risk from health facility level data in Swaziland, this approach holds promise for cross-scale modelling and prediction of malaria in other transmission settings. In particular, this method is well suited to situations where prevalence is low (i.e. <3%) but the number of cases is still too high to allow follow up and mapping. The implementation of this approach in other settings requires several considerations. Firstly, in this study, the estimation of catchment boundaries was done only for those health facilities offering malaria diagnosis. In settings where this information is not known, catchment boundaries would have to be generated for each health facility, which could affect predictions. Secondly, only cases classified as local were used in the modelling process. If cases are not correctly classified according to origin of infection (i.e. if there is an under or over estimation on the proportion of cases that are imported), this approach is likely to lead to unreliable predictions. Thirdly, in Swaziland, catchment areas are reasonably small, due to the relatively small size of the country and the high population coverage of the public health system. How well this method works in settings where catchment areas are larger, and encompass a wider range of environmental conditions, is not clear. Fourthly, while treatment-seeking data are collected as part of MIS or Demographic Health Surveys, for some countries this information does not exist. In these settings, a relationship could be assumed using data from neighbouring countries or, ideally, a representative survey could be undertaken. Conducting sensitivity analyses, varying rates of treatment seeking, could also be a useful tool to assess the impact of this parameter on model predictions. This was not done here as it was beyond the scope of the study which focuses more on showing proof of concept. Fifthly, in settings with different health systems, for example where surveillance consists of community- and facility-based case detection or where the private sector plays a more prominent role, slightly different models would be required. Finally, the specific models used should be appropriate for the case data used. In this study, logistic regression was used to estimate pixel-level relationships due to the very low numbers of cases across the country. In other settings, employing alternative methods, such as zero-inflated, negative binomial or Poisson regression models, may be more appropriate.
Though not the main focus of this study, results from the model suggest that a positive relationship between temperature and risk of malaria exists at the pixel level. This fits with our understanding of the disease, as warmer temperatures are more conducive to parasite development. Unusually, the model seemed to suggest that areas further from health facilities were at reduced risk. This may be due in part to correlations between distance to health facility and other variables not included in the modelling process. For example, imported cases, proximity to which has been shown to be a risk factor for being a local case [14], could be less common in more isolated communities. Equally, population density could be much lower in more isolated communities which may reduce transmission potential.
Maps of the catchment level random effect term show that areas in the north east of the country tended to deviate the most from model predictions using temperature and distance to nearest facility. This suggests that there are other factors associated with risk in these areas that are not formally accounted for in the model. For those areas with positive random effect values (i.e. higher than expected risk given the environment) this could be due to presence of imported cases, or areas missed by IRS or ITN distribution. For those areas with negative random effect values (i.e. lower than expected risk given the environment), this could be due to high coverage of IRS or ITNs, or presence of other interventions not included in the modelling process. Equally, differences between areas could indicate differences surveillance capacity at the facility level in terms of diagnosis and reporting. Irrespective, mapping random effects is useful as it allows questions and hypotheses to be raised, other predictor variables to be considered or dubious data to be identified. Furthermore, it highlights catchment areas with no cases that may be suitable for transmission and areas unsuitable for transmission in which cases occur.
While the modelling framework has generated encouraging results with regard to cross-scale prediction, the approach outlined here has several important limitations and considerations for implementation elsewhere. Firstly, despite finding a relationship between treatment-seeking in the public sector and travel time to nearest health facility, overall rates of treatment-seeking in the public sector was extremely high at 98%. While Swaziland is a small country and does not have a large private sector, this percentage appears high. Unfortunately, the more frequently used question to assess treatment-seeking behaviour, where if at all those with a reported fever in the previous two weeks sought treatment, could not be used due to small sample sizes.
Secondly, it was assumed that individuals with malaria seek treatment at their closest health facility by travel time. While this is likely to be true in many cases, choice of health facility may be influenced by other factors such as the type and quality of service provided [32] as well as the cost of travel [33]. More complex catchment models, which include competition between different types of facilities and allow overlapping catchment areas [34], may improve the predictive accuracy of cross-scale predictive models. Equally, travel models using local data on travel preferences may improve predictions.
Thirdly, a relatively simple linear modelling approach was used to estimate the pixel scale relationships between malaria risk and covariates. There are several possible improvements which could lead to more accurate predictions. For example, generalized additive models, which would allow for more complex non-linear relationships could be explored. Similarly, including terms to account for spatial autocorrelation both at the catchment and/or pixel level might lead to more robust estimation of relationships and could help with predictions. Furthermore, a consideration of the environmental and ecological conditions at the time point at which the case occurred, or lagged as appropriate, would likely improve the accuracy of predictions and would allow time specific predictions to be made. With the availability of remotely-sensed data increasing, accessing such data should become progressively straightforward. Additionally, use of techniques such as lasso regression for covariate selection provide potential for a more automated modelling approach. While there are still a number of challenges to overcome, this raises the possibility of making these types of predictive models accessible to non-experts within malaria control programmes. These issues were not explored here due to computational limits, but are the focus of future studies.
Fourthly, it should be noted that not all cases that were diagnosed in Swaziland between 2011–2013 received an investigation, due to either resource constraints or failure to make contact with the case. The data used to build and validate these models therefore do not necessarily represent the full picture of malaria in the country. While we do not believe this introduced any bias in this case, such an issue illustrates the benefit of conducting case investigation at the health facility, which, as of 2014 is done in Swaziland. This also highlights the fact that in contrast to higher transmission settings, where predictions can be validated against gold-standard cross sectional survey data, a comparison with passively detected geolocated cases is the only method to validate predictions in this setting.
Finally, Swaziland is one of only a few programmes to have information on the household location of cases, enabling validation of the fine scale risk maps. If this information is known, there is no need for cross scale prediction and modelling can be done using the locations of case households [14]. If this information is not known, the Bayesian modelling approach described here can be used to generate estimates of uncertainty in the predictions. That said, household investigation and active surveillance should still be encouraged. High rates of active testing are generally believed to be a requirement for any elimination programme [35]. Furthermore, visiting case households provides an opportunity for additional targeted interventions such as presumptive treatment, ITN distribution or IRS and allows an assessment of household risk factors. These results do, however, suggest that programmes can obtain detailed understanding in the heterogeneity of malaria transmission without these specific data.
While this paper focusses on the prediction of fine scale malaria transmission risk from health facility data, this modelling framework has potential utility in other multi-scale modelling problems. This could be, for example, fine scale prediction of risk from district or school level disease data. Equally, this method could be used to look at the impact of fine scale interventions, such as village level ITN distributions, on catchment level malaria incidence. Similarly, this approach could be applied to modelling and predicting other environmentally and ecologically driven diseases such as Plasmodium vivax[36], schistosomiasis [28, 37], soil-transmitted helminths [38, 39] and lymphatic filariasis [40]. This is particularly true for low transmission settings, where large scale prevalence surveys become inefficient due to very large sample size requirements to find positives [3].
Conclusions
As malaria transmission declines, interventions need to be deployed with increasing granularity. Often, however, the case data used to understand spatial patterns of risk is only available at the health facility or district level, limiting decision making to this resolution. Using a novel modelling framework, this study has shown that it is possible to combine health facility level case data with fine scale environmental and climatological data to predict malaria risk at fine resolution. This information can help to guide decision making at sub-catchment levels, to ensure interventions are targeted in as evidenced based way possible.
Declarations
Acknowledgements
We would like to thank Simon Kunene and Zulisile Zulu from the Swaziland National Malaria Control Programme for leading the collection of the surveillance data used in the study. Funding support was provided through a grant from the Bill and Melinda Gates Foundation (##1013170) to the UCSF Global Heath Group (HJWS, MSH, RG and NEN). JMC and ALM also acknowledge funding from the Bill and Melinda Gates Foundation (#1034348, and #1106900). MSH is additionally funded by a National Institutes of Health/ National Institute of Allergy and Infectious Diseases K23 grant and a Burroughs Wellcome Fund/American Society of Tropical Medicine and Hygiene Fellowship Award. AJT acknowledges funding support from the RAPIDD program of the Science and Technology Directorate, Department of Homeland Security, and the Fogarty International Center, National Institutes of Health, and is also supported by grants from NIH/NIAID (U19AI089674) and the Bill and Melinda Gates Foundation (#1032350 and #1106427). The funders had no role in study design, data collection and analysis, decision to publish, or preparation of the manuscript. PK acknowledges funding from People Programme (Marie Curie Actions) of the EU's 7th Framework Programme (FP7/2007-2013) under REA grant agreement no. 302868.
Authors' Affiliations
(1)
Global Health Group, University of California, San Francisco, USA
(2)
Clinton Health Access Initiative, Boston, USA
(3)
Department of Ecology and Evolutionary Biology, Yale University, New Haven, USA
(4)
Department of Geography and Environment, University of Southampton, Southampton, UK
(5)
Fogarty International Center, National Institutes of Health, Bethesda, USA
(6)
Flowminder Foundation, Stockholm, Sweden
(7)
Department of Pediatrics, University of Texas Southwestern Medical Center, Dallas, USA
Copyright
© Sturrock et al.; licensee BioMed Central Ltd. 2014
This article is published under license to BioMed Central Ltd. This is an Open Access article distributed under the terms of the Creative Commons Attribution License (http://creativecommons.org/licenses/by/4.0), which permits unrestricted use, distribution, and reproduction in any medium, provided the original work is properly credited. The Creative Commons Public Domain Dedication waiver (http://creativecommons.org/publicdomain/zero/1.0/) applies to the data made available in this article, unless otherwise stated.