A simulation model of African Anopheles ecology and population dynamics for the analysis of malaria transmission
Received: 15 December 2003
Accepted: 30 July 2004
Published: 30 July 2004
Abstract
Background
Malaria is one of the oldest and deadliest infectious diseases in humans. Many mathematical models of malaria have been developed during the past century, and applied to potential interventions. However, malaria remains uncontrolled and is increasing in many areas, as are vector and parasite resistance to insecticides and drugs.
Methods
This study presents a simulation model of African malaria vectors. This individual-based model incorporates current knowledge of the mechanisms underlying Anopheles population dynamics and their relations to the environment. One of its main strengths is that it is based on both biological and environmental variables.
Results
The model made it possible to structure existing knowledge, assembled in a comprehensive review of the literature, and also pointed out important aspects of basic Anopheles biology about which knowledge is lacking. One simulation showed several patterns similar to those seen in the field, and made it possible to examine different analyses and hypotheses for these patterns; sensitivity analyses on temperature, moisture, predation and preliminary investigations of nutrient competition were also conducted.
Conclusions
Although based on some mathematical formulae and parameters, this new tool has been developed in order to be as explicit as possible, transparent in use, close to reality and amenable to direct use by field workers. It allows a better understanding of the mechanisms underlying Anopheles population dynamics in general and also a better understanding of the dynamics in specific local geographic environments. It points out many important areas for new investigations that will be critical to effective, efficient, sustainable interventions.
Keywords
Water BodyMalariaMalaria TransmissionMalaria VectorOviposition Site
Background
Not so long ago, in 1998, Sherman declared: "Of all the human afflictions, the greatest toll has been exacted by malaria. Even today, malaria, which is caused by protozoan parasites of the genus Plasmodium, disables and kills more people than any other infectious disease." [1]
In line with the pioneering models of Ross (1911) and Macdonald (1957), malaria interventions such as breeding-site reduction and insecticide use have been considered the most effective and practical ones for reducing malaria transmission. Bednets and house screening serve as personal protection, and bednet-associated effects on malaria prevalence appear to be greater than can be accounted for by personal protection [2]. These interventions have produced good results, but in much of the world malaria remains uncontrolled. Furthermore, malaria vectors are increasingly developing insecticide resistance. At every level of research, policy and practice, malaria control can be helped by models that are both more comprehensive and closer to the day-to-day realities of malaria (K. Dietz in [3]). As Bradley (1982) has pointed out, "for real progress, the mathematical modeller, as well as the epidemiologist, must have mud on his boots." The aim of this study is to provide a framework and a tool for modelers to work closely with field workers in malariology, particularly entomologists.
The study also aims to achieve a broader analysis and deeper understanding of the complex mechanisms involved in malaria transmission, in order to aid intervention programs. The idea of controlling malaria through the introduction of genetically modified mosquitoes is gaining increasing attention, for instance, but will first need to be tested critically, in trials that will necessarily involve models.
Thus the work presented below represents only a beginning, and it has two major aims. First, it introduces an approach to help researchers account for ecological variables that are key determinants of malaria vector population dynamics. When fully calibrated, this approach will provide an integrated platform for hypothesis testing with complex temporal and spatial data; ultimately, it should help by providing forecasting capabilities.
Of perhaps even greater importance, this first model provides a vehicle for assembling and structuring existing knowledge, thereby pointing out critical areas in which knowledge is lacking and very much needed. Thus it is a means of identifying and organizing important research priorities and indicating their epidemiological implications.
One of the most important strengths of this model is to combine biological and environmental variables. As stated by [4], the combination of intrinsic and extrinsic determinants of mosquito-borne disease incidence should be the focus of future research. This is critical both in controlling these diseases and reducing the severity of epidemics by predicting them.
Approximately 70 species of Anopheles have been implicated in malaria transmission worldwide. In Africa the major vectors are Anopheles gambiae sensu lato, which is considered the most important in most regions, Anopheles arabiensis, which is part of the preceding complex but with distinct characteristics, and Anopheles funestus, which is often reported as the second most important species in terms of malaria transmission and, more particularly, is considered the end-of-rainy-season vector that sustains the parasite. This work focuses on the major vector in sub-Saharan Africa An. gambiae, but much of what follows may be applicable to An. arabiensis, and even to An. funestus separately and all together, with inter-as well as intra-species competition.
This paper describes the first model of malaria vector population dynamics integrating both biological and environmental factors.
Methods
The model incorporates basic biological requirements for Anopheles development on an individual basis and, using local environmental data as input, allows the simulation of the aggregate dynamics of Anopheles populations. The life cycle of each individual proceeds through four stages: three immature stages, which occur in a water body – egg, larva, pupa – and then the mature stage, a flying adult. An adult female disperses from the natal water body and begins a cycle which is maintained throughout the rest of life-alternating between obtaining a bloodmeal and ovipositing in a water body.
Five major factors are considered here as characterizing
Anopheles
population dynamics, by means of mechanisms detailed below (see figure
1
for a schematic):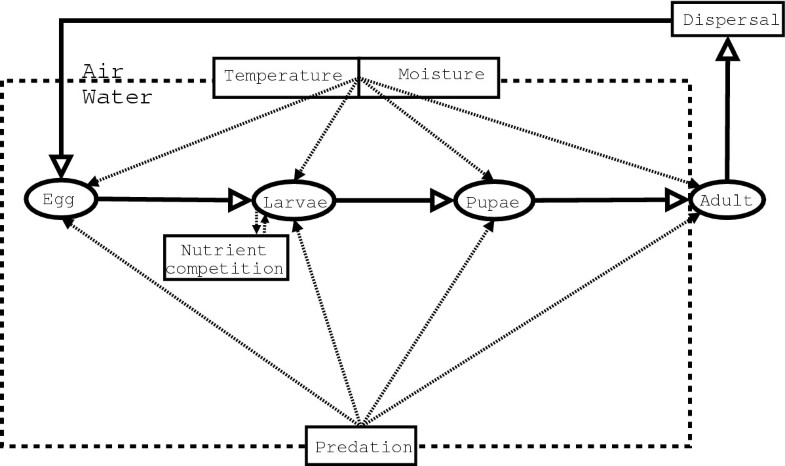 Temperature is a critical regulator of growth and development within each stage, in determining the end of one stage and the beginning of the next and in regulating the length of the gonotrophic cyle.
Moisture, in the form of precipitation and relative humidity, is a second key abiotic factor, with effects that in part interact with those of temperature.
Nutrient competition is a major potential regulator which is considered to induce mortality in the larval stage. In addition, there is a minimum weight requirement for the transition from larva to pupa, and, through its influence on adult weight, the relation of larval weight to fecundity.
Predation and Disease, in which pathogens are included, is a second important mortality-inducing factor, which is considered in local terms relative to the water body.
Dispersal, or the adult female's movement in space, is a critical factor in the cycle of seeking blood meals and oviposition sites. The model explicitly represents spatial locations of individual adults, though it does not fully engage this capacity in the analyses presented here.
The model is implemented as a software package in the C++ object-oriented programming language, in the Microsoft Windows 98 operating system, and is available from the corresponding author upon request. It was developed and run on a personal computer with a Pentium 3 processor 933 MHz and a relatively small memory of 256 Mb.
Results
A simple example is used to show how the model can help to achieve a better understanding of vector population dynamics and determine key underlying factors. In particular, the influence of temperature, moisture, predation and nutrient competition on adult abundance is investigated. The example is taken as a small cluster of six houses, each with five residents, and a total of three oviposition sites (figure
6
and table
7
. An attempt has been made to reproduce some important characteristics of a local environment by considering two types of pools: a semi-permanent pool, P1, and two temporary pools, P2 and P3 (see figure
7
and table
7
. As noted above, at this stage each mosquito in the model chooses at random among oviposition sites and among houses and residents at the appropriate points in her gonotrophic cycle. Temperature and moisture inputs were obtained based on data from Kilifi, on the coast of Kenya. Figures
8
and
9
show daily precipitation, minimum and maximum temperature and relative humidity reported there over the 20 months from May 1, 2000 to December 31, 2001. In this region there are two primary rainy seasons: April-June and October-November. Except where noted, the default values were used for parameters, as given above.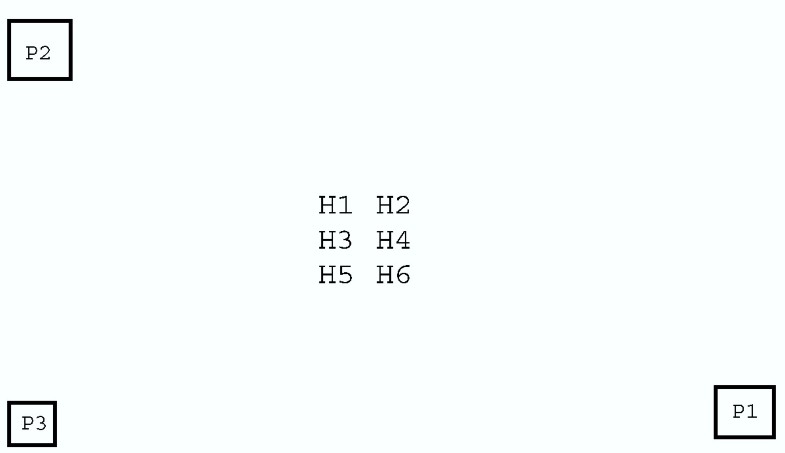 Table 7
Water body characteristics
| | sun exposure | coef water fill | water fix intake (mm) | water fix lost (mm) | max biomass density (mg·m-2) |
| --- | --- | --- | --- | --- | --- |
| Pool 1 | 1 | 4 | 0 | 0.01 | 30 |
| Pool 2 | 1 | 7 | 0 | 0.02 | 60 |
| Pool 3 | 0.7 | 4 | 0 | 0.028 | 70 |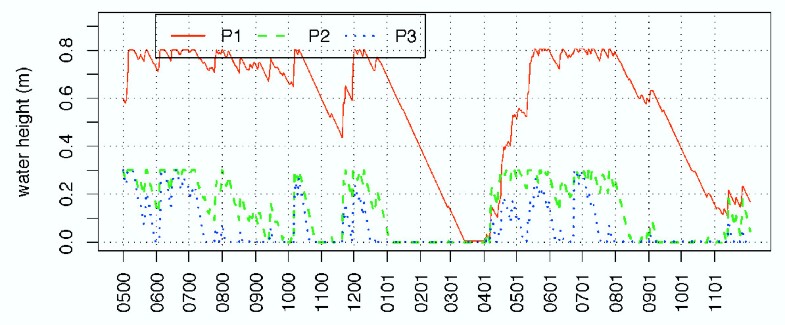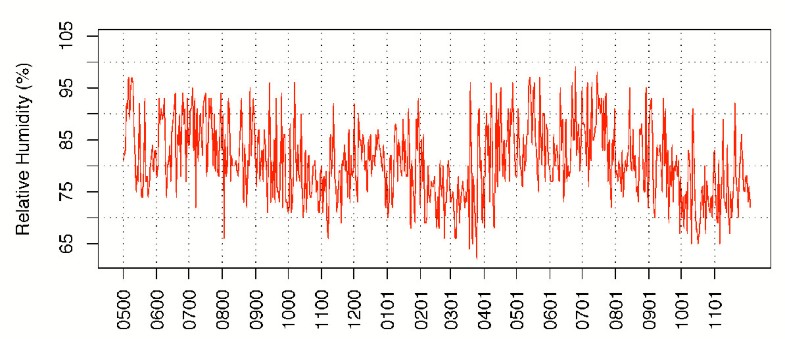 Discussion
This model integrates important mechanisms underlying Anopheles population dynamics in an explicit, transparent way. It focuses on five basic factors, two of them abiotic – temperature and moisture – and three biotic – nutrient competition, predation or death by disease, and dispersal.
Little of the published literature takes into account the effects of temperature on vector populations. It may be that temperature shows little fluctuation compared to countries with marked seasonality, but most African regions like Kenya exhibit temperature fluctuations ranging from 16°C to 35°C, which can be critical. Futhermore, temperature range is a key determinant for species dispersal and is, therefore, of high epidemiological importance: the species have different vectorial capacities and require different control programs.
Each parameter in equation 2 is individually related to the slopes of the curves for each stage of insect development (see Schoofield et al. [8]), and therefore may reflect a species' adaptation to different climates. Particularly,

, ΔH H and ΔH L , should reflect the sensitivity of each species to temperature changes in temperate, high and low temperature areas respectively, and thus could be highly informative. Many studies focus on vector breeding site characteristics, which the model addresses simply in terms of moisture. As yet no particular variables have been found to be crucial determinants of breeding site selection or success, but when these are determined, the model can implement them relatively easily. The transient patterns of breeding sites are taken into account as key determinants of predator and vector disease dynamics, however.
Nutrient competition is considered one of the major regulators of vector populations. Here the carrying capacity concept is used to allow both intra-and inter-species competition. Very few studies of vector predators and pathogens have been undertaken to date, but some literature suggests that this may also be an important determinant, so it has been incorporated accordingly. Little is known about Anopheles dispersal, though this is clearly a critical factor. Here simple random dispersal has been used, but it may be possible to implement a more sophisticated dispersal algorithm soon.
Thus, a basic tool has been developed for use by field workers and will be vastly improved by their efforts. First, more complete and precise data on Anopheles biology is needed: if nothing else, the model provides an organized view of the huge gaps in the existing information. A framework has been developed by exploiting what is available, but, at this point, far too many parameters and mechanisms involve arbitrary values or estimates.
Nonetheless, as an example, a vector population was simulated for a 20-month period, from May 1, 2000 to December 31, 2001, with meteorological data from Kilifi in Kenya and it was possible to roughly assess the sensitivity of vector population dynamics to four of the five basic factors – temperature, moisture, competition, and predation. The focus was on adult abundance curves.
Temperature is very important to the adult abundance curve and, particularly, to the occurrence of the initial peak after a drought period; this may be critical for control purposes. Moisture is a key determinant of particular high peaks that occur not only after a drought period but throughout the year for temporary breeding sites. These peaks were attributed to the lower larval mortality proceeding from lower predation and disease pressure.
These peaks may be of great epidemiological importance, in that they could bring malaria prevalence in humans above a threshold at which relatively high transmission could occur despite a low vector density. One concern with such large fluctuations is that the proportion of people susceptible may be very high at the beginning of the peak period. Furthermore, the earliest emergent adult mosquitoes may have a higher vectorial capacity; with almost no food competition, their weight is greater, which implies a longer life [26]. With different initial conditions, when high density competition induces longer development time, the occurrence of the first peak can be delayed by more than a week.
Preliminary results on species competition suggest the existence of competitive exclusion, i.e. the survival of only one species in a given habitat, which highlights the necessity of niche differentiation for species coexistence. The example also suggests that if insecticides impact populations of predators on Anopheles, the resulting de-regulation may backfire, producing a vicious cycle that leads to ever-increasing insecticide use. This further supports the argument that great improvements in our understanding of Anopheles ecology and population dynamics are needed.
The model is based on the data and knowledge currently available, and it can reproduce some broad, diverse patterns found in the field; its mechanisms and rules are explicit, and they allow us to provide detailed analyses and explanations of vector population dynamics. However, it requires considerable, continued application in the field to improve the data and our understanding of the underlying mechanisms. This is exactly the plan for subsequent research, to contribute to improved control of the scourge of malaria.
Table
9
shows the parameters in the most immediate need of field testing and measurement. However, with the default parameter setting, the model can currently be run by users with only:
Table 9
Parameters to define.
Daily survival
Egg aestivation survival
Adult aestivation survival
Adult aestivation trigger (relative humidity level/ factors combination)
Maximum larval biomass per surface unit
Egg survivorship
Larval predation mortality
Pupae predation mortality
1.

A description of the geographical area with the pools and houses.

2.

Climate information (temperature, precipitation, relative humidity) for the period considered.
Conclusions
This model made it possible to structure existing knowledge of Anopheles vector population dynamics, and highlight crucial elements that are missing.
The data and other information currently available made it possible to build a model that can reproduce diverse patterns found in the field. It incorporates explicit mechanisms and rules that can provide detailed analyses and explanations, and thus is a tool to help the malaria research and intervention community gain a better understanding of vector dynamics.
The model should be greatly improved as more precise data and hypotheses become available and as it is applied in the field.
Authors contributions
JMD contributed conceptualisation and design of the model, main literature review and authorship of the paper.

CM contributed conceptual and data input, review and comments.

GK, BK, JB and JC contributed conceptual input, review and comments.

JD, PB, HM, JG and AT contributed review and comments.

FEM contributed the initial concept and general supervision.
All authors read and approved the manuscript.
Declarations
Acknowledgements
We wish to thank Lizette Koekemoer of the South African Institute of Medical Research for a advice and provision of unpublished data.
Authors' Affiliations
(1)
Fogarty International Center, National Institutes of Health, Bethesda, USA
(2)
Kenya Medical Research Institute, Centre for Geographic Medicine Research – Coast, Kilifi, Kenya
(3)
International Centre of Insect Physiology and Ecology, Nairobi, Kenya
(4)
Ifakara Health Research and Development Centre, Ifakara, Tanzania
(5)
Entomology Unit, FAO/IAEA Agriculture and Biotechnology Laboratory, Seibersdorf, Austria
(6)
Global Public Health Program, University of Miami, Miami, USA
(7)
Tulane University, New Orleans, USA
(8)
University of Aberdeen, University of Aberdeen, Aberdeen, UK
(9)
School of Mathematics, Statistics and IT, University of Natal, Pietermaritzburg, South Africa
(10)
Faculty of Medicine, Pharmacy, and Dentistry, Malaria Research and Training Center, Bamako, Mali
Copyright
© Depinay et al; licensee BioMed Central Ltd. 2004
This article is published under license to BioMed Central Ltd. This is an open-access article distributed under the terms of the Creative Commons Attribution License (http://creativecommons.org/licenses/by/2.0), which permits unrestricted use, distribution, and reproduction in any medium, provided the original work is properly cited.