Expression of Plasmodium falciparum erythrocyte membrane protein 1 in experimentally infected humans
Received: 09 February 2005
Accepted: 27 April 2005
Published: 27 April 2005
Abstract
Background
Parasites causing severe malaria in non-immune patients express a restricted subset of variant surface antigens (VSA), which are better recognized by immune sera than VSA expressed during non-severe disease in semi-immune individuals. The most prominent VSA are the var gene-encoded Plasmodium falciparum erythrocyte membrane protein 1 (PfEMP1) family, which is expressed on the surface of infected erythrocytes where it mediates binding to endothelial receptors. Thus, severe malaria may be caused by parasites expressing PfEMP1 variants that afford parasites optimal sequestration in immunologically naïve individuals and high effective multiplication rates.
Methods
var gene transcription was analysed using real time PCR and PfEMP1 expression by western blots as well as immune plasma recognition of parasite cultures established from non-immune volunteers shortly after infection with NF54 sporozoites.
Results
In cultures representing the first generation of parasites after hepatic release, all var genes were transcribed, but GroupA var genes were transcribed at the lowest levels. In cultures established from second or third generation blood stage parasites of volunteers with high in vivo parasite multiplication rates, the var gene transcription pattern differed markedly from the transcription pattern of the cultures representing first generation parasites. This indicated that parasites expressing specific var genes, mainly belonging to group A and B, had expanded more effectively in vivo compared to parasites expressing other var genes. The differential expression of PfEMP1 was confirmed at the protein level by immunoblot analysis. In addition, serological typing showed that immune sera more often recognized second and third generation parasites than first generation parasites.
Conclusion
In conclusion, the results presented here support the hypothesis that parasites causing severe malaria express a subset of PfEMP1, which bestows high parasite growth rates in individuals with limited pre-existing immunity.
Keywords
Severe Malaria
Infected Erythrocyte
Generation Parasite
Asexual Parasite
Variant Surface Antigen
Background
Plasmodium falciparum-encoded variant surface antigens (VSA) are expressed on the surface of infected erythrocytes (IE) and mediate binding to a range of endothelial cell receptors [1]. Endothelial adhesion contributes to the particular virulence of the P. falciparum and most likely has evolved as a mechanism to avoid parasite clearance in the spleen [2–4]. Individuals living in areas of intense parasite transmission develop immunity towards severe malaria early in life [5]. Parasites causing severe malaria in young children with limited pre-existing immunity tend to express a limited, relatively conserved subset of VSA (VSASM) that is more often and better recognized by antibodies from most parasite-exposed individuals than the larger and more diverse VSAUM subset expressed by parasites causing uncomplicated malaria [6–8]. It thus appears that expression of VSASM confers a selective advantage in non-immune individuals, perhaps by allowing particularly efficacious endothelial sequestration and consequently high effective growth rates. The best characterized VSA are the var gene-encoded P. falciparum erythrocyte membrane protein 1 (PfEMP1) family [9–11]. Each haploid parasite genome contains 50–60 var genes, of which the 59 var genes annotated in the fully sequenced P. falciparum clone 3D7 can be divided into three major groups, A, B and C, based on sequence analysis [12, 13]. The functional relevance of this grouping is supported by the parallel differences in CD36-binding characteristics of PfEMP1 CIDR1α domains. Thus, GroupA CIDR1α domains do not bind CD36, whereas CIDR1α domains encoded by GroupB and GroupC var genes do [14]. The 3D7 PfEMP1 repertoire may well represent the VSAUM -VSASM spectrum observed in field isolates, and recent findings point to GroupA as encoding VSASM-type PfEMP1 molecules in patient isolates [13, 15–17]. Unfortunately, little is known about var gene expression in vivo, and studies have been frustrated by the difficulties in detecting and quantifying expression in parasites with unknown var gene repertoires. This difficulty has been overcome by taking advantage of the knowledge of the var gene repertoire in 3D7 and analyzing var gene expression in NF54 parasites (the parental line of 3D7) isolated from non-immune individuals experimentally infected by mosquito challenge. Immediately upon release from the liver, the parasites appeared to transcribe all var genes, with GroupA genes being the least transcribed. However, within one or two parasite generations this pattern changed, in particular in those parasites exhibiting the fastest in vivo growth rates. Here, only a few genes dominated the var transcript population. The data indicate that PfEMP1-determined differences in growth rates shape the expressed PfEMP1 repertoire, and that some PfEMP1 variants confer high effective parasite multiplication rates in non-immune individuals.
Materials and methods
Malaria parasites
Parasites were isolated from Dutch volunteers exposed to mosquitoes infected with
P. falciparum
isolate NF54[
18
] as part of ongoing studies of experimental
P. falciparum
infections. On day 0, ten non-immune volunteers were subjected to two or five infectious bites. Chloroquine treatment was initiated on the first day a thick smear was positive. Parasite cultures were established from 400 microlitres of packed blood cells drawn on days 8, 9, and 10 and parasites were cultured
in vitro
for 27 or 33 days (Figure
1
) to obtain sufficient parasite material for DNA, RNA and protein analysis. The parasites were cultured in 0 Rh
+
erythrocytes as described [
19
], with the addition of 2% non-immune human serum to the culture media. Long-term
in vitro
3D7 cultures expressing VSA
UM
-type antigens or selected
in vitro
to express VSA
SM
-type antigens were used as controls[
20
].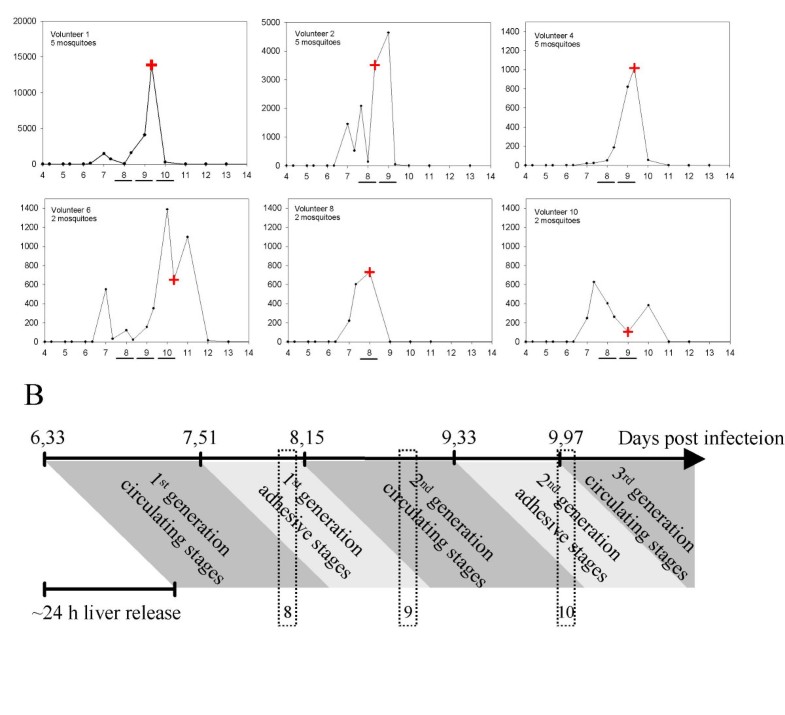 DNA, RNA, cDNA and quantitative real-time PCR
The development of parasitaemia was monitored by quantitative real-time PCR as described [21]. DNA, RNA and cDNA for var gene transcription analysis were prepared from synchronized parasite cultures as described [17]. Quantitative real-time PCR was performed using a Rotorgene thermal cycler system (Corbett Research, Motlake, Australia). Real-time PCR-optimized and gene-specific primers for each of all full-length var genes and a pseudogene in the 3D7 isogenic NF54 P. falciparum genome were those described in [22], except for PFI1830c. Real time primers for this gene were forward 5'ACAACAATTTCGCAAGCAAG 3', reverse 5'TTCCTCTGCCTCCTCTTCAT 3'. Standard curves for the estimation of product-related fluorescent bias and amplification efficiencies were generated for all primer pairs. For 15 primer sets, standard curves were generated both from dilution series of genomic DNA and from cloned gene fragments [17]. As the two approaches led to identical standard curves (not shown), standard curves for the remaining genes were determined from genomic DNA only. The standard curves were linear across a range of seven logs of DNA concentrations (R = 0.9779 to 0.9995) with amplification efficiencies between 90 and 101%. Standard curves were used for primer bias corrections in calculations of absolute transcript levels. The detection limit of the system was ≥ 20 copies. The housekeeping genes seryl-tRNA synthetase and fructose-bisphosphate aldolase have uniform transcription profiles throughout the parasite life cycle[22], and were used as endogenous controls. Differences in var transcript distribution between samples were calculated by the ΔΔ CT method using the endogenous controls for normalization.
Discussion
The inter- and intra-clonal variability of the var genes have frustrated attempts to investigate the roles of the encoded PfEMP1 proteins in pathogenesis and protection. The most common strategy has been to quantify var transcription by counting the frequency of unique sequence tags, amplified by degenerate primers targeting semi-conserved blocks of DBL domains. This has been used to study phenotypically distinct laboratory lines [10, 25–29]and parasite strains isolated from patients with defined clinical outcomes [16, 30–32] The only previous study of var gene transcription in experimentally infected humans also applied this strategy [33]. However, it requires the sequencing of a large number of clones for statistical significance and is inherently susceptible to primer bias. Together, this makes data interpretation difficult. To overcome these difficulties, sensitive and gene-specific tools were used to analyse in detail the pattern and dynamics of var gene expression in non-immune volunteers infected with a parasite with a known var gene repertoire. The necessity for in vitro expansion of parasites from blood samples with submicroscopic parasitaemias makes this approach susceptible to two separate types of bias. Firstly, cultures were established from a relatively small number of parasites and the transcription profiles of these parasites may not represent the profile of the entire in vivo population. However, in most cultures the founder population was between 100 and 4,000 parasites, and only two cultures, which did not exhibit biased transcription patterns (day 8 culture of volunteers 1 and 4) were established from less than 100 parasites. Secondly, P. falciparum has been reported to switch var gene expression at variable rates in vitro [34, 35]. Hence, the var gene expression in the cultures at the time of transcription analysis may not reflect the expression profile in vivo at the time of blood collection. The transcription profiles of the cultures isolated on day 8 were similar and different to the profiles of the parasites isolated on days 9 and 10. This, and the fact that the differential var gene transcription, translation and serological recognition of PfEMP1 correlated with parasite growth, however, indicates that in vitro switching did not invalidate the analyses.
No var gene was dominantly transcribed in the day 8 cultures. Instead, a relatively large group of genes belonging to var groups B and C were expressed at almost similar levels and interestingly, nine of the 10 lowest transcribed genes belonged to group A or B/A. These data imply that the PfEMP1 expression pattern at the beginning of the infection is broad and anticipatory. In addition, the consistent increase in recognition by immune sera with time of infection and the apparent association between high growth rates and differential expression of a few group A and B genes from first to second and third generation imply that it is the host environment that modulates the PfEMP1 expression. This is a plausible scenario because of the large and immediate differences in survival fitness that are likely to be imposed on the asexual parasites by the physiology and pre-existing immunity of the host. While most – or all – of the PfEMP1 variants that can be expressed by a given parasite will be exposed to the immune system according to this model, the majority of the variants are likely to be present too briefly to induce a significant immune response. Crucially, survival fitness differences depend on which PfEMP1 variants are being expressed and necessitate a parasite response much faster than which can be achieved by switching to advantageous var genes. Although differences in switching rates can contribute to the pattern of var gene expression [35] and may well be responsible for the differences in transcription observed on day 8 (Figure 2), differences in survival rates may be far more important in focusing and ordering PfEMP1 expression in vivo. In non-immune individuals this process would be expected to focus expression on the restricted and relatively conserved subset of VSA (VSASM) associated with severe disease in patients with little pre-existing immunity [13, 17] It has previously been documented that in vitro selection of 3D7 for acquisition of the VSASM phenotype is associated with expression of a subset of var genes [[15]. Strikingly, four of the five marked differentially transcribed genes (PF11_0008, PFD1235w, MAL7P1.55 and PFA0015c) in the volunteer 1 cultures, were among the few genes differentially transcribed genes upon selection for the 3D7SM phenotype, in which there was selection for expression of PF11_0008, PFD1235w and MAL7P1.55 and against expression of PFA0015.
In the study of Peters et al [33] the clone frequency strategy was used to investigate var transcription profiles of parasites isolated from two volunteers on day 12 and 13 after infection with 3D7 by eight or nine infectious mosquito bites. One transcript, PF11_0007, belonging to var group B, comprised half of the 39 and 41 sequences cloned from the two volunteers respectively. In total 10 and nine different var tags were found and only one belonged to var group A. The parasites were predicted to be 3rd or 4th generation and the parasitaemias in the two volunteers were 18,000 and 212,000 parasites/ml. Thus, these profiles are best compared with that of the day 10 isolate of volunteer 1 presented in this study. Taking into account the potential ambiguities in the interpretation of the results presented by Peters et al, we believe that the two data sets could reflect similar dynamics in the human host.
Conclusion
In conclusion, the data – in combination with earlier findings – suggest that PfEMP1 expression is determined and ordered mainly by host physiology and immunity, and that this will cause infections in non-immune individuals to be dominated by VSASM-type variants such as those encoded by Group A and B var genes.
Abbreviations
PfEMP1:

Plasmodium falciparum erythrocyte membrane protein 1
VSAUM:

variant surface antigens associated with uncomplicated malaria
VSASM:

variant surface antigens associated with severe malaria
Declarations
Acknowledgements
We thank Liselotte Wolters for performing QRT-PCR and Petra Schneider and the team at Clinical Center for Malaria Studies, University Medical Center Nijmegen, The Netherlands for sampling parasites from volunteers. Maiken Christensen and Kirsten Pihl are thanked for excellent technical assistance. The PlasmoDB database http://www.plasmodb.org has been a valuable resource for this work and the database developers and researchers who have made their data available here are thanked. The study received financial support from The Danish Medical Research Council (SSVF grant no. 63686), and the Commission of the European Communities (grant no. QLK2-CT-2002-01197, EUROMALVAC). PM and AS are supported by the Gates Malaria Partnership Ph.D. scholarships.
Authors' Affiliations
(1)
Centre for Medical Parasitology at Institute for Medical Microbiology and Immunology, University of Copenhagen, Copenhagen N, Denmark
(2)
Centre for Medical Parasitology at Department of Infectious Diseases, Copenhagen University Hospital (Rigshospitalet), Copenhagen, Denmark
(3)
Radboud University Nijmegen Medical Centre, Nijmegen, The Netherlands
Copyright
© Lavstsen et al; licensee BioMed Central Ltd. 2005
This article is published under license to BioMed Central Ltd. This is an Open Access article distributed under the terms of the Creative Commons Attribution License (http://creativecommons.org/licenses/by/2.0), which permits unrestricted use, distribution, and reproduction in any medium, provided the original work is properly cited.