Antennal sensilla of two female anopheline sibling species with differing host ranges
Received: 15 February 2006
Accepted: 30 March 2006
Published: 30 March 2006
Abstract
Background
Volatile odors are important sensory inputs that shape the behaviour of insects, including agricultural pests and disease vectors. Anopheles gambiae s.s. is a highly anthropophilic mosquito and is the major vector for human malaria in sub-Sahara Africa, while Anopheles quadriannulatus, largely due to its zoophilic behaviour, is considered a non-vector species in the same region. Careful studies of olfaction in these sibling species may lead to insights about the mechanisms that drive host preference behaviour. In the present study, the external anatomy of the antenna, the principle olfactory organ in the female mosquito of both species, was examined as an initial step toward more detailed comparisons.
Methods
Scanning electron and light microscopy were used to examine the antennae ultrastructures of adult female An. gambiae s.s. and An. quadriannulatus. Sensory structures, called sensilla, were categorized and counted; their distributions are reported here as well as densities calculated for each species.
Results
Both An. gambiae s.s. and An. quadriannulatus bear five classes of sensilla on their antennae: chaetica (bristles), trichodea (hairs), basiconica (pegs), coeloconica (pitted pegs), and ampullacea (pegs in tubes). Female An. quadriannulatus antennae have approximately one-third more sensilla, and a proportionally larger surface area, than female An. gambiae s.s. antennae.
Conclusion
The same types of sensilla are found on the antennae of both species. While An. quadriannulatus has greater numbers of each sensilla type, sensilla densities are very similar for each species, suggesting that other factors may be more important to such olfactory-driven behaviours as host preference.
Keywords
Sibling SpeciesHost PreferenceOdorant ReceptorMaxillary PalpAntennal Sensilla
Background
Odors are the principle sensory signals that direct female mosquitoes to their preferred blood meal hosts [1, 2]. Antennae of adult mosquitoes bear numerous sensory structures called sensilla, which are the physical sites of chemical detection. Within sensilla, olfactory signal transduction relies on odorant receptor proteins localized on the dendritic membranes of olfactory receptor neurons to initiate the events that ultimately lead to the perception of both the quality and the quantity of odors. Behavioural responses to volatile cues, including host finding by female mosquitoes, are critical components of vectorial capacity, the ability of an insect to transmit disease [2]. Two closely related mosquito sibling species, An. gambiae s.s. and An. quadriannulatus, display very different patterns of blood meal host preference. An. gambiae s.s. exhibits a high degree of anthropophily, while An. quadriannulatus exhibits strong zoophily [2]. Indeed, the strong preference for human blood meals by An. gambiae s.s. females is a major contributing factor to human malaria transmission, a disease that afflicts more than 200 million people and causes as many as 3 million deaths annually [3], while An. quadriannulatus, because of its preference for cattle, is not considered a malaria vector [4].
In order to understand the specifics of the attractiveness of humans to the mosquito, a major focus of this laboratory is the study of components in the olfactory signal transduction and coding process of An. gambiae s.s. Accordingly, comparisons of the peripheral and central olfactory events between behaviourally divergent sibling species, such as An. gambiae s.s. and An. quadriannulatus, should provide valuable insights into the mechanisms that determine their respective host preferences. Understanding the basic molecular events that underlie blood feeding may ultimately lead to the design of new ways to interfere with the human/mosquito interaction and thereby reduce the associated disease burden.
Antennal sensilla have previously been described for several mosquito species (for review see [5, 6]), including some anophelines [7, 8]. Apart from the large coeloconic sensilla, which are absent in the culicines [5], the types of sensilla found on mosquito antennae are generally well conserved, although large variations in the numbers of each type have been observed [5]. It is possible that variations in types or numbers of sensilla exist between An. gambiae s.s. and An. quadriannulatus, which may suggest areas of future investigation. As such, a comparative examination of the olfactory apparatus of An. gambiae s.s. and An. quadriannulatus as a prelude to future comparative molecular studies has been undertaken.
Methods
Mosquito rearing
An. gambiae s.s. (G3) and An. quadriannulatus (SANGQUA) were reared as described previously [9]. The G3 strain of An. gambiae s.s. was received from Dr. Mark Benedict at the Centers for Disease Control and Prevention and is described in more detail at: http://www2.ncid.cdc.gov/vector/All%20Anopheles.html. An. quadriannulatus (SANGQUA) was the kind gift of Dr. Willem Takken (Wageningen Agricultural University, The Netherlands).
Scanning electron microscopy (SEM)
Heads from 4- to 6-day-old adult An. gambiae s.s. or An. quadriannulatus were fixed with 4% paraformaldehyde, 0.1% Triton X-100 in phosphate buffered saline (PBS). Heads were then dehydrated; first in an ethanol series from 50% to 100% in 10% increments, followed by ethanol:hexamethyldisilazane (HMDS) at 75:25, 50:50, 25:75 and 0:100. HMDS was decanted and heads were dried in a fume hood. Heads were then glued onto aluminum pin mounts with colloidal silver paint and sputter coated for 30 seconds with gold-palladium. Samples were viewed using a Hitachi S-4200 scanning electron microscope and digital micrographs of each flagellomere were collected using Quartz PCI version 6.0 image acquisition software (Quartz Imaging Corp. Vancouver, B.C.).
Light microscopy
Antennae from 4- to 6-day-old adult An. gambiae s.s. (G3 strain) or An. quadriannulatus were hand dissected from cold-anesthetized animals and placed in 25% sucrose, 0.1% Triton X-100 in water. These antennae were mounted on glass slides with a cover slip and sealed with clear enamel nail polish. Slides were stored at 4°C and observed under an Olympus BX-60 (Olympus America Inc. Melville, NY) microscope at 400× magnification. Photomicrographs were captured using an Olympus DP70 digital camera.
Sensilla counts
Antennae were initially observed by SEM on both the dorsal and ventral aspects to look for any bias in sensilla arrangements. Thereafter, heads were mounted such that the antennae were most often observed from the lateral aspect, with some variation between individuals. Sensilla on each micrograph were classified by type and counted. Mean values for each sensillum type were calculated for 10 individuals per species and then multiplied by a factor of 2, assuming that only half the sensilla could be seen in each micrograph. For brightfield counting, all sensilla of a given type could be observed on each flagellomere by continuous focus adjustment through the specimen. Mean values for each type were calculated for 20 individuals. Standard deviations were calculated for each data set as described previously [10]. Standard errors (se) were then calculated by dividing the standard deviations by the square root of n [10]. Student's t-tests (two-tailed) were performed as described [10] to determine whether the mean number of each sensilla type differed significantly between species.
Surface areas and densities
Flagellomeres 1–13 were viewed using brightfield optics, as described above, at 400× magnification. The length of each flagellomere was measured with an Olympus DP70 digital scale bar, and the width (diameter) was measured at the midpoint of the length (Figure
3A
). The mean values of these measurements were calculated for 20 individuals per species. Standard errors (se) were calculated as described above. The surface area of a tube (length * diameter * pi) was used to estimate the surface area for each flagellomere. Mean surface areas were also calculated (n = 20 individuals per species). Standard errors (se) were calculated as described above. Student's
t
-tests (two-tailed) were performed to determine whether the mean surface areas differed significantly between species. Sensilla densities were calculated by dividing the mean number of sensilla by the total mean surface area where the particular type of sensilla was found.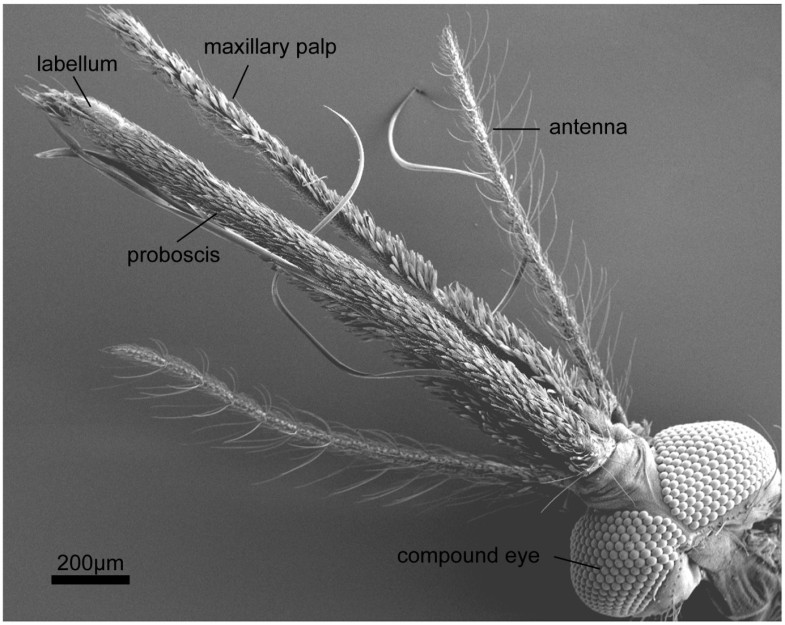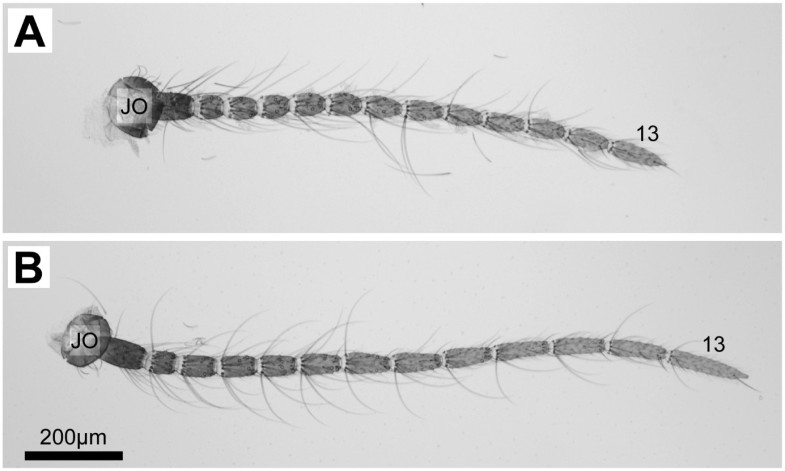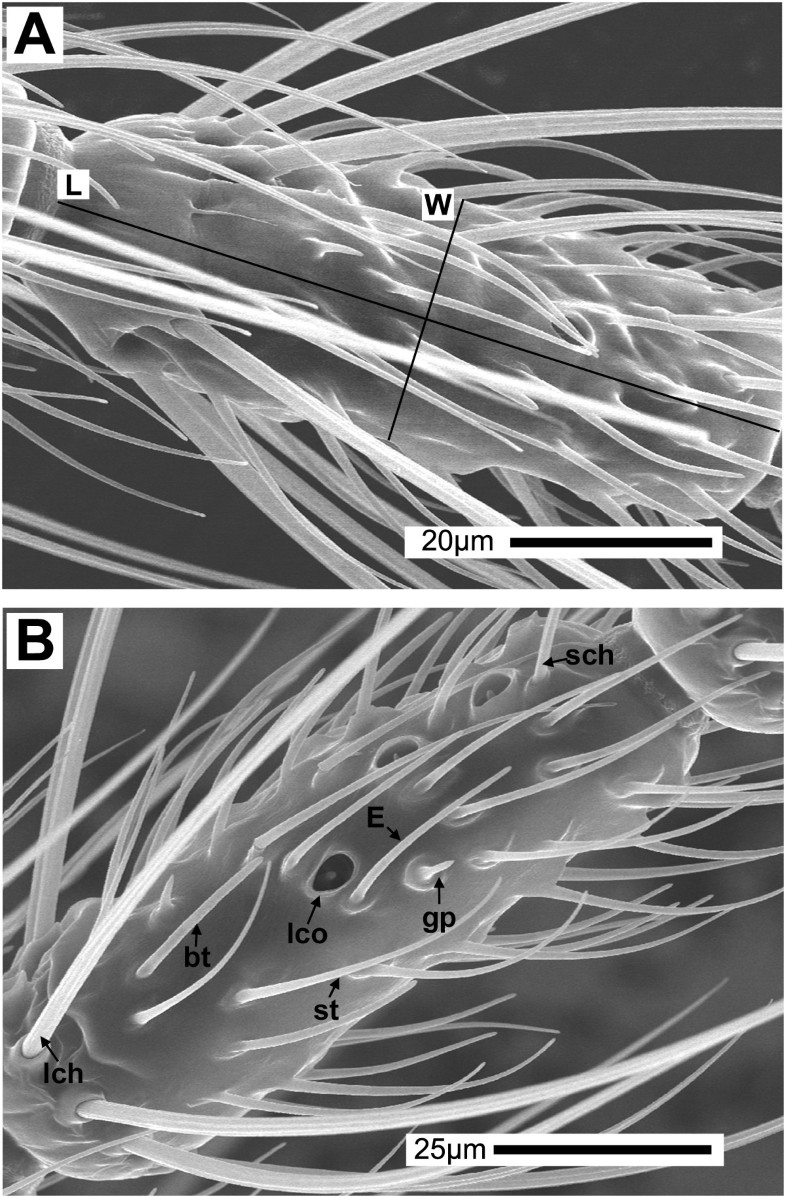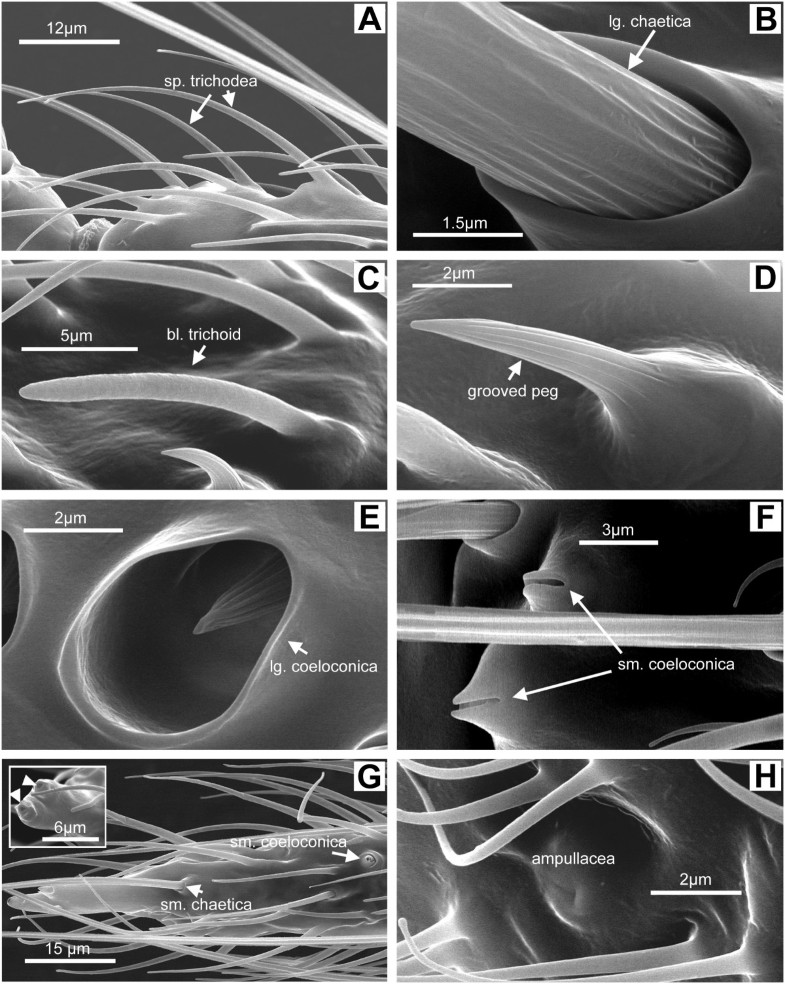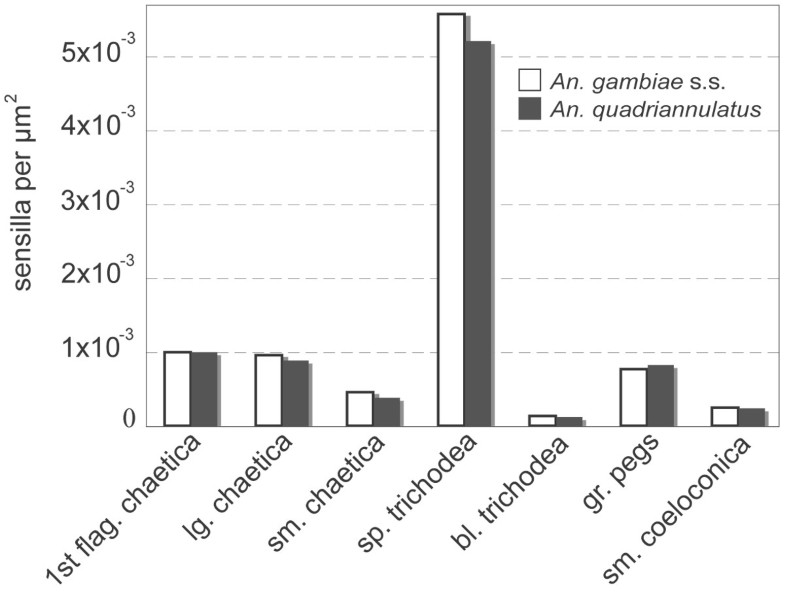 Discussion
Five classes of sensilla have previously been described on the flagellomeres of mosquitoes [5]. Each of these classes were observed on the antennae of An. gambiae s.s. and An. quadriannulatus. The distribution pattern of each sensilla type was highly conserved among individuals within a single species and was also very well conserved between An. gambiae s.s. and An. quadriannulatus. However, the average numbers of sensilla seemed to differ between these two species. In fact student's t-tests confirmed that the interspecific mean values for nearly all sensilla types were significantly different (Table 1). The lone exception was the blunt trichodea where the t-test returned a low significance value (p < 0.20, Table 1). The mean number of blunt trichoid sensilla may in fact be different, but their rarity may exaggerate any bias that is inherent in the method used here to count them, since SEMs offer a view of only one side of the flagellomere.
The calculated mean numbers of An. gambiae s.s. sensilla are in general agreement with previous work [7], with the exception of the number of large coeloconic sensilla. Ismail reported 33 per antenna, distributed on flagellomeres 1–9, including 2 per flagellomeres 8 and 9 [7]. In contrast, an average of only 21.6 per antenna was found in this study, being infrequently observed on flagellomeres 8 and 9. It is reasonable to suggest that variation between the laboratory strains of An. gambiae used in these studies may underlie these differences. Indeed, great variation in the numbers of large coeloconic sensilla has been observed in wild populations of An. gambiae s.l. [8].
Significantly greater mean surface areas of antennal flagellomeres were observed in An. quadriannulatus than in An. gambiae s.s. (Table 2). This difference accounts for the disparity in the numbers of sensilla, as it appears that the densities of antennal sensilla are nearly the same in both species (Figure 5). This conclusion could not be supported by a statistical comparison of sensilla densities because the mean sensilla numbers and mean surface areas from which the densities were derived were calculated using data collected from different groups of individuals. Nonetheless, the conservation of sensilla types and densities may indicate conservation of the underlying developmental program in female antennae. Thus it seems unlikely that either peripheral structures or their organizational patterns contribute to behavioural differences in these species. Furthermore, it is likely that adult body size differences account for the antennal surface area difference and, thus, the difference in sensilla numbers. A commonly used comparative measurement of body size in mosquitoes is wing length [18]. A derivation of this technique, measuring both the wing length and width, was used to calculate the wing surface area for both species. Not surprisingly, An. quadriannulatus wings were found to be about 30% greater in surface area than those of An. gambiae s.s., a difference that is nearly the same in magnitude as their antennal surface area differences. One possible explanation for the adult size variation between the two species is larval density during rearing, a factor that is known to produce a larger adult size in An. gambiae laboratory-reared populations [19]. While the rearing conditions were similar for both species, An. quadriannulatus generally produced fewer offspring and, therefore, were kept at lower densities during the larval stage.
Of the sensilla types, sensilla trichodea have been found in the greatest abundance on the mosquito flagellum [5]. In this study there were approximately 7-fold more trichoid sensilla than grooved pegs, the second most abundant class of chemosensory sensilla in both An. gambiae s.s. and An. quadriannulatus (Table 1, Figure 5). Previous studies with An. stephensi [15] and Ae. aegypti [20] indicated that nearly all trichoid sensilla were innervated by two neurons. If we assume a similar situation in An. gambiae s.s. and An. quadriannulatus, then these flagella must house at least 1200 and 1500 neurons within their trichoid sensilla populations, respectively. Sensilla trichodea on female An. gambiae have been shown to respond to carboxylic acids [21] and carboxylic acids are also attractive to An. gambiae in behavioural studies [22]. Similarly, electrophysiological [23] and behavioural [24] studies in Ae. aegypti have suggested that trichoid sensilla house olfactory receptor neurons. It is therefore possible that trichoid sensilla neurons represent the major portion of the olfactory receptor repertoire on mosquito antennae and, as such, deserve significant attention in future studies, particularly those designed to compare behavioral and physiological differences between An. gambiae s.s. and An. quadriannulatus. Notably, some variations in the sensitivities of trichoid sensilla have been observed between anthropophilic and zoophilic anophelines [25].
Grooved pegs are the second most abundant class of sensilla on the antennae of An. gambiae s.s. and An. quadriannulatus (Table 1). Their potential importance in host seeking behaviours has been suggested by studies in various mosquito species that demonstrate the sensitivity of grooved pegs to human sweat components, including ammonia [26, 27] and lactic acid [28]. Moreover, behavioural studies also implicate these odors, especially ammonia, in host attractiveness [29], while lactic acid seems to have a synergistic effect in combination with other odors [30–32]. Importantly the responses of grooved peg sensilla to a number of odors, including ammonia, were very similar in An. gambiae s.s. and An. quadriannulatus [33]. The authors conclude that trichoid sensilla and grooved peg sensilla respond to overlapping sets of host odors and that these sensilla may therefore be part of a generalistic host sensing mechanism with host specific information being derived from the combined information of these inputs [33]. The current study provides an important morphological framework for continued comparative analyses.
There are at least six species in the An. gambiae s.l. complex, some living sympatrically, which seem to have diverged very recently [34]. Furthermore, there is evidence supporting the existence of a second species of An. quadriannulatus, and reason to believe that more An. gambiae s.l. species may yet be identified [35]. While the close relatedness of An. gambiae s.s. and An. quadriannulatus may imply olfactory conservation at the level of peripheral sense organs, there is a rational basis to evaluate this assumption considering both the great divergence in their host preferences and the observed diversity in mosquito peripheral organs [5]. Clearly, in this study, we have established that the antennae ultrastructures of An. gambiae s.s. and An. quadriannulatus are extremely similar and are thus unlikely to contribute to the behavioural differences that underlie their characteristic anthropophily and zoophily, respectively. Therefore, differences such as odorant receptor sensitivities, signal transduction components, internal morphologies (i.e., neuronal architecture and projections), or environmental factors are more likely to contribute to the host preference divergence of An. gambiae s.s. and An. quadriannulatus. A recent comparison of candidate olfactory receptor genes in An. gambiae s.s. and An. quadriannulatus showed an extremely high level of conservation between their amino acid sequences (Bohbot and Zwiebel, unpublished observations). This study provides an essential foundation for these and other future comparative analyses that will focus on the molecular genetics and physiology of olfaction in these two species.
Conclusion
The antennae of adult female An. gambiae s.s. and An. quadriannulatus mosquitoes carry the same morphological types of sensilla and the densities of each type are effectively equal between the two species. Therefore, the lack of specialization at the gross morphological level of the antennae implies that other factors are more likely to account for the olfactory-driven host preference difference between An. gambiae s.s. and An. quadriannulatus. This study establishes a foundation for future neurological, physiological, and molecular comparative studies aimed at elucidating potential differences in olfaction between these sibling species.
Declarations
Acknowledgements
We acknowledge undergraduates Daniela Buscariollo (Vanderbilt University) and Daniel Keedy (Rhodes College) for their assistance with flagellomere measurements and sensilla counts. Special thanks to Dr. David McCauley (Vanderbilt University) for helpful discussions of data analysis and presentation. Thanks also to members of the Zwiebel lab: Jonathan Bohbot, Willi Honegger, David Rinker, and Michael Rützler for critical reading of the manuscript. This work was supported by grants from the National Institutes of Health: A1056402 and DC04692 to LJZ.
Authors' Affiliations
(1)
Department of Biological Sciences, Program in Developmental Biology, Institute for Chemical Biology and Center for Molecular Neuroscience. Vanderbilt University, Nashville, USA
Copyright
© Pitts and Zwiebel; licensee BioMed Central Ltd. 2006
This article is published under license to BioMed Central Ltd. This is an Open Access article distributed under the terms of the Creative Commons Attribution License (http://creativecommons.org/licenses/by/2.0), which permits unrestricted use, distribution, and reproduction in any medium, provided the original work is properly cited.