Interdependence of domestic malaria prevention measures and mosquito-human interactions in urban Dar es Salaam, Tanzania
Received: 30 May 2007
Accepted: 19 September 2007
Published: 19 September 2007
Abstract
Background
Successful malaria vector control depends on understanding behavioural interactions between mosquitoes and humans, which are highly setting-specific and may have characteristic features in urban environments. Here mosquito biting patterns in Dar es Salaam, Tanzania are examined and the protection against exposure to malaria transmission that is afforded to residents by using an insecticide-treated net (ITN) is estimated.
Methods
Mosquito biting activity over the course of the night was estimated by human landing catch in 216 houses and 1,064 residents were interviewed to determine usage of protection measures and the proportion of each hour of the night spent sleeping indoors, awake indoors, and outdoors.
Results
Hourly variations in biting activity by members of the Anopheles gambiae complex were consistent with classical reports but the proportion of these vectors caught outdoors in Dar es Salaam was almost double that of rural Tanzania. Overall, ITNs confer less protection against exophagic vectors in Dar es Salaam than in rural southern Tanzania (59% versus 70%). More alarmingly, a biting activity maximum that precedes 10 pm and much lower levels of ITN protection against exposure (38%) were observed for Anopheles arabiensis, a vector of modest importance locally, but which predominates transmission in large parts of Africa.
Conclusion
In a situation of changing mosquito and human behaviour, ITNs may confer lower, but still useful, levels of personal protection which can be complemented by communal transmission suppression at high coverage. Mosquito-proofing houses appeared to be the intervention of choice amongst residents and further options for preventing outdoor transmission include larviciding and environmental management.
Keywords
MalariaMalaria TransmissionMalaria VectorProtective EfficacyLarval Habitat
Background
Malaria and other vector borne diseases are major contributors to the global burden of disease and a significant impediment to socioeconomic development in poor countries [1]. It is estimated that 300 to 660 million clinical attacks of malaria occur globally [2] which result in at least 1 million deaths [3, 4]. Over 80% of these deaths occur in Africa [4]. Approximately 70% of clinical malaria attacks occur in sub-Saharan Africa with the vast bulk of the remainder occurring in south East Asia [4]. Sub-Saharan Africa has the highest incidence because ideal climatic conditions for transmission are exacerbated by some of the world's most efficient malaria vectors, such as Anopheles gambiae, Anopheles arabiensis and Anopheles funestus [5].
While the bulk of malaria research in Africa has focused on rural areas, the growing importance of urban settings is increasingly recognized [6–11]. Transmission intensity is generally lower in urban areas but it is estimated that, by the year 2030, more than 50% of the African population will live in towns and cities [12] so improved understanding and evidence-based strategies for controlling urban malaria are needed. Urban areas differ from rural settings in that exposure to transmission is typically lower and access to diagnosis, treatment and preventative measures is much better [6–11]. As recently elucidated using detailed transmission models [13–15], such lower exposure levels lead to a lower level of immunity in the population as a whole, as well as to higher prevalence, morbidity, mortality and infectiousness in older age groups [6–10, 16]. Furthermore, the distribution of seasonal and permanent breeding sites is highly localized, leading to patchy, heterogeneous transmission at particularly fine spatial scales [7, 17–21]. Malaria prevalence and incidence tends to be much higher for residents living close to major larval habitats [19, 22–24]. This is because mosquitoes tend not to disperse far from the breeding sites as blood meal and aquatic habitat resources are in close proximity to each other [19, 25–27]. This may even be true for water bodies which are not suitable for larval development but do act as oviposition sites [28], possibly resulting in the proportion of infectious mosquitoes increasing with the distance from their location of actual emergence [29]. Urban settings often have large areas with relatively good housing and relatively high coverage with personal protection measures such as ITNs, repellents and coils [11, 30–35] with the potential to force changes in epidemiologically relevant behavioural patterns of vector mosquitoes [36–49].
Anopheles gambiae and its sibling species An. arabiensis are the most important vectors of malaria in most parts of Africa, where they readily adapt to urban ecosystems by ovipositing and developing in atypical larval habitats such as domestic containers and polluted water bodies [50–52]. Although these species are most commonly found in artificial larval habitats, even in rural areas, this is particularly the case in towns and cities [51–57]. Despite the enormous importance of these mosquito species, relatively little is known about their feeding behaviour, and even less about their broader ecology, particularly in urban setting. Furthermore, the influence of insecticide-treated nets (ITNs) [4, 58, 59], improved housing [60, 61] and other personal protection [62–65] methods upon their feeding behaviour has been discussed qualitatively but has yet to be evaluated in quantitative terms. There is one example of Zimbabwe, where after eight years of insecticide spraying more An. gambiae sensu lato (s.l.) (as sibling species within this complex were not resolved in that study) were caught biting outdoors than indoors whereas before the intervention there was no difference [66, 67]. In many places throughout Africa, a reduced indoor biting was reported due to ITNs and impregnated curtains [37, 39, 42, 45, 46, 68–71] through a combination of increased mosquito mortality caused by their insecticidal properties and the reduction of mosquito house entry caused by their excito-repellent properties [49, 72, 73]. Indoor biting rates of malaria vectors can be reduced by improved housing, specifically mosquito-proof screening, closed eaves, ceilings and sealed frames for windows and doors [19, 60, 61, 74–78] and some recent studies suggest changes in their biting patterns in response to personal or household protection measures [36, 79, 80]. However, only 20% (4/20) of the studies described in these papers have been carried out in urban areas so here the behavioural interactions between vector mosquitoes and their human hosts in the context of a large-scale integrated malaria control programme in Dar es Salaam, Tanzania are examined [52, 81].
In Dar es Salaam, the main malaria vectors are members of the An. gambiae species complex and An. funestus [82]. Dar es Salaam has a relatively high coverage with bednets and ITNs (91.8% and 43.1%, respectively) [33]. In order to see if increasing ITN usage and house quality has influenced mosquito biting behaviour, a survey of behavioural interactions between mosquitoes and humans during the main rains of 2006 was undertaken. This study was also carried out in order to estimate the extent of protection against exposure to malaria transmission that is afforded to residents of Dar es Salaam by using an ITN and to evaluate the influence of housing quality upon this level of protection. Furthermore, the implication these behaviours have for malaria control in Dar es Salaam and elsewhere in Africa where similar trends are observed are discussed.
Methods
Study site
Dar es Salaam is situated at the shores of the Indian Ocean coast with a hot and humid climate which is ideal for mosquito proliferation and malaria transmission, satisfying the climatic requirement for stable transmission of temperatures between 22°C and 32°C and a rainfall of around 80 mm per month for at least five months per year [
83
]. There are typically two rainy seasons: a main rainy season from March to June and a shorter, more erratic rainy season from October to December. Dar es Salaam has around 2.5 million inhabitants and covers a total area of 1,400 km
2
[
84
]. The city is divided into three municipalities; Temeke, Ilala and Kinondoni which collectively comprise 73 wards. Each ward is further subdivided into neighbourhoods known as
mitaa
(singular
mtaa
) which typically comprise between 20 and 100
mashina
(singular
shina
) or Ten Cell Units (TCU). The TCU is the smallest subunit of local government in Tanzania which, in principle, comprises a cluster of 10 houses with an elected representative known as a
mjumbe
although in practice most TCUs include 20–30 houses and some may even exceed 100. This study was based within the project area of the ongoing Urban Malaria Control Programme (UMCP) implemented by the Dar es Salaam City Council [
52
,
81
]. The main project area includes five wards from each municipality with a total of 67
mitaa
. Overall, this study area covers an area of 55 km
2
with a total population of 609,514 people [
84
]. The houses surveyed here were located in five wards, eight mitaa (Figure
1
).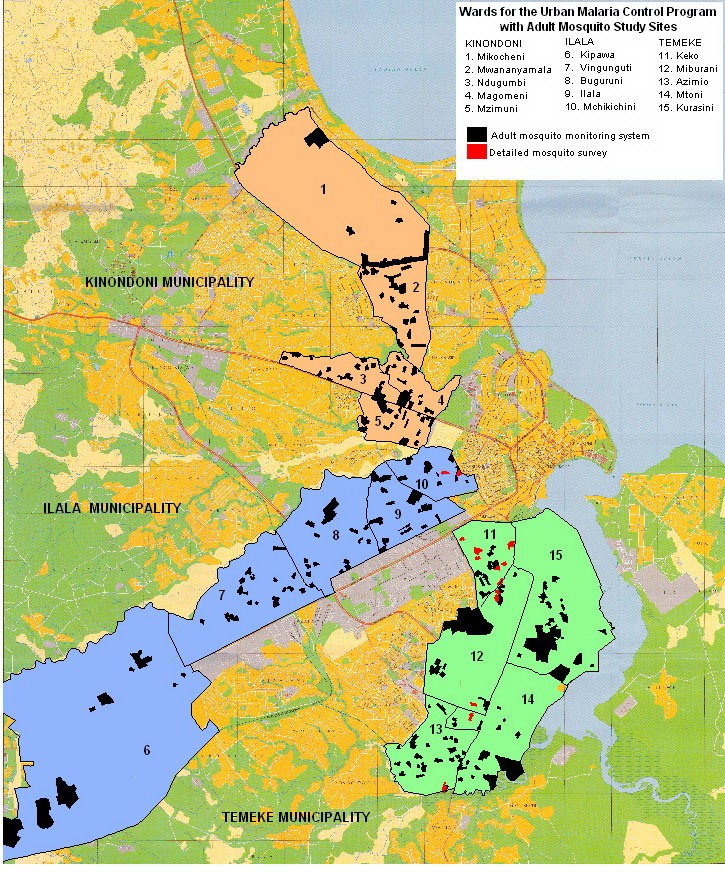 For comparison, the results obtained in Dar es Salaam are contrasted with those obtained with similar methodology in the Kilombero Valley, a rural setting with intense perennial malaria transmission in southern Tanzania [85].
Preliminary survey of the overall study site
For the purposes of routine monitoring and programme management, the UMCP surveys mosquito biting densities at 268 locations (four in each mtaa), distributed across the study area every four weeks. Initial trials proved that existing trapping technologies were not sufficiently sensitive to monitor the low densities of An. gambiae which occur across the study area. Therefore, outdoor human landing catch (HLC) [86] has been implemented as the standard sampling tool for adult mosquitoes as an interim measure until a suitable alternative is proven practical, effective and affordable. Once every four weeks at each location, HLC is conducted from 6 pm to 6 am for 45 minutes of each hour, allowing 15 minute breaks for rest, hot drinks and snacks. All collected mosquitoes are identified morphologically to genus and, in the case of Anopheles to species complex level [87, 88]. Members of the Anopheles gambiae species complex are further resolved to sibling species level by polymerase chain reaction (PCR) [89]. The sporozoite infection status of each mosquito was determined by enzyme-linked immunoabsorbent assay as previously described [90].
HLCs between April and December 2005 were used to identify the primary vectors of malaria in Dar es Salaam and to test for variation by location in the distribution of An. gambiae biting activity across the night. Members of the An. gambiae species complex were identified as the major malaria vectors in Dar es Salaam (See Results) so only these species were considered in the following analysis and study design. The influence of location as a determinant of An. gambiae biting habits was tested by treating TCU unique ID for each sampled site as a fixed factor in a logistic model with the proportion of mosquitoes caught during typical sleeping hours of city residents (10 pm to 6 am; see results) as the outcome variable. This data set was also used to identify sites with the highest densities of An. gambiae s.l. for the detailed and intensive mosquito behavioural surveys described below.
Detailed surveys of mosquito biting behaviour
The 12 TCU in Temeke municipality and 2 TCU in Ilala municipality, which had the highest An. gambiae s.l. densities in the UMCP surveillance system, were selected for further, more detailed, surveys of the behavioural patterns of mosquitoes and humans. Informed consent was obtained from 216 houses in order to conduct HLC both indoors and outdoors. In each house, HLC was conducted for one night from 6 pm to 7 am as described above except that catchers switched between indoor and outdoor stations every hour in order to preclude biases resulting from variations in individual attractiveness [91–93]. These human landing catch surveys took place during 10 weeks of the main rainy season between April and June 2006. In order to estimate the biting rate for a full hour, total catches per hour were divided by 0.75.
Interview surveys of human behaviour and domestic protection measures
A brief interview was conducted with all household members present at the time of the interview. They were asked where they usually eat dinner, where they stay after dinner before going to bed, what time they go to bed and what time they typically get out of bed in the morning. Furthermore, they were asked which preventive measures, such as bednets or insecticides, they use to avoid mosquito bites. The quality of their houses, i.e. the quality of screening and availability of ceiling boards was examined in each household. In order to verify the sleeping and resting behaviours reported by residents during interviews, also surveys were conducted based on direct observation by walking through these TCUs once every hour of the night and counting the number of people seen outdoors. Direct observation surveys were conducted for three nights in each TCU. Once validated by direct observation (see results), the questionnaire reports were used to estimate proportion of the inhabitants in each of the three behavioural compartments (outdoor, indoor awake, indoor asleep) at each hour of the night.
Estimating the protective efficacy of ITNs in terms of reduced biting exposure
Data from the human and mosquito behavioural surveys described above were integrated to evaluate the interaction between them using an extension of a recently developed mathematical model [85]. EIR is the product of the biting rate experienced by humans exposed to a vector population and the sporozoite infection prevalence of that mosquito population [94]. The latter is only reduced by community-level impacts of malaria interventions [95, 96] so here personal protection purely in terms of biting rates and the impact that protective measures such as ITNs have upon them were estimated. First Bu,t, the mean biting rate experienced by an unprotected individual at each time of the night (t), based on the proportion of time spent outdoors multiplied by the outdoor biting rate at that time (Bo,t) plus the proportion of that hour spent indoors multiplied by the indoor biting rate at that time (Bi,t) was calculated. The main difference between this model and the one of Killeen et al. is that, because of the available information from the questionnaires, there was the possibility to divide the indoor compartment into being indoor but not asleep (and therefore not under a bednet) and being indoor and asleep (and, therefore, protected if using a bednet). The proportion of people sleeping or trying to sleep in bed and indoors (St) is not the same as the proportion of people staying indoors asleep or not asleep (It). If people are unprotected because they do not have a bednet, it only matters if they are indoors or outdoors and thus they experience the following biting rate:
Bu,t = Bo,t (1-It) + Bi,t It (1)
The number of bites experienced per night, or nightly biting rate, for an unprotected non-user (B
u
) can thus be calculated by summing the relevant biting rates for each hour:
Note that an unprotected individual is defined as someone lacking any net whereas a protected individual is defined as someone regularly using an effectively insecticidal net. The nightly biting rate of a protected individual (B
p
) based on the combined nightly profiles of mosquito biting rate (B
u,t
) over time (t), the protective efficacy of ITNs (P), which is assumed to be constant, and the behaviour of humans which results in fluctuating adherence of ITN users over the course of the night was modelled. As here a more detailed behavioural survey was taken into account, the nightly biting rate of a protected individual is calculated by multiplying the proportion of time spend outdoors at a certain time of the night by the outdoor biting rate at that time (B
o,t
) plus the proportion of that hour being indoors but not asleep (I
t
- S
t
) multiplied by the indoor biting rate during that hour (B
i,t
) plus the proportion of that time spent indoors being asleep under an ITN multiplied by the indoor biting rate at that hour (B
i,t
) times the proportion of bites which can not be prevented by an ITN (1-P), as measured in experimental hut trials [
44
,
97
,
98
]. The effective adherence to ITN use at a given time of the night was assumed to be equivalent to the proportion of people sleeping at that time (S
t
). This assumption allows us to express the overall effect of this interaction as follows:
Based on existing evidence from experimental hut trials [49, 97, 98], a conservative minimum protective efficacy level of 80% for ITNs (P = 0.8), equivalent to a relative exposure to bites of 20% when, and only when , actually sleeping under the net, was assumed. In this study, it was possible to take into account the proportion of people staying indoors or outdoors during waking hours and experiencing the corresponding biting rate. Furthermore, there was the possibility even to do the same for people living in different house quality who spent different amount of time in different compartments. During sleeping hours, people staying indoors were presumed sleeping under an ITN if available, whereas people sleeping outdoors were presumed not using a net and being fully exposed to the outdoor biting rate.
Taking the data for nightly human and mosquito behaviour profiles, the relative biting rate for ITN users which is equivalent to relative availability of protected individuals (λp) as previously defined (See equations 8 and 14 in reference [95]), could be estimated. λp was calculated by comparing the total biting rate that protected individuals are exposed to (Bp) with that of non-users (Bu) who are unprotected:
λp = Bp/Bu (4)
The true protective efficacy of an ITN (P*) against transmission exposure is then calculated as the overall nightly reduction of biting rate:
P* = 1 - λp (5)
This estimate of protective efficacy differs from that previously reported from experimental hut trials as well as previous applications of this approach [85], because it allows for typical shortcomings in adherence resulting from the time people typically spend outside of their ITN indoor, as well as outdoors and even considering people staying or sleeping the whole night outdoors. Note, however, that this estimate is merely a comparison between the biting rates experienced by those who use an ITN and those who do not. It does not include the community-level protection of both groups when ITNs reach sufficient levels of coverage to reduce vector biting densities and sporozoite prevalence over large areas [95].
Distinct and useful indicators with which to interpret the results of the above equations are the proportion of exposure which occur indoors and the proportion that occurs during sleeping hours. The proportion of bites that occur during the observed peak sleeping hours (π
s
) for an unprotected individual can thus be calculated as the nightly biting rate experienced during these hours divided by the total nightly biting rate:
Note that πs describes the proportion of human exposure during which an ITN is in use and is used as a key parameter for modelling the community- and individual-level effects of ITNs upon malaria transmission [95]. Overall, πs was usually calculated using median reported values of 10 pm to 6 am for the whole study area but was evaluated separately for individual houses or houses with different quality of screening and ceiling boards for some analysis.
The proportion of bites occurring indoors but while awake and, therefore, not protected by a bednet (π
a
) can be calculated as the estimated number of bites estimated to occur indoors while awake, divided by the total number of bites estimated to occur both indoors and outdoors:
The proportion of bites occurring indoors (π
i
) for an unprotected individual can be calculated as the total number of bites estimated to occur indoors, divided by the total number of bites estimated to occur both indoors and outdoors. It should be noted that this equivalent to summing π
a
and π
s
:
Ethical considerations
All activities of the UMCP, including these field surveys are approved by the Medical Research Coordination Committee of the National Institute for Medical Research, Ministry of Health, Government of Tanzania (Reference numbers NIMR/HQ/R.8a/Vol. IX/279 and 324). No persons in high risk groups, namely people under 18 years or women of reproductive age, were recruited to conduct human landing catches. Furthermore, the human landing catchers were screened every week for malaria microscopic examination of thick smear peripheral blood samples and treated with artemisinin-based combination therapy when diagnosis was positive.
Conclusion
Although the hourly biting pattern of An. gambiae s.s. remains essentially consistent with classical reports, An. arabiensis appears to have a much earlier peak biting time at 10 pm when a large proportion of people are still outdoors. ITNs confer little protection against exposure to this species, which is fortunately relatively rare in urban Dar es Salaam. Anopheles arabiensis only account for 16% of the An. gambiae complex in Dar es Salaam, so ITNs still provide useful individual protection. However, the observations from Dar es Salaam can have greater implications for malaria control in Africa where An. arabiensis is a very common and an important vector [5, 88, 104]. It cannot be determined whether the early biting of An. arabiensis in Dar es Salaam was induced by ITN use and/or improved housing quality. In this context, it seems relevant to note that this An. arabiensis is more tolerant to desiccation than An. gambiae [88, 105, 106] and may, therefore, be able to adapt more readily to earlier feeding despite the relatively low humidity that occurs in the early evening. The surprisingly exophagic behavior of An. gambiae in Dar es Salaam may also arise from increased bednet coverage as well as housing quality. This is consistent with another recently reported urban context [80] and an increasing number of sites in rural Africa [107–111].
Despite the clear exophagy of malaria vectors in Dar es Salaam, like elsewhere in Africa, ITNs confer useful but incomplete personal protection [59, 112]. Much bigger reductions of transmission can be attained at community level where high population coverage is achieved [44, 95, 113, 114]. Although additional vector control measures are desirable to cope with the remaining quarter of human exposure which occurs outdoors, ITNs should remain a high priority in urban settings. ITNs appear to be a second preference intervention in Dar es Salaam, with mosquito-proofing of houses being the most commonly implemented measure and probably the first choice of residents. It may, therefore, be feasible to develop programmes which promote and subsidize such efforts by vulnerable households to tackle their local malaria problems. Additional important options to prevent outdoor transmission include larviciding [115, 116] and environmental management [117–119], all of which merit further development as components of integrated programmes [1] in the tropical belt of Africa, where malaria transmission is at its most intense [5].
Declarations
Acknowledgements
We thank the entire team who participated in these surveys but especially those who conducted human landing catch studies for their perseverance and commitment to this challenging undertaking. Furthermore we would like to thank the residents of Dar es Salaam for their cooperation and facilitation during our regular visits. We thank A. Mtandanguo, A. Mariwa, A. Hemedi and J.E. Msami in helping with the mosquito identification. We would also like to thank D.R. Nyika and C.B. Buberwa for drafting the map of the study area. This paper is published with kind permission of Dr. Andrew Kitua, Director of the National Institute for Medical Research, United Republic of Tanzania.
Research and ethical clearance were obtained from the Medical Research Coordination Committee of the National Institute for Medical Research through the Tanzanian commission for Science & Technology. This study was supported financially by the Swiss Tropical Institute, the Bill and Melinda Gates Foundation, Valent Biosciences and USAID through its Environmental Health Programme, the Tanzanian Mission at Dar es Salaam and the Presidents Malaria Initiative. GFK is supported by the Wellcome Trust through Research Career Development Fellowship number 076806.
Authors' Affiliations
(1)
Department of Public Health and Epidemiology, Swiss Tropical Institute, Basel, Switzerland
(2)
Ifakara Health Research and Development Centre, Co-ordination Office, Dar es Salaam, Tanzania
(3)
Dar es Salaam City Council, Dar es Salaam, Tanzania
(4)
University of Dar es Salaam, Dar es Salaam, Tanzania
(5)
School of Biological and Biomedical Sciences, Durham, UK
(6)
Department of Population and International Health, Harvard School of Public Health, Boston, USA
Copyright
© Geissbühler et al; licensee BioMed Central Ltd. 2007
This article is published under license to BioMed Central Ltd. This is an Open Access article distributed under the terms of the Creative Commons Attribution License (http://creativecommons.org/licenses/by/2.0), which permits unrestricted use, distribution, and reproduction in any medium, provided the original work is properly cited.