The Anopheles dirus complex: spatial distribution and environmental drivers
Received: 26 October 2006
Accepted: 06 March 2007
Published: 06 March 2007
Abstract
Background
The Anopheles dirus complex includes efficient malaria vectors of the Asian forested zone. Studies suggest ecological and biological differences between the species of the complex but variations within species suggest possible environmental influences. Behavioural variation might determine vector capacity and adaptation to changing environment. It is thus necessary to clarify the species distributions and the influences of environment on behavioural heterogeneity.
Methods
A literature review highlights variation between species, influences of environmental drivers, and consequences on vector status and control. The localisation of collection sites from the literature and from a recent project (MALVECASIA) produces detailed species distributions maps. These facilitate species identification and analysis of environmental influences.
Results
The maps give a good overview of species distributions. If species status partly explains behavioural heterogeneity, occurrence and vectorial status, some environmental drivers have at least the same importance. Those include rainfall, temperature, humidity, shade, soil type, water chemistry and moon phase. Most factors are probably constantly favourable in forest. Biological specificities, behaviour and high human-vector contact in the forest can explain the association of this complex with high malaria prevalence, multi-drug resistant Plasmodium falciparum and partial control failure of forest malaria in Southeast Asia.
Conclusion
Environmental and human factors seem better than species specificities at explaining behavioural heterogeneity. Although forest seems essential for mosquito survival, adaptations to orchards and wells have been recorded. Understanding the relationship between landscape components and mosquito population is a priority in foreseeing the influence of land-cover changes on malaria occurrence and in shaping control strategies for the future.
Keywords
MalariaSibling SpeciesLarval HabitatMoon PhaseSporozoite Rate
Background
Throughout most of their geographical distribution, species of the Anopheles dirus complex are associated with high malaria prevalence rates and the occurrence of drug resistant Plasmodium falciparum [1, 2]. The biological specificities of these efficient vectors undermine the most popular control measures and challenge the success of malaria control. Sporadic studies on sympatric sibling species from the complex suggest ecological and biological differences in types of larval habitat, seasonality and behaviour according to species [3–5] but such differences also occur for specific species within their distributions and could relate to key environmental factors. Variation in behaviour, such as early biting or ovipositing in wells, might determine vector capacity and adaptation to changing environment. It is thus of interest to clarify the geographical distributions of the species, the importance of environmental factors and the influences of ecological variation on behavioural heterogeneity.
If the biology of An.dirus s.l. (sensu lato, i.e. An. dirus complex) is well documented in the literature, no attempt has been made recently to compile this information. A major difficulty resides in the taxonomic changes which have affected the group throughout the last 50 years [4, 6, 7]. Furthermore, only recently did molecular tools allow identification of individuals from this group up to the species level and they rely on strenuous methods or require sophisticated equipment. As a result, most of the available articles do not provide specific species identification.
Fortunately, the taxonomy of the complex has recently been clarified and the species named [
4
,
8
]. The complex belongs to the
Anopheles (Cellia) leucosphyrus
group in the Neomyzomyia Series [
6
] and now includes at least seven species:
Anopheles dirus
or
An. dirus sensu stricto
(
s.s
.),
Anopheles crascens
,
Anopheles scanloni
,
Anopheles baimaii
,
Anopheles elegans (
previously known as species E),
Anopheles nemophilous
and
Anopheles takasagoensis
[
4
,
8
]. The species previously called
Anopheles elegans
from Sri Lanka [
9
] and Southern India [
10
] has now been renamed
Anopheles mirans
and is not part of the complex [
4
]. Evolution of the complex and correspondence with historical names are presented in Figure
1
.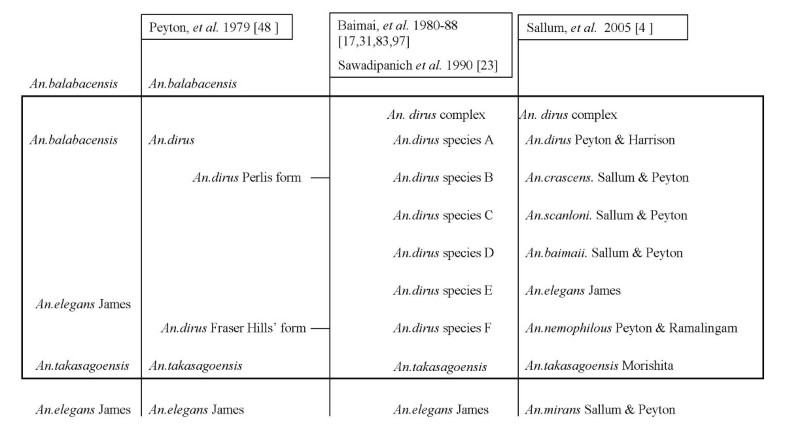 Based on those taxonomic clarifications, existing distribution maps of these species [11] can now be updated using data from collection sites available in the literature and from the recent project MALVECASIA on monitoring insecticide resistance in Southeast Asia. Localisation of collection sites can facilitate identification of the species in articles lacking this information and provide the background for analysis of spatial distribution, biology, behaviour, vectorial status and key ecological factors of individual species.
This article thus aims to, 1) update the distributions of members of the An. dirus complex using literature records and personal data, 2) to provide an overview of intra- and inter- species variation of biology and behaviour and 3) to identify key ecological factors influencing the behaviour distribution, occurrence and vectorial status of An. dirus s.l.
Methods
The basis for the paper is a comprehensive analysis of more than a hundred articles examined for the following items: information on geographical dispersion, species identification methods, behaviour of adults and larvae, and environmental factors influencing occurrence and behaviour. Key papers on taxonomy and population structure were first reviewed to associate historical species records with currently recognized species.
More than five hundred collection sites were then spatially located. They include literature records but also recent data from the MALVECASIA network, a research network of eight partners that studied the distribution and insecticide resistance of malaria vectors in Vietnam, Cambodia, Laos and Thailand. This information was gathered in a table, and maps were produced to plot the collection sites on a vegetation background adapted from the global dataset Global Land Cover 2000[12]. This background represents what is thought to be a forested habitat from a mosquito's point of view. It includes the following original classes: evergreen and deciduous forest, open or closed, including mixed leaf type, flooded forest, mosaic of tree cover and other natural vegetation as well as mosaic of cropland, tree cover and other natural vegetation. The accuracy of site location depends on the available information: the maximum accuracy is obtained when the coordinates are provided in the original article. In most of the other cases, the extended Geographical Information System (SEAGIS) gathered and organized by the MALVECASIA network [13] provided the necessary tools to find an accurate location. Maps or detailed site descriptions were compared with datasets such as village databases, administrative maps, roads, rivers, vegetation and altitude. Some collection sites could not be accurately located using the above mentioned methods which made it necessary to look for locations in gazetteers [14].
For each site number, the sibling species identified in the reviewed publication is recorded, as well as the identification methods. Considerable uncertainty may result from some of these methods [15] and the distinction between An. dirus s.s. and An. scanloni remains problematic. Morphological keys based on reared adults with associated larval and pupal exuviae[16], polytene chromosomal banding patterns[17], enzyme electromorph [18], allele-specific polymerase chain reaction (ASPCR) [15, 19] and random amplified polymorphic DNA (RAPD) [20] are a few of the existing identification methods. Sallum et al. provided a complete list [4]. Species status can be extrapolated from the map, for sites located in allopatric zones.
The species spatial distribution is first discussed. Then larval and adult ecology and behaviour are analysed to highlight possible variation between species. The influence of environmental drivers and land-cover is then considered as well as the consequences for vector status and control.
Conclusion
An. dirus s.s and A. bamaii of the An.dirus complex are certainly the most efficient malaria vectors in Asia. Human activities in the jungle create high human/vector contact exposing people with poor shelter conditions in forested habitat, leading to perennial transmission. The efficiency of these species, as malaria vectors is largely explained by biological particularities. These species are highly susceptible to malaria parasites, there are highly anthropophilic, and have an excellent survival rate required for the sporogonic cycle. These vectors are difficult to control regarding the dispersion of temporary larval habitats in the forest, and their exophilic behaviour by which the mosquitoes entering the house will avoid any contact with indoor insecticide treated surfaces. Their relative early biting behaviour, preferably outdoors, may hamper the efficacy of insecticide treated nets (ITN). However, as these vectors are very sensitive to pyrethroids and almost exclusively anthropophilic, scaling up of ITNs will probably affect locally the An.dirus s.l. populations.
The distributions of species of the An. dirus complex have been thoroughly analysed in Thailand, Malaysia and recently in other areas of Southeast Asia following extended surveys from the Malvecasia project, but the distributions of members of the complex in the western region rely on few records and should be further investigated. Historical records and references from the literature have been used to delimitate the maximum extent of the complex distribution, but they do not reflect the current situation as major changes in land-cover have occurred in the region.
An. dirus s.l. is strongly associated with deep forest larval habitats and probably also requires deep forest for adult survival. It can survive year round wherever evergreen forest occurs. Drastic deforestation in recent decades has considerably reduced suitable habitats but adaptation of the species to man-made habitats such as orchards and plantations greatly increases the human/vector contact and suggests high plasticity in habitat requirements. However, such adaptations might only occur in areas where some of the environmental conditions, particularly micro-climatic conditions (e.g. wells, orchards) are still suitable.
High heterogeneity in behaviour has been recorded for mosquitoes of the An. dirus complex. The assumption that the recent discovery of seven cryptic species would explain most of this heterogeneity is challenged by the high behavioural differences recorded for different populations of the same species. An. baimaii specimens are developing in wells or forest habitats. Biting peaks vary from early to late within individual species and seasonality seems more linked to environmental factors than to species distribution. This could be a consequence of incomplete characterization of the group due to imperfect identification methods. Indeed, new molecular tools suggest the existence of two more species within the complex. Population history and phylogenetic relationships between the species are not straightforward and are sometimes even contradictory [33, 93]. Behavioural differences between sibling species can only be analysed when they occur in sympatry, and very few sympatric populations have been studied. Allopatric species such as An. dirus s.s. and An. crascens are impossible to compare.
Environmental factors play a major role in intraspecific heterogeneity by interacting with the immature and adult stages. The most important factors are rainfall, which provides larval habitats and keeps growth conditions optimal by refreshing the sites and providing food, and the land-cover with conditions being are optimal year-long in the forest and seasonally in forest fringes. Temperature, topography, soil type, salinity and drainage also have an influence.
Environmental proxies might be relevant factors in a preliminary approach to establish approximate limits to the possible extension in the flexible distribution range of An. dirus s.l. However, variation in transmission dynamic occurs at very small spatial and temporal scales and can only be understood by studying micro-environmental parameters in details and in relation to human factors such as housing, settlement location in relation to the forest, occupations and migrations. This highlights the importance of micro-environmental variations on mosquito populations in a region that is currently undergoing major land-cover changes. Forest fragmentation and changes in land occupation influence habitat suitability for members of the complex. Although forest seems to be essential for mosquito survival, adaptations to orchards and wells have been recorded. Understanding the relationship between landscape components and mosquito population is thus a priority in foreseeing the impact of the land-cover changes on malaria occurrence and in shaping control strategies for the future.
Declarations
Acknowledgements
The authors of the manuscript are grateful to the members of the MALVECASIA network which provided fresh information on the distribution of the Anopheles dirus complex in the Southeast Asian region, including Dr Trung and Dr Thuan from the National Institute of Malariology, Parasitology and Entomology of Vietnam, Dr Tho and Dr Socheat from the National Centre for Malaria Control, Parasitology and Entomology of Cambodia, Dr Kalounna, Dr Bouasy and Dr Samlane from the Centre of Malariology, Parasitology and Entomology of Laos and Dr Visut Baimai from the Mahidol University of Thailand. Thanks to Ralph Harbach and Yvonne Linton from the Natural History Museum of London, who supervised the quality of mosquito identification in the network. Thanks to Wim van Bortel from the Institute for Tropical Medicine of Belgium for gathering and supervising the MALVECASIA collection site database, and Katrijn Verhaegen for sharing the identification of sibling species in Cambodia and Vietnam. The authors of the manuscript are also grateful to Dr Diwakar Dinesh for recent information on the distribution of An. dirus s.l. in India. Many thanks to the European Union for financing the MALVECASIA network through an INCO-DEV project (ERBIC18.CT.970211) and the MALVECASIA project (IC4-CT-2002-10041).
Authors' Affiliations
(1)
Department of Parasitology, Prince Leopold Institute of Tropical Medicine, Antwerp, Belgium
(2)
Department of Environmental Sciences and Land Use Planning, Université Catholique de Louvain, Louvain-la-Neuve, Belgium
Copyright
© Obsomer et al; licensee BioMed Central Ltd. 2007
This article is published under license to BioMed Central Ltd. This is an Open Access article distributed under the terms of the Creative Commons Attribution License (http://creativecommons.org/licenses/by/2.0), which permits unrestricted use, distribution, and reproduction in any medium, provided the original work is properly cited.