Understanding and improving access to prompt and effective malaria treatment and care in rural Tanzania: the ACCESS Programme
Received: 12 March 2007
Accepted: 29 June 2007
Published: 29 June 2007
Abstract
Background
Prompt access to effective treatment is central in the fight against malaria. However, a variety of interlinked factors at household and health system level influence access to timely and appropriate treatment and care. Furthermore, access may be influenced by global and national health policies. As a consequence, many malaria episodes in highly endemic countries are not treated appropriately.
Project
The ACCESS Programme aims at understanding and improving access to prompt and effective malaria treatment and care in a rural Tanzanian setting. The programme's strategy is based on a set of integrated interventions, including social marketing for improved care seeking at community level as well as strengthening of quality of care at health facilities. This is complemented by a project that aims to improve the performance of drug stores. The interventions are accompanied by a comprehensive set of monitoring and evaluation activities measuring the programme's performance and (health) impact. Baseline data demonstrated heterogeneity in the availability of malaria treatment, unavailability of medicines and treatment providers in certain areas as well as quality problems with regard to drugs and services.
Conclusion
The ACCESS Programme is a combination of multiple complementary interventions with a strong evaluation component. With this approach, ACCESS aims to contribute to the development of a more comprehensive access framework and to inform and support public health professionals and policy-makers in the delivery of improved health services.
Keywords
MalariaSocial MarketingHealth Impact AssessmentAccess ProgrammeDemographic Surveillance System
Background
The impact of malaria on health and local economies in sub-Saharan Africa is staggering. Between one and three million people die each year, mostly young children under five years of age. Deaths and illness contribute to a vicious circle of ill-health and poverty [1, 2]. In recent years, the fight against malaria has gained an increased level of attention from governments of affected African states as well as from international donor agencies. African heads of state agreed in the Abuja Declaration on a concerted effort to reduce the burden of malaria on the continent and endorsed the ambitious goal of the Roll Back Malaria Partnership of halving the number of malaria deaths by the year 2010 [3]. Among the malaria control strategies promoted internationally and adopted by most endemic African countries, prompt access to effective treatment especially for young children and pregnant women features prominently [2].
The need for prompt and effective treatment to prevent progression to severe disease and death essentially raises two important issues: first, the choice of a safe and efficacious drug and second, questions of how to optimize equitable access to rationally prescribed treatment.
In order to address the first point, artemisinin-based combination therapies (ACT) have been advocated as treatment of choice in Africa [4] in an effort to improve on drug efficacy following the increasing failure rate of a number of other drugs. Tanzania adopted this policy in 2004 and implemented it at the end of 2006 [5]. However, the choice of an efficacious drug does not necessarily directly result in improved effectiveness, and issues related to safety, use in pregnancy, and cost are also still being discussed. Yet, it would go beyond the scope of this paper to thoroughly debate all issues related to a specific drug.
With regard to the second point, it is widely acknowledged that access to quality treatment is insufficient in many settings. The poorest people often have least access to effective treatment [6] and the underlying causes of this situation are increasingly debated. On a macro-level, the discussion on access to treatment often focuses around the development of new drugs [7] and global affordability issues, including pricing and patenting of drugs. International initiatives, such as Medicines for Malaria Venture (MMV) [8], are increasingly financing and speeding up the development and introduction of new efficacious antimalarials. At a local community level however, the situation is a lot more complex and availability and affordability of drugs are only few among a number of factors influencing prompt and effective treatment [9, 10]. In many developing countries, weak health systems as well as lack of equipment and qualified staff lead to incorrect diagnosis and treatment [11, 12]. Physical access may be impeded by long distances to the nearest point of care, inadequate logistics or inability to pay for secondary costs such as transport [13]. Further, malaria is a common and socially well accepted illness in endemic countries and its potential severity is often underestimated. Insufficient knowledge of the appropriate treatment or an understanding of the illness that differs from the bio-medical explanation can lead to the use of alternative treatment sources and non-adherence to recommended regimens [14, 15].
Several initiatives have attempted to address access questions on a local level, either by strengthening home-based management [16], by improving the involvement of commercial drug providers [17] or through a general improvement of health system performance. Information and education of caretakers and care providers has been useful in improving malaria case management and compliance at home and in drug selling shops [17–19]. Several models for improving case-management in health facilities have been tested and combined approaches were most likely to have a (sustainable) impact [20]. In any case, considering the complexity of the issues involved it seems obvious that there is no such thing as a single "magic bullet" approach to solve the problem. What is needed is a comprehensive concept addressing several of the access dimensions, ranging from availability and affordability to accessibility, acceptability and quality of care. This paper presents a programme that was developed to understand and improve comprehensively access to appropriate malaria treatment in a highly malaria-endemic rural area of south-eastern Tanzania.
The aim of the ACCESS Programme is to investigate factors influencing access to malaria treatment in rural Tanzania in order to develop a set of interventions addressing the main obstacles to access. These interventions are then thoroughly evaluated. The focus is on children below five years of age and pregnant women, who are the most vulnerable groups in this holo-endemic setting in terms of the detrimental consequences of malaria [21, 22]. This paper presents a general overview of the ACCESS Programme, while future reports will provide detailed study results of the major evaluation and monitoring components.
Progress and results to date
Community leaders' sensitization and social marketing
Community activities started with the sensitization of community leaders followed by road shows in the 25 villages of the DSS area and in Ifakara town in 2004. The 2005 round covered an additional 56 non-DSS villages in both districts (59%) and by the end of 2006, a total of 114 (79%) villages were reached with both activities (Figure
6
). On average 40 community leaders per village (90% of the invited) attended the sensitization meetings (total of over 5,000 in three years) and shared their views and concerns, such as: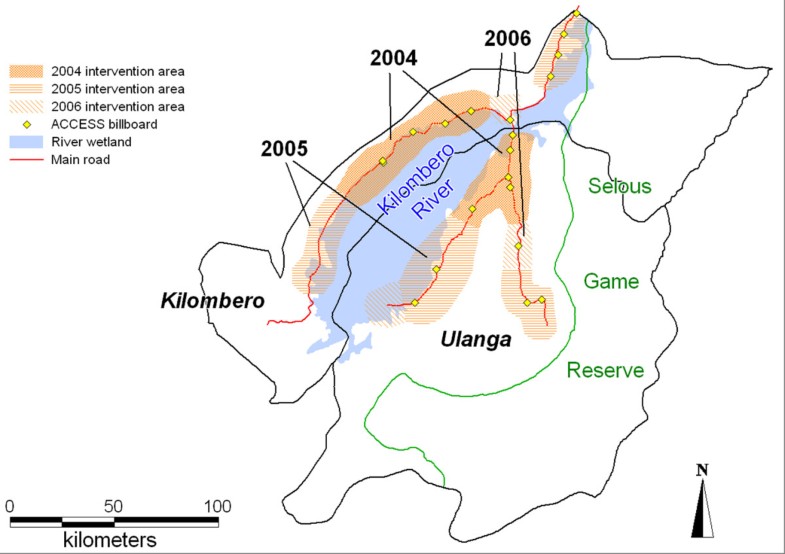 "We have seen different health care providers prescribing malaria treatment to patients differently. Some prescribe quinine alone, or SP alone and sometimes quinine and later on SP. We get confused! Which is the appropriate treatment for malaria?" (Participant, Idete village)
"Children, wives and sometimes relatives of the drug shop owners sell in some of the drug shops. We know these people; they have no formal training, only instructions. It is dangerous." (Participant, Igima village).
Road shows were generally very well attended. Turn-up varied considerably depending on the size of the village, ranging from few hundred to a few thousand people during big shows such as in Ifakara. In a cross-sectional survey done in 2006 in the DSS area, 39% (95% CI 37.2 to 40.4) of the people mentioned that they had attended an ACCESS road show. Men were 2.2 (95% CI 1.9 to 2.5) times more likely to have attended such a show than women (P < 0.001) and younger people were more often exposed than older (Figure
7
). Further, many people had been in contact with or seen promotion materials such as t-shirts and caps (48%), a vehicle displaying ACCESS slogans (46%), or billboards (35%). Community leaders' sensitization meetings reached 16% of the interviewed.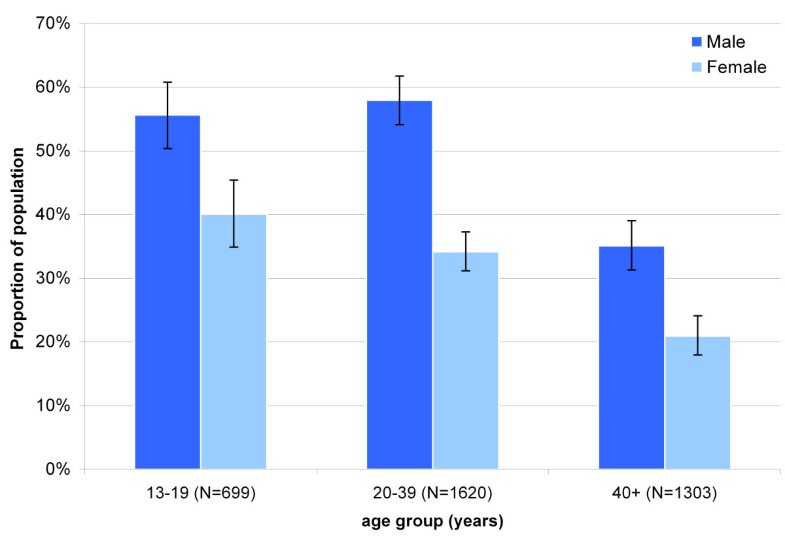 MCH campaigns
So far, 18 special sessions for pregnant women have been carried out in MCH clinics in the DSS area, one in Ifakara and 28 in non-DSS villages of both districts. In the DSS alone, about 4,700 mothers attended the sessions, representing approximately 28% of all women in reproductive age.
Health facility intervention
Between November 2004 and April 2005, several refresher training sessions were organised in collaboration with the CHMTs of Kilombero and Ulanga. In Ulanga, 100 (89% of total) clinicians, nurses, medical aids and technicians from rural dispensaries and health centres attended the trainings. In Kilombero, 39 (93% of total) clinicians were trained. The tools for supportive supervision and quality management are currently being developed.
Accredited Drug Dispensing Outlets
The ADDO programme was targeted at the 32 existing drug stores in Ulanga and 93 in Kilombero District [59, 60]. After a preparatory phase of training shop owners and dispensers, setting up or renovating shop infrastructure and a licensing procedure, ADDOs were launched in Ulanga in May 2006 and in Kilombero in July 2006. By end 2006, there were 114 ADDOs operational in Kilombero district and 44 in Ulanga (R. Mbwasi, personal communication).
Monitoring & evaluation
2004 baseline population of the DSS area was 74,200 people, with a crude death rate of 11.6/1,000 people-years observed (PYO). The probability of dying before reaching the age of one year is 63.9/1,000 PYO and before the age of five 109.5/1,000 PYO. The risk of a fever episode ("homa kali") in the two weeks preceding the interview was estimated at 144/1,000 people between May and August and 119/1,000 between September and December. The risk of a degedege episode in the previous two weeks was 12/1,000 people between September and December. Mosquito net coverage during the main cultivation period (and peak malaria transmission season) was high in the field huts, with 93–100% of households having a net in their huts and an average of over 97% of people in the huts sleeping under a net (treated or not) the night preceding the interview [61].
There were seven health facilities in the 13 Kilombero DSS villages and seven in the 12 Ulanga DSS villages in 2004 (one facility per 5,300 people). By 2006, one private dispensary had closed down in Kilombero and a new public dispensary had been opened in Ulanga. The St. Francis Designated District Hospital in Ifakara serves as main referral hospital for all villages in the DSS. On average per month, each of these facilities recorded 240 out-patient visits due to malaria, over 60% of which were children under five. Malaria accounted for 52% of all out-patient visits of children under five and for 37% of all patients over the age of five (Figure
8
). In addition to health facilities, there were 30 shops in Kilombero DSS, 13 in Ulanga DSS and 14 in Ifakara offering antimalarial drugs [
47
].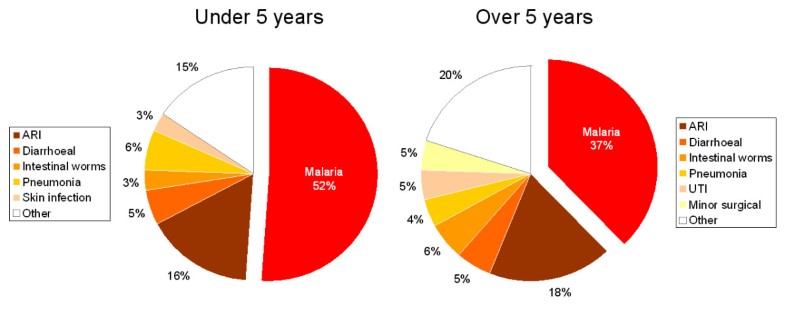 Focus-group discussions revealed mainly the following malaria-related concerns:
SP had a bad reputation in Tanzania following media coverage on severe side-effects (Stevens-Johnson syndrome) at the time of its introduction as first-line treatment in 2001[62]. Some people feared SP although they or their children had never experienced severe side-effects, which are known to be rare [63]. People were confused about different SP brand names.

Modern medical treatment was preferred over traditional medicine and children were treated more quickly than adults. Drug shops were often more conveniently reachable and adults would often buy paracetamol from a shop as first treatment for a fever episode.

A majority of the people failed to resort to sources of treatment that they otherwise would prefer – such as a hospital. Factors such as cost, absence of trusted medical professionals, unavailability of diagnostic instruments, long waiting time, and distance were mentioned as important obstacles.
These findings, together with national treatment guidelines and information from other projects and surveys were used as basis for developing the behaviour change campaign.
Quality tests of antimalarials (SP, amodiaquine and quinine) purchased from health facilities and shops in 2005 confirmed the existence of sub-standard drugs in the study area. In total 25% of the collected tablet samples did not meet the USP specifications for the amount of active ingredient and were mostly under-dosed. 12% of them contained only minimal amounts of active ingredient. Overall, 24% of the collected SP tablets and 40% of the quinine sulphate tablets were sub-standard. All amodiaquine tablets and quinine injections contained the labelled amount of active ingredient. Sub-standard drugs were found mainly at general and drug shop level and mostly originated from Tanzania and India [57].
Discussion and conclusion
In order to develop and validate a generic framework on issues related to access to treatment [64], the ACCESS Programme took malaria as an empirical case study. Of course, access issues are also pressing with regard to most other high-burden or neglected diseases in developing countries. By focusing on malaria we chose a poverty-related disease that affects large parts of sub-Saharan Africa in terms of both, disease and economic development, at a time when funding for its control is more readily available than ever before [65].
The Kilombero Valley is an area for which the malaria situation has been particularly well described thanks to numerous research activities [66–69]. The preventive use of insecticide-treated mosquito nets has been advocated through the large social-marketing of the KINET project between 1997 and 1999. It resulted in high levels of ITN ownership and use [29, 70]. However, access to prompt and appropriate treatment is still poor. A baseline study in the frame of this programme found that only 14% of young children received an effective antimalarial in the correct dose on the day of illness onset [71]. The aim is, therefore, to expand the successful approach chosen for ITNs to the crucial issue of access to treatment. The main target groups of the interventions are those most at risk in holo-endemic areas such as the Kilombero Valley: young children and pregnant women [21, 22, 72].
Interventions to improve the complex issue of access to malaria treatment are more likely to be successful if several working approaches are combined. Social marketing applies concepts and techniques used in commercial marketing to prompt behaviour change that benefits the target group [73]. In recent years, it has become increasingly popular in health promotion where it has been proven effective e.g. in promoting the use of ITNs and reducing child mortality [70]. However, care has to be taken that men and women profit equally from the approach – a challenge that has to be tackled by the programme. In the frame of ACCESS, the marketed "product" is the knowledge and awareness of malaria and the concept of treating a malaria episode appropriately. The "price" to be paid by the community is the adoption of the desired care-seeking and preventive behaviour. However, inducement of behaviour change alone is not sufficient; health services which are acceptable and of good quality must be available. Hence, the behaviour change campaign is also a way of empowering the community to demand for good quality health care. Activities to improve quality of health services become central components of the programme.
The major providers of malaria treatment services remain health workers. Their practices are influenced by a variety of factors and environments [20]. The Integrated Management of Childhood Illness (IMCI) strategy adopted by Tanzania is an effective step to improve health worker performance leading to a reduction in child mortality [74] and out-of-pocket expenditures by patients [75]. However, health systems often fail to implement effective guidelines in a sustainable way [76]. The challenge therefore remains to assure adherence to IMCI guidelines and to address factors not directly related to case-management (e.g. motivation or job satisfaction). Multi-faceted approaches including supervision and strengthening of district-level health management are more likely to improve performance [20]. The ACCESS Programme therefore combines training and information with the implementation of a quality-improvement process including strengthening the supportive supervision capacity of the district health management team.
As an alternative to formal health services, antimalarials can be obtained from the commercial sector. Drug shops and general stores are the most important alternative treatment sources for malaria in the study area [58, 77]. In an attempt to ensure quality of services, antimalarial drugs sales have recently been banned in general shops. With no alternative sources replacing general shops this policy resulted in a decreased availability of antimalarials in the study area [47]. An alternative approach which has worked well in Kenya would be training of drug vendors [17]. However, current Tanzanian legislation does not allow the selling of antimalarials in general shops. Consequently, any national strategy has to focus on improving the performance of drug stores and their dissemination to underserved areas through the ADDO project.
For the impact evaluation of ACCESS, a plausibility design had to be adopted [51]. Identifying a comparable place as control area would not have been possible and randomization of different areas for intervention would not be feasible within the frame of this programme. Supporting evidence for causally linking an observed impact with the programme's interventions will be obtained through the collection of multiple indicators on intervention delivery, coverage and potential confounders. While the limits of such a design in establishing a causal link are obvious and well known, it needs to be recognized that any large-scale implementation goes through an iterative process of measuring progress and impact while continuously adapting and improving the process. Consequently, the interpretation of results has to take into account contextual changes and external influences. Data from other DSS sites and DHS in Tanzania will be of particular importance in interpreting mortality data and putting them into perspective.
Baseline data demonstrated heterogeneity in the availability of treatment sources, unavailability of medicines and providers and serious quality problems with regard to drugs and services. This supports the basic assumption that there are several inter-linked factors influencing access to effective malaria treatment.
The comparative advantage of the ACCESS Programme is its combination of multiple interventions on different levels of the health system, including a strong evaluation and research component. With this approach, the programme also aims to contribute to the wider debate on access to appropriate health care in developing countries. Based on Penchansky and Thomas' [78] understanding of "access" as the degree of "fit" between the health system and its users, the ACCESS Programme aims at developing a more comprehensive access framework [64]. This can then inform and support public health professionals and policy-makers in the delivery of improved health services, ideally leading to better health and well-being.
Declarations
Acknowledgements
We thank the communities of Kilombero and Ulanga districts as well as their leaders for their interest and active participation in the programme. The ACCESS Programme greatly benefits from its collaboration with the district and regional health authorities, the National Malaria Control Programme (NMCP), the Tanzania Food and Drugs Authority (TFDA), IMPACT-Tz, Management Sciences for Health (MSH), Population Services International (PSI) and other local and international collaborators. We acknowledge the inputs of S. P. Kachur (IMPACT-Tz), S. Abdulla (IHRDC), R. Mbwasi (MSH), G. Killeen (IHRDC) and M. G. Weiss (STI). The ACCESS Programme is funded by the Novartis Foundation for Sustainable Development. This paper was published with permission of Dr. Andrew Kitua, Director-General, National Institute for Medical Research. Ethical clearance of the programme proposal was granted by the National Institute for Medical Research of the United Republic of Tanzania (NIMR/HQ/R.8a/Vol. IX/236, 16th September 2003).
Authors' Affiliations
(1)
Department of Public Health and Epidemiology, Swiss Tropical Institute, Basel, Switzerland
(2)
Ifakara Health Research and Development Centre, Ifakara, Tanzania
(3)
Novartis Foundation for Sustainable Development, Basel, Switzerland
Copyright
© Hetzel et al; licensee BioMed Central Ltd. 2007
This article is published under license to BioMed Central Ltd. This is an Open Access article distributed under the terms of the Creative Commons Attribution License (http://creativecommons.org/licenses/by/2.0), which permits unrestricted use, distribution, and reproduction in any medium, provided the original work is properly cited.