Computer vision for microscopy diagnosis of malaria
Received: 20 January 2009
Accepted: 13 July 2009
Published: 13 July 2009
Abstract
This paper reviews computer vision and image analysis studies aiming at automated diagnosis or screening of malaria infection in microscope images of thin blood film smears. Existing works interpret the diagnosis problem differently or propose partial solutions to the problem. A critique of these works is furnished. In addition, a general pattern recognition framework to perform diagnosis, which includes image acquisition, pre-processing, segmentation, and pattern classification components, is described. The open problems are addressed and a perspective of the future work for realization of automated microscopy diagnosis of malaria is provided.
Keywords
MalariaBlood FilmMalaria DiagnosisMalarial ParasiteAverage Cell Size
Background
Malaria is a serious infectious disease caused by a peripheral blood parasite of the genus Plasmodium. According to the World Health Organization (WHO), it causes more than 1 million deaths arising from approximately 300–500 million infections every year [1]. Although there are newer techniques [2], manual microscopy for the examination of blood smears [3] (invented in the late 19th century), is currently "the gold standard" for malaria diagnosis. Diagnosis using a microscope requires special training and considerable expertise [4]. It has been shown in several field studies that manual microscopy is not a reliable screening method when performed by non-experts due to lack of training especially in the rural areas where malaria is endemic [5–7]. An automated system aims at performing this task without human intervention and to provide an objective, reliable, and efficient tool to do so.
An automated diagnosis system can be designed by understanding the diagnostic expertise and representing it by specifically tailored image processing, analysis and pattern recognition algorithms. Although it is not a popular research topic, a noticeable number of vision studies directly address the automated diagnosis of malaria [8–16]. Despite being very specialized, if the fatality figures are considered their results may be considered more important than some other popular computer vision applications.
This study provides an overview of computer vision studies of malaria diagnosis and intends to fill a gap in this area by doing so. There are some different interpretations of the requirements and thus the applicability of the proposed solutions to the problem. Here, these differences are addressed; the practicality, robustness, accuracy of the proposed solutions and their applicability to perform the actual diagnosis task are questioned. Moreover, the evaluation methods chosen to measure and assess the accuracy are discussed. In addition, some other works of the literature which concern the sub-problems or necessary sub-components are examined and placed in a general pattern recognition framework for the diagnosis application. The aim of this paper is to: 1) survey state-of-the-art of the methods concerning the problem; 2) describe a general computer vision framework to perform the diagnosis task; 3) resolve some ambiguities of different perspectives regarding the problem, and 4) point-out some future works for potential research studies.
Microscopy diagnosis is performed by manual visual examination of blood smears. The whole process requires an ability to differentiate between non-parasitic stained components/bodies (e.g. red blood cells, white blood cells, platelets, and artefacts) and the malarial parasites using visual information. If the blood sample is diagnosed as positive (i.e. parasites present) an additional capability of differentiating species and life-stages (i.e. identification) is required to specify the infection.
From the computer vision point of view, diagnosis of malaria is a multi-part problem. A complete system must be equipped with functions to perform: image acquisition, pre-processing, segmentation (candidate object localization), and classification tasks. Hence, the complete diagnosis system also requires some functions such as microscope slide positioning, an automated, fast, and reliable focus, and image acquisition. Some studies concerning image acquisition are examined in section Image acquisition. Usually, the acquired images from a microscope have several variations which may affect the process. These are usually addressed by pre-processing functions which are discussed in section Image variations. An important step in automated analysis is to obtain/locate possibly infected cells (i.e. candidates) which are the stained objects in the images. Detection of staining and localization of these objects are discussed in sections Segmentation and Stained pixels and objects.
In order to perform diagnosis on peripheral blood samples, the system must be capable of differentiating between malarial parasites, artefacts, and healthy blood components. The majority of existing malaria-related image analysis studies (e.g. [8–11, 14, 15, 17]) do not address this requirement. This results in the over-simplified solutions, which are not applicable to diagnosis directly. On the other hand, the few methods which address the differentiation (e.g. [12, 13, 16]) have limited experimental results to show that their proposed solutions are comparable to manual microscopy diagnosis or able to replace it. To this effect the requirements for proper experimental data and set-up is discussed in section Discussion. In order to set the scene, a brief introduction about the malarial parasite, its species, and life-cycle stages is provided in the next section, followed by a short description of microscopy diagnosis.
Malarial parasite
The genus Plasmodium has four species that can cause human infection: falciparum, vivax, ovale, and malariae. During the life cycle in peripheral blood, the different species may be observable in the four different life-cycle-stages which are generally morphologically distinguishable: ring, trophozoite, schizont, gametocyte. The species differ in the changes of the shape of the infected (occupied) cell, presence of some characteristic dots (Schüffner's dots, Maurer's clefts, Ziemann's Stippling) and the morphology of the parasite in some of the life-cycle-stages [3]. The life-cycle-stage of the parasite is defined by its morphology, size (i.e. maturity), and the presence or absence of malarial pigment (i.e. Haemozoin). Illustrations can be found in various sources, e.g. [3, 18].
Microscopy diagnosis
The WHO practical microscopy guide for malaria provides detailed procedures for laboratory practitioners [3]. Diagnosis initially requires determining the presence (or absence) of malarial parasites in the examined specimen. Then, if parasites are present two more tasks must be performed: 1) identification of the species and life-cycle stages causing the infection and 2) calculation of the degree of infection, by counting the ratio of parasites vs. healthy components (i.e. parasitaemia). However, these tasks are not necessarily performed separately or hierarchically.
Using a microscope, visual detection and identification of the Plasmodium is possible and efficient via a chemical process called staining. A popular stain, Giemsa, slightly colors red blood cells (RBCs) but highlights the parasites, white blood cells (WBC), platelets, and various artefacts (Figure 1). In order to detect the infection it could be sufficient to divide stained objects into two groups such as parasite/non-parasite and differentiate between them. However to specify the infection and to perform a detailed quantification, all four species of Plasmodium at four life-cycle-stages must be differentiated (Figure 2). Despite that the term 'artefact" is not very definitive, any stained object that is not a regular blood component or a parasite is referred here using this term: these include bacteria, spores, crystallized stain chemicals, and particles due to dirt [3]. It must be noted that other peripheral blood parasites and RBC anomalies (e.g. Howell-Jolly bodies, iron deficiency, reticulocytes) are included in this artefact class definition. They could be examined in individual dedicated classes if their identification is also required.
A specimen for manual microscopy diagnosis can be prepared (on a glass slide) in two different forms: 1) a
thick blood film
enables examination of a larger volume of blood, hence it is more sensitive to detect parasites (as low as 50 parasites/
μ
l [
19
]). However, the thick film preparation process destroys RBCs and thus makes identification of species difficult. 2) On the other hand, a
thin blood film
preserves RBC shapes and parasites and is thus more suitable for species identification. A common practice in manual diagnosis is to perform positive/negative type decisions in thick blood films and identify species and life-stages in the thin films. Parasitaemia can be calculated in both types of smears [
3
].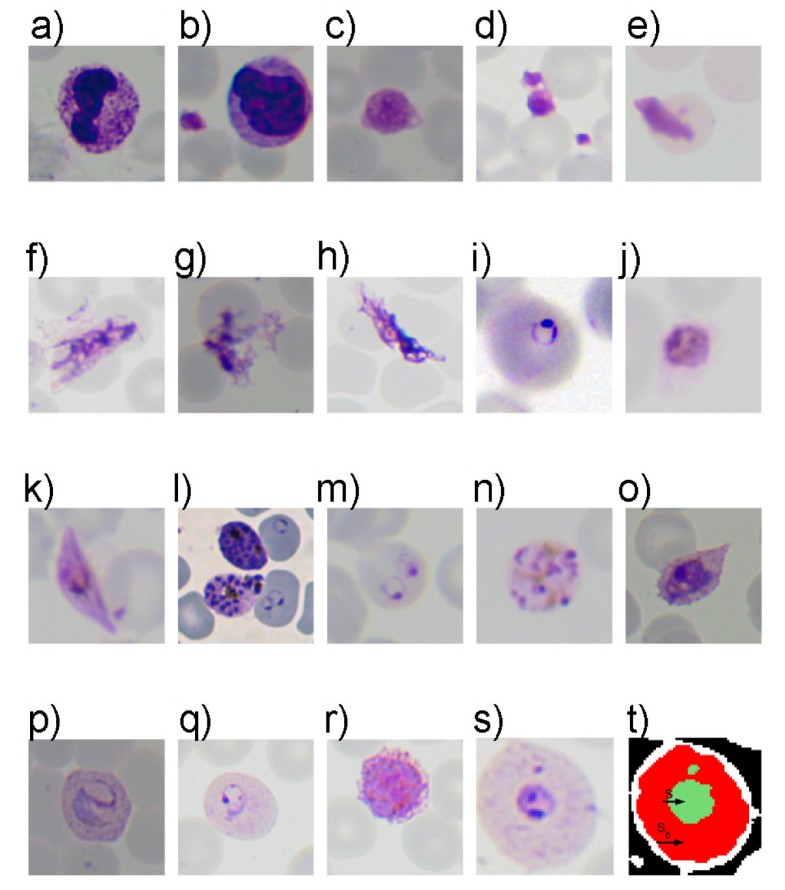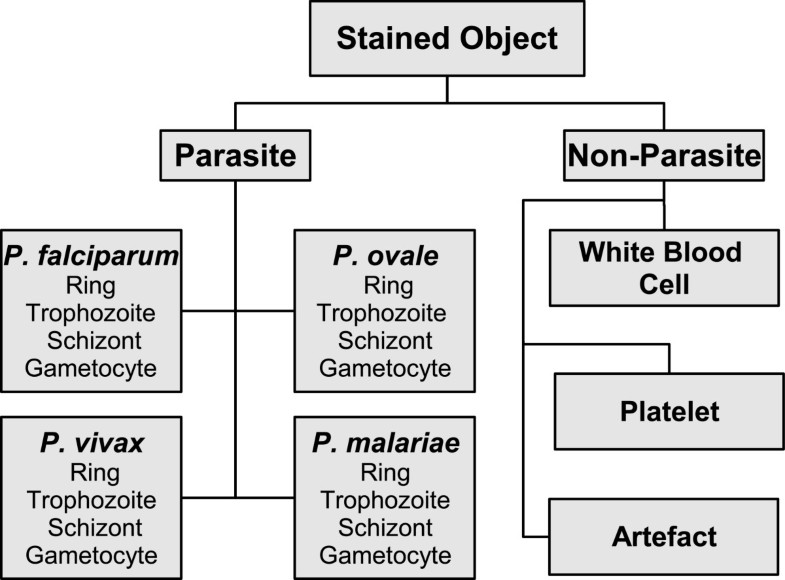 Figure
3
shows examples of stained thin and thick blood film images which contain malarial parasites. As far as this survey is concerned, almost all of the computer vision methods and related studies in the literature use thin blood film smears. Therefore, the discussions presented in this paper are on the thin film analysis works. However, the different requirements of thick blood films are remarked when appropriate. Polymerase chain reaction (PCR) methods are known to be more sensitive and more specific than (manual) microscopy [
19
–
21
]. Recent advances in the technique allow high-throughput applications and promote its use in routine diagnosis [
22
,
23
]. Mueller
et al
[
24
] show that Post-PCR ligase detection reaction fluorescent microsphere assay is more accurate than light microscopy in resolving species in the presence of mixed infections, which are common in the areas where malaria is endemic. PCR-based methods may replace microscopy examination as the gold-standard [
20
]; however, costs are significantly higher and more expensive instruments [
25
] are required.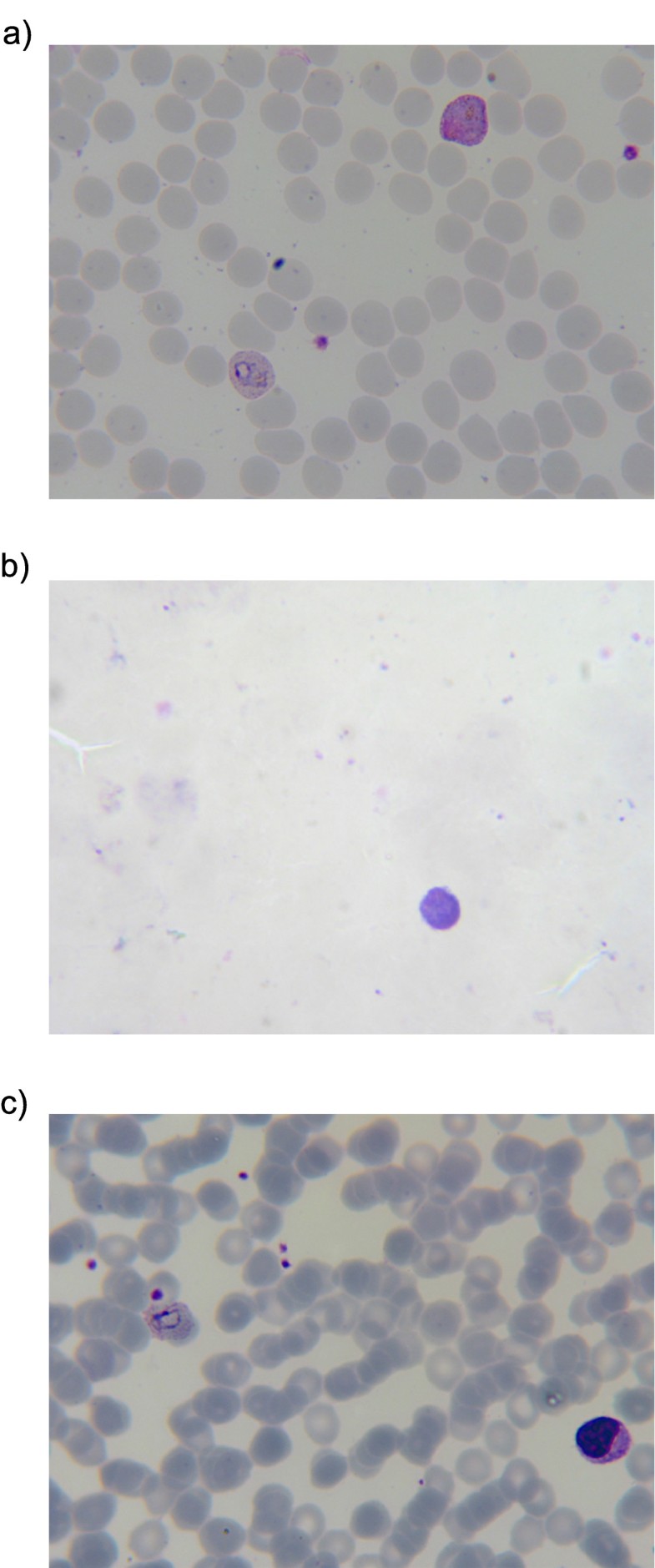 On the other hand, emerging new technologies such as Rapid Diagnostic Tests do not require any special equipment and training. The detection sensitivity is lower but comparable to manual microscopy. However, they provide poor species discrimination and do not provide quantification of the results [26].
Methods
There are many different paradigms of computer vision, which can be utilized to build an automated visual analysis/recognition system. Existing works on malaria commonly use mathematical morphology for image processing since it suits well to the analysis of blob-like objects such as blood cells. On the other hand, to differentiate between observed patterns statistical learning based approaches are very popular. The reader may find in this paper many technical terms that are used to explain different problems or approaches. Additional file 1 provides a brief definition for some of the image processing related terms (e.g. pixel, histogram, gradient), mathematical morphological operators (e.g. erosion, dilation, opening, granulometry), pattern classification concepts (e.g. feature, classifier, and training). More detailed information can be found in following sources: on mathematical morphology [27, 28], on statistical pattern recognition [29–32], and on general image processing [33].
Conclusion
This paper provides a good basis for researchers who are starting to investigate the automated blood film analysis for diagnosis or screening of malaria or similar blood borne infectious diseases. In this paper, a review and critique of computer vision and image analysis studies which address the automated diagnosis of malaria on thin blood film smears and its necessary auxiliary functions is provided. The computerized diagnosis of malaria is addressed at system level; its practicality is discussed by pointing at the issues of imaging, its interoperability is emphasized by addressing variations which can be caused by different imaging set-ups or differences in specimen preparations. A system would benefit from the capability of processing images of external sources or allowing exchange of images and learned parasite models, at the same time its functions may be calibrated for the imaging equipment that it operates on. An open problem is the automated analysis of thick films, despite being more sensitive in detection, has not been investigated from a computer vision perspective. In the existing thin film analysis literature there are some works which propose oversimplified solutions that are not applicable to diagnosis. For the studies which are methodically applicable to diagnosis, some limitations arise from relying on global segmentation of the image. An alternative sliding-window-based detection approach [79] (avoiding segmentation) could be a generalized and possibly better solution to the problem and may be applicable to both thin and thick film analysis.
In addition, the difference between the per-object and per-specimen detection results is emphasized. The evaluations which are currently based on per-object are not necessarily meaningful from the clinical perspective. The existing and prospective methods must be evaluated on large-scale specimen sets and results should be reported based on per-specimen (e.g. per-film) sensitivity and false positive detection rates. Moreover, sample independence of the experimental data must be taken into account and the test data should include a variety of peripheral blood samples including both negative and positive specimens with different levels of parasitaemia and preferably should be acquired using different imaging sources. Finally, future work should also consider expandability and thus the applicability to other blood-borne parasites and disorders.
Declarations
Acknowledgements
We thank to Dr. William Jarra (National Institute of Medical Research, London, UK) for supporting our research with useful discussions on the malarial parasite detection and identification and providing with many sample images. We would like to thank to Monika Kettlehut (Hospital for Tropical Diseases, London, UK) and Claire Rogers (London School of Hygiene and Tropical Medicine) for useful tutorials and discussions on the microscopy diagnosis of malaria.
Authors' Affiliations
(1)
Applied DSP & VLSI Research Group, University of Westminster, London, UK
(2)
School of Surveying & Spatial Information Systems, University of New South Wales, Sydney, Australia
Copyright
© Tek et al; licensee BioMed Central Ltd. 2009
This article is published under license to BioMed Central Ltd. This is an Open Access article distributed under the terms of the Creative Commons Attribution License (http://creativecommons.org/licenses/by/2.0), which permits unrestricted use, distribution, and reproduction in any medium, provided the original work is properly cited.