A mechanistic approach for accurate simulation of village scale malaria transmission
Received: 13 May 2009
Accepted: 2 October 2009
Published: 2 October 2009
Abstract
Background
Malaria transmission models commonly incorporate spatial environmental and climate variability for making regional predictions of disease risk. However, a mismatch of these models' typical spatial resolutions and the characteristic scale of malaria vector population dynamics may confound disease risk predictions in areas of high spatial hydrological variability such as the Sahel region of Africa.
Methods
Field observations spanning two years from two Niger villages are compared. The two villages are separated by only 30 km but exhibit a ten-fold difference in anopheles mosquito density. These two villages would be covered by a single grid cell in many malaria models, yet their entomological activity differs greatly. Environmental conditions and associated entomological activity are simulated at high spatial- and temporal resolution using a mechanistic approach that couples a distributed hydrology scheme and an entomological model. Model results are compared to regular field observations of Anopheles gambiae sensu lato mosquito populations and local hydrology. The model resolves the formation and persistence of individual pools that facilitate mosquito breeding and predicts spatio-temporal mosquito population variability at high resolution using an agent-based modeling approach.
Results
Observations of soil moisture, pool size, and pool persistence are reproduced by the model. The resulting breeding of mosquitoes in the simulated pools yields time-integrated seasonal mosquito population dynamics that closely follow observations from captured mosquito abundance. Interannual difference in mosquito abundance is simulated, and the inter-village difference in mosquito population is reproduced for two years of observations. These modeling results emulate the known focal nature of malaria in Niger Sahel villages.
Conclusion
Hydrological variability must be represented at high spatial and temporal resolution to achieve accurate predictive ability of malaria risk at the village scale, which can then be integrated appropriately to regional spatial scales and seasonal temporal scales. These results have important implications for models seeking to link the impacts of climate change and climate variability to malaria transmission. The highly focal nature of malaria in the Sahel makes detailed representation necessary to evaluate village-level risks associated with hydrology-related vector population variability.
Keywords
MalariaMalaria TransmissionOverland FlowLight TrapMosquito Population
Background
In the Niger Sahel, small-scale, ephemeral pools dot the landscape following monsoon rainstorms and facilitate the prolific Anopheles gambiae sensu lato mosquito breeding that brings about a pronounced seasonal malaria increase [1]. The sudden appearance of widespread but temporary water pools gives rise to a rapid increase in mosquito populations clustered around human habitation, resulting in the highly focal malaria transmission that is a characteristic of Sahel villages [1, 2]. Inter-village differences in local hydrology can lead to unequal extents of suitable breeding habitat following rain, and consequently different villages exhibit different levels of transmission. Village-scale hydrological conditions therefore become important determinants of local malaria transmission [1, 2].
Water-limited savanna environments such as the Sahel exhibit spatial variability in hydrology associated with the local dominance of either trees or grasses. This is largely due to topographic effects and applies to a region of climatic conditions spanned by the very dry conditions in the north and the uniformly wet conditions in the south [3]. In regions south of the Sahel, wet conditions prevail and water availability does not limit mosquito populations. North of the Sahel it is too dry for mosquitoes to breed consistently. Both of these bounds of the Sahel exhibit low spatial hydrological variability. Because spatial variability of malaria transmission is associated with the local-scale availability of surface water for mosquito breeding, the Sahel represents a relative maximum in spatial variability of hydrology [3] as well as malaria transmission.
Despite the heterogeneous, focal malaria transmission resulting from spatial variability in environmental conditions [2], computer models seeking to predict the impacts of climate variability on malaria transmission dynamics typically lump environmental variables such as temperature and some measure of habitat suitability in large computational grid cells of tens to hundreds of kilometers in size, smoothing over any potential heterogeneity within these areas [4]. The coarse resolution effectively negates the potential effects of strong--but localized--proximal determinants of malaria for specific villages. Here, the importance of this lost sub-grid cell heterogeneity in habitat-forming conditions is highlighted by simulating the impacts of small-scale spatial hydrological variability on village-scale malaria transmission. Field hydrology and entomology data are presented from two villages in southwestern Niger, located only 30 km apart--a much smaller distance than a typical climate model grid cell--but with dramatically different hydrological and mosquito population characteristics. At these two villages, we simulate the village-scale anopheles mosquito population dynamics using a high resolution, distributed, coupled hydrology and entomology model HYDREMATS [1].
The characteristic spatial scale of anopheles mosquito population dispersal surrounding African villages is approximately 1-2 kilometers [2, 5–7], with the most dangerous breeding habitats often occurring within tens to hundreds of meters of the nearest human habitation [1, 8]. Some references list much longer mosquito flight ranges up to 10 km [e.g. [2, 9]] but the bulk of entomological activity directly affecting Sahel villages is concentrated in an area surrounding villages spanning one or two kilometers [6, 7]. Building on previous work [1], this study aims to represent the impacts of hydrological variability at the village scale and demonstrate through computer model simulations the importance of high resolution hydrological variability for the prediction of village-scale malaria transmission.
Results
Hydrology
Figure
5
compares results of the groundwater simulation to the observed water levels. Discrete measurements of water levels at groundwater wells, observations of saturation and subsequent dry down at buried TDR probes, and observations of extents of groundwater-fed pools were compiled into a combined representation of groundwater level. Observations were at least weekly at all sites during the wet seasons, but little data was available for defining domain-wide groundwater behaviour during the ensuing dry season. Only one concrete-lined well provided periodic measurements of depth to groundwater table. Buried TDR probes registered the dry-down, and slow dessication of the large swampy areas around Zindarou in November and December provided clues about the extent of groundwater table recession during the dry season. However, compared to the wet season when many areas showing surface penetration of groundwater existed and were measured, observations of groundwater behaviour in the dry season are sparse. The simulated groundwater table fluctuations are superimposed on the observed groundwater level, showing good agreement in the 2005 rain season and less good agreement during the dry season. However, due to the deficiency of reliable measurements throughout the region as well as the inconsequence of groundwater levels when there are no areas of surface penetration, divergence of simulated groundwater level from observations is considered acceptable during the dry season. Peak groundwater levels match observations well, and due to relatively shallow topography, pooled water surface area is sensitive to maximum rise of the groundwater table. Therefore, the accurate model reproductions of Zindarou groundwater levels shown in Figure
5
signal good model representation of surface water availability for mosquito breeding.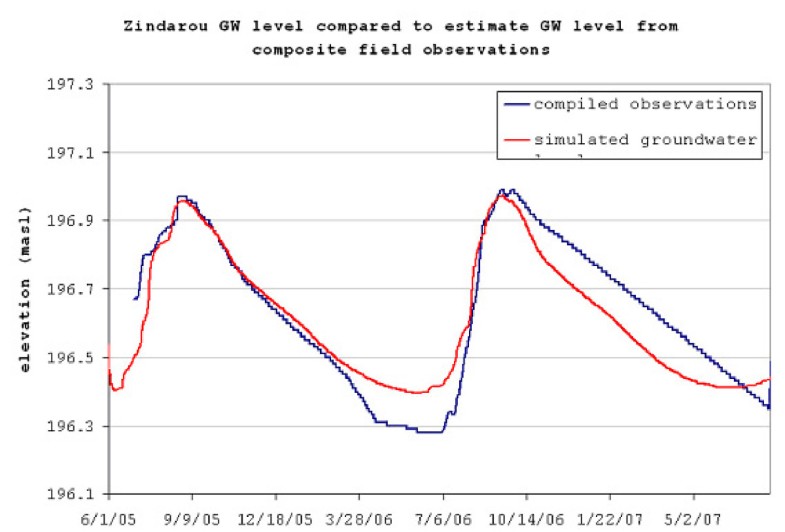 Figure
6
shows surface water area in the model domain over the simulation period. Total water surface area summed from various sources (groundwater-saturated zones, shallow garden wells, and overland flow) is represented in this plot. Water surface area from overland flow (often submerging much of the model domain for one time step as water is being routed to the topographic low points) disappears rapidly compared to groundwater-supplied marshes, which provide the longer-duration surface area.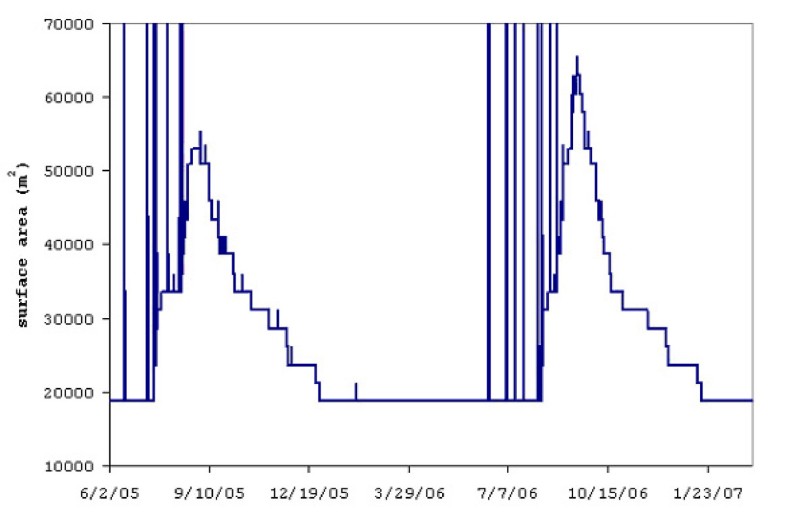 Mosquito abundance
Total mosquito captures in Zindarou and Banizoumbou are shown in Figure
7
. In Banizoumbou, light traps yielded only
An. gambiae s.l
. mosquitoes (the species complex which comprises sibling species
An. gambiae sensu stricto
and
An. arabiensis
). In Zindarou, light traps also showed
An. gambiae s.l
. to be the most abundant species. Due to resource limitations, the sibling species
An. gambiae s.s
. were not distinguished from
An. arabiensis
, because they are morphologically identical and require genetic analysis for identification beyond the species complex level.
An. funestus
were also caught albeit in much lower numbers. Due to its anthropophily,
An. funestus
is an efficient malaria vector [
29
]. Other captured anophelines included
An. rufipes
and
An. pharoensis
, however total captures for these species were very low even in Zindarou, and because of lower anthropophily they are considered only minor vectors of malaria [
30
]. We therefore assume that they play a negligible role in Zindarou malaria transmission and omit them from the study.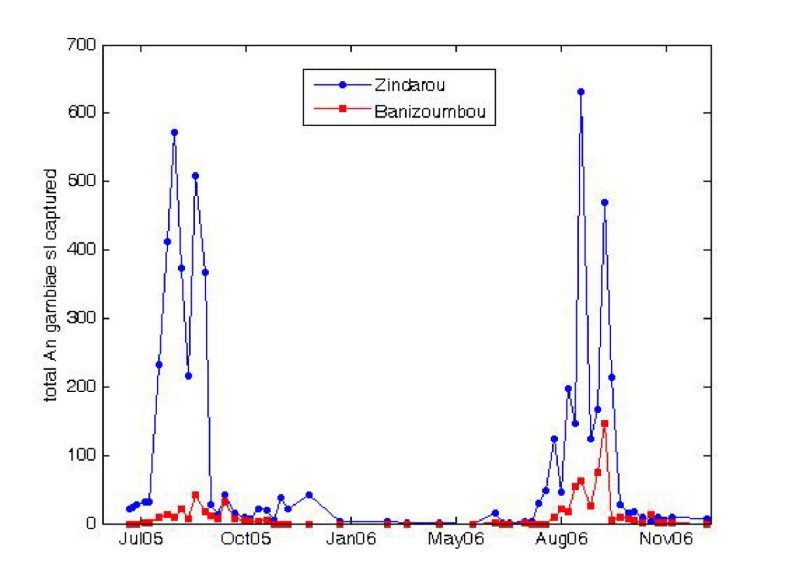 Weekly light trap catches at six locations throughout the village provided the field observations for mosquito abundance. Differences in ambient light such as from lunar phase are known to influence light trap captures [
31
,
32
], and overnight captures are a time-integrated sampling method. Total time-integrated mosquito abundances, both from light traps and from model predictions in each village, compare well. Because light traps effectively represent relative abundances, the interannual difference in simulated mosquitoes can be compared to the interannual difference in observed (captured) mosquitoes, assuming that the light trap samples a constant proportion of the active mosquitoes in the village. Figure
8
shows 2005 and 2006 simulated cumulative and observed mosquito abundance in Zindarou compared to simulated cumulative and observed mosquito abundance in Banizoumbou for the same two years.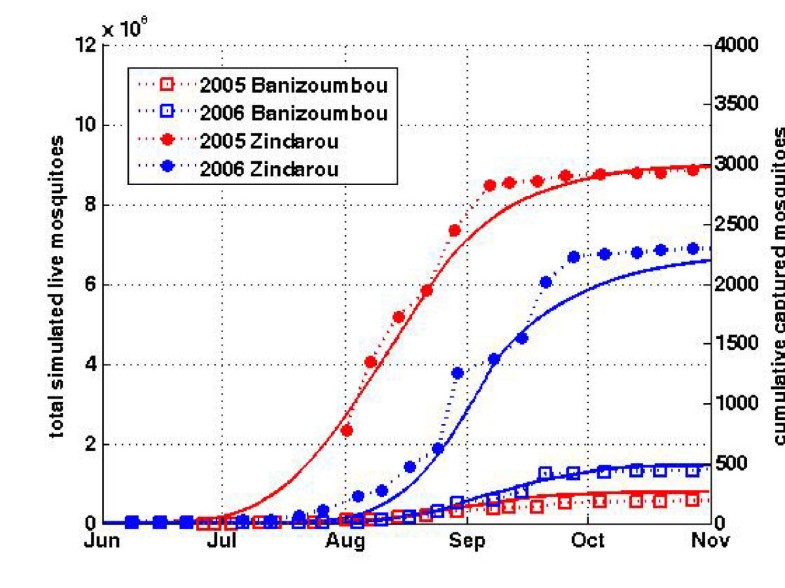 Despite successful representation of hydrology-driven mosquito population variability between the two villages, the modeling approach has limitations. The simulation is highly detailed, but it was not possible to validate the model at the hourly time step of simulation, nor was it possible to compare the details of modeled intra-village population structure beyond the light trap locations. Model output at very small spatial- and time-scales (not presented) cannot be completely validated and while model output is realistic at such scales, details should be interpreted with caution. Emphasis is placed on the representation of intervillage difference in time-integrated mosquito abundance to highlight the effects of hydrological variability.
Discussion
Banizoumbou and Zindarou Villages are only 30 km apart, but are hydrologically very distinct. Besides the contrast in surface water availability for breeding mosquitoes, the differences between the villages are minimal. It is therefore expected (and observed) that potential confounding variables such as climate or vector behaviour do not vary significantly between the two villages. With highly detailed representation of localized hydrological determinants, HYDREMATS has reproduced both the interannual variability in mosquito abundance observed in the two villages and the pronounced differences in abundance observed between Banizoumbou and Zindarou. The only differences in the simulations were the local topography, distributed land cover type, and subsurface hydrology environment as observed for each study village. These heterogeneities led to pronounced inter-village differences in breeding habitat formation and persistence, and ultimately result in highly variable village malaria risk. In the comparison of Banizoumbou and Zindarou, subsurface hydrology was seen to be the dominant control of inter-village difference in entomological activity. The influence of the Dallol Bosso and the associated shallow groundwater table resulted in prolonged and widespread breeding habitat availability.
The implications of the observations and model results presented in this study are important for accurate and precise mapping of malaria risk in water-limited, epidemic-prone African environments. The wet environment of Zindarou with persistent surface water resembles hydrological conditions typical of hundreds of kilometers further south, in the wet equatorial forests of West Africa, however temperatures and humidity are characteristic of the more arid Sahel. Clearly, malaria risk as indicated by mosquito abundance is higher in Zindarou-like environments than in more dry Banizoumbou-like environments. While Zindarou represents one end of a spectrum of wetness and corresponding entomological activity in the Sahel, mosquito abundance in many villages in the Sahel will fall somewhere in between that of Zindarou and Banizoumbou. As previously stated, hydrological variability is low at the dry northern and wet southern fringes of the Sahel and Sudan Savannah zones, and inter-village variability in malaria risk due to variable mosquito activity is expected to follow this trend.
Wide-ranging characterization of such highly detailed spatial data to parameterize a distributed model for topography, soil, vegetation and climate data can be a formidable challenge. The results presented in this study involved supervised classifications of multispectral satellite images for model input, and intensive field investigation for the characterization of the surface expression of groundwater in Zindarou. In some cases, ground truth of satellite information for land cover can be extrapolated regionally to nearby villages in the Niger Sahel with similar soil and vegetation types for unsupervised classifications, with reasonable assurance of validity.
Results of this study can have significant implications on the downscaling of climate model output to the regional scales for making malaria transmission projections. Similarly, the presented results also have implications on the development and application malaria early warning systems (MEWS). Climate models and MEWS often operate at low spatial and temporal resolution, typically on the order of hundreds of kilometers. MEWS systems use the detection of anomalous conditions in sea surface temperature, seasonal climate forecasts as well as regional vulnerability assessments based on the human population to predict increased malaria transmission, with varying degrees of success. The impact of uniformly-distributed precipitation anomalies on village-scale malaria transmission depends on the hydrological characteristics of each individual village. Generally, within MEWS, positive precipitation anomalies are expected to yield regionally intensified malaria transmission. However, as with the difference between Banizoumbou and Zindarou, the details of the malaria transmission response to rainfall anomalies will vary with localized hydrological determinants. Following results of this study, a large-scale prediction of epidemic conditions from an early warning system should be refined using an application of detailed simulations such as HYDREMATS to increase specificity and sensitivity of the system, identifying populations truly at risk while negating false warnings.
While pool persistence limits mosquito abundance in Banizoumbou, in wetter environments such as represented by Zindarou, different modes of limitation regulate abundance particularly in the late wet season. Nutrient availability and predation may be significant controls in the late transmission season, as is evidenced by a drastic decline in late season observed mosquito populations despite the persistence of groundwater-fed pools beyond the end of the rains. The difference in pool persistence resulting from spatial hydrologic variability will influence local modes of mosquito population limitations.
This field-validated modeling study of Banizoumbou and Zindarou, Niger, has exposed the importance of high resolution hydrological simulation for improved understanding and simulation of village-scale malaria transmission. Pronounced differences in observed mosquito populations between the villages were reproduced by the HYDREMATS model, demonstrating the potential for improved simulation of malaria risk.
Conclusion
Spatial hydrologic variability controls local, village-scale mosquito abundance in areas of water-limited, seasonal malaria transmission such as the Niger Sahel. The example of Banizoumbou and Zindarou in this study showed that a distance of only 30 km between the two study foci can have dramatically different anopheline abundance, and that these differences were solely explained by hydrologic variability. This result has implications for efforts to predict malaria risk using climate models. The mismatch of climate model grid cell size (typically ~100 km) and the characteristic scale of hydrological variability that influences village-scale malaria transmission in areas such as the Sahel suggests that malaria risk predicted by climate models (as components of early warning systems) may contain limitations. Accurate and reliable assignment of village-scale malaria risk from such models may be impossible because of this scale discrepancy. Moreover, the result suggests that high resolution distributed representation of hydrology may dramatically improve the model-predicted outcome of malaria transmission response to variable climate forcings. Topography, vegetation, soil type differences as well as shallow groundwater behaviour must all be incorporated at appropriate scales in order to accurately evaluate malaria transmission at the village scale using coarse resolution climate models.
Declarations
Acknowledgements
The authors would like to acknowledge the generous help and advice of Dr. Luc Descroix of IRD Niger, and the tireless field support of Mr. Ibrahim Issa-Arzika of CERMES in Niamey. This work was partially funded by a grant from the Oceans and Human Health Initiative (OHHI) of NOAA.
Authors' Affiliations
(1)
Massachusetts Institute of Technology, Cambridge, USA
(2)
Institute Pasteur, Paris, France
(3)
University of Vermont, Burlington, USA
Copyright
© Bomblies et al; licensee BioMed Central Ltd. 2009
This article is published under license to BioMed Central Ltd. This is an Open Access article distributed under the terms of the Creative Commons Attribution License (http://creativecommons.org/licenses/by/2.0), which permits unrestricted use, distribution, and reproduction in any medium, provided the original work is properly cited.