Engaging diverse communities participating in clinical trials: case examples from across Africa
Received: 11 November 2009
Accepted: 26 March 2010
Published: 26 March 2010
Abstract
Background
In the advent of increasing international collaborative research involving participants drawn from populations with diverse cultural backgrounds, community engagement becomes very critical for the smooth conduction of the research. The African Malaria Network Trust (AMANET) is a pan-African non-governmental organization that sponsors and technically supports malaria vaccine trials in various African countries.
Case description
AMANET sponsored phase Ib or IIb clinical trials of several malaria vaccine candidates in various Africa countries. In Burkina Faso, Mali and Tanzania trials of the merozoite surface protein 3 -- in its Long Synthetic Peptide configuration (MSP3 LSP) -- were conducted. In Mali, the apical membrane antigen 1 (AMA1) was tested, while a hybrid of glutamate rich protein (GLURP) and MSP3 (GMZ2) was tested in Gabon. AMANET recognizes the importance of engaging with the communities from which trial participants are drawn, hence community engagement was given priority in all project activities conducted in the various countries.
Discussion and evaluation
Existing local social systems were used to engage the communities from which clinical trial participants were drawn. This article focuses on community engagement activities employed at various AMANET-supported clinical trial sites in different countries, highlighting subtle differences in the approaches used. The paper also gives some general pros and cons of community engagement.
Conclusions
Community engagement enables two-way sharing of accurate information and ideas between researchers and researched communities, which helps to create an environment conducive to smooth research activities with enhanced sense of research ownership by the communities.
Keywords
Community Engagement
Malaria Vaccine
Community Advisory Board
Merozoite Surface Protein
Demographic Surveillance System
Discussion and evaluation
The experience gained in various African countries shows that community leaders, who are the gatekeepers for their communities, have to grant permission for researchers to enter into the community and conduct research. However, individual informed consent still had to be obtained from participants recruited into particular studies. The community leaders and the researchers explained that permission to enter the community was not meant to substitute individual informed consent. The permission given by the community leaders and heads of families should therefore not be considered to be the so called 'community consent', a term which could imply that individual informed consent is not necessary once permission has been granted by the community leaders.
Although the approach used in the different countries was basically the same (Figure
4
), starting with administrative approval of the project, followed by permission to enter into the communities and finally meeting with the ordinary members of the communities, there were subtle procedural differences from site to site. Such differences were due to cultural and traditional differences in the social systems of the communities. However, these experiences showed that smooth implementation of any studies in these communities may not be possible if such site-specific community-wide and structured engagement is not followed. It is perhaps a distinctive contextual feature among African communities that mass mobilization with communal views on such issues as research within their community remains important.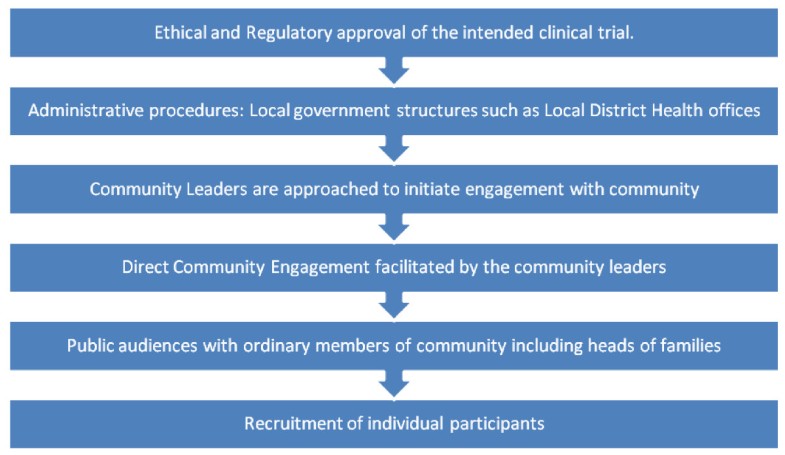 The situation may be different in urbanized areas where households tend to mind their own family affairs following after the 'westernized cultural model'. In such urban settings, different approaches, which are feasible, could be used. It may be difficult to define a specific target community in such situations, and the term 'public engagement' may be more appropriate than 'community engagement'. For instance, researchers could explore using the media (print, radio and TV) to disseminate accurate information and to capture some views of the public.
In general, the process of community engagement basically shows respect for the communities that participate in research. Planning, setting aside time and budgeting for community engagement activities demonstrates that the communities are being treated as critical partners in the research process, and not as mere means for academic or commercial purposes. As outlined in Figure
5
, community engagement helps to enhance comprehension of the research by the communities on one hand, and of community views and concerns by the researchers on the other. For instance, in Burkina Faso a local game that the community was familiar with was used to randomly select research participants. Thus although certain scientific jargon such as 'random selection' may not have equivalent terms in the vernacular language, the jargon could be made understandable if appropriate concepts or practices that may be available locally are used to elaborate the scientific procedures or jargon.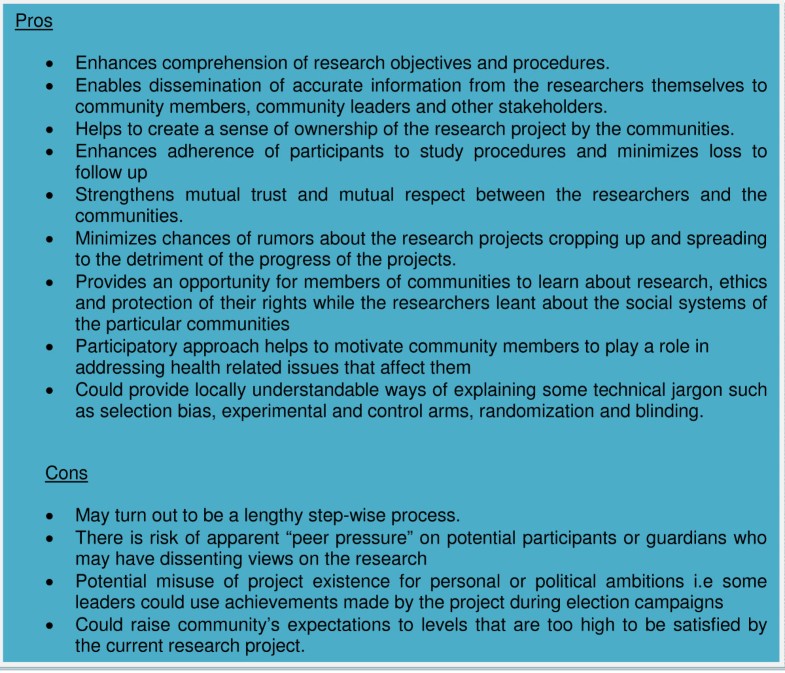 Some studies have shown that prospective participants in developing countries may need time to consult with their spouses or relatives before making a decision whether or not to participate in a research project [33, 34]. Thus community engagement could go a long way in facilitating such internal family consultations since communities of the prospective participants may already be aware of the intended research projects. Overall, the community engagement process strengthens the relationship and trust between researchers and the communities.
However, community engagement also has some potential cons that should be watched out for and addressed whenever they arise. Firstly, although a timeframe may be put in place upfront, the process may take longer than planned due to the step-wise procedure, which is usually beyond the control of the researchers but is dependent on the existing local societal systems. Secondly, due to peer pressure, some individuals may feel obliged to take part in the proposed studies lest they are perceived as being against the wishes of the whole community, and may be treated as outcasts. Thirdly, the process of community engagement may raise the expectations of the community to levels beyond what the proposed study may be capable of tackling.
Conclusions
The case examples from Africa show that involving communities from which research participants are drawn adds some social value to the research over and above the potential scientific benefits. Even if early phase trials do not yield products that may be used soon after completion of the trials, the communities appreciated the importance of such trials because the researchers made concerted efforts to explain and answer questions some of which may seem basic and trivial from a researchers point of view. The engagement with the communities created trust between the researchers and the communities, making the ordinary members of the communities feel a sense of ownership of the research.
Although there could be potential challenges such as lengthy processes and expectations that may be too high to meet, the overall potential benefits of engaging with target communities outweigh the challenges. Indeed, community engagement is an appropriate platform to address such challenges if they arise. The ordinary members of the communities do not necessarily have to understand the science behind the clinical trials, but need to understand such simple and straightforward issues as (i) the difference between research and health care delivery, (ii) purpose of doing the trial, (iii) research procedures involved such as number of injections and collection of blood samples, (iv) number of scheduled visits, (v) the known potential risks and (vi) the potential benefits such as knowledge about the safety and efficacy of the investigational product.
Declarations
Acknowledgements
AMANET has received support from the Danish Development Agency (DANIDA), the European Commission (DG- Research and AIDCO), the Netherlands Ministry of International Cooperation (DGIS), the European Developing Countries Clinical Trials Partnership (EDCTP), the African Caribbean Pacific Secretariat and the Bill and Melinda Gates Foundation for various project activities. The active participation of Method Segeja, Bruno Mmbando, Acleus Rutta, Mathias Kumugisha, Samuel Sembuche, and Hamis Msangeni from NIMR-Tanga in the community engagement activities of their site is gratefully appreciated. We are grateful to Beverly Msambichaka (Ifakara Health Institute), Nathalie Convolbo (Centre National de recherche et de Formation sur le paludisme, CNRFP) and Assetou I. Dermé (CNRFP) for their active participation in the community engagement activities of their respective sites.
The technical support provided by Saad Ramadhani, AMANET, is greatly appreciated. The authors gratefully acknowledge the support and dedication of the research teams and management of the participating clinical trial sites, namely (i) Centre National de Recherche et de Formation sur le Paludisme, CNRFP, (Ouagadougou, Burkina Faso), (ii) Medical Research Unit at Albert Schweitzer Hospital, MRU-ASH (Lambarene, Gabon), (iii) Malaria Research and Training Centre (MRTC), University of Bamako (Bamako, Mali), where malaria vaccine trials have been supported by AMANET, NIAID/NIH, CVD-Maryland and WRAIR-GSK, (iv) National Institute for Medical Research, Tanga Medical Research Centre, (Tanga, Tanzania) and (v) Ifakara Health Institute (Dar es Salaam, Ifakara and Bagamoyo, Tanzania). We respectfully thank all the communities in Burkina Faso, Gabon, Mali and Tanzania that participated in the various activities and in the clinical trials.
Authors' Affiliations
(1)
African Malaria Network Trust (AMANET), Dar es Salaam, Tanzania
(2)
KEMRI-Wellcome Trust Research Programme, Kilifi District Hospital Grounds, Kilifi, Kenya
(3)
National Institute for Medical Research, Tanga Medical Research Centre, Tanga, Tanzania
(4)
Ifakara Health Institute (IHI), Dar es Salaam, Tanzania
(5)
Malaria Research and Training Centre (MRTC), University of Bamako, Mali
(6)
Centre National de Recherche et de Formation sur le Paludisme (CNRFP), Ouagadougou 01, Burkina Faso
Copyright
© Nyika et al; licensee BioMed Central Ltd. 2010
This article is published under license to BioMed Central Ltd. This is an Open Access article distributed under the terms of the Creative Commons Attribution License (http://creativecommons.org/licenses/by/2.0), which permits unrestricted use, distribution, and reproduction in any medium, provided the original work is properly cited.