Interactions between a fungal entomopathogen and malaria parasites within a mosquito vector
Received: 3 September 2014
Accepted: 21 December 2014
Published: 28 January 2015
Abstract
Background
Mosquitoes are becoming increasingly resistant to the chemical insecticides currently available for malaria vector control, spurring interest in alternative management tools. One promising technology is the use of fungal entomopathogens. Fungi have been shown to impact the potential for mosquitoes to transmit malaria by reducing mosquito longevity and altering behaviour associated with flight and host location. Additionally, fungi could impact the development of malaria parasites within the mosquito via competition for resources or effects on the mosquito immune system. This study evaluated whether co-infection or superinfection with the fungal entomopathogen Beauveria bassiana affected malaria infection progress in Anopheles stephensi mosquitoes.
Methods
The study used two parasite species to examine possible effects of fungal infection at different parasite development stages. First, the rodent malaria model Plasmodium yoelii was used to explore interactions at the oocyst stage. Plasmodium yoelii produces high oocyst densities in infected mosquitoes and thus was expected to maximize host immunological and resource demands. Second, fungal interactions with mature sporozoites were evaluated by infecting mosquitoes with the human malaria species Plasmodium falciparum, which is highly efficient at invading mosquito salivary glands.
Results
With P. yoelii, there was no evidence that fungal co-infection (on the same day as the blood meal) or superinfection (during a subsequent gonotrophic cycle after parasite infection) affected the proportion of mosquitoes with oocysts, the number of oocysts per infected mosquito or the number of sporozoites per oocyst. Similarly, for P. falciparum, there was no evidence that fungal infection affected sporozoite prevalence. Furthermore, there was no impact of infection with either malaria species on fungal virulence as measured by mosquito survival time.
Conclusions
These results suggest that the impact of fungus on malaria control potential is limited to the well-established effects on mosquito survival and transmission behaviour. Direct or indirect interactions between fungus and malaria parasites within mosquitoes appear to have little additional influence.
Keywords
Plasmodium yoelii
Plasmodium falciparum
Anopheles stephensi
Beauveria bassiana
Biological control
Background
Malaria vector control programmes are currently being threatened by increasing insecticide resistance in adult mosquito populations [1-4]. This has spurred interest in the development of alternative management tools, including the use of entomopathogenic fungi [5-8]. Fungal spores infect mosquitoes on contact and can be integrated into a number of delivery systems, including wall treatments [7,9-11], eave nets and curtains [8], baited traps [12], and point source targets [8,13,14]. Conidial storage and persistence characteristics are competitive with those of commonly-used chemical insecticides [10]. Importantly, fungi are effective against existing insecticide-resistant mosquito populations [6,7,15] and are expected to impose reduced selection for new resistance traits relative to conventional chemicals [16-19].
Chemical insecticides generally kill or knock down susceptible mosquitoes within hours of exposure [20]. In contrast, fungal biopesticides are relatively slow-acting, taking up to a week or more to kill exposed mosquitoes [5,13]. This slower action can still be sufficient to block malaria transmission, since mosquitoes do not become infective until the end of the malarial extrinsic incubation period (EIP) of approximately two weeks. Fungal infection also causes a number of sublethal effects (e.g., decreased host location ability [21] and feeding propensity [7,11,22,23]) that further reduce the probability of disease transmission. One early study found that the combination of high mortality and low sporozoite rates associated with Beauveria bassiana fungal infection significantly reduced the number of Anopheles stephensi mosquitoes that both survived to the end of the EIP and were potentially able to transmit Plasmodium chabaudi malaria [5]. The authors also noted that mosquitoes co-infected with fungus and malaria exhibited an upward trend in daily mortality rate toward the end of the EIP that was not evident in mosquitoes infected with either malaria or fungus alone [5]. However, there has been negligible follow-up work to validate this preliminary observation. If either co-infection (i.e., mosquitoes infected with fungus and malaria parasites at more or less the same time during the same gonotrophic cycle) or superinfection (i.e., mosquitoes encountering the fungus during a later gonotrophic cycle when the malaria parasite is already established) alter the development of either the fungus or malaria parasite, there could be important implications for malaria control. For example, if fungal infection directly or indirectly inhibited sporozoite invasion of the salivary glands, control programmes could potentially use fungal strains that were less virulent to mosquitoes, which would in turn reduce selection for resistance in vector populations [16-19].
The effects of co- and superinfection are highly variable in other mosquito-pathogen systems. The fungal entomopathogens Metarhizium anisopliae and B. bassiana can inhibit dengue virus replication and dissemination in co-infected Aedes aegypti mosquitoes [24,25]. Infection with certain species of Wolbachia bacteria also can inhibit establishment of other bacterial [26], nematode [26] and viral [27-32] superinfections. The impacts of Wolbachia infection on malaria parasites have been mixed, with reductions in oocyst densities occurring under some conditions [33-35] and enhancement observed under others [36,37]. The mechanisms underlying these phenotypes remain unresolved but appear to be mediated by resource competition [38] and/or upregulation of immune factors [24,27,28,34,35,39,40].
Similar mechanisms could affect interactions between fungal pathogens and malaria parasites. The mosquito responds to the early ookinete stages of malaria infection by upregulating immune responses including melanization [41] and the Toll pathway or, in the case of human malaria species, the IMD pathway [42-44]. There is evidence that malaria parasites utilize host resources as sporozoites replicate within the oocysts [45], and resource depletion might increase host susceptibility to secondary infection. During the final stage of infection, sporozoites are actively degraded in the haemocoel [46], potentially either reducing (via depletion) or enhancing (via upregulation) the availability of haemocytes to combat additional infectious agents. Fungal infection itself triggers a number of similar immune responses in insect hosts. Early fungal invasion of the haemocoel is countered by cellular immune responses [47], which can result in granulocyte depletion as the infection progresses [48]. Later in the infection, immune factors involved in the humoral melanization response [47,49] and the Toll and JAK-STAT pathways [24] are involved in countering fungal proliferation. Thus, depending on the timing of the malaria and fungal infections, there might be extensive overlap in immune and resource demands on the mosquito host.
This study explored whether co- or superinfection with a candidate strain of the fungal entomopathogen B. bassiana affected a number of malaria infection parameters. Two different malaria species were used to evaluate potential interactions at different stages of the malaria life cycle. To examine impacts at the oocyst stage, A. stephensi mosquitoes were infected with Plasmodium yoelii, a rodent malaria species which produces high oocyst densities in infected mosquitoes [50]. High oocyst intensities have been found to increase vector mortality rates [51-53] (but see [54]), so it was expected that any mortality costs associated with malaria-fungus co-infection would be maximized in high-intensity infections. The mosquitoes were exposed to fungus either immediately following the blood meal (to simulate co-infection) or three days later to simulate superinfection during the next gonotrophic cycle following oocyst establishment. There were no significant effects of co- or superinfection on oocyst prevalence, oocyst intensity, sporozoite replication (represented by the number of sporozoites per oocyst), or mosquito mortality rate among the various treatment groups.
To determine whether there were late-stage interactions between fungal superinfection and malaria sporozoites, mosquitoes were infected with Plasmodium falciparum, a human malaria species which produces lower oocyst densities but is much more efficient at invading mosquito salivary glands than P. yoelii [55,56]. Late fungal infection was simulated by exposing mosquitoes to fungus either eight or 11 days after the infectious blood meal. Regardless of exposure day, fungal treatment had no effect on sporozoite prevalence in the salivary glands, nor did the presence of malaria appear to affect subsequent fungal virulence. Overall, the results did not indicate a significant interaction between mosquito, fungus and parasite, and suggest that interaction with malaria infection is unlikely to have either positive or negative consequences for this potential of this fungal biopesticide to reduce transmission.
Results
Plasmodium yoelii experiment
Mosquito mortality rate varied with treatment group (Figure
1
) but was not significantly affected by
P. yoelii
malaria infection status (hazard ratio (HR) = 0.95, z = −0.77, p = 0.44). Fungal exposure significantly increased mortality rate (HR = 17.06, z = 21.11, p < 0.001); mosquitoes exposed to fungus had median survival times of eight to ten days relative to >25 days in the controls. There was also a significant interaction between fungal exposure and exposure day (HR = 0.64, z = −3.42, p = 0.001), such that, even after accounting for the delay in fungal infection, the mosquitoes exposed to fungus on day 3 had median survival times about one day longer than those exposed on the same day as the blood meal.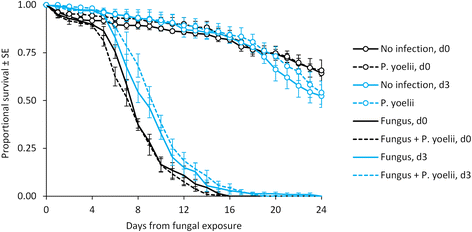 None of the
P. yoelii
malaria infection parameters was significantly affected by fungal exposure or exposure timing (Table
1
, Figures
2
and
3
). Infection prevalence was slightly higher in the day 0 exposure groups (90% for both fungus and control mosquitoes) than in the day 3 groups (75% for fungus and 70% for controls), but the difference was marginally insignificant (z = −1.94, p = 0.053). Although the number of sporozoites per oocyst was lower in mosquitoes exposed to fungus (z = 2.15, p = 0.032), this result was driven by a single outlier. When this data point was not included in the analysis, neither fungal exposure (χ
2
 = 1.22, p = 0.269) nor exposure timing (χ
2
 = 1.06, p = 0.303) significantly affected sporozoite density per oocyst.
Table 1
Summary of P. yoelii malaria infection parameters
Exposure day

Fungal treatment

Oocyst prevalence

Oocyst intensity

Sporozoites per oocyst (×10 3 )

N

Mean ± SE

Median

N

Mean ± SE

Median

Day 0

Fungus

0.9

18

31.72 ± 9.93

8.5

17

11.44 ± 5.01

5.93

Control

0.9

18

40.67 ± 7.07

47

18

6.38 ± 1.10

5.60

Day 3

Fungus

0.75

15

38.33 ± 14.05

14

14

10.10 ± 3.67

5.71

Control

0.7

14

24.29 ± 9.07

11

14

6.35 ± 1.12

6.06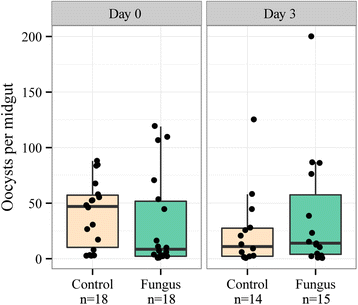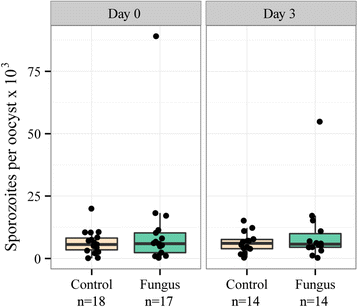 Plasmodium falciparum experiment
There was no evidence that mosquito survival to the infectious stage (14 days after the blood feed) was affected by
P. falciparum
infection (HR = 1.02, z = 0.14, p = 0.888). There was a significant interaction between fungal exposure and exposure day (HR = 5.57, z = 2.90, p = 0.004), but this was likely due to the timing of the dissections. Mosquito survival is generally quite high in the first few days of fungal infection because the fungus requires time to develop and invade the haemocoel [
47
]. Once the infection is established, however, mosquito survival plummets rapidly. Mosquitoes in the day 11 malaria treatments were dissected just three days after fungal exposure when very few mosquitoes had died (≤14% in all treatments, Figure
4
). In contrast, mosquitoes in the day 8 treatments were dissected six days after fungal exposure, at which point mosquito mortality was much higher in the fungal treatment groups (>40%) than the controls (<10%). When only the first three days following exposure were evaluated in all the treatments, neither exposure day (HR = 0.98, z = −0.06, p = 0.95) nor fungal exposure (HR = 1.14, z = 0.34, p = 0.71 significantly influenced mortality. There was also no evidence that exposure day significantly affected mortality rate in the malaria control treatments (HR = 1.21, z = 1.79, p = 0.074), which were monitored for up to 22 days after fungal exposure (Figure
4
insert).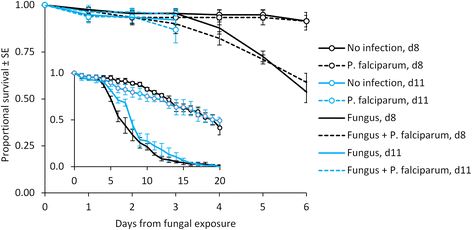 Although fewer mosquitoes in the day 8 fungal exposure treatments survived to the end of the EIP, sporozoite prevalence (the proportion of mosquitoes with sporozoites in their salivary glands) was consistent across all treatment groups (Table
2
). There was no evidence that sporozoite prevalence in the surviving mosquitoes was affected by either fungal exposure (F = 0.25, df = 1, p = 0.614) or exposure day (F = 0.37, df = 1, p = 0.544).
Table 2
Summary of Plasmodium falciparum sporozoite prevalence
| Exposure day | Fungal treatment | Proportion infectious (N) |
| --- | --- | --- |
| Day 8 | Fungus | 0.28 (39) |
| | Control | 0.32 (84) |
| Day 11 | Fungus | 0.33 (43) |
| | Control | 0.38 (34) |
Discussion
This study found no significant evidence that B. bassiana exposure affected malarial parasite development. With P. yoelii, there was no evidence that fungal co- or superinfection affected oocyst prevalence, oocyst intensity or the number of sporozoites per oocyst. Similarly, with P. falciparum, there was no evidence of an effect of fungal superinfection on sporozoite prevalence in surviving mosquitoes. Furthermore, there was no evidence in either experiment that malaria infection affected overall fungal virulence as measured by mosquito survival time.
Due to experimental constraints, many of the analyses associated with malaria infection parameters were based on small sample sizes. However, assuming α = 0.05 and β = 0.2, all of the analyses would have been expected to detect proportional differences of ≥0.8 except for the day 3 oocyst intensity assay (see Additional file 1). Although many of the analyses would have been insensitive to smaller impacts, low-level variation in malaria infection intensity or prevalence would likely be of limited importance in the context of transmission control. Mosquitoes with very few oocysts still become infectious, and the majority of mosquitoes that encountered fungus early in the malarial extrinsic incubation period (EIP) would not be expected to survive long enough to infect new hosts, particularly if higher fungal application rates were used [7]. For mosquitoes exposed late in the EIP, small reductions in sporozoite prevalence would likely have little impact on disease burden, particularly in high transmission areas where hosts may receive hundreds of infectious bites per year [62-64].
The results of this study generally support those of Blanford et al. [5], who performed an experiment similar to the day 0 P. yoelii experiment using a different species of malaria (P. chabaudi) but the same mosquito species and fungal strain. At the oocyst stage, neither study found evidence of an impact of fungal co-infection on oocyst prevalence or density. At the sporozoite stage, Blanford et al. [5] found that fungal co-infection significantly decreased the proportion of the initial (day 0) population which was both alive and infectious 14 days later. The sporozoite experiments in the current study differed from those in Blanford et al. [5] in two ways: sporozoite prevalence was evaluated in mosquitoes exposed to fungus late in the EIP (day 8 or day 11) and the lethal and non-lethal effects of fungal exposure were analysed separately. These analyses showed that, while fungal infection did significantly reduce mosquito survival in the day 8 exposures, there was no evidence of additional variation in sporozoite prevalence in the surviving population (i.e., those mosquitoes which were alive at the end of the EIP) for either exposure day. Given that there was also no evidence that malaria interacted with fungus to affect mosquito survival, these results suggest that the reductions in infectious mosquitoes in the late-exposure experiments were primarily mediated by mortality due to fungal infection rather than by interactions between P. falciparum and fungus.
Blanford et al. [5] did note an upward trend in daily mortality rate in mosquitoes co-infected with fungus and malaria around the sporozoite release stage which was absent in the treatment groups infected with fungus alone. The current study also found an apparent increase in daily mortality rate in the P. yoelii experiment starting at approximately day 12 in the 'day 0 co-infection' treatment relative to the 'day 0 fungus alone' treatment (see Additional file 2). However, the pattern was reversed in the equivalent super-infection treatments, with the 'day 3 fungus alone' treatment showing an increase in late stage daily mortality whereas the 'day 3 superinfection' treatment did not. Unfortunately, the very small sample sizes at the late stage of fungal infection make it difficult to interpret these patterns with great confidence, since differences of just one or two survivors would have led to large differences in proportional mortality.
The current study also agrees with a study by Fang et al. [65] using a different mosquito-fungus combination (Anopheles gambiae and M. anisopliae). That group reported no effect of late superinfection on ultimate prevalence or density of P. falciparum sporozoites in the salivary glands. These consistent results across different species and application methods suggest that the lack of interaction between fungal and malarial infections may be a general phenomenon among common fungal entomopathogens, though these dynamics can be altered via genetic modification [65].
Although malaria infection did not affect overall fungal virulence, mosquitoes exposed to fungus on the same day as the blood meal died marginally more quickly than those exposed three days later. Blood feeding greatly alters female physiology [66], and previous work has shown that there could be trade-offs between immune response and reproduction in mosquitoes [67]. Similar trade-offs could explain why mosquitoes might be more susceptible to fungal infection when they are actively digesting a blood meal. However, there is also evidence that blood feeding can temporarily increase resistance to fungal infection in An. gambiae and Aedes aegypti relative to individuals fed exclusively on glucose [68,69], though no such increase was observed in An. stephensi [7].
There are a number of additional factors that could influence mosquito-malaria-fungus interactions. For example, hydric and nutritional stress can increase mosquito mortality associated with malaria infection [51,53,70,71], and restricted diets are associated with a decrease in the mosquito melanization response [72]. The mosquitoes in this experiment were well-fed with easy access to sugar sources, potentially obscuring any resource competition or energetic tradeoffs involved in mounting an immune response that might occur under less favourable nutritional conditions. There is also natural variation between and among mosquito species to malaria infection [73,74], and the potential for complex effects of environmental variables, such as temperature, on mosquito immune function [75-77]. It is possible, therefore, that more diverse mosquito-parasite-pathogen interactions could be revealed under different contexts.
Conclusion
Overall there was little evidence for impacts of the fungal pathogen, B. bassiana, on infections of either rodent or human malaria within the mosquito host or for any reciprocal effects of malaria infection on fungal virulence. These results suggest that, compared to factors such as biopesticide coverage, dose and substrate [7,10], malaria-fungus interactions will have a relatively small impact on the potential of this fungus to reduce malaria transmission.
Declarations
Acknowledgements
The authors would like to acknowledge Janet Teeple for insectary and experimental support, Mark Kennedy and Lillian Moller-Jacobs for assistance with the P. falciparum experiment, Derek Sim for animal support, Matt Jones for assistance with the molecular work, Nina Jenkins for providing fungal material, members of the Thomas and Read laboratory groups for helpful discussions and two anonymous reviewers for constructive feedback on the manuscript. The research leading to these results received funding from the European Union Seventh Framework Programme FP7/2007-2013 under grant agreement #306105 and from the Pennsylvania State University College of Agriculture Sciences.
Authors' Affiliations
(1)
Merkle Laboratory, The Pennsylvania State University, University Park, USA
Copyright
© Heinig and Thomas; licensee Biomed Central. 2015
This is an Open Access article distributed under the terms of the Creative Commons Attribution License (http://creativecommons.org/licenses/by/4.0), which permits unrestricted use, distribution, and reproduction in any medium, provided the original work is properly credited. The Creative Commons Public Domain Dedication waiver (http://creativecommons.org/publicdomain/zero/1.0/) applies to the data made available in this article, unless otherwise stated.