Re-examining environmental correlates of Plasmodium falciparum malaria endemicity: a data-intensive variable selection approach
Received: 19 November 2014
Accepted: 18 January 2015
Published: 7 February 2015
Abstract
Background
Malaria risk maps play an increasingly important role in disease control planning, implementation, and evaluation. The construction of these maps using modern geospatial techniques relies on covariate grids: continuous surfaces quantifying environmental factors that partially explain spatial heterogeneity in malaria endemicity. Although crucial, past variable selection processes for this purpose have often been subjective and ad-hoc, with many covariates used in modeling with little quantitative justification.
Methods
This research consists of an extensive covariate construction and selection process for predicting Plasmodium falciparum parasite rates (PfPR) in Africa for years 2000-2012. First, a literature review was conducted to establish a comprehensive list of covariates used for malaria mapping. Second, a library of covariate data was assembled to reflect this list, a process that included the construction of multiple, temporally dynamic datasets. Third, the resulting set of covariates was leveraged to create more than 50 million possible covariate terms via factorial combinations of different spatial and temporal aggregations, transformations, and pairwise interactions. Fourth, the expanded set of covariates was reduced via successive selection criteria to yield a robust covariate subset that was assessed using an out-of-sample validation approach.
Results
The final covariate subset included predominately dynamic covariates and it substantially out-performed earlier sets used by the Malaria Atlas Project (MAP) for creating global malaria risk maps, with the pseudo-R2 value for the out-of-sample validation increasing from 0.43 to 0.52. Dynamic covariates improved the model, with 17 of the 20 new covariates consisting of monthly or annual products, but the selected covariates were typically interaction terms that included both dynamic and synoptic datasets. Thus the interplay between normal (i.e., long-term averages) and immediate conditions may be key for characterizing environmental controls on parasite rate.
Conclusions
This analysis represents the first effort to systematically audit covariate utility for malaria mapping and then derive an objective, empirically based set of environmental covariates for modeling PfPR. The new covariates produce more reliable representations of malaria risk patterns and how they are changing through time, and these covariates will be used to characterize spatially and temporally varying environmental conditions affecting PfPR within a geostatistical-modeling framework, thus building upon previous research by MAP that produced global malaria maps for 2007 and 2010.
Keywords
Plasmodium falciparum Malaria mappingAfrica
Background
Malaria risk maps play an increasingly important role in disease control planning, implementation, and evaluation, at scales ranging from local to global. Initial malaria mapping efforts resulted in manually drafted maps based largely on the expertise of a malariologist and the skill of an associated cartographer [1]. In more recent years, however, the production of malaria risk maps has been revolutionized through (i) the application of geographic information systems (GIS); (ii) the development of analytical techniques that extend statistical methodology into the spatial domain [2]; (iii) the evolution of spatial data products (i.e., covariates) that characterize natural and anthropogenic phenomena in a spatially explicit manner; and (iv) the proliferation of large-scale survey efforts that include measurements of malaria infection prevalence in geolocated communities [3]. Together these developments provide the tools and datasets necessary for producing malaria maps, including global products [4-6] that have a demonstrated utility within the malaria policy sphere [7].
Malaria mapping is an evolving research topic that is poised to expand in scope via studies that extend cross-sectional mapping methods into the temporal domain, thus allowing analysis of changing patterns of risk though time in an era of intensive control activity [8]. Increasing demand for more reliable and elaborate characterization of malaria risk patterns has fostered substantial innovation in spatiotemporal statistical methodology to improve predictive accuracy and provide robust characterizations of uncertainty [2,5,9,10]. Similarly, the quality, volume, and geographic coverage of data on malaria infection prevalence continue to increase, spearheaded by major international survey initiatives, such as the Demographic and Health Survey (DHS) program. In contrast to these advances, the covariate datasets selected for malaria mapping endeavors have received comparatively little concerted research attention. Although covariates often form the most important component of a geospatial malaria model when deriving predictions far from locations with observed data, the criteria for identifying and including particular covariates in a given study are often ill defined, with analysts relying on subjective a priori decisions about factors believed to be important, or simply selecting from a standard set of well-known variables based largely on their availability and convenience. Early examples of the use of environmental covariates in malaria risk mapping began appearing in the 1980s [11] and their inclusion in modern mapping efforts is now ubiquitous. Despite the increasing number of published malaria maps, a thorough meta-analysis of the spatial covariates utilized has not been undertaken.
In this context, the goals of this research were to (i) audit the universe of covariates that have been used in malaria risk maps; (ii) generate additional covariates where necessary, with a particular emphasis on the production of temporally dynamic datasets (i.e., covariates that vary through time); and (iii) develop an objective procedure to identify a robust covariate subset that will contribute the maximum predictive accuracy when incorporated in a spatio-temporal mapping exercise. This research fits into the broader research objectives of the Malaria Atlas Project (MAP) as it will (i) support spatio-temporal modeling of PfPR in Africa and (ii) increase the accuracy of the PfPR outputs for Africa, which in turn will improve results from downstream applications such as the modeling of clinical incidence and mortality. Furthermore, this research represents the due diligence necessary when transitioning from modeling only spatial heterogeneity in PfPR for single time periods (i.e., the previous iterations of the MAP global products [4,5]) to producing outputs that characterize PfPR through space and time.
Results
The 20 terms selected in the final multivariate model are listed in Table
4
.
All terms in this final model consisted of interactions (i.e., the product of two covariates), which is not surprising given the additional information gleaned from combining variables
.
The 20 interaction terms were created using 32 of the 10,142 univariate terms that were evaluated, and several of these terms were used more than once. Among the 32 terms used (Table
5
), 15 were metrics characterizing temperature, with daytime LST being used five times, night-time LST and delta LST both being used four times, and TSI being used twice. Among the other metrics, EVI was used four times, land cover classes and TCW were each used three times, slope thresholds and precipitation metrics were each used twice, and PET, elevation, and TCB were used once each.
Table 4
The final set of malaria covariates
| Variable | Coefficient | Std. Error | Z value | Term 1 | Transform 1 | Term 2 | Transform 2 |
| --- | --- | --- | --- | --- | --- | --- | --- |
| (Intercept) | −5.83E + 00 | 6.33E-02 | −92.1 | | | | |
| v1 | −3.07E-03 | 4.12E-05 | −74.36 | T17 | 7 | T23 | 11 |
| v2 | −5.72E-01 | 7.31E-03 | −78.19 | T13 | 11 | T5 | 7 |
| v3 | 6.42E-01 | 2.10E-02 | 30.54 | T11 | 10 | T32 | 7 |
| v4 | 1.71E + 00 | 2.12E-02 | 80.87 | T3 | 8 | T22 | 4 |
| v5 | 3.70E-01 | 1.17E-02 | 31.65 | T3 | 11 | T10 | 3 |
| v6 | −7.44E-01 | 6.12E-02 | −12.16 | T2 | 9 | T10 | 10 |
| v7 | 9.84E-01 | 1.51E-02 | 65.4 | T1 | 11 | T10 | 3 |
| v8 | −1.43E-01 | 4.77E-03 | −29.96 | T27 | 3 | T18 | 2 |
| v9 | 1.55E-04 | 2.37E-06 | 65.65 | T8 | 7 | T26 | 6 |
| v10 | −6.78E-01 | 1.19E-02 | −57.05 | T9 | 6 | T7 | 10 |
| v11 | 2.59E-01 | 4.76E-03 | 54.32 | T31 | 2 | T21 | 2 |
| v12 | −1.36E-03 | 3.87E-05 | −35.21 | T19 | 7 | T24 | 11 |
| v13 | 7.60E-01 | 2.27E-02 | 33.4 | T3 | 7 | T32 | 10 |
| v14 | 3.04E + 00 | 9.74E-02 | 31.24 | T14 | 3 | T7 | 10 |
| v15 | −6.75E-02 | 2.49E-03 | −27.08 | T20 | 1 | T25 | 3 |
| v16 | −5.32E-01 | 2.38E-02 | −22.35 | T16 | 10 | T29 | 3 |
| v17 | −1.04E + 00 | 2.22E-02 | −46.79 | T15 | 4 | T28 | 2 |
| v18 | −8.20E-03 | 1.86E-04 | −44.13 | T12 | 10 | T28 | 10 |
| v19 | 2.02E + 01 | 5.96E-01 | 34 | T4 | 4 | T11 | 10 |
| v20 | 2.94E-01 | 2.07E-02 | 14.22 | T30 | 10 | T6 | 3 |
Table 5
The initial covariates used in the final multivariate model
| Term ID | Variable | Spatial summary | Temporal summary | Temporal anomaly | Temporal lag | Multiple use |
| --- | --- | --- | --- | --- | --- | --- |
| T1 | EVI | Max | Dynamic monthly | Difference from synoptic annual | 3 months | - |
| T2 | EVI | Max | Dynamic monthly | - | 4 months | - |
| T3 | EVI | Mean | Dynamic monthly | Difference from synoptic annual | Varies | 3 |
| T4 | EVI | Min | Dynamic monthly | Difference from synoptic monthly | 0 months | - |
| T5 | Land cover class 12 - Croplands | Fractional | Dynamic annual | - | - | - |
| T6 | Land cover class 13 – Urban | Fractional | Dynamic annual | - | - | - |
| T7 | Land cover class 14 – Cropland/Natural vegetation mosaic | Fractional | Dynamic annual | - | - | 2 |
| T8 | LST day | Max | Synoptic monthly mean | - | 0 months | - |
| T9 | LST day | Mean | Synoptic monthly standard deviation | - | 1 month | - |
| T10 | LST day | Range | Synoptic Monthly Mean | - | Varies | 3 |
| T11 | LST day | Standard deviation | Synoptic Monthly Mean | - | 2 months | - |
| T12 | LST Day | Standard deviation | Synoptic monthly standard deviation | - | 3 months | - |
| T13 | LST night | Mean | Synoptic annual mean | - | - | - |
| T14 | LST night | Mean | Dynamic monthly | Difference from synoptic annual | 0 months | - |
| T15 | LST night | Min | Synoptic monthly standard deviation | - | 4 months | - |
| T16 | LST night | Range | Synoptic monthly mean | - | 2 months | - |
| T17 | LST diurnal change | Max | Synoptic annual mean | - | - | - |
| T18 | LST diurnal change | Max | Dynamic monthly | - | 0 months | - |
| T19 | LST diurnal change | Mean | Dynamic monthly | - | 0 months | - |
| T20 | LST diurnal change | Mean | Synoptic monthly mean | - | 1 month | - |
| T21 | PET | Mean | Static | - | - | - |
| T22 | Precipitation (A0) | Mean | Static | - | - | - |
| T23 | Precipitation (A2) | Mean | Static | - | - | - |
| T24 | Slope less than 2 degrees | Fractional | Static | - | - | - |
| T25 | Slope less than 5 degrees | Fractional | Static | - | - | - |
| T26 | Elevation | Max | Static | - | - | - |
| T27 | TCB | Range | Synoptic monthly mean | - | 0 months | - |
| T28 | TCW | Min | Dynamic monthly | - | Varies | 2 |
| T29 | TCW | Range | Synoptic monthly mean | - | 2 months | 2 |
| T30 | TCW | Standard deviation | Dynamic monthly | - | 3 months | - |
| T31 | TSI | Mean | Synoptic monthly standard Deviation | - | 2 months | - |
| T32 | TSI | Min | Dynamic monthly | - | 3 months | - |
Of the final 20 terms, 14 were fully dynamic, with each month and year combination having a unique raster layer, thus resulting in over 150 layers per covariate. Four terms were dynamic at the monthly scale only, meaning 12 raster layers constitute each covariate (e.g., all survey clusters collected in January being associated with a single layer). One term was dynamic at the annual scale, with one layer for each of the 13 years in the temporal extent of this research. Lastly, just one term was strictly synoptic and consisted of a single layer linked to all survey clusters. Despite the prevalence of dynamic covariates in the final multivariate model, only one was the product of two fully dynamic covariates (i.e., only one of the 20 final terms was formed as the interaction between two covariates that each consisted of unique layers for each month of all years).
Table
6
contains a direct comparison between the covariate dataset used to create the MAP 2010 global
Pf
PR map [
5
]
.
The new covariates out-perform the old set according to all of the test metrics selected to evaluate the multivariate models. As expected, the results derived using the training data are generally superior to those achieved from the reserve dataset, but the similarity in results from these models suggest that neither the old or new covariates are overfit. Exploring the variables by sequentially adding them to the model further demonstrates the utility of the new covariates, as the first three new covariates alone are more effective at predicting
Pf
PR than the full set of 20 older covariates (Figure
6
) used to create the 2010 map
.
Table 6
Covariate comparison for modeling Pf PR in Africa
| Dataset | Metric | New | Old |
| --- | --- | --- | --- |
| Training | AIC | 167553.4 | 208208.9 |
| Training | RMSE | 18.315 | 21.928 |
| Training | R2(count) | 0.7251 | 0.6088 |
| Training | R2(ratio) | 0.3970 | 0.2309 |
| Training | Pseudo R2 | 0.5102 | 0.3739 |
| Reserve | RMSE | 18.228 | 19.097 |
| Reserve | R 2 (count) | 0.6266 | 0.5608 |
| Reserve | R 2 (ratio) | 0.3633 | 0.2382 |
| Reserve | Pseudo R 2 | 0.5174 | 0.4356 |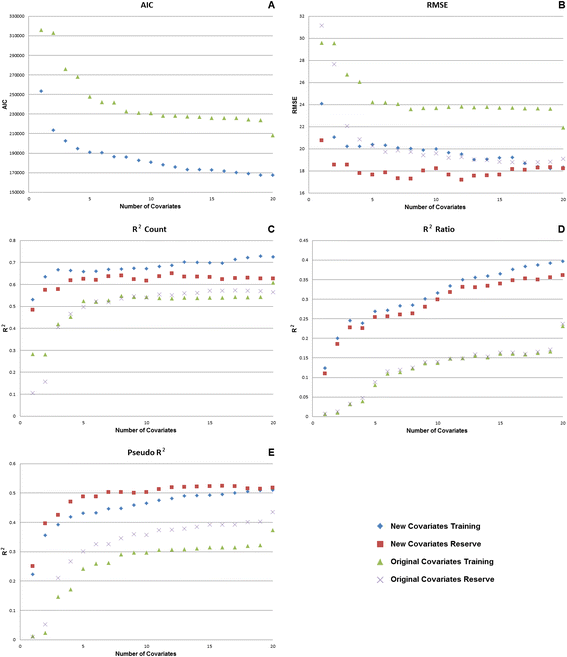 The final model was further tested for potential systematic errors and geographic biases (Figures
7
and
8
) using only the reserve dataset. The map of residuals suggests that the model slightly over predicts
Pf
PR for most of Africa, with the exception of Burkina Faso and Uganda where the model has a more pronounced under prediction. The histogram reveals that the model classifies
Pf
PR for clusters in which 74.6% the individuals in the reserve dataset (n = 219,751) reside within +/- 0.15. The model was then tested for potential issues related to the use of dynamic covariates, as these inherently contain temporal trends that function at various scales (e.g., inter-annually and seasonally). Thus it is conceivable that long-term trends in the covariates, if present, could be spuriously correlated with declines in malaria resulting from ongoing intervention efforts, which have expanded substantially since 2005. Given the potential for such an issue to negatively impact downstream attempts to accurately attribute declines in
Pf
PR to specific intervention efforts, it was necessary to test for such trends at this stage. To do so the full temporal range of each of the 19 dynamic covariates was intersected with 1,000 random points distributed throughout the
Pf
endemic areas of Africa. The resulting dataset was then tested for temporal trends and it was found that all covariates had slopes near zero.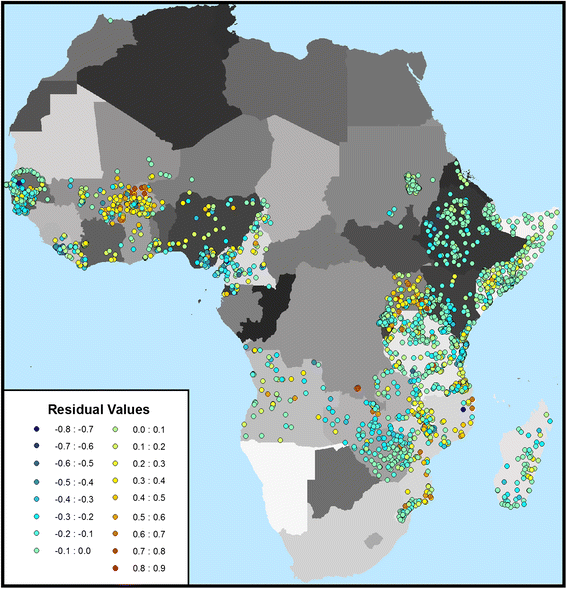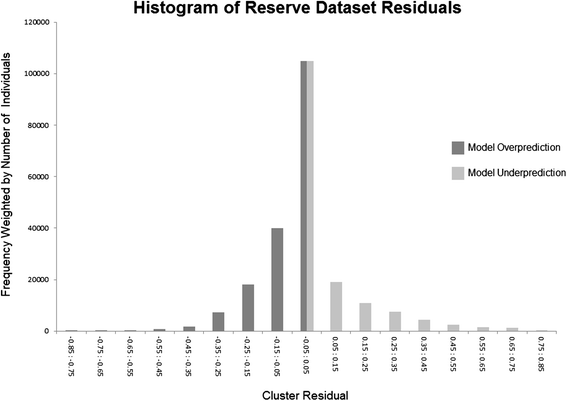 Discussion
The variable selection approach developed in this research represents an objective, data-driven methodology that resulted in a set of covariates that are quantitatively superior for predictive modeling of PfPR to those used in previous MAP malaria mapping endeavors. A drawback of this approach, however, is a decrease in model interpretability, as the final set of covariates is more challenging to interpret than previous, conceptually simpler, covariate sets. Model accuracy was prioritized over model interpretability in this research as MAP products are typically used as input layers by other researchers with little regard to the relative importance of individual covariates. As such, the focus of this research was on developing the best predictive model in lieu of one that is easier to interpret, to maximize the accuracy of the resulting PfPR maps and therefore limit downstream modeling error. While the variable leveraging process makes the relative influence of single covariates on PfPR more challenging to discern, it should be noted that the root datasets from which the covariates were derived are well established as useful predictors of the spatial distribution of malaria endemicity. As such, the methodology represents an approach for greatly increasing the predictive capacity of the final model without requiring the acquisition and use of additional, and potentially costly, covariate datasets. It should also be noted that the methodology developed in this paper may have utility for other research endeavors, but the full set of the covariate leveraging and reduction phases need not be applied in all analyses. Using a subset of the covariate leveraging and/or reducing steps, in particular the exclusion of interaction terms, is also likely to increase the interpretability of the results.
While this research was not designed for assessing single covariates within the final model, it is possible to investigate whether the covariates, as used in the model, make sense biologically. For example, the covariate 'V4' is the variable with the highest absolute z-score (i.e., +80.87) found the final model. This variable is an interaction term comprised of (i) mean annual precipitation and (ii) the difference between monthly EVI and the 13-year average EVI value (i.e., a monthly anomaly variable that reflects seasonally changing vegetation vigor). Each term was transformed prior to deriving their product, with a log transform applied to the precipitation variable and a square root transformation applied to the EVI anomaly variable (after adding the minimum value of the raw EVI anomaly term to all values in the dataset since a real root cannot be derived for a negative number). No lag is associated with the EVI anomaly dataset for this covariate. Within the multivariate model the resulting interaction term (i.e., 'V4') has a positive coefficient, indicating that PfPR is positively correlated with the combination of annual precipitation and higher than normal EVI. The biological interpretation of this variable is that places with above average EVI are likely indicating seasonal peaks in precipitation that cannot be gleaned from the synoptic precipitation layer (i.e., the monthly EVI anomaly produces a proxy for dynamic precipitation when linked with the synoptic precipitation dataset). Thus the positive coefficient associated with 'V4' makes sense as it indicates that, for areas generally moist enough for malaria, seasonal spikes in greenness are correlated with higher PfPR.
A limitation of this research relates to the subsequent production of the raster datasets associated with the selected covariates. While the analysis presented was based on a simple data table, the actual creation of PfPR maps first requires the production of covariate datasets that, in the case of fully dynamic variables, amount to over 150 layers per covariate. The production time and data storage requirements associated with such variables were an important consideration when choosing to cap the number of covariates at 20. However, exploratory analysis of models with more terms supports this decision, as larger models did not substantially improve the ability to predict PfPR in the reserve (i.e., validation) datasets. This finding occurred despite the fact that test metrics for in-sample validation of training models continued to improve with the addition of more variables (e.g., with a least angle regression approach the 'optimized' training model contained several hundred covariates).
An important sub-question for this research relates to discerning the value of dynamic covariates in comparison to synoptic products. The composition of the final set of covariates, 95% of which were dynamic, suggests that malaria mapping benefits from the use of dynamic variables. However, the continued utility of synoptic variables, often in combination with dynamic variables as one half of an interaction term, suggests that using both dynamic and synoptic variables is the optimum approach for spatio-temporal malaria mapping. This finding is reasonable, as long-term synoptic patterns and short-term variability are both likely to be important drivers of PfPR. Furthermore, this finding is potentially useful to other researchers operating with resource limitations that preclude such an ambitious variable selection process, as it illustrates the continuing utility of synoptic variables (i.e., those more readily available) in the absence of dynamic covariate sets.
The next stage in the malaria mapping process will be to incorporate the outcomes of this research in a spatio-temporal (Bayesian) geostatistical framework that will further increase the predictive capacity of the new covariates by taking advantage of residual spatial and temporal structure present within the response dataset. For example, the eventual application of this spatio-temporal model will correct for the spatial heterogeneity in the model residuals illustrated in Figure 7. The net result will be a spatio-temporal 'cube' of PfPR whereby each pixel will have an estimated rate for each of the 13 years of the analysis. This dataset will then serve as a key input to downstream applications such as the derivation of incidence and mortality. While there is an argument that such a spatio-temporal model should have been used in the variable selection process presented here, the computational efficiency of the simpler, GLM-based approach enabled a much more ambitious exploration of the covariate space (i.e., over 50 million potential covariates examined) than would have been possible with a full spatio-temporal model. Furthermore, an ideal statistical model for malaria mapping would not require a spatio-temporal model at all, as the covariate datasets would fully account for the spatial heterogeneity evident in the response dataset, thus leaving no spatial or temporal structure to exploit. For this reason, basing the variable selection process on GLM models ensures that the influence of the covariates within the final geostatistical model is prioritized over spatial and temporal structure within the response dataset.
Conclusions
The variable leveraging and selection approach described in this research produced a set of covariates with much more predictive capacity than the set utilized to create the 2010 MAP malaria map [5]. The improvement resulted from the utilization of spatial and temporal summarizations of dynamic covariates, which further enabled the production of covariates including synoptic covariates, covariates accounting for temporally lagged relationships, and covariates characterizing temporal anomalies (i.e., deviation from synoptic norms). The methodology developed in this research has potential utility for researchers seeking to maximize the utility of a rich set of environmental covariates while also limiting subjective decisions within the variable selection process. The improved covariates stand to significantly improve the eventual PfPR mapping results generated by more sophisticated spatio-temporal modeling approaches, and serve as a guide for researchers wishing to undertake malaria mapping at a variety of scales worldwide. Lastly, the selected set of covariates has been directly incorporated within the current round of spatial-temporal PfPR modeling by MAP, the results of which were released in early 2015 as part of the WHO World Malaria Report.
Declarations
Acknowledgements
PWG is a Medical Research Council Career Development Fellow (#K00669X) and 940 receives support from the Bill and Melinda Gates Foundation (#OPP1068048) 941 that also supports DJW, BM, UD, SB, and EC. SIH is funded by a 943 Senior Research Fellowship from the Wellcome Trust (#095066) and 944 acknowledges funding support from the RAPIDD program of the Science & 945 Technology Directorate, Department of Homeland Security, and the Fogarty 946 International Center, National Institutes of Health, USA.
Authors' Affiliations
(1)
Spatial Ecology and Epidemiology Group, Tinbergen Building, Department of Zoology, University of Oxford, Oxford, UK
(2)
Fogarty International Center, National Institutes of Health, Bethesda, USA
Copyright
© Weiss et al.; licensee BioMed Central. 2015
This is an Open Access article distributed under the terms of the Creative Commons Attribution License (http://creativecommons.org/licenses/by/4.0), which permits unrestricted use, distribution, and reproduction in any medium, provided the original work is properly credited. The Creative Commons Public Domain Dedication waiver (http://creativecommons.org/publicdomain/zero/1.0/) applies to the data made available in this article, unless otherwise stated.