Malaria in Mauritania: retrospective and prospective overview
Malaria Journal
2015
14:100
Received: 18 August 2014
Accepted: 8 February 2015
Published: 4 March 2015
Abstract
Malaria has become a major public health problem in Mauritania since the 1990s, with an average of 181,000 cases per year and 2,233,066 persons at risk during 1995–2012. This paper provides the first publicly available overview of malaria incidence and distribution in Mauritania. Information on the burden and malaria species distribution is critical for guiding national efforts in malaria control. As the incidence of malaria changes over time, regular updates of epidemiological data are necessary.
Keywords
MalariaMauritaniaMorbidity Plasmodium Anopheles
Background
The Islamic Republic of Mauritania is situated in northwest Africa between 15 and 27° N latitude and 5 and 17° W longitude. It occupies a total surface area of 1,030,700 sq km (Figure
1
). The population of Mauritania is currently estimated to be 3,378,250 inhabitants [
1
] (Table
1
). Population pyramid shows that nearly 43.7% are under 15 years old [
2
]. Infant mortality rate is 77.0 per 1,000 live births [
2
]. The Mauritanian population belongs to several ethnic groups: Moors (including 'white Moors' and 'black Moors') and black Africans (
Poular, Wolof
, and
Soninke
). However, there are no data on the demographic weight of each ethnic group. Sedentarization and rural exodus, partly related to the periods of drought in the 1970s and 1980s, are the most significant demographic phenomena that have occurred in Mauritania since the country's independence in 1960. Whereas the proportion of urban population was 9% in 1965, it increased to 22.7, 46.7 and 60% in 1977, 2005 and 2010, respectively. Over the same period, the nomad population rapidly decreased from 65% in 1965 to 12 and 6% in 1988 and 2000, respectively [
3
]. Since its independence in 1960, Mauritania has experienced intense migratory movements. Outward flows started in the 1970s mainly due to severe and frequent droughts. These early flows were mainly directed towards sub-Saharan African countries, such as Senegal, Mali, Ivory Coast, and Gambia. Inward flows, coming mainly from neighbouring countries (Senegal, Mali, Guinea Conakry, and Ivory Coast), consisted of labour migration which filled the needs of the labour market. The total number of regular immigrants in 2010 was estimated to be 99,229, corresponding to 3% of the total resident population [
4
]. A large inward flow of refugees and asylum seekers due to civil conflicts in African countries (i.e. Liberia, Sierra Leone, Ivory Coast, and Mali) occurred in the 1990s. Currently, Mauritania hosts 93,590 refugees, including 66,400 Malian refugees, who left their country due to the most recent conflict in Mali [
5
]. Within the last decade, Mauritania has also evolved into an important transit country, attracting irregular migrants from sub-Saharan African countries attempting to enter into Europe through the Canary Islands, Ceuta, and Melilla.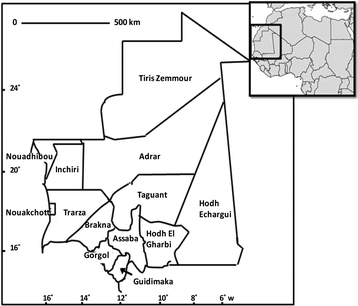 Table 1
Population demographic data of Mauritania
| Indicator | Value | Reference |
| --- | --- | --- |
| Population density (inhabitant/sq km) | 3.4 | [1] |
| Urban population (%) | 60 | [2] |
| Gender | | |
|  Male (%) | 50.2 | [2] |
|  Female (%) | 49.6 | [2] |
| Age groups (%) | | |
|  <15 years | 43.7 | [2] |
|  15-65 years | 51.0 | [2] |
|  >65 years | 5.3 | [2] |
| Birth rate (%) | 4.6 | [2] |
| Mortality rate (%) | 1.3 | [2] |
| Infant mortality (%) | 7.7 | [2] |
| Growth rate | 2.4 | [2] |
| Life expectancy at birth (years) | 57.5 | [2] |
Two-thirds of the surface area of Mauritania is covered by the Sahara Desert and one-third is sub-Saharan semi-desert. It has a low annual rainfall that increases from north to south, one rainy season from June/July to September/October, depending on the year and/or region, and a dry season ('cold dry season' between November to March and 'hot dry season' from March to June). Accordingly, the country is geographically divided into three ecological areas (Figure
2
): arid Saharan zone in the north, Sahelian zone in the intermediate region and the Senegal River valley zone in the extreme south. The arid zone covers the land surface below 150 mm isohyets. It corresponds to the Saharan climate characterized by the presence of several oases that have been established for centuries, mainly in Adrar and Tagant regions. The Sahelian zone, made up of steppe and savannah grassland, is characterized by annual rainfall of 100–300 mm. In this region, the inhabitants practice animal breeding and rain-fed agriculture. The Senegal River Valley region, sometimes known as Shemama, is a narrow belt of land that extends north and east of the Senegal River. Rainfall is higher than in other regions, ranging from 300–500 mm annually. This rainfall, combined with annual flooding of the river, provides the basis for agriculture with a potential farmland estimated at 135,000 hectares. The main and most important permanent water source in Mauritania is the Senegal River that runs along the southwestern common border with Senegal.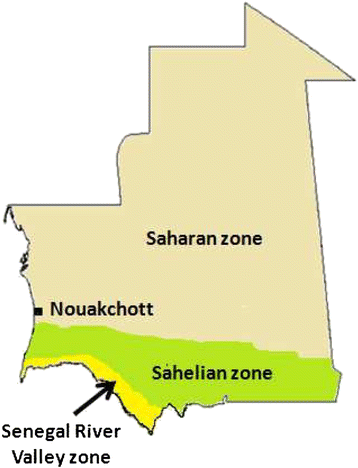 Conclusion
Mauritania faces several challenges in the management of malaria, including limited financial resources, crisis in human resources, shortage of health workers and health structures with reliable diagnostic facilities, insufficient epidemiological data on parasite distribution and malaria vectors, and regular epidemics. Entomological studies are currently being conducted at several sentinel sites in different epidemiological strata in the country to capture and collect mosquito larvae and adults, identify predominant Anopheles spp. in each study site, characterize physico-chemical factors in the breeding sites, determine whether adult female Anopheles mosquitoes are infective, and assess their sensitivity to insecticides. In parallel, malaria burden and drug resistance are being assessed in these sentinel sites to determine the prevalence of laboratory-confirmed malaria among febrile patients and their response to ACT. Research capacity building and training of laboratory technicians and general practitioners are integral parts of these on-going field activities. The introduction of ACT is another challenge facing Mauritania. One of the key issues is the cost of ACT, which is 20 times higher than the cost of conventional therapy, such as quinine ($2.44 per adult dose). Population migration from sub-Saharan endemic countries constitutes another challenge where no official measures for controlling malaria prevalence among these migrants exist. Mauritania still does not have a reliable database on malaria epidemiology. A nationwide malaria indicator survey is being planned to fill this gap in 2015. Updated information and maps on malaria burden and Plasmodium species distribution are critical for guiding national efforts to improve laboratory diagnosis, implement rapid and effective treatment, and coordinate and plan malaria elimination from the country in the near future. As malaria incidence changes over time, regular updates of epidemiological data are necessary.
Abbreviations
PCR:

Polymerase chain reaction
PFCRT :

Plasmodium falciparum chloroquine resistance transporter
PFMDR1 :

Plasmodium falciparum multidrug-resistance gene 1
Lys:

Lysine
Thr:

Threonine
DHFR :

Dihydrofolate reductase
DHPS :

Dihydropteroate synthase
Asn:

Asparagine
Arg:

Arginine
Leu:

Leucine
MSP1 :

Merozoite surface protein 1
MSP2 :

Merozoite surface protein 2
GLURP :

Glutamate-rich protein
PVDHFR :

Plasmodium vivax dihydrofolate reductase
Ser:

Serine
Cys:

Cysteine
PVDHP :

Plasmodium vivax dihydropteroate synthase
PVMDR1 :

Plasmodium vivax multidrug resistance gene 1
Tyr:

Tyrosine
Phe:

Phenylalanine
ITN:

Insecticide-treated bed nets
IPT:

Intermittent preventive treatment
ACT:

Artemisinin-based combination therapy
Declarations
Acknowledgements
We thank the 5% Initiative and also Expertise France (previously France Expertise Internationale) for supporting this work through the 12INI215 grant. We also thank all staff of the library of the French Army Institute of Biomedical Research (IRBA) for their help.
Authors' Affiliations
(1)
UR Génome et Milieux, Faculté des Sciences et Techniques, Université des Sciences, de Technologie et de Médecine, Nouveau Campus Universitaire, Nouakchott, Mauritania
(2)
Unité de Parasitologie, Institut de Recherche Biomédicale des Armées, Brétigny-sur-Orge, France
(3)
Unité de Recherche sur les Maladies Infectieuses et Tropicales Emergentes, Unité de Recherche 198-Institut de Recherche pour le Développement, Faculté de Médecine La Timone, Aix-Marseille Université, Marseille, France
(4)
Institut de Recherche Biomédicale des Armées, Direction interarmées du service de Santé, Laboratoire de Parasitologie, CNR du Paludisme région Antilles-Guyane, Institut Pasteur de la Guyane, Cayenne, France
(5)
Laboratoire Aliments, Environnement et Santé (LAES), Faculté des Sciences et Techniques, Université Cadi Ayyad, Marrakech, Morocco
Copyright
© Mint Lekweiry et al.; licensee BioMed Central. 2015
This is an Open Access article distributed under the terms of the Creative Commons Attribution License (http://creativecommons.org/licenses/by/4.0), which permits unrestricted use, distribution, and reproduction in any medium, provided the original work is properly credited. The Creative Commons Public Domain Dedication waiver (http://creativecommons.org/publicdomain/zero/1.0/) applies to the data made available in this article, unless otherwise stated.