Rise of multiple insecticide resistance in Anopheles funestus in Malawi: a major concern for malaria vector control
Malaria Journal
2015
14:344
Received: 6 May 2015
Accepted: 28 August 2015
Published: 15 September 2015
Abstract
Background
Deciphering the dynamics and evolution of insecticide resistance in malaria vectors is crucial for successful vector control. This study reports an increase of resistance intensity and a rise of multiple insecticide resistance in Anopheles funestus in Malawi leading to reduced bed net efficacy.
Methods
Anopheles funestus group mosquitoes were collected in southern Malawi and the species composition, Plasmodium infection rate, susceptibility to insecticides and molecular bases of the resistance were analysed.
Results
Mosquito collection revealed a predominance of An. funestus group mosquitoes with a high hybrid rate (12.2 %) suggesting extensive species hybridization. An. funestus sensu stricto was the main Plasmodium vector (4.8 % infection). Consistently high levels of resistance to pyrethroid and carbamate insecticides were recorded and had increased between 2009 and 2014. Furthermore, the 2014 collection exhibited multiple insecticide resistance, notably to DDT, contrary to 2009. Increased pyrethroid resistance correlates with reduced efficacy of bed nets (<5 % mortality by Olyset® net), which can compromise control efforts. This change in resistance dynamics is mirrored by prevalent resistance mechanisms, firstly with increased over-expression of key pyrethroid resistance genes (CYP6Pa/b and CYP6M7) in 2014 and secondly, detection of the A296S-RDL dieldrin resistance mutation for the first time. However, the L119F-GSTe2 and kdr mutations were absent.
Conclusions
Such increased resistance levels and rise of multiple resistance highlight the need to rapidly implement resistance management strategies to preserve the effectiveness of existing insecticide-based control interventions.
Keywords
MalariaInsecticide resistanceVector control Anopheles funestus Malawi
Background
Malaria remains a major public health burden in Africa [1], notably in Malawi, where it is highly endemic with an estimated six million annual cases [2, 3]. Current malaria control efforts in Malawi rely heavily on insecticide-based interventions such as long-lasting insecticide-treated nets (LLINs) and indoor residual spraying (IRS) [4]. However, reports of increasing resistance against the main insecticides used in public health are of concern for the continued effectiveness of these control tools. In Malawi, the concern is greater for the increasing cases of resistance against pyrethroids (the only insecticide class used in bed nets) reported in the major malaria vector Anopheles funestus [5–8]. Insecticide resistance is a dynamic process and resistance pattern can change rapidly with time, as reported in other vector species such as Anopheles gambiae [9, 10]. However, changes due to ongoing control programmes in the profiles, intensity and underlying resistance mechanisms in Malawi remain largely uncharacterized. Understanding the dynamics and evolution of the resistance pattern in such a major malaria vector is crucial for the design and implementation of successful resistance management strategies.
Design of effective control strategies relies also on a good knowledge of the vector population in term of species composition, vectorial capacity and behaviour. Such information remains patchy in Malawi, notably in the southern region where resistance has previously been reported [6]. An. funestus belongs to a group of ten to 11 species morphologically indistinguishable as adults [11]. However, the local species composition of this group, their role in malaria transmission, the hybridization between these species, and its impact on the introgression of genes of interests, such as resistance genes, remains largely uncharacterized.
To fill this knowledge gap and to facilitate the design and implementation of suitable vector control strategies, this study reports an extensive investigation of the dynamic changes in resistance profile and resistance mechanisms associated with ongoing insecticide-based control interventions in Malawi between 2009 and 2014. This study reveals an increase of resistance intensity and a rise of multiple insecticide resistance in An. funestus in Malawi causing a reduction in bed net efficacy.
Results
Mosquito species composition
More than 3000 blood-fed mosquitoes (90 % An. funestus, 5 % An. gambiae s.l. and 5 % Culex spp.) were collected in Chikwawa in January 2014. Of these, 512 gravid female adult An. funestus, 86 An. gambiae s.l. and 32 Culex quinquefasciatus were placed in 1.5-ml microcentrifuge tubes and forced to lay eggs (using a forced egg-laying method).
From the 512 females of the
An. funestus
group, 263 females laid eggs and 249 females did not. Of the 263 females that laid eggs,
An. funestus
s.s. represented 60.1 % followed by
An. rivulorum
-like (16.3 %),
An. rivulorum
(10.6 %) and
Anopheles parensis
(0.76 %) (Fig.
1
a; Additional file
2
: Figure S1). Surprisingly, 32 individuals (12.2 %) were hybrids: 16
An. funestus
s.s./
An. rivulorum
-like (6.1 %), one
An. funestus
s.s./
An. rivulorum
(0.4 %), and 15
An. rivulorum
/
An. rivulorum
-like (5.7 %). Analysis of a batch of females that did not lay eggs (139 of the 249 females) detected the same species but at significantly different proportions. Among these,
An. rivulorum
-like was predominant (60.8 %), followed by
An. funestus
s.s. (15.2 %),
An. rivulorum
(11.4 %), the hybrids
An. rivulorum
/
An. rivulorum
-like (10.1 %), and
An. funestus
s.s./
An. rivulorum
-like (2.5 %) (Fig.
1
b). In the case of
An. gambiae
complex mosquitoes, all 50 F
0
females tested were identified as
Anopheles arabiensis
.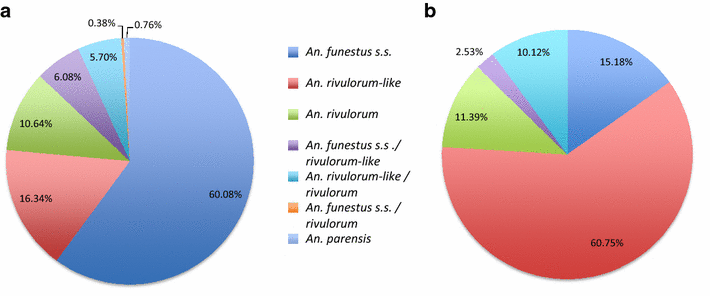 Plasmodium infection rate
Only P. falciparum parasites were detected in the mosquitoes. They were detected in 4.8 % (8/167) of An. funestus s.s. and 1.07 % (1/93) of An. rivulorum-like.
Insecticide susceptibility assays
Only An. funestus s.s. F1 progeny were successfully reared, as both An. rivulorum and An. rivulorum-like did not generate enough individuals for bioassay tests.
Anopheles funestus s.s. showed multiple resistance against different insecticide classes for both females and males. Resistance was particularly high against all pyrethroids, with very low mortality rates for permethrin (type I; ♀ 13 ± 5.3 % mortality) and deltamethrin (type II; ♀ 1.8 ± 1.8 %) and lambda-cyhalothrin (type II; ♀ 4.5 ± 0.3 %), whereas high resistance was observed against the non-ester pyrethroid etofenprox with no mortality.
Similarly, this population is highly resistant to the carbamates bendiocarb (♀ 30.1 ± 5.1 % mortality) and propoxur (♀ 14.4 ± 7.2 %). Noticeably, the Chikwawa population has developed resistance to organochlorines. Unlike in 2009, it is now resistant to DDT (♀ 69.9 ± 5.7 % mortality) and to dieldrin (♀ 83.9 ± 0.9 %). However, it remains fully susceptible to organophosphates, with 100 % mortality for fenitrothion and 98.3 % for malathion (Fig.
2
a).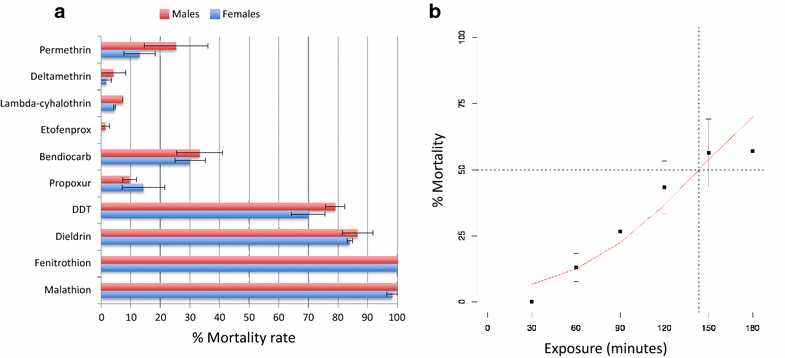 Resistance intensity
The LT50 of the Chikwawa population for permethrin was 143.5 min (females) (Fig. 2b) resulting in a resistance ratio of 18.6 (compared to susceptible An. gambiae).
Change in resistance intensity between 2009 and 2014
Comparison of resistance levels between 2009 and 2014 reveals that the resistance intensity has significantly increased in the
An. funestus
population of Chikwawa, notably for pyrethroids. For example, for females, the mortality on exposure to deltamethrin has decreased by 40.5 % (from 42.3 % in 2009 to just 1.8 % in 2014) and by 34.2 % for permethrin (from 47.2 % in 2009 to 13 % in 2014). Similar decreases of mortality rates are observed for the other insecticides, including the carbamate bendiocarb (29.9 % reduction from 60 % in 2009 to 30.1 % in 2014) and to a lesser extent the organochlorine DDT, with an 18.9 % reduction (87.8 % in 2009 to 69.9 % in 2014). Surprisingly, resistance to organochlorines also now extends to dieldrin, with a 16.1 % reduction in mortality from 100 % in 2009 to 83.9 % in 2014 (Fig.
3
a).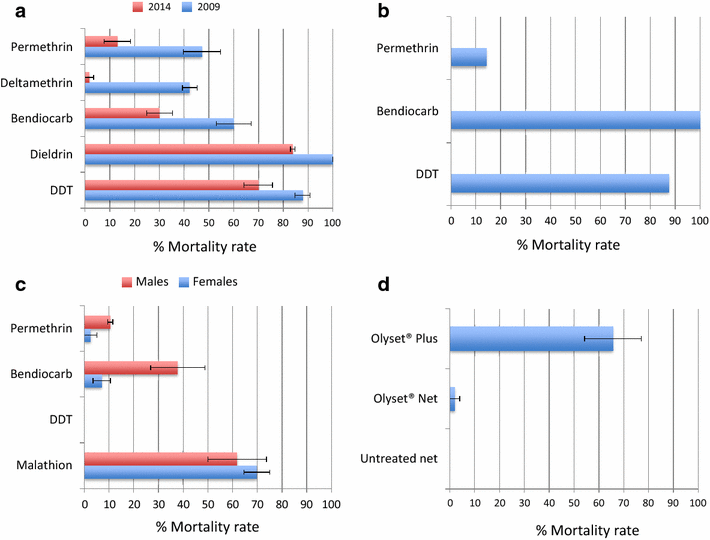 Insecticide susceptibility in Anopheles arabiensis and Culex quinquefasciatus
While the primary focus in this study is An. funestus, it is important to assess the impact of insecticide-based control interventions on other vector species, not least to compare differential effects of interventions among species. For this reason, this study also determined the insecticide resistance profiles of An. arabiensis and C. quinquefasciatus, two mosquito species that occur alongside An. funestus in Chikwawa, although in lower numbers. Anopheles arabiensis females were highly resistant to the pyrethroid permethrin (♀ 14.3 % mortality) and moderately resistant to the organochlorine DDT (♀ 87.5 % mortality), but fully susceptible to the carbamate bendiocarb (♀ 100 % mortality) (Fig. 3b). Significantly higher and multiple resistance to all four insecticide classes was observed in C. quinquefasciatus (Fig. 3c). For example, no mortality was observed for DDT.
Synergist assay for DDT resistance
To test whether DDT resistance was mediated by the activity of cytochrome P450 genes, mosquitoes were exposed to DDT following exposure to the synergist PBO, an inhibitor of the activity of P450s. The PBO synergist assay revealed a high recovery of susceptibility to DDT after pre-exposure for 1 h to PBO (♀ 95.9 ± 3 %; ♂ 97.30 ± 1.2 % mortality) suggesting that cytochrome P450 genes might be playing a important role in this resistance.
Insecticide-impregnated bed net efficacy assays
A nearly complete loss of efficacy was observed for the Olyset® Net (2 % permethrin), with only 2 % mortality after 3 min exposure. A higher but not full efficacy was observed for the Olyset® Plus (2 % permethrin plus 1 % PBO) net with 67 % mortality (Fig. 3d). These results support a key role for cytochrome P450s in the resistance to pyrethroids.
Transcriptional profiling of metabolic resistance genes
Significant over-expression was observed in Chikwawa in 2014 for the cytochrome P450s
CYP6P9a
and
CYP6P9b
, known to confer pyrethroid resistance in
An. funestus
[
7
] compared to the susceptible strain FANG [fold change (FC) 70.6 and FC 50.3, respectively]. Comparison with 2009 levels revealed that the expression levels of these two genes have increased by a factor of 1.45 for
CYP6P9a
and 1.57 for
CYP6P9b
although the difference was not statistically significant. However, a significant increase in the expression of another pyrethroid resistance gene, the cytochrome P450
CYP6M7
[
23
], was observed in the samples collected in 2014 compared to 2009 (FC 3.62 ± 1.206, P < 0.05) (Fig.
4
). Nevertheless, expression levels of
CYP6M7
remain lower in Chikwawa compared to
CYP6P9a
and
CYP6P9b
, with only a FC of 5.28 ± 1.76 in 2014. No change was observed for the glutathione-S transferase,
GSTe2
as expression remains low (FC < 4) contrary to West Africa where it confers DDT and permethrin resistance [
24
].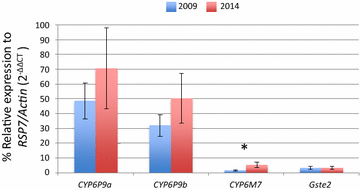 Role of knockdown resistance in pyrethroid and DDT resistance
Neither the 1014
kdr
mutation nor any mutation was detected from exon 20 of the VGSC gene (Additional file
3
: Table S2). A clustering of haplotypes according to resistance phenotypes was observed for permethrin-exposed samples (Fig.
5
) but not for the DDT-exposed samples (Additional file
4
: Figure S2A, B), suggesting the presence of a novel
kdr
mutation in this population associated with permethrin resistance.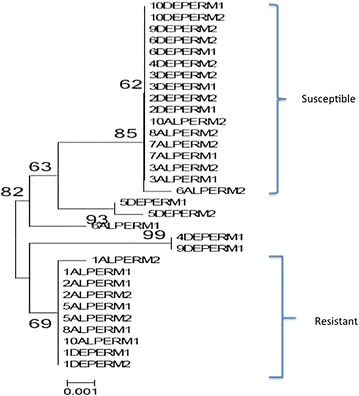 No 1014F mutation was detected in permethrin-resistant An. arabiensis by TaqMan or sequencing of the exon 20 of VGSC as previously reported in other populations of this species [29].
Role of the L119F-GSTe2 in DDT resistance
All 40 F0 and 40 F1 (20 DDT resistant and 20 susceptible) mosquitoes genotyped were homozygous for the susceptible L119 allele (codon CTT) indicating that DDT resistance in Chikwawa is not conferred by the L119F-GSTe2 mutation.
Detection of the A296S RDL mutation
Genotyping of 38 field-collected females detected the 296S RDL-resistant allele for the first time in a southern African An. funestus population at a frequency of 10.5 % and all occurring as heterozygotes. A significant association was observed between the 296S-resistant allele and dieldrin resistance as all susceptible mosquitoes were homozygous for the A296-susceptible allele whereas all resistant mosquitoes were heterozygous for 296S/A296 (odds ratio = infinity; P < 0.0001).
Discussion
Assessing the impact of ongoing insecticide-based control interventions on natural populations of malaria vectors is important for the design of suitable resistance management strategies. The detection in this study of a significant increase of resistance levels and the rise of multiple insecticide resistance over a 5-year period in southern Malawi provides important information on the dynamics and evolution of insecticide resistance in a major malaria vector in an area with ongoing vector control.
Conclusions
The increased resistance levels and rise of multiple resistance reported in here represents a serious challenge to current and future insecticide-based vector control interventions as they limit the choice of alternative insecticides for future interventions. This highlights the urgent need to design and implement suitable resistance management strategies to ensure a continued effectiveness of existing insecticides.
Declarations
Authors' contributions
CSW designed the research. JMR, MC, TM, and CSW carried out the sample collection; JMR, KGB, BDM, and SSI reared the mosquitoes; JMR performed the insecticide susceptibility and insecticide-impregnated bed net bioassays; HI and CSW performed the species identification, Plasmodium infection rate, transcription, genotyping, and sequencing analyses; GDW and TM contributed to data analysis and offered significant insights; JMR and CSW wrote the manuscript with contributions from all the authors. All authors read and approved the final manuscript.
Acknowledgements
A Wellcome Trust Senior Fellowship in Biomedical Sciences (WT101893MA) to CSW supported this work. The authors are grateful to Kondwani Mzembe for field assistance and to Andreas Polder for technical assistance.
Compliance with ethical guidelines
Competing interests The authors declare that they have no competing interests.
Open AccessThis article is distributed under the terms of the Creative Commons Attribution 4.0 International License (http://creativecommons.org/licenses/by/4.0/), which permits unrestricted use, distribution, and reproduction in any medium, provided you give appropriate credit to the original author(s) and the source, provide a link to the Creative Commons license, and indicate if changes were made. The Creative Commons Public Domain Dedication waiver (http://creativecommons.org/publicdomain/zero/1.0/) applies to the data made available in this article, unless otherwise stated.
Authors' Affiliations
(1)
Vector Biology Department, Liverpool School of Tropical Medicine, Liverpool, UK
(2)
Malaria Alert Centre, College of Medicine, University of Malawi, Blantyre, Malawi
(3)
Organisation de Coordination pour la lutte contre les Endémies en Afrique Centrale, Yaoundé, Cameroon