Usefulness of a biomarker to identify placental dysfunction in the context of malaria
Received: 11 August 2016
Accepted: 21 December 2016
Published: 3 January 2017
Abstract
In most tropical areas, pregnant women are at increased risk of malaria, as a consequence of the massive sequestration of parasitized red blood cells in the placenta. The placenta plays a key role in embryonic and fetal development as well as in maternal-fetal exchanges, and pregnancy-associated malaria may alter selected placenta functions that lead to stillbirth and low birth weight. Although there are several tools (blood smear examination, RDT, PCR) to diagnose malaria infection during pregnancy, there is currently no test to assess placenta dysfunction in the framework of pregnancy-associated malaria. Pregnancy-associated malaria shares many features with preeclampsia, an extensively studied disease. Various biomarkers associated with placental dysfunction have been identified as associated with preeclampsia. Several of these are inflammatory markers that lack of specificity. A few seem more specific of placenta dysfunction, including s-endoglin and sFlt1, increased in the peripheral blood during preeclampsia. The predictive value of these biomarkers should be studied in the context of pregnancy-associated malaria to evaluate their usefulness in identifying placental dysfunction during malaria. These biomarkers should be considered to improve the diagnosis of placental dysfunction during malaria and pregnant women monitoring.
Keywords
BiomarkerPregnancy malariaPreeclampsia
Conclusion
Identification of patients at risk of poor pregnancy outcome thanks to biomarkers will allow to optimize the prevention of the consequences of placental sequestration. Currently, the management of PAM, by long-lasting insecticide-impregnated nets (LLIN) and intermittent preventive treatment in pregnancy, occurs often late, and is taking care of malaria infection but not of its consequences on the placenta that may persist after having cure the infection. It seems clear that the availability of a tool to identify, at an early stage, a placenta 'under stress' resulting from PAM would represent an important step forward in terms of diagnosing and treating one of the main causes of poor pregnancy outcomes in African populations. Such biomarker would help in understanding the relationships between the timing and severity of
P. falciparum
infections and poor pregnancy outcomes, and to optimize preventive and curative interventions. A biomarker of placenta dysfunction along with a positive thick smear or RDT, should evidence a suffering placental. This screening test would allow to add to IPT a regular monitoring during the pregnancy with a more appropriated treatment. It would be a primary tool to predict poor pregnancy outcomes, to adapt monitoring, and to ensure a close clinical and sonographic surveillance of these patients (Fig.
1
). PAM increases the risk of preterm delivery by the secretion of cytokines, and the risks of IUGR by chronic hypoxia of the fetus. The identification of women at risk would allow the initiation of curative treatment during the pregnancy by artemisinin-based combination therapy (ACT) [
57
]. If the patients have severe malaria, treatment with artesunate IV is recommended in complement with paracetamol to limit the hyperthermia. In case of severe anaemia (Hb <7 g/dl), blood transfusion will be needed [
57
]. An echography to estimate the fetal weight, with Doppler measure could be realised at the beginning of treatment, and at 15 days intervals. The Doppler will allow to evaluate the level of placental alterations. Indeed, the Doppler allows, in function of the gestational age, to evaluate the benefice to follow-up the pregnancy in case of severe IUGR [
58
,
59
]. Additionally, variations in the biomarker level could have a prognostic value for the surveillance of placenta stress evolution. Of course, these prerogatives cannot be currently implemented in all health centres in malaria transmission areas. However, things are moving fast, and ultrasound apparatus are now available in an increasing number of health centres in tropical areas. The goal is also to improve the surveillance of pregnancies, access to screening, to treatments, and the evaluation of the fetal health by Doppler echography.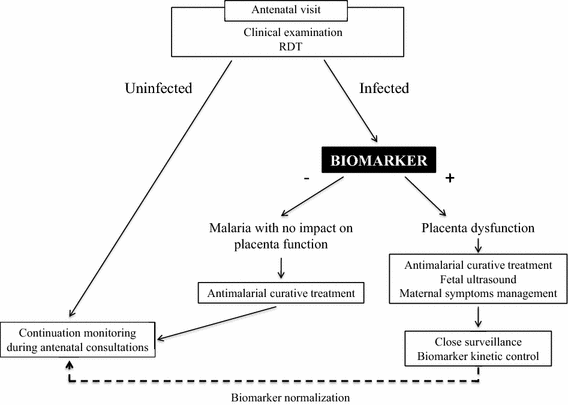 Abbreviations
CSA:

chondroitin sulphate A
EVCT:

extra villous cytotrophoblast
hCG:

human chorionic gonadotrophin
hPL:

human placental lactogen
iE:

infected erythrocytes
IPT:

intermittent preventive treatment
IPTp:

intermittent preventive treatment in pregnancy
IUGR:

intrauterine growth restriction
LLIN:

long lasting insecticidal nets
PfEMP-1:

Plasmodium falciparum erythrocyte membrane protein-1
PP13:

placental protein 13
PAM:

pregnancy-associated malaria
PAPP-A:

pregnancy-associated plasma protein A
RDT:

rapid diagnostic test
ST:

syncytiotrophoblast
VSAs:

variant surface antigens
WHO:

World Heath Organization
Declarations
Authors' contributions
All authors read and approved the final manuscript.
Acknowledgements
We thank Vassili Tsatsaris and Michel Cot for critical review of the manuscript.
Competing interests
The authors declare that they have no competing interests.
Funding
This work supported by DHU Risks in Pregnancy.
Open AccessThis article is distributed under the terms of the Creative Commons Attribution 4.0 International License (http://creativecommons.org/licenses/by/4.0/), which permits unrestricted use, distribution, and reproduction in any medium, provided you give appropriate credit to the original author(s) and the source, provide a link to the Creative Commons license, and indicate if changes were made. The Creative Commons Public Domain Dedication waiver (http://creativecommons.org/publicdomain/zero/1.0/) applies to the data made available in this article, unless otherwise stated.
Authors' Affiliations
(1)
Institute of Research for Development (IRD), UMR216-MERIT, Paris, France
(2)
ComUE Sorbonne Paris Cité, Paris, France
(3)
DHU Risks in Pregnancy, Paris, France
(4)
Obstetrics and Fetal Medicine Department, Necker-Enfants-Malades Hospital, Paris, France