Ivermectin to reduce malaria transmission III. Considerations regarding regulatory and policy pathways
Malaria Journal
2017
16:162
Received: 9 January 2017
Accepted: 6 April 2017
Published: 24 April 2017
Abstract
Vector control is a task previously relegated to products that (a) kill the mosquitoes directly at different stages (insecticides, larvicides, baited traps), or (b) avoid/reduce human-mosquito contact (bed nets, repellents, house screening), thereby reducing transmission. The potential community-based administration of the endectocide ivermectin with the intent to kill mosquitoes that bite humans, and thus reduce malaria transmission, offers a novel approach using a well-known drug, but additional steps are required to address technical, regulatory and policy gaps. The proposed community administration of this drug presents dual novel paradigms; first, indirect impact on the community rather than on individuals, and second, the use of a drug for vector control. In this paper, the main questions related to the regulatory and policy pathways for such an application are identified. Succinct answers are proposed for how the efficacy, safety, acceptability, cost-effectiveness and programmatic suitability could result in regulatory approval and ultimately policy recommendations on the use of ivermectin as a complementary vector control tool.
Keywords
IvermectinEndectocideRegulatory pathwayMalariaPolicy Anopheles
Background
One key goal of research on the use of ivermectin to reduce malaria transmission is documentation of the evidence required to support recommendation by the National Malaria Control Programmes (NMCP). Clearly, both safety and efficacy (defined as public health impact) would need to be established. There are, however, additional knowledge gaps that would need to be resolved to support regulatory approval and a World Health Organization (WHO) policy recommendation. This third paper of the thematic series reviews the main knowledge gaps in these key aspects.
Policy pathway
The uptake of any ivermectin-based strategy by countries will depend on the presence of a clear WHO policy recommendation that is in turn supported by relevant evidence regarding efficacy and safety, as well as data on cost effectiveness, ethics, and community acceptance.
Role within WHO to assess the use of ivermectin for malaria
Once consensus on settings, comparators and outcome measures of new trials has been reached, evidence would likely be evaluated by the Malaria Policy Advisory Committee (MPAC) of the Global Malaria Programme at WHO. Given the geographic and disease overlaps, the interface between the malaria and NTD programmes will play an important role, and there are precedents for cross-WHO coordination to guide and evaluate product development and policy recommendations.
Refining the evidence needed for a WHO policy recommendation
It will be important to align the development of any ivermectin-based tool with the unique requirements of health systems of the endemic countries in which it would be used [31]. The type of evidence required during the WHO policy development process has been reviewed by Milstien et al. based on the introduction of malaria intermittent preventive treatment in infancy (IPTi) and four relatively recent vaccines as a case study for new malaria vaccines [32]. Their conclusions were used as guidance for the present section. The evidence needed for a policy recommendation can be classified in four main categories: efficacy, safety, feasibility and cost-effectiveness. Given the particular nature of an ivermectin-based tool to reduce malaria transmission, the category acceptability is also included here.
Key policy questions
Recommendation of ivermectin will be based on proven efficacy, safety, cost-effectiveness and feasibility for the geographies and populations where it would be used. Pivotal questions related to these four aspects are posed and answered below.
A note on roles and sequence
This paper looks at the potential use of ivermectin for malaria from a regulatory and policy point perspective. Several key steps needed to fill these gaps have been identified. There are specific actors associated with some activities, for example prequalification can only come from the WHO-PQ team. Other activities have a broader range of potential actors, for example, there are several first tier regulatory authorities qualified to review this approach (EMA, FDA, TGA…). Although some concrete actor-action pairs have been mentioned in the corresponding section of this paper, including redundant lists of potentially involved institutions or committees at each step has been avoided.
There is clear need for a regulatory sponsor to drive this forward on the global health stage. This gap could be filled by a producer interested in the potential novel market, a consortium interested in filling the knowledge gaps or an NGO focused on global health.
The series of concrete actions ultimately leading to implementation have been discussed in two distinct sections, regulatory and policy. This division has been introduced to facilitate the discussion of each particular action, yet the separation is artificial as there are cross-cutting issues related to both pathways. Additionally, it would be a very complex task to try to provide a particular order in which these actions should be followed. It is clear for example that regulatory approval can only follow evidence on efficacy and safety, other points like WHO-PQ for example, would require discussions related to programmatic suitability and technical capacity of producers from early on in the development process. Figure
2
is not intended as a technical guidance for a particular order, but illustrates how several processes are related and could happen in parallel.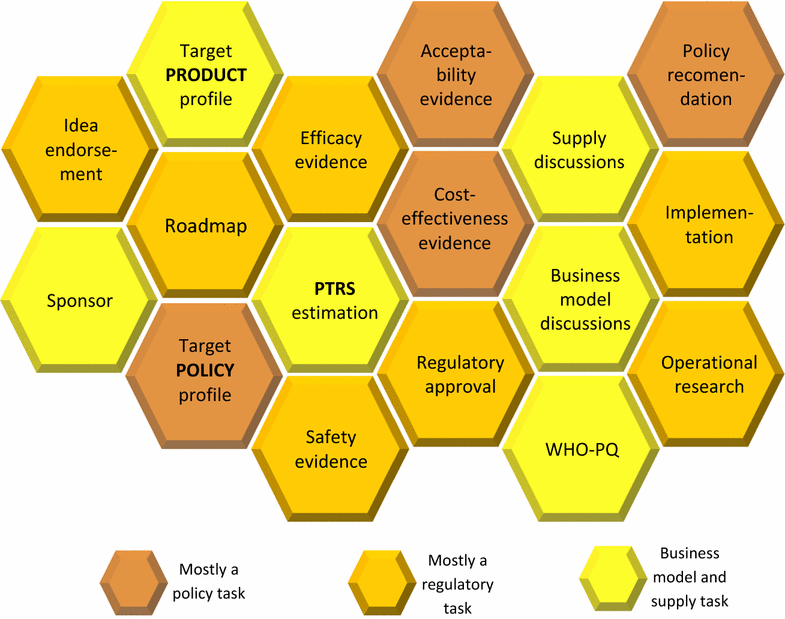 Conclusions
Implementation of an ivermectin-based strategy to reduce malaria transmission will require higher or more frequent doses that currently used for NTDs. Efficacy and safety will be the most important parameters to be evaluated by any stringent regulatory authority; both are directly related to the dose and dosing scheme selected for malaria. For a WHO policy recommendation, additional factors such as cost-effectiveness, acceptability and programmatic suitability will need to be addressed.
Abbreviations
ACT:

artemisinin-based combination therapy
EMA:

European Medicines Agency
FDA:

US Food and Drug Administration
GFATM:

Global Fund to Fight AIDS, Tuberculosis and Malaria
LF:

lymphatic filariasis
MDA:

mass drug administration
MDP:

Mectizan Donation Programme
MPAC:

Malaria Policy Advisory Committee
NTDs:

neglected tropical diseases
NMCP:

National Malaria Control Programme
VCAG:

Vector Control Advisory Group
Declarations
Authors' contributions
Both authors contributed to the last version of the manuscript. Both authors read and approved the final manuscript.
Acknowledgements
Carlos Chaccour is supported by a Ramón Areces fellowship. This work was partly supported by the PIUNA scheme from the University of Navarra. ISGlobal is a member of the CERCA Programme, Generalitat de Catalunya.
The authors would like to thank Esteban Turic (Biogenesis Bagó) for enlightening discussions during revision and for sharing important information on the global production of ivermectin API.
Competing interests
The authors declare that they have no competing interests.
Declarations
This publication is based on the background document prepared by the authors for the WHO Technical Consultation on "Preferred product characteristics of ivermectin for malaria transmission control", held in Geneva 30 March–1 April 2016. The main conclusions of this consultation were presented to the Malaria Policy Advisory Committee of WHO, and can be found at the Malaria Policy Advisory Committee website [72]. This manuscript solely represents the author's perspective after discussion with advisory groups and scientific collaborators.
Publisher's Note
Springer Nature remains neutral with regard to jurisdictional claims in published maps and institutional affiliations.
Open AccessThis article is distributed under the terms of the Creative Commons Attribution 4.0 International License (http://creativecommons.org/licenses/by/4.0/), which permits unrestricted use, distribution, and reproduction in any medium, provided you give appropriate credit to the original author(s) and the source, provide a link to the Creative Commons license, and indicate if changes were made. The Creative Commons Public Domain Dedication waiver (http://creativecommons.org/publicdomain/zero/1.0/) applies to the data made available in this article, unless otherwise stated.
Authors' Affiliations
(1)
ISGlobal, Barcelona Ctr. Int. Health Res. (CRESIB), Hospital Clínic-Universitat de Barcelona, Barcelona, Spain
(2)
Centro de Investigação Em Saúde de Manhiça, Maputo, Mozambique
(3)
Instituto de Salud Tropical Universidad de Navarra, Pamplona, Spain
(4)
Harvard T.H. Chan School of Public Health, Boston, USA