Correction to: Integrative analysis associates monocytes with insufficient erythropoiesis during acute Plasmodium cynomolgi malaria in rhesus macaques
Malaria Journal
2017
16:486
Received: 23 November 2017
Accepted: 27 November 2017
Published: 4 December 2017
After publication of the article [
1
], it was brought to our attention that several symbols were missing from Fig.
1
, including some cited in the figure's key. The correct version of the figure is shown below and has now been updated on the original article.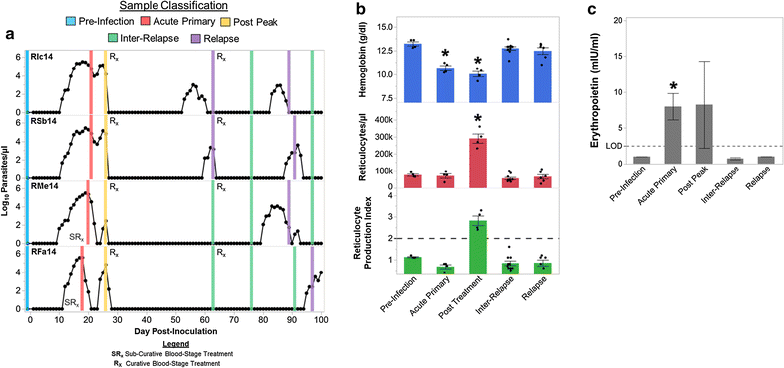 Publisher's Note
Springer Nature remains neutral with regard to jurisdictional claims in published maps and institutional affiliations.
Open AccessThis article is distributed under the terms of the Creative Commons Attribution 4.0 International License (http://creativecommons.org/licenses/by/4.0/), which permits unrestricted use, distribution, and reproduction in any medium, provided you give appropriate credit to the original author(s) and the source, provide a link to the Creative Commons license, and indicate if changes were made. The Creative Commons Public Domain Dedication waiver (http://creativecommons.org/publicdomain/zero/1.0/) applies to the data made available in this article, unless otherwise stated.
(1)
School of Chemical & Biomolecular Engineering, Georgia Institute of Technology, Atlanta, GA, USA
(2)
Malaria Host–Pathogen Interaction Center, Emory Vaccine Center, Yerkes National Primate Research Center, Emory University, Atlanta, GA, USA
(3)
Institute of Bioinformatics, University of Georgia, Athens, GA, USA
(4)
Department of Genetics, University of Georgia, Athens, GA, USA
(5)
Center for Tropical and Emerging Global Diseases, University of Georgia, Athens, GA, USA
(6)
Department of Computer Science, University of Georgia, Athens, GA, USA
(7)
Department of Pathology, University of Utah, Salt Lake City, UT, USA
(8)
Division of Infectious Diseases, Department of Medicine, Emory University, Atlanta, GA, USA
Tang Y, Joyner CJ, Cabrera-Mora M, Saney CL, Lapp SA, Nural MV, Pakala SB, DeBarry JD, Soderberg S, the MaHPIC Consortium, Kissinger JC, Lamb TJ, Galinski MR, Styczynski MP. Integrative analysis associates monocytes with insufficient erythropoiesis during acute Plasmodium cynomolgi malaria in rhesus macaques. Malar J. 2017;16(1):384. https://doi.org/10.1186/s12936-017-2029-z.View ArticlePubMedPubMed CentralGoogle Scholar