Characterization of Plasmodium relictum, a cosmopolitan agent of avian malaria
Malaria Journal
2018
17:184
Received: 6 March 2018
Accepted: 18 April 2018
Published: 2 May 2018
Abstract
Background
Microscopic research has shown that Plasmodium relictum is the most common agent of avian malaria. Recent molecular studies confirmed this conclusion and identified several mtDNA lineages, suggesting the existence of significant intra-species genetic variation or cryptic speciation. Most identified lineages have a broad range of hosts and geographical distribution. Here, a rare new lineage of P. relictum was reported and information about biological characters of different lineages of this pathogen was reviewed, suggesting issues for future research.
Methods
The new lineage pPHCOL01 was detected in Common chiffchaff Phylloscopus collybita, and the parasite was passaged in domestic canaries Serinus canaria. Organs of infected birds were examined using histology and chromogenic in situ hybridization methods. Culex quinquefasciatus mosquitoes, Zebra finch Taeniopygia guttata, Budgerigar Melopsittacus undulatus and European goldfinch Carduelis carduelis were exposed experimentally. Both Bayesian and Maximum Likelihood analyses identified the same phylogenetic relationships among different, closely-related lineages pSGS1, pGRW4, pGRW11, pLZFUS01, pPHCOL01 of P. relictum. Morphology of their blood stages was compared using fixed and stained blood smears, and biological properties of these parasites were reviewed.
Results
Common canary and European goldfinch were susceptible to the parasite pPHCOL01, and had markedly variable individual prepatent periods and light transient parasitaemia. Exo-erythrocytic and sporogonic stages were not seen. The Zebra finch and Budgerigar were resistant. Neither blood stages nor vector stages of all examined P. relictum lineages can be distinguished morphologically.
Conclusion
Within the huge spectrum of vertebrate hosts, mosquito vectors, and ecological conditions, different lineages of P. relictum exhibit indistinguishable, markedly variable morphological forms. Parasites of same lineages often develop differently in different bird species. Even more, the variation of biological properties (parasitaemia dynamics, blood pathology, prepatent period) in different isolates of the same lineage might be greater than the variation in different lineages during development in the same species of birds, indicating negligible taxonomic value of such features. Available lineage information is excellent for parasite diagnostics, but is limited in predictions about relationships in certain host-parasite associations. A combination of experiments, field observations, microscopic and molecular diagnostics is essential for understanding the role of different P. relictum lineages in bird health.
Keywords
Plasmodium relictum BirdsMorphological and molecular characterizationReview
Background
Plasmodium relictum is an invasive blood parasite, which causes malaria in many species of birds from all over the word [1–4]. Naive birds often experience severe disease and even mortality during malaria infection [5, 6], but some bird species and their populations appear to be relatively resistant and can tolerate this infection [7–11]. This parasite was the first recognized and described agent of avian malaria [12], likely due to its high prevalence in a wide range of different avian hosts and because morphological characteristics of its mature blood stages are so distinctive in blood films. Mature stages typically possess prominent nuclei and cytoplasm, numerous pigment granules and markedly influence the position of the nuclei of their host erythrocytes, causing lateral shifts in their position. Numerous synonymous names of this organism exist [7, 13]. These names were suggested for distinguishing the morphologically similar or even identical blood stages, which were reported in different avian hosts and/or different geographical areas [13–15]. Microscopic examination of blood films, the main avian malaria diagnostic tool used in the 20th Century, has identified P. relictum as the most common agent of avian malaria with reports from over 300 species of birds belonging to 11 orders from all over the world [1, 7, 16, 17]. Recent molecular studies have supported this conclusion and uncovered significant genetic diversity among different isolates of P. relictum, suggesting existence of intra-species genetic variation or even cryptic speciation [2, 18–22].
Partial sequences of mitochondrial cytochrome b gene (cytb) have been successfully used in distinguishing different lineages of avian malaria parasites, and they are excellent molecular markers for disease diagnostics [2, 4, 19, 23–25]. Over 100 closely related cytb lineages of avian Plasmodium were deposited in GenBank and MalAvi database (http://mbio-serv2.mbioekol.lu.se/Malavi) and many of them may belong to P. relictum. However, few of these molecular lineages are supported by microscopic examination of well-fixed and stained blood smears and the small genetic difference in cytb sequences alone cannot be considered as final proof that closely related lineages belong to the same morpho-species. For example, some morphologically distinct haemosporidian species differ in their partial cytb sequences just by a few nucleotide bases [26, 27]. Currently, only four lineages (pSGS1, pGRW4, pGRW11, pLZFUS01) have been linked to P. relictum based on morphological characters of their blood stages, and these data are helpful for distinguishing this infection in blood films [28–30].
During the past 15 years, much data have been collected about host, geographical distribution, vectors, virulence, and other biological characters of P. relictum based on cytb lineages [2, 3, 8, 19, 30–34]. This provides opportunities to examine patterns in the biology and pathology of avian Plasmodium infection at the level of these specific lineages. This study characterizes a new cytb lineage of P. relictum (pPHCOL01), makes comprehensive comparisons of morphological characters of blood stages of all known lineages of this parasite, and reviews their biological features to help identify some new directions for future avian malaria research.
Results
Parasite lineage identification and susceptibility of experimental birds
Single infections of P. relictum (cytb lineage pPHCOL01) was identified in the donor Common chiffchaff both by microscopic examination of blood films and PCR-based amplification and sequencing. All exposed canaries were susceptible and developed a single infection with the same malaria parasite, as determined both by microscopic examination of blood films and PCR-based testing. Parasitaemia developed in one exposed European goldfinch. Two Zebra finches, one Budgerigar and one European goldfinch were resistant. All control canaries remained non-infected during this study.
Phylogenetic analysis
The reported lineage of P. relictum (pPHCOL01) was new. It clustered with other morphologically characterized lineages of P. relictum (pSGS1, pGRW4, pGRW11, pLZFUS01) in both phylogenetic analyses, supporting the close phylogenetic relationships among them (Fig. 1a, b). Genetic differences among five lineages of P. relictum varied between 0.2% (minimum, the lineages pSGS1 and pGRW11) and 3% (maximum, the lineages pSGS1 and pLZFUS01).
Characterization of Plasmodium (Haemamoeba) relictum (pPHCOL01)
See (Fig.
2
, Table
1
).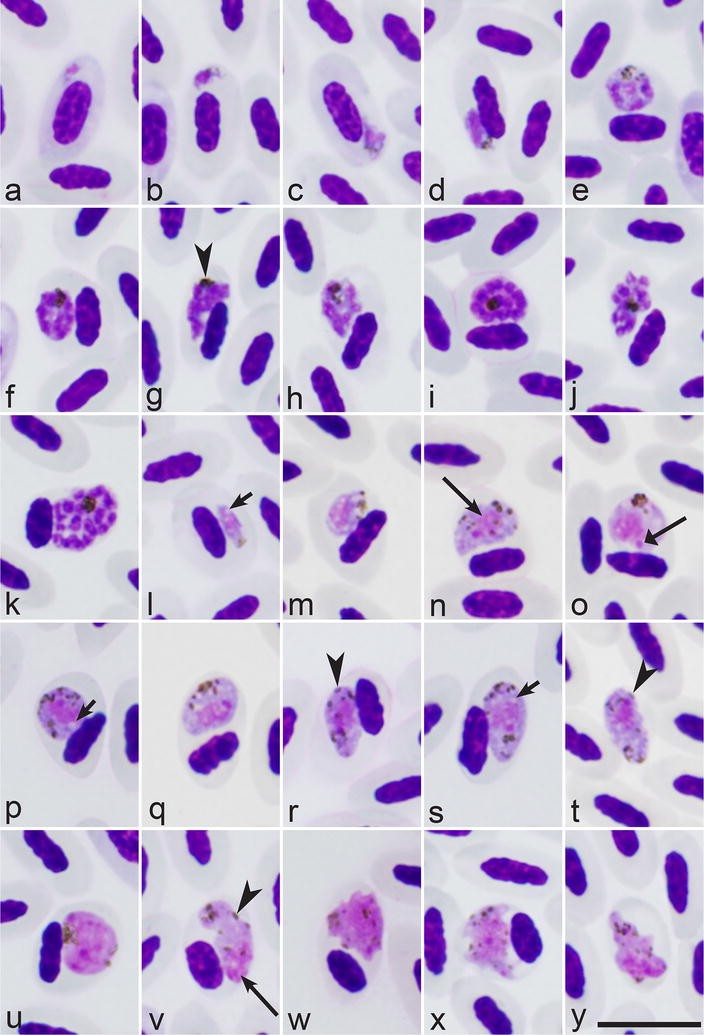 DNA sequence
Mitochondrial cytb lineage pPHCOL01 (new lineage, 479 bp, GenBank accession MG724747).
Avian hosts
Common chiffchaff Phylloscopus collybita is a natural host. Other natural avian hosts are unknown. Two Zebra finches and one Budgerigar that were exposed by sub-inoculation of infected blood were resistant. The most similar Plasmodium parasite lineages were reported only in sub-Saharan birds by Loiseau et al. [44] (the lineage PV40, accession HQ022817, 2 bp difference, avian host was not reported), Beadell et al. [2] (the lineage P27, accession DQ659568, 7 bp difference, the host is the Cameroon sunbird Cyanomitra oritis) and Lutz et al. [45] (the lineage P_AFR110, accession KM056570, 7 bp difference, the host is the Miombo tit Parus griseiventris).
Vectors
Remain unidentified. Sporogonic development was not observed in Culex quinquefasciatus mosquitoes.
Site of infection
Red blood cells; no other data.
Representative blood films
Voucher specimens (accession numbers 48965–48974 NS, Phylloscopus collybita, 7 May 2017, parasitaemia 0.1%, collected by D. Bukauskaitė, and 48975–48978 NS, Serinus canaria, 2–6 June, 2017, collected by M. Ilgūnas) were deposited in Nature Research Centre, Vilnius, Lithuania.
Prevalence
The overall prevalence was 1 of 23 (4.3%) in Common chiffchaff at the study site.
Parasitaemia and virulence
Canaries are susceptible, with long-lasting (up to 65 dpe), but light parasitaemia (< 0.01%) reported in the majority of exposed birds. One of two exposed European goldfinches developed very light (0.001%) and long-lasting (up to 127 dpe) parasitaemia. In all positive birds, parasitaemia was transient, i.e., it was not seen during all days of testing. In experimentally exposed birds, the maximum reported parasitaemia was 0.02%, and it was seen in one canary. The parasitaemia remained light or even declined into latency approximately 1–2 weeks after the first parasites seen in blood films in all positive birds, with a few parasites appearing in the circulation during entire observation time.
All blood stages (trophozoites, growing and mature meronts, growing and mature gametocytes) were reported in the peripheral circulation of naturally infected Common chiffchaff, experimentally exposed canaries and one goldfinch. This indicates asynchronous development in the blood. Mortality was not reported among exposed birds, and they appeared healthy. Clinical signs of disease were not observed during this study, and it is probable that susceptible inoculated birds can tolerate this infection.
The prepatent period varied markedly, with first parasites observed in the peripheral circulation 9, 14, 31, and 49 dpe in different canaries. Prepatent period was 11 dpe in one European goldfinch.
Morphology of blood stages of the new lineage parasites was the same in the Common chiffchaff and the experimentally exposed canaries and one goldfinch. Description of blood stages of this infection is given from preparations with parasitaemia of 0.1% in Common chiffchaff (Fig. 2).
Trophozoites
Figure 2a–d. Develop mainly in mature erythrocytes (Fig. 2b, d), but sometimes were also seen in polychromatic erythrocytes (Fig. 2a, c). Earliest trophozoites usually are of irregular form, often amoeboid in outline (Fig. 2a, b); they only slightly displace nuclei in infected erythrocytes laterally. Advanced trophozoites possess prominent nuclei and cytoplasm, but lack vacuoles (Fig. 2c, d); they were often attached to the host cell nuclei (Fig. 2d), which are slightly displaced. Pigment granules are roundish, small (< 0.5 µm), few, dark-brown, and usually grouped.
Erythrocytic meronts
Figure 2e–k. Develop in mature erythrocytes. Young growing meronts possess plentiful cytoplasm and large nuclei (Fig. 2e); size of the nuclei and amount of the cytoplasm markedly decrease as the parasites mature (compare Fig. 2e with Fig. 2f–h). Vacuoles are absent from both developing and mature meronts. Pigment granules are small (< 0.5 µm), dark-brown or black, usually grouped in young meronts (Fig. 2e), clumped and difficult to calculate in mature meronts (Fig. 2g–k). Mature meronts produce up to 22 merozoites (Table 1), which are usually arranged haphazardly (Fig. 2j, k). Growing and mature meronts markedly displace nuclei of infected erythrocytes (Fig. 2e–k) and sometimes enucleate the host cells. Meronts were uncommon in peripheral circulation.
Macrogametocytes
Figure 2l–t. Predominate in peripheral circulation; they develop in mature erythrocytes. Growing and mature gametocytes are markedly variable in form, with roundish (Fig. 2o, p), oval (Fig. 2m, r–t) and various irregular shapes (Fig. 2n) present. Numerous growing and mature gametocytes adhere to the nuclei of erythrocytes (Fig. 2m, o, p, r, s). Gametocytes adhering to the erythrocyte nuclei predominate, but the gametocytes, which do not touch nuclei of erythrocytes were also seen (Fig. 2n, q). Small vacuoles were reported in the cytoplasm occasionally (Fig. 2l, p, s). Parasite nucleus is prominent, of irregular shape; nucleolus is readily visible (Fig. 2o). Pigment granules are small (< 0.5 µm) or of medium size (0.5–1 µm), black or dark-brown, mainly roundish or oval (Fig. 2n, p, q), but elongate pigment granules were seen occasionally (Fig. 2r); pigment granules are scattered in the cytoplasm (Fig. 2n, r, t) or sometimes grouped (Fig. 2o, q). Gametocytes markedly deform the infected red blood cells and displace their nuclei toward one of poles of the host cells; they often enucleate the infected cells (Fig. 2t).
Remarks
Examination of all blood films with the
P. relictum
lineages pSGS1, pGRW4, pGRW11, pLZFUS01 (Fig.
3
) revealed the morphological identity of trophozoites, meronts and macro- and microgametocytes of these parasites in all infections that were examined. Number of merozoites in mature erythrocytic meronts of all parasite lineages and different isolates of the same lineage is markedly variable during development in the same and different species of avian hosts; it varied between 10 and 32 merozoites, but most often reported to be between 12 and 24 merozoites in all examined infections. These lineages of
P. relictum
cannot be distinguished based on this character. Additionally, the main morphological forms of blood stages reported in parasites of the new lineage pPHCOL01 (Fig.
2
) were seen in blood films with single infection of all other lineage of
P. relictum
in the same and different species of avian hosts (Fig.
3
). Variation in shape of each blood stage of
P. relictum
occurs, but all observed morphological forms of blood stages (Figs.
2
a–y,
3
a–x) were seen in parasites belonging to each examined parasite lineage. In other words, the morphological forms of all blood stages (trophozoites, growing and mature meronts, growing and mature gametocytes) in all examined
P. relictum
lineages were indistinguishable.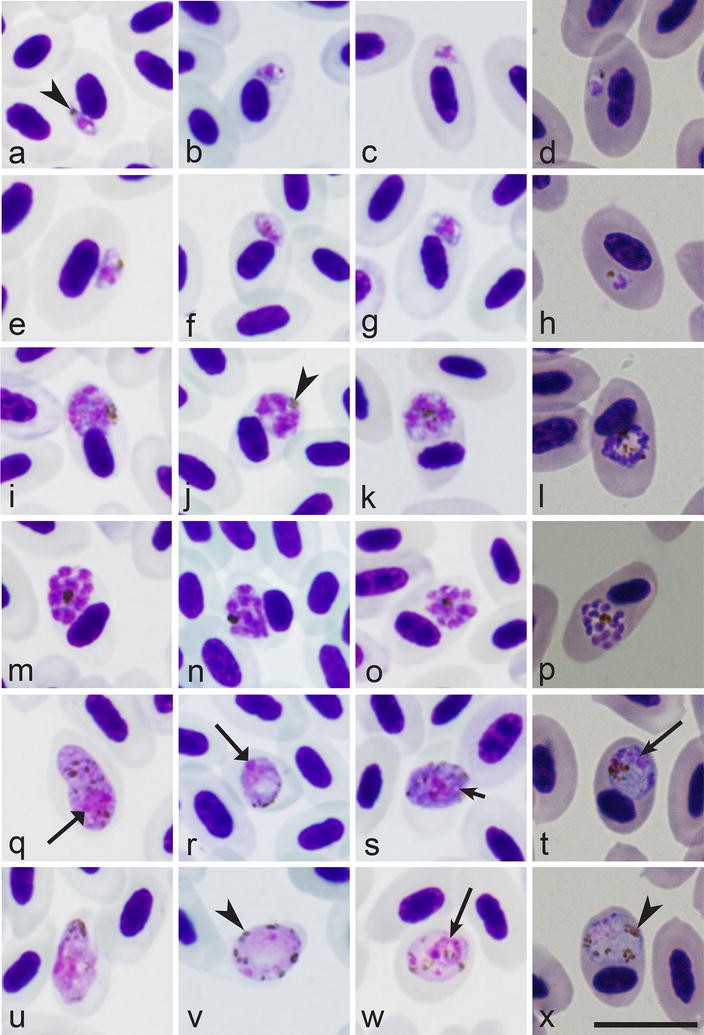 Interestingly, two different isolates of the lineage GRW4 (the Hawaiian strain and the strain isolated in Europe) produced indistinguishable trophozoites, meronts and gametocytes during development in canaries. Additionally, extensive microscopic examination showed that morphological and morphometric characters of blood stages of the widespread lineages pGRW4 and pSGS1 were variable during development in same and different avian hosts, and they markedly overlapped among these lineages. In other words, blood stages of the lineages pSGS1 and pGRW4 were indistinguishable from each other during their development in canary and other avian hosts (see Additional file 1: Figure S1, Additional file 2: Figure S2, Additional file 3: Figure S3, Additional file 4: Figure S4).
Exo-erythrocytic development
Exo-erythrocytic stages were readily visible in a positive control, assuring that the ISH protocol worked. Microscopic examination of the histological sections stained with H&E and the same organ sections treated for ISH did not reveal tissue stages of the parasite lineage pPHCOL01.
Sporogonic development
Development of ookinetes, oocysts and sporozoites was not observed in exposed Culex quinquefasciatus mosquitoes. Only eleven mosquitoes were exposed to pPHCOL01 lineage. Because parasitaemia was barely detectable at sub-microscopic levels in all exposed experimental birds, we were unable to repeat mosquito-infection experiments.
Conclusion
Plasmodium relictum is a unique species among the large group of parasites causing malaria due to its cosmopolitan distribution and exceptionally broad range of avian hosts and mosquito vectors. These characteristics make the various P. relictum lineages exceptional model organisms for better understanding ecological and genetic mechanisms that make generalist pathogens so successful.
Five lineages of P. relictum (pSGS1, pGRW4, pGRW11, pLZFUS01, pPHCOL01) have been identified and partially characterized. Parasites of these lineages are phylogenetically closely related, and they cannot be distinguished using morphological characters of their blood or vector stages. Available data show that the same lineages develop markedly differently in different avian hosts. Remarkably, variation among biological properties (prepatent period, parasitaemia dynamics, blood pathology) between different isolates of the same lineage might be greater than the variation between different lineages during their development in the same species of avian host. This indicates the negligible value of these features for diagnosing specific parasite lineages. Currently, the lineages of P. relictum can be readily distinguished mainly through mtDNA sequences.
Malaria caused by P. relictum is of particular importance for bird health. Controlled laboratory experimental studies show that the lineages pSGS1 and pGRW4 are virulent in birds and can cause marked blood pathology and even mortality in susceptible hosts. However, the exo-erythrocytic stages and tissue pathology caused by them in avian hosts is unknown for parasites of all lineages of P. relictum. This is a prominent obstacle for development of the effective prevention and treatment options for birds.
Certainly, more research is needed on biology of P. relictum lineages. The existence of still unclear geographically related limitations in transmission of the most prevalent lineages pSGS1 and pGRW4 has been often suspected in explanation of the restricted distribution of these parasites globally. However, methodological issues in the diagnosis of these parasite lineages remain and limit our ability to study co-infections in broadly distributed lineages of P. relictum. The information about frequency of co-infection occurrence in lineages of P. relictum is inadequate. Mainly general primers have been applied in PCR-based detection and phylogeographic studies of P. relictum, and this method is insufficiently sensitive in determining haemosporidian co-infections. It is predicted that available information about both host and geographical distribution of these lineages might be significantly updated if more sensitive diagnostic tools are applied for distinguishing co-infections of these and other P. relictum lineages.
Although closely related lineages of P. relictum can hybridize, within-species diversity may also indicate the presence of possible cryptic speciation in the P. relictum group. Speciation processes have been insufficiently addressed in experimental parasitology studies mainly because of difficulties in accessing and measuring mate-recognition signals in parasites. By focusing on the extracellular sexual process of oogamy, which can be readily visualized both in vivo and in vitro, and the development of oocysts possessing numerous copies of nuclear genes, experimental hybridization can be readily accessed using haemosporidian parasite lineages [22, 33]. Methodologies of between-lineage hybridization of avian Plasmodium parasites as well as sister Haemoproteus species have been developed [22, 85]. It is important to gain more information about true range of cryptic speciation in pathogens, particularly due to increasingly frequent outbreaks of zoonotic infections, which appear after host switching, leading to the emergence of new diseases [1, 6, 34, 75]. Such studies would also provide directions on how to approach future taxonomic reconstructions on species levels in the genus Plasmodium and other haemosporidians. Phylogenetic analysis based on partial cytb sequences placed different lineages of P. relictum in a tight cluster. Importantly, parasites of these lineages often occur in sympatry in many cases thus, are convenient model organisms to answer questions about the range of cryptic speciation in wildlife malaria and other related haemosporidian parasites.
Declarations
Authors' contributions
GV designed this study and wrote the manuscript. GV, MI, DB, TAI did field and experimental work. TAI and GV analyzed morphological data. DB carried out vector research. MI, KF, HW did histological and in situ hybridization investigations. CA provided data on the Hawaiian lineage pGRW4. All authors read and approved the final manuscript.
Acknowledgements
We thank V. Jusys and V. Eigirdas (Ornithological Station, Ventės Ragas, Lithuania) for support during field work and R. Bernotienė, V. Palinauskas, R. Žiegytė and V. Skukauskaitė-Kokinienė, for assistance in the laboratory. This study was funded by the Research Council of Lithuania (nr. MIP-045/2015) and also supported by the Open Access to research infrastructure of the Nature Research Centre under Lithuanian open access network initiative.
Competing interests
The authors declare that they have no competing interests. Any use of trade, firm, or product names is for descriptive purposes only and does not imply endorsement by the US Government.
Ethics approval and consent to participate
Experimental procedures were performed by licensed researchers and were approved by the Ethical Commission of the Baltic Laboratory Animal Science Association, Lithuania; Lithuanian State Food and Veterinary Office (2015-05-07, no. G2-27); Environmental Protection Agency, Vilnius (2017-04-26, no. 23); and the International Research Cooperation Agreement between the Zoological Institute of the Russian Academy of Sciences and Institute of Ecology of Nature Research Centre (2015-09-04).
Publisher's Note
Springer Nature remains neutral with regard to jurisdictional claims in published maps and institutional affiliations.
Open AccessThis article is distributed under the terms of the Creative Commons Attribution 4.0 International License (http://creativecommons.org/licenses/by/4.0/), which permits unrestricted use, distribution, and reproduction in any medium, provided you give appropriate credit to the original author(s) and the source, provide a link to the Creative Commons license, and indicate if changes were made. The Creative Commons Public Domain Dedication waiver (http://creativecommons.org/publicdomain/zero/1.0/) applies to the data made available in this article, unless otherwise stated.
Authors' Affiliations
(1)
Nature Research Centre, Vilnius, Lithuania
(2)
Institute of Pathology and Forensic Veterinary Medicine, University of Veterinary Medicine, Vienna, Vienna, Austria
(3)
U.S. Geological Survey, Pacific Island Ecosystems Research Center, Hawaii National Park, USA