Capillary electrophoresis for the assay of fixed-dose combination tablets of artesunate and amodiaquine
Malaria Journal
2012
11:149
Received: 23 March 2012
Accepted: 3 May 2012
Published: 3 May 2012
Abstract
Background
Quality control of drugs in formulations is still a major challenge in developing countries. For the quality control of artesunate and amodiaquine tablets in fixed-dose combination, only liquid chromatographic methods have been proposed in the literature. There are no capillary electrophoretic methods reported for the determination of these active substances, although this technique presents several advantages over liquid chromatography (long lifetime, low price of the capillary, low volumes of electrolyte consumption) in addition to simplicity. In this paper, a reliable capillary electrophoresis method has been developed and validated for the quality control of these drugs in commercial fixed-dose combination tablets.
Methods
Artesunate and amodiaquine hydrochloride in bilayer tablets were determined by micellar electrokinetic capillary chromatography (MEKC). Analytes were extracted from tablets by sonication with a solvent mixture phosphate buffer pH 7.0-acetonitrile containing benzoic acid as internal standard. Separation was carried out on Beckman capillary electrophoresis system equipped with fused silica capillary, 30 cm long (20 cm to detector) × 50 μm internal diameter, using a 25 mM borate buffer pH 9.2 containing 30 mM sodium dodecyl sulfate as background electrolyte, a 500 V cm−1 electric field and a detection wavelength of 214 nm.
Results
Artesunate, amodiaquine and benzoic acid were separated in 6 min. The method was found to be reliable with respect to specificity,linearity of the calibration line (r2 > 0.995), recovery from synthetic tablets (in the range 98–102%), repeatability (RSD 2–3%, n = 7 analytical procedures). Application to four batches of commercial formulations with different dosages gave content in good agreement with the declared content.
Conclusion
The MEKC method proposed is reliable for the determination of artesunate and amodiaquine hydrochloride in fixed-dose combination tablets. The method is well-suited for drug quality control and detection of counterfeit or substandard medicines.
Keywords
Anti-malarialsAmodiaquineArtesunateFixed-dose combinationMEKC
Background
Malaria is the most important parasitic disease in the world which afflicts more than 800 million people. World Health Organization (WHO) recommends that artemisinin-based combination therapy (ACT) be used to counter the threat of
Plasmodium falciparum
resistance to artemisinin monotherapies and improve treatment outcome. Artesunate (AS) plus amodiaquine (AQ) (Figure
1
) is one of the three WHO-recommended forms of ACT in Africa. Fixed-dose combination (FDC) formulations are strongly preferred and recommended over blistered co-packaged or loose tablets combinations to promote adherence to treatment [
1
]. FDC for artesunate (AS) and amodiaquine (AQ) was first registered in 2007 under the brand name ASAQ® (Winthrop) for public market and Coarsucam® (Sanofi) for private market. It is formulated as bilayer tablets to limit the physical contact between the active substances and avoid the degradation of AS which is accelerated in the presence of AQ [
2
]. Simultaneous determination of the two active substances appears rather difficult for several reasons such as the absence of chromophore for AS, the content difference between AS and AQ (weight ratio AS/AQ 1/2.7 in the formulations), the complexity of the formulation and the rapid degradation of AS in solution. Only two high performance liquid chromatographic (HPLC) methods using reverse mode separation have been reported for AS and AQ determination in FDC tablets [
3
,
4
]. In the method reported by Phadke
et al.
[
3
], both compounds are assayed in a single run at two different wavelengths (210 nm for AS, 300 nm for AQ) using a diode array detector. The run time was 9 min. In the paper of Gandhi
et al.
[
4
], internal standardization with artemether is used to determine the two compounds at a unique wavelength (220 nm) using two test solutions. AS is determined on a mixed concentrated test solution of tablet (500 mg L
-1
AS; 1.5 g L
-1
AQ hydrochloride (AQH)) and AQH is determined on a dilution 1/10 of this test solution. The run time is about 16 min.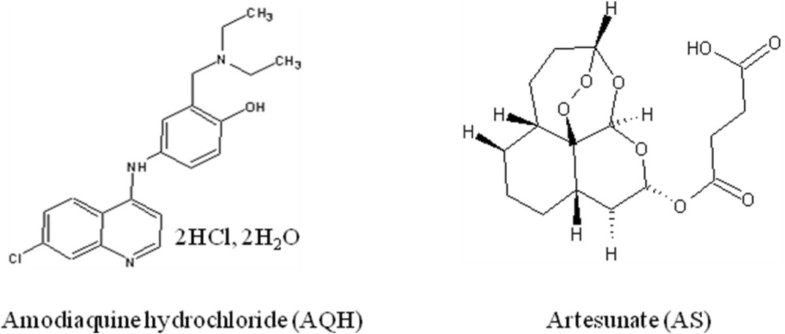 No capillary electrophoresis (CE) method has been reported concerning the determination of AS and AQ in pharmaceutical formulations. CE has been used for the separation of AS from its hydrolysis products [5], from artelinic acid, a potential anti-malarial drug [6] and for AS determination in caco-2 cells [7]. AQ has been used in CE as a model compound to test the efficiency of a coating agent to prevent adsorption of basic substances on the capillary wall [8]. Since CE presents distinct advantages over HPLC in terms of reduced operating costs and simplicity, the possibility of using CE for the quality control of AS and AQ in fixed-dose combined formulations has been investigated in this paper.
Methods
Chemicals
All chemicals and solvents were of analytical grade. Deionized water distilled from a quartz apparatus was used throughout. AS and AQH were from Maphar (Casablanca, Morocco). Benzoic acid (internal standard) was from Merck (Darmstadt, Germany). Sodium dihydrogen phosphate was from Prolabo (Fontenay-sous-Bois, France), sodium dodecyl sulfate (SDS) was from Fluka (Neu Ulm, Germany). HPLC grade acetonitrile and sodium hydroxide were from Carlo Erba (Val de Reuil, France), hydrochloric acid was from Sigma-Aldrich (Steinheim, Germany). Coarsucam® (Sanofi-Aventis, Morocco) and ASAQ Denk® (Denk Pharma, Germany) commercial tablet formulations were purchased in Côte d'Ivoire.
Solutions
The background electrolyte solution was a 25 mM sodium borate buffer (pH 9.2) solution containing 30 mM SDS. The internal standard solution (ISS) was a 50 mg L-1 of benzoic acid (BA) solution in 10 mM phosphate pH 7 – acetonitrile (60: 40, v/v) solvent mixture.
A concentrated standard solution (2 g L-1 AS and 7 g L-1 AQH) was prepared by sonication of about 20 mg AS and 70 mg AQH (accurately weighed) in 10 mL of ISS (= standard solution solution AS) for AS determination. This solution was diluted (1/100, v/v) in the ISS (= standard solution AQ) for AQH determination.
Five tablets were weighed accurately and crushed with a pestle in a porcelain mortar and thoroughly homogenized. A quantity of tablet powder equivalent to about 20 mg of AS and 70 mg of AQH was accurately weighed in a 10 mL volumetric flask. After addition of about 7 mL of ISS, the flask was subjected to ultrasonication for 10 min with intermittent shaking, then ISS was added to the mark. The suspension was centrifuged at 5,000 rpm for 5 min. and the supernatant (= test solution AS) corresponding to a theoretical concentration of 2 g L−1 AS (and 7 g L-1 AQH) was used for AS determination. This solution diluted (1/100, v/v) in the ISS for AQH determination (= test solution AQ) had a 0.07 g L-1 theoretical AQH concentration). Standard and test solutions were stable for at least 24 h at ambient temperature.
Apparatus and operating conditions
A Beckman P/ACE MDQ (Fullerton, CA) instrument equipped with a photodiode array detector was used. Separation was carried out on a fused-silica capillary, 30 cm long (20 cm to the detector), 50 μm internal diameter (TSP, Composite Metal Services, Hallow, Worcs, UK), housed in a cartridge with a 200 μm × 800 μm detection window. Prior to its first use, the capillary was preconditioned by washing at 20 psi for 20 min with a 0.1 M sodium hydroxide solution, and then flushed with water for 5 min. Every working day a preconditioning was carried out with 1 M hydrochloride acid followed by 1 M sodium hydroxide, water, and electrolyte buffer at 20 psi for 5 min.
The different stages of the proposed method for AS and AQ determination are given in Table
1
. Standard and test solutions were placed in bracketting sequence and duplicate injections were used in each case. Average corrected peak areas (peak areas divided by their respective migration times) of analyte/IS were used for calculations.
Table 1
Operating conditions
| Operations | |
| --- | --- |
| 1. Capillary rinse | 1 M HCl; 2 min; 20 psi |
| 2. Capillary rinse | 1 M NaOH; 1 min; 20 psi |
| 3. Capillary rinse | Electrolyte solution; 1 min; 20 psi |
| 4. Sample introduction (anodic side) | Analyte; 3 secondes; 0.3 psi (3.5 nL) |
| 5. Wait | Water; 0 seconde |
| 6. Separation | 6 min; 10 kV (500 V.cm-1); 0.17 min ramp voltage; 25°C (i = 50 μA) |
| 7. Detection | UV; 214 nm; spectral bandwith 10 nm; acquisition rate 4 Hz; filter normal |
| 8. Autozero | 1 min |
Results and discussion
To achieve the separation in the shortest time possible, all experiments were carried out on a short capillary (30 cm long, 20 cm effective length) with an internal diameter of 50 μm for an efficient dissipation of heat produced by Joule effect.
Conclusion
MEKC can be used for the determination of AS and AQH in fixed-dose combination tablet formulations. Satisfactory results were obtained for method validation according to the ICH guidelines with respect to selectivity, linearity of the calibration line, accuracy and precision. The method presents an interesting alternative to liquid chromatography for drug quality control and detection of counterfeit or substandard medicines in developing countries. It should be emphasized that, thanks to a European project, low-cost capillary electrophoresis machines are now installed in Mali, Cambodia and will be soon installed in Congo and Senegal for this aim [16]. The main advantages of CE over liquid chromatography are the low running cost: low price of the capillary (about 4 dollars) which has a long lifetime (more than 300 injections) and low consumption of separation electrolyte (in the order of 10 mL per day) which makes the price of a test more cost efficient.
Abbreviations
ACT:

artemisinin-based combination therapy
Afssaps:

Agence française de sécurité sanitaire des produits de santé
AM:

Artemether
AQ:

Amodiaquine
AQH:

Amodiaquine hydrochloride
AS:

Artesunate
BA:

Benzoic acid
CE:

Capillary electrophoresis
CPA:

Corrected peak areas
CZE:

Capillary zone electrophoresis
EOF:

electro-osmotic flow
FDC:

Fixed-dose combination
ISS:

internal standard solution
LUM:

Lumefantrine
MEKC:

Micellar Electrokinetic Capillary Chromatography
MT:

Migration time
PYR:

Pyrimethamine
QUI:

Quinine
RCPA:

Relative CPA
RMT:

Relative MT
SDS:

Sodium dodecyl sulfate
SDX:

Sulphadoxine
WHO:

World Health Organization.
Declarations
Acknowledgements
The authors would like to thank Sanofi Aventis (Paris, France) for the provision of the reference substances and Afssaps (Montpellier, France) for scientific discussions.
Authors' Affiliations
(1)
Laboratoire de Chimie Analytique, Contrôle physico-chimique des médicaments, Institut des Biomolécules Max Mousseron, UMR 5247, Faculté de Pharmacie, Montpellier, France
(2)
Laboratoire de Chimie Analytique, Bromatologie, Chimie Minérale et Chimie Générale, Université de Cocody - UFR Sciences Pharmaceutiques et Biologiques, Côte d'Ivoire, West Africa
Copyright
© Amin et al.; licensee BioMed Central Ltd. 2012
This article is published under license to BioMed Central Ltd. This is an Open Access article distributed under the terms of the Creative Commons Attribution License (http://creativecommons.org/licenses/by/2.0), which permits unrestricted use, distribution, and reproduction in any medium, provided the original work is properly cited.