Local population structure of Plasmodium: impact on malaria control and elimination
Malaria Journal
2012
11:412
Received: 17 August 2012
Accepted: 5 December 2012
Published: 11 December 2012
Abstract
Background
Regardless of the growing interest in detecting population structures in malarial parasites, there have been limited discussions on how to use this concept in control programmes. In such context, the effects of the parasite population structures will depend on interventions' spatial or temporal scales. This investigation explores the problem of identifying genetic markers, in this case microsatellites, to unveil Plasmodium genetic structures that could affect decisions in the context of elimination. The study was performed in a low-transmission area, which offers a good proxy to better understand problems associated with surveillance at the final stages of malaria elimination.
Methods
Plasmodium vivax samples collected in Tumeremo, Venezuela, between March 2003 and November 2004 were analysed. Since Plasmodium falciparum also circulates in many low endemic areas, P. falciparum samples from the same locality and time period were included for comparison. Plasmodium vivax samples were assayed for an original set of 25 microsatellites and P. falciparum samples were assayed for 12 microsatellites.
Results
Not all microsatellite loci assayed offered reliable local data. A complex temporal-cluster dynamics is found in both P. vivax and P. falciparum. Such dynamics affect the numbers and the type of microsatellites required for identifying individual parasites or parasite clusters when performing cross-sectional studies. The minimum number of microsatellites required to differentiate circulating P. vivax clusters differs from the minimum number of hyper-variable microsatellites required to distinguish individuals within these clusters. Regardless the extended number of microsatellites used in P. vivax, it was not possible to separate all individual infections.
Conclusions
Molecular surveillance has great potential; however, it requires preliminary local studies in order to properly interpret the emerging patterns in the context of elimination. Clonal expansions and clusters turnovers need to be taken into account when using molecular markers. Those affect the number and type of microsatellite markers, as well as, the expected genetic patterns in the context of operational investigations. By considering the local dynamics, elimination programmes could cost-effectively use molecular markers. However, population level studies need to consider the local limitations of a given set of loci in terms of providing epidemiologically relevant information.
Keywords
PlasmodiumMalaria controlPopulation structureMicrosatellitesRecrudescenceLinkage disequilibrium
Background
There has been a growing interest in the population structure of malarial parasites [1–7]. Population structure (deviation from random mating) is a common phenomenon in nature; it is the result of several processes including inbreeding, epidemic population expansions, and geographic isolation (isolation by distance) [8, 9]. In most cases, identifying the population structure of a given infection agent relies on a blind approach that considers "sufficient" gene sampling and a "good" survey of the natural populations [10], where "good" and "sufficient" depend on the underlying question. However, evaluating the importance of genetic structures for control and elimination programmes requires understanding how they provide information with epidemiologic value. As examples, whereas sometimes the population structure is informative per se (e.g. gene flow or separating domestic from imported cases); in others it becomes a problem, e.g. clonal expansions may hamper the ability of separating a new infection from a recrudescence case in a drug efficacy study. Thus, population structures affect the interpretation of patterns emerging from molecular markers in contexts that are relevant for control and elimination programmes.
It is worth noting that genetic structures are detectable at the time scales determined by the loci mutation rates. Thus, whereas neutral single nucleotide polymorphisms (SNPs) are widely used for genetic analyses in Plasmodium falciparum[11–14] and are currently established in Plasmodium vivax[15], their rates of evolution may identify genetic structures that are not informative for elimination programmes in some contexts; e.g. SNPs may not describe the dynamics of haplotypes carrying drug-resistant associated mutations [4]. Those more programmatic applications require markers evolving at mutation rates that can identify events at relatively recent (epidemiologically relevant) time scales.
Microsatellites are useful markers under such circumstances, they allow detecting genetic structures at recent divergence times [16] and they are abundant in the P. falciparum and P. vivax genomes [17]. In addition, these loci are considered to be selectively neutral, unless they are located near genes under selection (linked), e.g. genes with mutations conferring drug resistance [14, 18–20]. These characteristics make them useful in large-scale population genetic studies (including genome scans looking for mutations under selection) and for answering operational relevant questions such as separating new infections from a recrudescent case [5, 21–24]. Even though this has been the case in P. falciparum, the production of hypnozoites (homologous or heterologous) in P. vivax and the high rate of multiple clone infections represent a more complex dynamics which may alter the results of a study. Moreover, regardless their high mutation rate, epidemiologic uses for microsatellite loci should consider the effect of the population structures due to demographic processes such as clonal expansions (clonal genetic structure) in areas with low transmission [2–4, 25–28]. Since the population genetic structures are usually unknown a priori, this investigation focuses on the importance of pilot studies.
Here, a P. vivax population was characterized in a single low transmission area using isolates collected in two consecutive years. Then, the genetic structure in P. vivax was ascertained by using 25 microsatellite loci. Although such extended number of loci is rarely used in operational research [1, 5], this panel allowed evaluating the variation per locus in the study area and their reproducibility in the laboratory. The data obtained was then used to determine the number and properties of loci required to discriminate different epidemiologic scenarios: identification of individual infections (applicable when trying to separate between recrudescence and new infections) and discrimination between clusters of isolates. In order to better understand the dynamics of genetic structures in P. vivax, a sympatric P. falciparum population sampled during the same time period was included for comparison. Most studies only consider one of the two species [1–4] limiting the comparisons that can be made in areas where both parasites are endemic. Since these two malarial parasite populations come from a low-transmission area, strong linkage disequilibrium was expected [1–4, 27, 28]. However, in the case of P. falciparum, the population underwent strong drug selection [28]. Thus, if the expansion of a resistant lineage determined the clonal structure [4, 28, 29] of P. falciparum, then it was expected a more stable cluster structure through time in this parasite [4] than the one likely to be observed in P. vivax where no drug resistance has been documented.
This investigation found that the number and type of microsatellite loci needed for operational research should be tailored given the objective. Indeed, the number of microsatellite loci required to differentiate circulating P. vivax clusters differs from the minimum number of hyper-variable microsatellites required to distinguish individuals within these clusters. It was also found that the capacity of separating individual infections with a manageable number of microsatellite loci is limited in low transmission areas as the one under investigation; hence, the use of these loci for separating new infections from recrudescent cases need to take into account such limitations. Both parasites follow similar patterns with alternation of clonal lineages at loci non-liked with drug resistant mutations. Thus, whereas drug resistant haplotypes could be fixed in P. falciparum[4, 28], cyclical clonal replacements are still taking place. Finally, the inclusion of a temporal sampling scheme in the pilot investigation allowed detecting changes in the genetic structure due to migration or other demographic processes. Overall, this study emphasizes the need to evaluate the local diversity of loci and demography by using a pilot study before designing a molecular epidemiologic investigation.
Results
Twelve
P. falciparum
imperfect microsatellites reported by Anderson
et al.
[
33
], were tested for their ability to amplify in this population and to demonstrate polymorphism on a set of Venezuelan field isolates from 2003–2004 (Table 
1
). Suitable markers were considered as those loci that amplified at least 80% of the samples and showed evidence of polymorphism with a clear peak pattern. Microsatellites TA40 and TA87 did not meet the criteria and were not considered in the analysis, but loci TA1, Polyα, TA60, ARA2, Pfg377, PfPK2, TA109, TA81, TA42 and 2490 were included for the population genetic analysis. These markers are distributed across seven chromosomes and no two loci are physically closely linked. Markers TA1 and TA109 are 14.4 cM apart on chromosome 6; markers Pfg377 and PfPk2 are on chromosome 12 and separated by a distance of 45.8 cM; and markers TA81 and TA42 are 68.9 cM apart on chromosome 5. All loci had repeat units of 3bp or more.
Table 1
Characterization of the P. falciparum microsatellite loci in all samples analyzed from Venezuela
| Locus | Chr | Size range | N. of Alleles | HE | SD |
| --- | --- | --- | --- | --- | --- |
| POLYa | 4 | 160-187 | 4 | 0.44 | 0.06 |
| TA81 | 5 | 118-121 | 2 | 0.16 | 0.04 |
| TA42 | 5 | 185-202 | 3 | 0.59 | 0.03 |
| TA1 | 6 | 169-181 | 3 | 0.66 | 0.02 |
| TA109 | 6 | 162-177 | 3 | 0.58 | 0.03 |
| 2490 | 10 | 81-84 | 2 | 0.39 | 0.04 |
| ARA2 | 11 | 62-65 | 2 | 0.11 | 0.04 |
| Pfg377 | 12 | 92-95 | 2 | 0.31 | 0.05 |
| PfPK2 | 12 | 162-165 | 3 | 0.62 | 0.03 |
| TA60 | 13 | 70-79 | 2 | 0.43 | 0.04 |
For
P. vivax
, a panel of 11 dinucleotide [
31
] and 14 markers of 3bp or more [
32
] was tested. A total of 22 microsatellites that consistently amplified the samples and showed polymorphism were selected (Table 
2
). These markers were distributed in 13 of the 14 chromosomes and linkage disequilibrium has been previously reported between microsatellites MS4-MS5 in chromosome 6 and MS7-MS8 in chromosome 12 [
46
].
Table 2
Characterization of the P. vivax microsatellite loci in all samples analyzed from Venezuela
Locus

Chr

Core sequence*

Size range

N. of Alleles

%MAF

HE

SD

Dinucleotides

2.21

2

AC

92-104

6

7.07

0.73

0.02

4.271

4

AT

86-122

7

9.38

0.30

0.06

6.34

6

AC

138-158

9

7.07

0.79

0.03

7.67

7

AT

98-124

11

13.64

0.76

0.03

8.332

8

AT

216-260

10

6.12

0.77

0.03

10.29

10

AT

110-130

7

5.10

0.69

0.04

12.335

12

AT

156-180

8

6.06

0.71

0.04

14.185

14

AT

266-289

9

5.05

0.61

0.05

Trinucleotides

MS1

3

(GAA)11

231-246

6

2.02

0.70

0.03

MS3

4

(GAA)11

184-193

4

0

0.54

0.05

MS15

5

(TCT)10

236-284

10

2.04

0.77

0.03

MS4

6

(AGT)18

189-210

6

3.03

0.53

0.06

MS9

8

(GGA)18

155-176

8

8.16

0.77

0.03

MS7

12

(GAA)9

145-157

4

4.08

0.52

0.03

Imperfect

MS12

5

(TTC)10(TGC)4

185-269

9

6.06

0.70

0.04

MS2

6

(TAAA)2TATA(TAAA)6TATA(TAAA)19

181-285

13

12.12

0.82

0.03

MS5

6

CCTCTT(CCT)11

172-187

5

5.10

0.58

0.04

MS16

9

(ACA)9GCA(ACA)3GCA(ACA)7GCA(ACA)3GCAATC

238-400

14

12.79

0.73

0.04

MS20

10

(GAA)11GAG(GAA)13(CAA)4 GAA(CAA)5

193-259

16

19.39

0.80

0.03

MS6

11

(TCC)2(TCT)3(CCT)2(TCC)2 GCTTCT(TCC)10

211-244

6

2.08

0.74

0.03

MS8

12

(CAG)2(CAA)11

201-285

14

17.78

0.82

0.02

MS10

13

GAA(GGA)2AGA(GGA)9AGA(GGA)4AGAGGAAGA(GGA3)

189-249

12

13.13

0.72

0.03
Discussion
Low-transmission areas are of great interest because they are potential targets for malaria elimination. Even further, they allow for testing how to deploy resources effectively at the final stages of the elimination process. Under such conditions, the precise monitoring of malaria infections is indispensable. Whereas molecular marker-based approaches could enrich malaria surveillance [5], it needs to be ascertained whether such methods - besides their general popularity - are cost-effective for detecting substructures in parasite populations that are valuable for elimination programmes, especially in these low-transmission settings. One step in the process of translating population-genetic concepts into epidemiology is to determine whether an available set of markers has the sensitivity to detect patterns that are epidemiologically informative, especially when performing cross-sectional studies in a narrow period of time that simply allow to see a predominant clonal expansion. Whereas, hypothetically, the number of markers could be increased up to levels that can rule out many confounding factors; in reality, malaria elimination programmes face limited funds, samples, and human resources that can be invested in molecular surveillance.
In general, highly polymorphic loci are suitable to identify individuals within populations whereas more conserved (less polymorphic) loci are useful to establish clusters or parasite populations within a given endemic area. For the first purpose, imperfect microsatellites would be more appropriate due to the complexity on their core sequence which results in greater allelic diversity, while dinucleotides and trinucleotides are more conserved and best represent the local population diversity. However, there are always exceptions in each of the categories established. Distinctions between loci have practical consequences. Highly polymorphic markers have many alleles in low frequency that are more likely to fluctuate by random events (e.g. random genetic drift but also inadequate sampling); thus, a local genotype could not be detected at a given time and then "appear" as new (e.g. been identified as an introduction) after deploying control interventions. Those cases could be considered "imported" rather than the result of residual transmission, misleading the programme to conclude that the control strategy was more efficacious than in reality. This problem is particularly important if the only baseline information is provided by a cross-sectional study that simply detected a predominant clonal expansion. On the contrary, the number of treatment "failures" (putative recrudescent cases) could be over-estimated and conclude that a drug treatment has reduced its efficacy by using low polymorphic marker that cannot properly differentiate genotypes within a cluster. Thus, in order to get a fine scale fingerprint of the epidemiologically relevant events targeted by a given molecular surveillance programme, the number and kind of microsatellites used should consider the characteristics of the population under study. Those characteristics include the replacement of clusters at least between two transmission seasons.
This investigation provides some basic information about how to design a pilot (baseline) investigation that could support prospective molecular population-based studies, especially in areas with low genetic diversity and low transmission as the one found in Tumeremo, Venezuela. Those steps are summarized in a flow chart (Figure 
5
). First, an extended set of loci should be evaluated in order to determine how many reliable work (e.g. can be consistently amplified or the pattern in the electropherogram is unambiguously interpretable) in that area. Then, based on that set of loci, the number of mixed infections, haplotypes and clusters circulating in a given geographic area during at least two transmission seasons can be evaluated. The assumption is that the information collected from the original set of loci (in this case, 22 loci in
P. vivax
) provides the best possible resolution given the available resources. Based on the identified structures using the extended set of loci, it is possible to estimate the minimum number of microsatellite loci needed to detect such structure and differentiate
Plasmodium
populations (clusters) in that specific geographic area. The same baseline data can be used to estimate the minimum number of microsatellites needed to differentiate individuals within these clusters. Hypothetically, since each of the samples analysed originated from a distinct individual, many confounding effects could be reduced by simply increasing the number of markers. However, the number of loci that can be used in a given study is finite, simply because they are tied to the available resources. Thus, pilot studies are needed in order to determine the best resolution that can be obtained using molecular markers in a given context.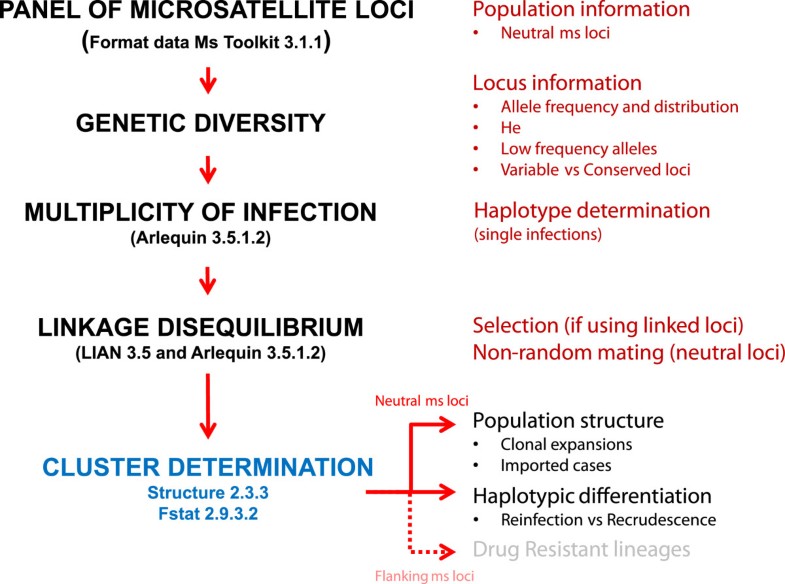 Considering all data analysed for P. falciparum and P. vivax, only 45% of the P. falciparum and 85% of the P. vivax samples at the individual level were correctly identified. In order to increase the percentage of individual identification for P. falciparum in a place like Tumeremo that underwent a strong drug selective pressure, a greater number of polymorphic loci are needed since the heterozygosity per locus is much lower compared with P. vivax. This represents a problem since the analysis of more than 10 loci per sample could be costly. It is also important to emphasize that there are clusters of individuals infected by highly related parasites (clonal expansions) and those simply cannot be easily separated. Thus, a manageable number of microsatellites will only identify haplotypes or clonal lineages per population, some of them stable through time [4, 47, 48]. Population-based studies should be designed considering such restrictions by targeting groups (e.g. arms in a drug efficacy study) or geographic areas where the turnover of such clones (or their persistence) could be informative at the population level. In the case of drug efficacy studies, the proportions of undifferentiated genotypes from prior and post treatment samples can be compared between groups providing a way to reduce the confounding effect of the local parasite demography. Unfortunately, such an approach may require high sample sizes.
Plasmodium vivax and P. falciparum circulating in Tumeremo differ according to the prevalence of mixed clone infections and the overall levels of genetic diversity. Since in P. falciparum drug resistant haplotypes are fixed [4, 28], it was expected that such early drug pressure will result in few clones present year-round [4]. However, both species exhibited significant linkage disequilibrium (LD), similar number of clusters/clones when considering haplotypes only, and a similar pattern of temporal replacement of clusters. In P. falciparum the four clusters found in 2003 were also found the following year. In P. vivax, however, three of the four clusters persisted through time. This could indicate a sporadic event in 2003 of a parasite lineage (cluster B) coming into the Tumeremo population from one of the shared borders with Guyana and Brazil. Moreover, significant LD was found in P. vivax within cluster B, which strengthens the idea of a group of minor frequency lineages that are not stable in time and that could be the result of imported cases. Detecting introductions is important especially in the context of control and elimination of the disease; those migration events could explain a local increase in incidence indicating that the deployed strategies/policies were effective in controlling the previously circulating parasites. Ideally, data from other populations should allow identifying the source of the migrant cases providing additional information about how malaria is maintained at a regional level.
A higher level of LD in P. vivax compared to P. falciparum was not expected since this could not be accounted by recent epidemic expansions of drug resistant lineages like in P. falciparum[4, 28]. Thus, the pattern observed in P. vivax is indicative of ongoing reduced levels of recombination due to the parasite demography. Overall, the local ecology appears to explain the turnover of clones/clusters in both parasites at this time scale. The temporal interval used in this study is appropriate in the context of surveillance when monitoring malaria prevalence from one malaria season to the next one. Plus, the effectiveness of local malaria control can be evaluated by observing changes (which could be the result of incoming gene flow) in the parasite population structure.
It is worth noting that in P. vivax, also cluster D had a significant level of LD among lineages within that cluster. When explored closely, this cluster D included different lineages found in low frequency that are stable through time. This cluster D then contrasts with cluster B; where the first seems to be stable in the population and composed by several minor haplotypes, the later (B) may indicate migration/introduction of haplotypes in lower frequency into the endemic area. Thus, a close observation of the linkage disequilibrium within clusters provides additional information that could explain the observed patterns of malaria transmission.
Conclusions
Molecular epidemiological studies should consider temporal heterogeneities in the parasite population structures. In the context of this investigation, clonal expansions in South America affect estimates of the local genetic diversity. Such dynamic will generate a distorted view if studies are based in a sample collected in a single time point. A second observation is that, with a reasonable number of loci, there is uncertainty in the separation of infections at individual level. Such uncertainties need to be incorporated whenever recrudescent cases need to be separated from new infections in the context of drug efficacy studies. Third, it is relatively easy to identify major clones or sub-populations with a small number of polymorphic microsatellites. Such information could be valuable to better understand gene flow and patterns of migration/re-introduction. It seems logical to contrast samples from at least two transmission seasons, even in gene flow studies, and use loci that allow detecting spatial connectivity so they are useful to track reintroductions at a local level or spatial movements at a regional level. Finally, it was observed that both P. falciparum and P. vivax exhibit similar patterns of clonal expansions. Whereas previous studies have found strong linkage disequilibrium in both parasites [1–5, 7], this is the first time that such dynamics are described in sympatric populations through time. Overall, it seems that such clonal temporal replacements take place even when drug resistant mutations could be fixed, as is the case for P. falciparum[4, 28].
The type of pilot study proposed in this article could be performed in any endemic area but it is particularly critical in those where clonal expansions are suspected, such is the case of seasonal and low transmission endemic areas. Even though only a limited number of loci could be considered for routine analysis, the use of well-chosen microsatellite loci represent a high sensitive method for cluster differentiation and provides a way to deeper analyse patterns of gene flow as well as parasite lineages maintained through time. Overall, this investigation highlights the need of locally evaluating the diversity of microsatellite loci during at least two transmission seasons before starting molecular epidemiologic investigations.
Declarations
Acknowledgements
This study was supported by the grants NIH R01 GM084320 and the International Center of Excellence for Malaria Research: Latin American Center for Malaria Research and Control, project NIH 1U19AI089702. We thank Maria Pacheco for reading and commenting the manuscript.
Authors' Affiliations
(1)
School of Life Sciences, Arizona State University, Tempe, USA
(2)
Center for Evolutionary Medicine and Informatics, The Biodesign Institute, Arizona State University, Tempe, USA
(3)
Department MNI, University of Applied Sciences Mittweida, Mittweida, Germany
(4)
Department of Mathematics, University of Vienna, Vienna, Austria
(5)
Centro de Investigación de Campo Francesco Vitanza, Tumeremo, Venezuela
(6)
ICF International, International Health & Development Division, Calverton, USA
Copyright
© Chenet et al.; licensee BioMed Central Ltd. 2012
This article is published under license to BioMed Central Ltd. This is an Open Access article distributed under the terms of the Creative Commons Attribution License (http://creativecommons.org/licenses/by/2.0), which permits unrestricted use, distribution, and reproduction in any medium, provided the original work is properly cited.