Antioxidant defense in Plasmodium falciparum – data mining of the transcriptome
Received: 30 March 2004
Accepted: 09 July 2004
Published: 09 July 2004
Abstract
The intraerythrocytic malaria parasite is under constant oxidative stress originating both from endogenous and exogenous processes. The parasite is endowed with a complete network of enzymes and proteins that protect it from those threats, but also uses redox activities to regulate enzyme activities. In the present analysis, the transcription of the genes coding for the antioxidant defense elements are viewed in the time-frame of the intraerythrocytic cycle. Time-dependent transcription data were taken from the transcriptome of the human malaria parasite Plasmodium falciparum. Whereas for several processes the transcription of the many participating genes is coordinated, in the present case there are some outstanding deviations where gene products that utilize glutathione or thioredoxin are transcribed before the genes coding for elements that control the levels of those substrates are transcribed. Such insights may hint to novel, non-classical pathways that necessitate further investigations.
Keywords
Ribonucleotide ReductaseReactive Oxidant SpeciesVicinal ThiolIntraerythrocytic Developmental CycleMaximal Transcription
Introduction
The
Plasmodium
-infected erythrocyte is under constant oxidative stress. This is caused by exogenous reactive oxidant species (ROS) and reactive nitrogen species (RNS) produced by the immune system of the host, and by endogenous production of ROS generated during the digestion of host cell haemoglobin and concomitant biochemical reactions. Small amounts of ROS can also be produced by the mitochondrial electron transport and by various metabolic processes. The biochemistry and molecular biology of antioxidant defense-related enzymes and intermediates, shown schematically in Fig.
1
, have been extensively discussed in recent reviews [
1
–
5
]. The entire battery of antioxidant enzymes and their substrates must be functionally present when the parasite starts the digestion of host cell haemoglobin and when the immune system starts to be challenged by parasite antigens. These events start to happen at the late ring-early trophozoite stage when the parasite engages in intensive digestion of the host cell haemoglobin and the surface of the erythrocyte is sufficiently altered to be recognized by the reticuloendothelial system as 'non-self'. Some ROS may escape the antioxidant defense of the parasite and reach the host erythrocyte where they are handled by catalase and glutathione peroxidase. However, even this defense system is not fully effective since the fingerprints of oxidative stress are discernable in the membrane of the infected red blood cells (RBC) such as clustering of band 3 [
6
] and increased levels of lipid peroxides [
7
]. It is not intended to review in depth the redox metabolism of the plasmodium-infected red blood cell (IRBC), as several recent reviews are available. Rather, the stage-dependent transcription of genes that code for enzymes and proteins that are involved in the antioxidant defense of the IRBC will be analysed in a functional context.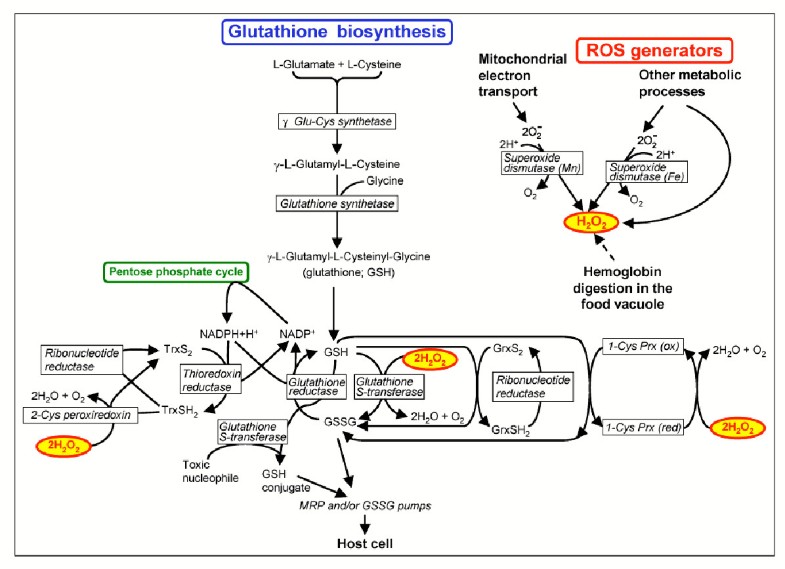 Materials and Methods
The expression data used in this study was obtained from the DeRisi transcriptome database
http://malaria.ucsf.edu/
of the
Plasmodium falciparum
intraerythrocytic developmental cycle as described [
8
]. This database contains the relative mRNA abundance for every hour of the intraerythrocytic cycle of parasite development based on the 70-mer oligonucleotide microarray [
9
]. The expression profiles of each transcript is represented by an array of ratios between the mRNA level in the time point sample versus a fixed mRNA level in the control RNA pool. Loess-smoothed expression profiles used in this study were calculated as described (see [
8
]). Each expression profile was subsequently normalized to its peak value. It is assumed that for each metabolic pathway there is a stoichiometric relationship among the expression levels of the individual enzymes and, therefore, the normalized values are more meaningful for functional evaluation. Loess-smoothed data were used[
8
]. All enzymes and proteins discussed in this essay with their gene ID's are shown in Table
1
.
Table 1
Enzymes and proteins involved in redox metabolism and their gene/locus in the P. falciparum genome.
Process

Enzyme/protein

EC number

Gene/locus

ROS generation

Fe-superoxide dismutase (possibly an Mn enzyme)

1.15.1.1

PF08_0071

MAL6P1.194

Glutathione biosynthesis and reccycling

Glutamate-cysteine ligase

6.3.2.2

PFI0925w

Glutathione synthase

6.3.2.3

PFE0605c

Gluathione reductase

1.8.1.7

PF14_0192

Glutathione-S-transferase

2.5.1.18

PF14_0187

MRP

PFA0590w

PFL1410c

Glutathione utilization

Glutathione-S-transferase

2.5.1.18

PF14_0187

1-Cys peroxiredoxin

PF08_0131

Glutaredoxin

PFC0271c

Glutaerdoxin-like protein

MAL6P1.72

Glutaerdoxin-like protein

PFC0205c

Lactoylglutathione lyase (glyoxalase I)

4.4.1.5

PF11_0145

Hydoxyacylglutathione hydrolase (glyoxalase II)

3.1.2.6

chr4.gen_37

PFL0285w;

Thioredoxin synthesis and recycling

Thioredoxin

MAL13P1.225

PF14_0545

PFI0790w

PFI1250w

Plasmoredoxin

PFC0165w

Thioredoxin reductase

1.8.1.9

PFI1170c

Thioredoxin utilization

Peroxiredoxin

MAL7P1.159

Trx peroxidase (TPxP) is a

PF14_0368, 2-cys

2-Cys peroxiredoxin

PFL0725w; 2-cys

Glutathione peroxidase

1.11.1.9

PFL0595c

Ribonucleotide reductase, small chain

1.17.4.1

PF10_0154

PF14_0053

Oxidative protein folding

Protein-disulfde isomerase

5.3.4.1

PF11_0352

PF14_0694

MAL8P1.17

PFI0950w

PF13_0272

Oxidoreductin (Ero1p)

PF11_0251
Results and Discussion
This analysis relates exclusively to the intraerythrocytic phase of the parasite's life cycle. It should be underscored that some of the functions assigned to the respective gene products are putative and have not been verified by biochemical analyses. Such are the cases of thioredoxin-like proteins (MAL13P1.225, PFI0790w, PFI1250w), glutaredoxin-like proteins (MAL6P1.72, PFC0205c), peroxiredoxin (MAL7P1.159), protein disulfide isomerases. The data that was analysed here are expression levels of mRNA. This is a long way from what one ideally would like: expression levels of the functional proteins. The functional meaning of transcription analysis is useful but it does not tell the complete story of gene expression. Functions are performed by proteins and as long as their stability and life span are not known, it may be possible to imply the onset of expression but not its termination. Hence, a short-lived transcription may be less informative than a longer-lived one because the latter indicates that the protein is expressed at least for this duration of time. Nevertheless, when transcription is evaluated by considering a set of biochemically inter-related enzymes and proteins, some information about their coordinated expression may be gained. In what follows, the different elements of the redox metabolism of the parasite will be discussed in functional "clusters", in order to obtain a methodological overview.
We start our analysis with superoxide dismutase, a major producer of H2O2 in cells. Then the enzymes involved in the biosynthesis and recycling of glutathione will be discussed, followed by those that utilize glutathione. The thioredoxin system is also discussed in a similar order.
Conclusions
In previous functional analyses of the transcriptome of P. falciparum it was contended (and shown) that the parasite has evolved a functionally concerted mode of transcriptional regulation. Thus, functional clusters of genes related to a particular function are transcribed in rational sequence that corresponds to the timing of the physiology and the biochemistry of the intraerythrocytic phase of the parasite life cycle. In-phase co-expression was observed for genes of many general processes such as RNA and DNA synthesis and for parasite-specific processes such as erythrocyte invasion. From the present study, it is clear that both in the glutathione and the thioredoxin systems not all transcriptions are in phase. A detailed analysis of this complex expression pattern reveals rational connections between gene expression and metabolic function of the protein products. For most factors of both studied systems, the expression of users (GSH and Trx users) lags behind that of the producers (de novo synthesis and recycling). However, there are exceptions to this rule, which represent unexpected chains of events in classical biological systems (predators never precede their prey). Such discrepancies point out to possible missing links in the metabolic pathways based on the current status of the gene sequencing and annotations. Alternatively, these could indicate a nonlinear relationship between transcription and translation. Only detailed analysis of the time-dependent levels of protein and of the pertinent low molecular weight substrates/products can solve this apparent paradox and hints to the unresolved meaning of the variable duration of the transcripts: is it related to transcript or to protein stability.
Declarations
Acknowledgment
We thank Professor W.D. Stein for critical reading of the manuscript and his helpful suggestions.
Authors' Affiliations
(1)
Department of Biochemistry and Biophysics, University of California San Francisco, San Francisco, USA
(2)
Department of Biological Chemistry, Institute of Life Sciences, The Hebrew University of Jerusalem, Jerusalem, Israel
Copyright
© Bozdech and Ginsburg; licensee BioMed Central Ltd. 2004
This article is published under license to BioMed Central Ltd. This is an Open Access article: verbatim copying and redistribution of this article are permitted in all media for any purpose, provided this notice is preserved along with the article's original URL.