Implementation of the global plan for insecticide resistance management in malaria vectors: progress, challenges and the way forward
Malaria Journal
2015
14:173
Received: 8 February 2015
Accepted: 5 April 2015
Published: 23 April 2015
Abstract
In recent years, there has been an increase in resistance of malaria vectors to insecticides, particularly to pyrethroids which are widely used in insecticide-treated nets. The Global Plan for Insecticide Resistance Management in malaria vectors (GPIRM), released in May 2012, is a collective strategy for the malaria community to tackle this challenge. This review outlines progress made to date and the challenges experienced in the implementation of GPIRM, and outlines focus areas requiring urgent attention. Whilst there has been some advancement, uptake of GPIRM at the national level has generally been poor for various reasons, including limited availability of vector control tools with new mechanisms of action as well as critical financial, human and infrastructural resource deficiencies. There is an urgent need for a global response plan to address these deficits and ensure the correct and efficient use of available tools in order to maintain the effectiveness of current vector control efforts whilst novel vector control tools are under development. Emphasis must be placed on enhancing national capacities (such as human and infrastructural resources) to enable efficient monitoring and management of insecticide resistance, and to support availability and accessibility of appropriate new vector control products. Lack of action by the global community to address the threat of insecticide resistance is unacceptable and deprives affected communities of their basic right of universal access to effective malaria prevention. Aligning efforts and assigning the needed resources will ensure the optimal implementation of GPIRM with the ultimate goal of maintaining effective malaria vector control.
Keywords
Insecticide resistanceMalaria vectorsGPIRMResource deficiencies
Background
Between 2000 and 2013, worldwide malaria morbidity and mortality rates were almost halved. The greatest declines have been observed in the WHO African Region, where the burden of disease remains highest [1]. These impressive reductions have been achieved largely due to the widespread deployment of insecticide-treated nets (ITNs) and indoor residual spraying (IRS) of insecticides, which target Anopheles malaria vectors. However, the effectiveness of these core malaria interventions is threatened by increases in the distribution and strength (intensity) of insecticide resistance in these mosquitoes [2-4]. This is of particular concern for pyrethroids, which are currently the only insecticides used in ITNs and are also widely applied in IRS.
In recognition of the threat of insecticide resistance, the WHO Global Malaria Programme convened an expert consultation in 2010 to inform the development of an appropriate and comprehensive response to insecticide resistance [
5
]. GPIRM was prepared, and released in May 2012 [
6
]. The Plan is a collective strategy aimed at maintaining the effectiveness of malaria vector control, and is comprised of five pillars to guide global, regional and national action in the short-, medium- and long-term (Figure
1
).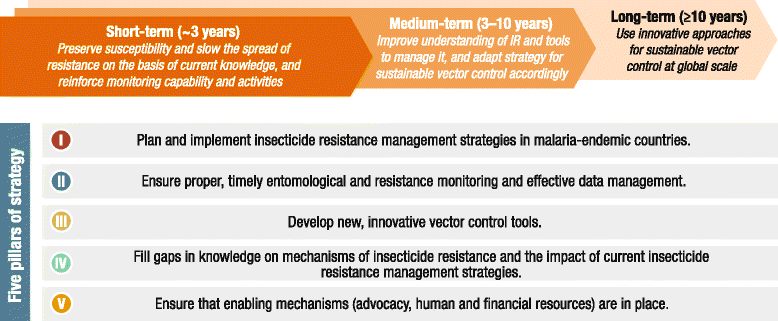 Since the initial consultation and the release of GPIRM the insecticide resistance situation has worsened, particularly in the WHO African Region. Information from the recently-established WHO global insecticide resistance database indicates that since 2010, pyrethroid resistance has been detected in at least one
Anopheles
malaria vector species in 78% of countries that reported monitoring data (Figure
2
); resistance to two or more insecticide classes was reported for 80% of those [
1
]. Stronger resistance mechanisms have been detected in
Anopheles gambiae s.s.
from West Africa, in addition to the target site mutations and metabolic-based mechanisms identified previously [
7
]. This has resulted in elevated levels of resistance rising up to 1,000-fold and the emergence of cross-resistance to additional insecticides [
8
]. There is emerging evidence that insecticide resistance is already compromising the effectiveness of malaria control efforts [
3
,
9
,
10
]. Meanwhile, the arsenal of WHO-recommended insecticides has remained limited to pyrethroids for ITNs, with these and three additional insecticide classes recommended for IRS. Five classes of larvicides are also recommended, though their use is not widespread.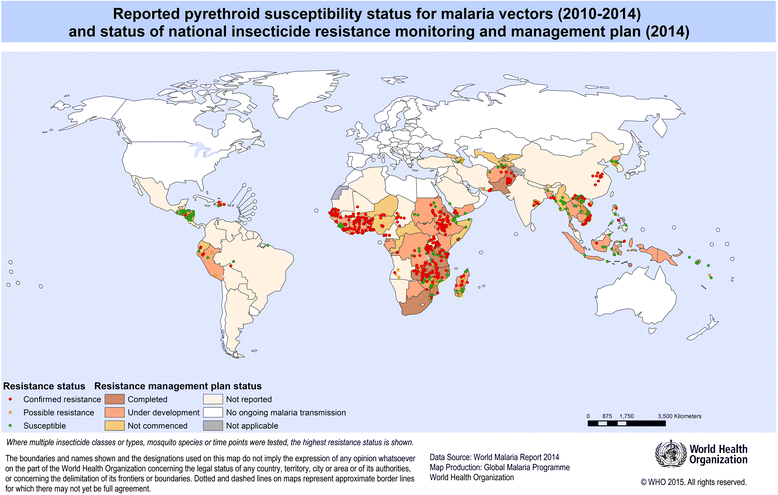 Against this background of escalating resistance and limited vector control tools, as well as global finances that continue to fall short of estimated requirements for malaria control and elimination [1] and restricted entomological capacity [11], there has been some progress in the implementation of GPIRM. This case study reviews the progress made, the challenges experienced to date, and proposes key actions for accelerating global efforts to provide sustainable universal access to effective malaria vector control. It builds on the report issued to the Malaria Policy Advisory Committee (MPAC) in September 2014 [12] and provides additional data on insecticide resistance and entomological capacity obtained from WHO Member States in 2014.
Conclusions and the way forward
For most malaria-endemic countries, and particularly those in Africa south of the Sahara, pyrethroid resistance in malaria vectors is worsening. There are also increasing reports of resistance to organophosphates, carbamates and DDT. Pre-emptive action against insecticide resistance as emphasized in GPIRM is still the goal, but immediate measures are needed to address pyrethroid resistance. However, the options for LLINs and IRS remain limited, which further challenges the goal of preserving the effectiveness of malaria vector control and providing universal access of at-risk populations to malaria prevention. Some progress has been made in implementing GPIRM. There has been enhancement in capacity and resources for insecticide resistance monitoring [1], development of new IRS formulations with extended efficacy and the establishment of global and regional insecticide resistance databases. However, whilst some countries have switched from using pyrethroids in IRS, most have yet to establish and implement national insecticide resistance monitoring and management plans that incorporate ongoing rotation of insecticides with different MOA. Key limitations to the uptake of GPIRM have been the lack of vector control tools with new MOA, and major financial, human and infrastructural resource deficiencies.
Until non-pyrethroid, multi-insecticide LLINs are available, insecticide resistance will, to a great extent, rely on the targeted use of rotational IRS with different MOA. However, a decline in the global at-risk population protected with IRS restricts options for resistance management. With the high cost of current pyrethroid alternatives being one of the main barriers to implementing GPIRM technical recommendations, it is vital that options for improving affordability are urgently pursued. Better global forecasting of insecticide requirements, pooled procurement and long-term agreements and tax-free incentives have been successfully applied to the LLIN market. These approaches may be feasible to enhance the confidence of IRS chemical manufacturers, help stabilize the market and eventually lead to price reductions. Together, these actions may support the maintenance and/or scale-up of IRS for insecticide resistance management purposes, which must be conducted in parallel with enhanced entomological surveillance coupled with efficient data management to inform programmatic decisions. Moreover, tracking the status of insecticide resistance and progress in GPIRM implementation will require the identification and regular measurement of both national and global key indicators.
The majority of countries currently implementing IRS depend heavily on external donor support, especially in Africa. Countries and partners are therefore urged to develop and implement national insecticide resistance monitoring and management plans that include contingencies for ongoing use of more expensive alternative IRS insecticides as part of national strategic plans. Resource mobilization should also be pursued from non-traditional donors to ensure the full cost of deploying non-pyrethroid IRS is covered, and can be justified on the basis that programmatic cost increases will be inevitable in the face of resistance. There is a need for enhanced investments by endemic countries coupled with strategic plans for transitioning to full financing and management of vector control activities wherever feasible.
In parallel to these efforts, additional investments should be made to build country capacity to monitor insecticide resistance, including quantifying resistance intensity and assessing its operational impact. Often the need for and actual role of public health entomologists supporting malaria control programmes is not clear to those at higher management levels. The skills set required for senior personnel coordinating entomological surveillance as well as vector control implementation, monitoring and evaluation (which may require different staff and expertise) should be clearly defined on the basis of programme needs.
Country reference centres run in collaboration with the national malaria control programme should be established, potentially by upgrading existing institutions with the necessary facilities. The complexity of characterizing the underlying resistance mechanisms means that establishing capacity for these assessments, which will require additional investments, will not be practical in all malaria-endemic countries. Country, regional or global centres that can rapidly assess mechanisms and feedback results in a timely manner should be established to work alongside national programmes to ensure optimal uptake and use of information. This will help in building capacity of scientists from developing countries, particularly those working in national malaria control programmes. A mechanism is also needed to ensure that trained scientists are empowered to utilize skills in their own countries that have been acquired elsewhere. Specialized re-entry grants, such as those issued by the WHO Special Programme for Research and Training in Tropical Diseases, should be implemented to address this problem.
WHO must support these initiatives by building awareness and consensus around the extent of the problem of insecticide resistance - similar to those efforts with artemisinin resistance - and should explore ways to ensure that alternative products for managing insecticide resistance are affordable. With the current knowledge and experience, it would be irresponsible for the global community to wait until malaria programmes report increases in malaria cases due to insecticide resistance before there is a significant response. Moreover, to continue to witness declines in IRS coverage due to a lack of incorporating non-pyrethroids is unacceptable. Global inaction deprives affected communities of their basic right of universal access to effective protection against malaria. A global response plan for insecticide resistance in malaria vectors is under development by WHO. Using GPIRM as the technical basis, this will clearly outline the actions required by national malaria control programmes and their partners and the indicators to track progress in addressing the challenge of insecticide resistance.
Abbreviations
CDC:

Centers for Disease Control and Prevention
DDT:

Dichlorodiphenyltrichloroethane
IRS:

Indoor residual spraying
ITN:

Insecticide-treated net
IVCC:

Innovative vector control consortium
GPIRM:

Global Plan for Insecticide Resistance Management in malaria vectors
LLIN:

Long-lasting insecticidal nets
MPAC:

Malaria Policy Advisory Committee
MOA:

Mode of action
RBM:

Roll Back Malaria partnership
TPP:

Target product profile
VCTEG:

Vector Control Technical Expert Group
VCAG:

Vector Control Advisory Group
WHO:

World Health Organization
Declarations
Acknowledgements
This article is based on a document prepared by the VCTEG as a pre-read for the September 2014 meeting of the MPAC. Members of the VCTEG and MPAC reviewed and provided suggestions for refinement of different versions of the pre-read. Insecticide resistance and entomological capacity data were collected from countries with the assistance of WHO country and regional offices. The President's Malaria Initiative/United States Agency for International Development provided insecticide resistance data for 20 countries of sub-Saharan Africa and Malaria Atlas Project (Catherine Moyes and Antoinette Webb) provided data for 54 countries worldwide.
Authors' Affiliations
(1)
World Health Organization, Geneva, Switzerland
(2)
Swiss Tropical and Public Health Institute, Basel, Switzerland
(3)
University of Basel, Basel, Switzerland
(4)
President's Malaria Initiative, US Agency for International Development, Washington, USA
(5)
Liverpool School of Tropical Medicine, Liverpool, UK
(6)
Africa Leaders Malaria Alliance, Nairobi, Kenya
Copyright
© Abraham et al.; licensee BioMed Central. 2015
This is an Open Access article distributed under the terms of the Creative Commons Attribution License (http://creativecommons.org/licenses/by/4.0), which permits unrestricted use, distribution, and reproduction in any medium, provided the original work is properly credited. The Creative Commons Public Domain Dedication waiver (http://creativecommons.org/publicdomain/zero/1.0/) applies to the data made available in this article, unless otherwise stated.