Where have all the mosquito nets gone? Spatial modelling reveals mosquito net distributions across Tanzania do not target optimal Anopheles mosquito habitats
Malaria Journal
2015
14:322
Received: 5 May 2015
Accepted: 6 August 2015
Published: 19 August 2015
Abstract
Background
Malaria remains the deadliest vector-borne disease despite long-term, costly control efforts. The United Republic of Tanzania has implemented countrywide anti-malarial interventions over more than a decade, including national insecticide-treated net (ITN) rollouts and subsequent monitoring. While previous analyses have compared spatial variation in malaria endemicity with ITN distributions, no study has yet compared Anopheles habitat suitability to determine proper allocation of ITNs. This study assesses where mosquitoes were most likely to thrive before implementation of large-scale ITN interventions in Tanzania and determine if ITN distributions successfully targeted those areas.
Methods
Using Maxent, a species distribution model was constructed relating anopheline mosquito occurrences for 1999–2003 to high resolution environmental observations. A 2011–2012 layer of mosquito net ownership was created using georeferenced data across Tanzania from the Demographic and Health Surveys. The baseline mosquito habitat suitability was compared to subsequent ITN ownership using (1) the average ITN numbers per house and (2) the proportion of households with ≥1 net to test whether national ITN ownership targets have been met and have tracked malaria risk.
Results
Elevation, land cover, and human population distribution outperformed variants of temperature and Normalized Difference Vegetation Index (NDVI) in anopheline distribution models. The spatial distribution of ITN ownership across Tanzania was near-random spatially (Moran's I = 0.07). Householders reported owning 2.488 ITNs on average and 93.41 % of households had ≥1 ITN. Mosquito habitat suitability was statistically unrelated to reported ITN ownership and very weakly to the proportion of households with ≥1 ITN (R2 = 0.051). Proportional ITN ownership/household varied relative to mosquito habitat suitability (Levene's test F = 3.0037). Quantile regression was used to assess trends in ITN ownership among households with the highest and lowest 10 % of ITN ownership. ITN ownership declined significantly toward areas with the highest vector habitat suitability among households with lowest ITN ownership (t = −3.38). In areas with lowest habitat suitability, ITN ownership was consistently higher.
Conclusions
Insecticide-treated net ownership is critical for malaria control. While Tanzania-wide efforts to distribute ITNs has reduced malaria impacts, gaps and variance in ITN ownership are unexpectedly large in areas where malaria risk is highest. Supplemental ITN distributions targeting prime Anopheles habitats are likely to have disproportionate human health benefits.
Keywords
Anopheles mosquitoInsecticide-treated netsITNMalariaModellingNicheSpecies distribution modelsVector
Background
Malaria remains the most deadly of all vector-borne diseases, infecting an estimated 200 million people and causing over 550,000 deaths globally every year [1]. Approximately 90 % of all malaria deaths occur in Africa, where an estimated 78 % of deaths are in children under the age of five [1]. Malaria parasites are transmitted exclusively by Anopheles mosquitoes [2], spurring decades of research not only on the parasite, but also on its widespread vector. The spatial variation in vector-borne disease distributions such as malaria can likely be attributed to variations in environmental conditions (e.g. land cover, temperature, precipitation) and human population distribution that disease vectors depend on for survival [3]. Ecological niche models (ENMs) correlate these environmental factors with georeferenced occurrences of Anopheles mosquitoes to improve detection of spatial and temporal variation in biophysical determinants of these malaria vectors, often at a countrywide or even continent-wide scale [4–8]. Although these modelling methods are rapidly advancing, they have yet to incorporate anti-malarial intervention data, though such approaches have been suggested and encouraged [2]. Anti-malarial controls are not only time-intensive but also financially burdensome, with $5.1 billion US planned but $2.7 billion US expended in 2013 [1]. The synthesis of species distribution modelling (or ecological niche modelling) and large-scale mosquito control methods can offer a new perspective on the potential effects of anti-malarial controls [4].
Insecticide-treated nets (ITNs) are an excellent example of such vector control methods working on a large scale. The percent reduction in malaria deaths in children under the age of five was estimated in 43 sub-Saharan African countries from 2001 to 2010, compared to a baseline in 2000. Some countries reported no reduction by ITN scale-ups, while others reported up to a 26 % decrease in malaria deaths in children under the age of five [9]. In 2014, a record number of ITNs were distributed to malaria-endemic African countries, with the total number of ITNs delivered to Sub-Saharan Africa reaching 427 million [1]. Within the United Republic of Tanzania alone (hereafter Tanzania), an extensive ITN national plan has been implemented over the past 25 years, supported by the Global Fund to Fight AIDS, Tuberculosis and Malaria (GFATM) and the USA President's Malaria Initiative [10]. Since 2004, the Tanzania National Voucher Scheme has provided subsidized ITNs to pregnant women during antenatal visits [11]. Between 2009 and 2010, a mass campaign distributed 8.7 million ITNs across the country, which were free to families with children under the age of five [12]. Despite increases in coverage, analyses of ITN scale-up impacts [9] found only a 3 % reduction in malaria deaths in Tanzanian children under the age of five from 2001 to 2010. In 2011, a Universal Coverage Campaign distributed 17.6 million ITNs nationally with the goal to increase global use in the general population to 80 % [10]. In addition, the GFATM set a national target for Tanzania to increase the proportion of households with at least one ITN to 90 % by 2013 [13].
Numerous analyses have been conducted to determine the effects of ITN use on malaria endemicity [14–17] and on mosquito populations at local scales [18–20], but none have yet compared ITN coverage with mosquito habitat suitability to determine if coverage has been optimally allocated. Environments that favour Anopheles mosquito survival and reproduction, as well as more densely populated areas that facilitate access to hosts and accelerate malaria parasite transmission, will have higher malaria risk. Given mass ITN rollouts, is ITN ownership across Tanzania meeting targets in areas with high mosquito habitat suitability and increased malaria risk? Furthermore, if ITN distributions were optimized to target the most at-risk groups, areas with greater mosquito habitat suitability would be expected to have both greater averages and lower variances in ITN ownership rates (because coverage rates should be consistently high in malaria-endemic areas). Yet, ITN ownership relative to vector suitability remains uncertain even in regions, such as Tanzania, where national household surveys exist to permit such assessments.
Here, a species distribution model is created at 1-km resolution of Anopheles mosquitoes across Tanzania in 2001 (before large-scale ITN distributions) and is compared with countrywide ITN ownership by 2012 (number of ITNs owned per house and proportion of houses with at least one ITN) to assess where mosquitoes were most likely to thrive and whether ITN rollouts ensured coverage of such areas. This study uses the largest collection known of Anopheles mosquito occurrence records in Tanzania available for this time period, including 400 published sources, private data collections and online IR Mapper and the Malaria Atlas Project databases. This study relates species distribution models for Anopheles mosquitoes to ITN ownership and may serve as a template for integrating Anopheles mosquito distributions and disease risk with anti-malaria interventions.
Results
Habitat suitability model
Elevation, human population distribution and land cover provided stronger predictions of mosquito habitat suitability than any temperature- or NDVI-based measurements (Table
1
). Model fits were comparable whether the latter measurements were omitted (AUC = 0.872) or included (AUC = 0.862–0.875). Elevation made the greatest contribution to the model, followed by human population distribution and land cover. Jackknife analysis attributed the maximum training gain to elevation (0.828), which indicates this variable contains the most information that is not present in the other variables (Fig.
5
). Concentrated areas of high habitat suitability are found in low elevation areas, mainly along eastern coastlines and extending into Kilombero Valley and south toward Mozambique (Fig.
6
). Areas surrounding Lake Victoria and north of Lake Malawi also contain extensive areas with high habitat suitability for anopheline mosquitoes. Dense shrub land and cropland/natural vegetation mosaic land covers were associated with higher mosquito habitat suitability. Internal accuracy of the model through the threshold-dependent binomial omission test was also high, with an omission error rate of 7.14 % with a suitability threshold of 0.1 with the omission error rate remaining below 20 % up to a set threshold of 0.25 (n = 56). Removing elevation from Maxent models degraded model fit substantially (AUC = 0.765), increasing proportional contributions of human population distribution and land cover (65 and 25.1 %, respectively), with minor increases in temperature and NDVI (7.1 and 2.8 %, respectively). The final model excluding temperature and NDVI, but maintaining a high AUC value of 0.872, was retained.
Table 1
Contribution of environmental variables to Anopheles Maxent model, including and excluding variants of temperature and NDVI
Variable

% Contribution to model

AUC with variable alone

AUC without variable

Model AUC

Model 1

Elevation

66.2

0.817

0.772

0.869

Human population distribution

28.2

0.727

0.773

Land cover

4.2

0.634

0.865

Mean temperature

1.2

0.615

0.874

Mean NDVI

0

0.593

0.869

Model 2

Elevation

65.9

0.817

0.769

0.875

Human population distribution

28.0

0.727

0.815

Land cover

4.3

0.634

0.870

Max temperature

1.4

0.546

0.876

Max NDVI

0.5

0.542

0.875

Model 3

Elevation

64.3

0.817

0.766

0.862

Human population distribution

27.1

0.727

0.800

Land cover

4.0

0.634

0.857

Min NDVI

2.9

0.606

0.875

Min temperature

1.6

0.575

0.862

Model 4

Elevation

66.5

0.812

0.764

0.872

Human population distribution

28

0.732

0.794

Land cover

5.5

0.640

0.876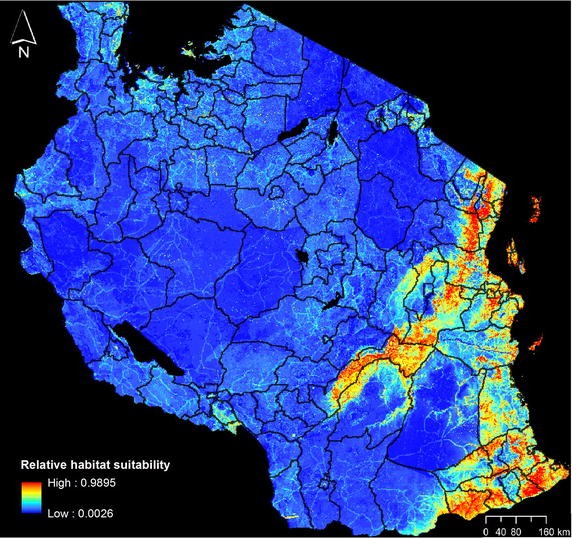 ITN ownership and mosquito habitat suitability
The relationship between the average number of mosquito nets owned per house and mosquito habitat suitability was not significant (p > 0.05, Fig.
7
a). Average mosquito net ownership per house did not significantly differ between rural (2.485 mosquito nets) and urban (2.491 mosquito nets) clusters (t = 0.13, p = 0.8967). Variance did not significantly differ among deciles of habitat suitability (F = 0.7821, p = 0.6331; Fig.
7
b). There is no relationship between mean numbers of ITNs owned per household and predicted habitat suitability among households in areas among highest or lowest mosquito habitat suitability (the top or bottom deciles, or 10 %, of clusters, respectively) (p > 0.05; Fig.
7
a).
There is a slight tendency for the proportion of households with at least one mosquito net to decrease toward areas with higher mosquito habitat suitability (R2 = 0.051, p < 1 × 10−6; Fig. 7c). Overall, 93.41 % of surveyed households had at least one mosquito net (93.51 % in rural households and 93.05 % in urban households). Variance in ITN ownership rates across surveyed households with at least one mosquito net did differ significantly between deciles of habitat suitability (F = 3.0037, p = 0.0015; Fig. 7d). While the 0.9 quantile of the proportion of households with at least one mosquito net showed no significant trend relative to mosquito habitat suitability, the 0.1 quantile of the proportion of households with at least one mosquito net significantly decreased as mosquito habitat suitability increased (β = −0.0753, t = −3.38, p < 0.001; Fig. 7c).
Discussion
The World Health Organization (WHO) estimates ~50 % of African households had access to ≥1 ITN by 2010 but only ~3 % in 2004 [1]. This study's analysis of the DHS survey data across Tanzania from 2011 to 2012 suggests more optimistic results, with >93 % of Tanzanian households having one or more nets, meeting the 90 % national target set for 2013 [13]. There is no difference in ITN ownership rates between rural and urban households. However, the effectiveness of ITN distributions varies among communities, many of which have much lower rates of ITN ownership than national averages. Among such communities, the proportion of households with at least one mosquito net is inversely related to mosquito habitat suitability. There is a clear opportunity to improve ITN effectiveness at a national scale by targeting supplemental net distributions in areas where current ownership rates are low but mosquito habitat suitability peaks. The unexpected decrease in ITN presence in some surveyed areas where malaria risk is high likely contributes to persistent, high malaria morbidity and mortality (20,900 deaths in 2013 [59]). Other factors clearly contribute to malaria persistence, including increasing insecticide resistance among Anopheles mosquitoes in Tanzania [60–62].
It is imperative that ITNs reach households where mosquito habitat suitability, and thus malaria risk, is highest. Areas with higher mosquito habitat suitability were expected to have the most comprehensive ITN coverage and lowest variance in the number and proportion of households with one or more ITNs, but the opposite trends were observed. In areas with the highest anopheline habitat suitability, proportional ITN presence in households declines below both the national targets for ITN coverage (90 %) and the more modest (≥80 %) international targets (77 % of households have ≥1 ITN; Fig. 7c). In other words, the proportion of households reporting no ITN ownership increases in areas where mosquito habitat suitability is highest. This gap in ITN ownership is consequential from a human health perspective but is not detectable using models describing the response variable's central tendency. Coarse resolution analyses have revealed similarly uneven mosquito net use relative to malaria endemicity among 23 African countries [14]. If internal transportation networks through which ITNs and supporting programmes are delivered (e.g. road access) caused local variability in ITN ownership rates, those patterns should have shown strong autocorrelation. Causes of variation in ITN ownership and use need investigation. These include beliefs in malaria risk, trust in health workers distributing nets, perceived benefits of the nets, education, number of children under five in the household, and availability and use of other vector control measures [63].
This study's prediction of mosquito habitat suitability relates strongly to georeferenced malaria cases and to independent distribution models of Anopheles mosquito species in Tanzania. The binomial test of omission was repeated with the fixed threshold of 0.1 to test the model against independently-collected data on unique georeferenced records of Plasmodium falciparum across Tanzania from the MAP website. This study's prediction of mosquito habitat suitability corresponded strongly to malaria records from 1985 to 2008 (model omission rate = 0.1246 for 568 geographically-unique P. falciparum records) as well as those specifically within the 1999–2003 period used in this study (omission rate = 0.1321 for 107 P. falciparum records). Model prediction (based on the fixed threshold of 0.1) was qualitatively consistent with the predicted occurrence maps for An. gambiae, An. arabiensis, An. funestus, and An. gambiae s.s. developed independently [64]. However, this study's model predicted a narrower distribution than Malaria Atlas Project (MAP) predictions, which likely reflects differences in the time period considered and that MAP models are intended for continental applications and have less within-country detail. This study's predictions for An. gambiae s.l. distributions were also constructed using high resolution, regional satellite data and more extensive vector observation data, which may reveal more subtle variation in relative suitability in Anopheles habitats. Although this study's Anopheles training records excluded the Lake Victoria region, this study's model correctly predicted high relative habitat suitability there. This region is a malaria hotspot [65], with malaria steadily spreading to higher altitudes and aggravated by climate variability and poverty [66].
The distribution of anopheline mosquitoes and malaria is strongly influenced by land cover [6, 67] and human population distributions [43, 68] in addition to climatic and topographical factors [43, 69–71]. Elevation also limits Anopheles distributions [4, 43, 72] and its omission from ecological niche models can severely degrade both model fit and prediction accuracy [73]. In this study, mosquito habitat suitability increased particularly in cropland/natural land cover, where irrigation and water pooling are common, and in dense shrublands. Land features, such as soil type, are not directly measured in these satellite land cover data but may help explain such findings through differences in soil water holding capacity that can alter mosquito breeding success [67]. Temperature and NDVI explained little unique variation in habitat suitability, though both can relate to mosquito distributions under some circumstances [4, 8, 72, 74]. Temperature shows relatively little spatial variation across Tanzania except along elevation gradients [75], which are more directly measured by the elevation variable. NDVI relates to vegetation greenness, productivity, and moisture availability, which are also strongly related to mosquito reproduction [76]. However, satellite-based land cover measurements provide similar measurements that may more accurately detect the influences of vegetation on mosquito distributions. Furthermore, highly productive vegetation (i.e. areas with high NDVI) can be found in many regions of Tanzania, including at high elevations that are too cold to permit malaria transmission, eroding the capacity for such measures to discriminate between suitable and unsuitable mosquito habitats at this scale of analysis.
While this study's dataset includes the most comprehensive collection of spatially-unique georeferenced Anopheles records for this region to date, systematic, randomized, broad-scale sampling that identifies species in the An. gambiae complex would be extremely valuable. Presence-only species observations assembled from an array of sources that differ in sampling effort and geographical focus could bias models toward areas with easier access (e.g. roadsides, proximity to research centres). In addition, lack of species-by-species evaluation for the historical period forced the combination of Anopheles species. By combining the occurrence records across the An. gambiae s.l. complex, the applicability of model predictions to particular species is limited (e.g. An. arabiensis inhabits more arid regions than An. gambiae s.s. and An. funestus, better tolerating decreasing precipitation and interruptions in rainfall patterns in certain regions of Tanzania [8]), but the relationship with malaria risk remains very strong. Systematic sampling at the species level, including observations of absence, is needed. ITN ownership and subsequent use may differ depending on which Anopheles species is locally common (e.g. An. arabiensis is more common outdoors [72], rendering it less affected by ITNs than An. gambiae s.s. and An. funestus [77]). Systematic, repeated sampling of Anopheles mosquitoes across Tanzania could significantly improve the capacity to target interventions, and would provide a stronger basis for predicting how distributions of these vectors would change through time [78].
Conclusions
Insecticide-treated nets have been broadly distributed across Tanzania but ownership is uneven and declines in areas where anopheline mosquitoes are concentrated. The combination of species distribution models, drawing on high-resolution satellite information, and georeferenced mosquito net data can provide useful perspective on the effectiveness of such interventions in areas where georeferenced vector and vector control data exist. These techniques are transferrable to other vector-borne disease systems. With 3.2 billion people at risk of malaria infection worldwide [1], the need to control malaria is critical. Linking ITN ownership rates to validated mosquito species distribution models can help optimize allocation of limited resources, reveal gaps in such intervention programmes, and help minimize malaria cases where risk is greatest.
Abbreviations
AIS:

AIDS Indicator Survey
DHS:

Demographic and Health Surveys
ENM:

Ecological niche model
GFATM:

Global fund to fight AIDS, tuberculosis and malaria
ITN:

Insecticide-treated nets
LLIN:

Long-lasting insecticide-treated nets
MAP:

Malaria Atlas Project
MODIS:

Moderate resolution imaging spectroradiometer
NDVI:

Normalized Difference Vegetation Index
SRTM:

Shuttle radar topography mission
WHO:

World Health Organization
Declarations
Authors' contributions
EA and JK conceived of the study. EA performed data collection. All three authors participated in data and statistical analysis. EA drafted the manuscript and AP and JK revised it critically for important intellectual content. All authors read and approved the final manuscript.
Acknowledgements
We would like to thank Dr. Maureen Coetzee, Dr. Marianne Sinka, Dr. Rachelle Desrochers, Dr. Manisha Kulkarni, and Juan Zuloaga for data or advice with the design and data analysis. We would also like to thank the DHS staff for assistance with the DHS survey data. ESA acknowledges the Natural Sciences and Engineering Research Council of Canada (NSERC) and the Queen Elizabeth II Graduate Scholarship in Science and Technology for support, and JTK is grateful for funding for this research, including the NSERC Discovery Grant and University Research Chair support at the University of Ottawa.
Compliance with ethical guidelines
Competing interests The authors declare that they have no competing interests.
Open AccessThis article is distributed under the terms of the Creative Commons Attribution 4.0 International License (http://creativecommons.org/licenses/by/4.0/), which permits unrestricted use, distribution, and reproduction in any medium, provided you give appropriate credit to the original author(s) and the source, provide a link to the Creative Commons license, and indicate if changes were made. The Creative Commons Public Domain Dedication waiver (http://creativecommons.org/publicdomain/zero/1.0/) applies to the data made available in this article, unless otherwise stated.
Authors' Affiliations
(1)
Department of Biology, University of Ottawa, Ottawa, Canada