Use of prospective hospital surveillance data to define spatiotemporal heterogeneity of malaria risk in coastal Kenya
Malaria Journal
2015
14:482
Received: 26 August 2015
Accepted: 19 November 2015
Published: 1 December 2015
Abstract
Background
Malaria in coastal Kenya shows spatial heterogeneity and seasonality, which are important factors to account for when planning an effective control system. Routinely collected data at health facilities can be used as a cost-effective method to acquire information on malaria risk for large areas. Here, data collected at one specific hospital in coastal Kenya were used to assess the ability of such passive surveillance to capture spatiotemporal heterogeneity of malaria and effectiveness of an augmented control system.
Methods
Fever cases were tested for malaria at Msambweni sub-County Referral Hospital, Kwale County, Kenya, from October 2012 to March 2015. Remote sensing data were used to classify the development level of each monitored community and to identify the presence of rice fields nearby. An entomological study was performed to acquire data on the seasonality of malaria vectors in the study area. Rainfall data were obtained from a weather station located in proximity of the study area. Spatial analysis was applied to investigate spatial patterns of malarial and non-malarial fever cases. A space–time Bayesian model was performed to evaluate risk factors and identify locations at high malaria risk. Vector seasonality was analysed using a generalized additive mixed model (GAMM).
Results
Among the 25,779 tested febrile cases, 28.7 % were positive for Plasmodium infection. Malarial and non-malarial fever cases showed a marked spatial heterogeneity. High risk of malaria was linked to patient age, community development level and presence of rice fields. The peak of malaria prevalence was recorded close to rainy seasons, which correspond to periods of high vector abundance. Results from the Bayesian model identified areas with significantly high malaria risk. The model also showed that the low prevalence of malaria recorded during late 2012 and early 2013 was associated with a large-scale bed net distribution initiative in the study area during mid-2012.
Conclusions
The results indicate that the use of passive surveillance was an effective method to detect spatiotemporal patterns of malaria risk in coastal Kenya. Furthermore, it was possible to estimate the impact of extensive bed net distribution on malaria prevalence among local fever cases over time. Passive surveillance based on georeferenced malaria testing is an important tool that control agencies can use to improve the effectiveness of interventions targeting malaria (and other causes of fever) in such high-risk locations.
Keywords
Malaria/epidemiologyMalaria/statistics and numerical dataDistribution/spatialPublic health surveillanceSpatiotemporal analysisGeographic mappingGeographic information systemsKenya
Background
The World Health Organization (WHO) estimates that almost 90 % of malaria-associated mortality occurs in endemic countries of sub-Saharan Africa [1]. Malaria is endemic in Kenya but, as is also the case in the rest of sub-Saharan Africa, transmission intensity has been drastically reduced since early 2000s [2, 3]. This decline is associated with an intensive anti-malaria campaign [4–7] based on massive distribution of long-lasting insecticide-treated bed nets (LLINs), indoor residual spraying (IRS) and the introduction of artemisinin-based combination therapy (ACT) as the first-line treatment for malaria [8, 9].
Malaria transmission patterns are modulated by the interactions between environmental, meteorological and socio-economic factors [10–13]. Spatial heterogeneity of malaria manifests in hot spots of transmission at different ranges of geographical scale [10, 14, 15]. Temporally, these hot spots show a seasonal pattern as well as inter-annual variability [11, 15]. Early detection and prediction of hot spots through an effective surveillance system can help target interventions aimed at reducing the impact of malaria in these areas.
Malaria hot spots have been identified by both passive and active surveillance systems in Kenya. Both systems can capture the space–time pattern of malaria and the impact of control systems on the disease's morbidity [3, 16, 17]. However, in comparison to active surveillance, prevalence and incidence obtained by passive surveillance are more susceptible to population characteristics (e.g., education, wealth status) as well as distance from health care facilities [18, 19]. However, passive surveillance can cover a much larger area at a lower cost compared to active surveillance [15, 20], making it an important monitoring and evaluation tool for policymakers who chose to further enhance their control programs after an initial, but limited, reduction in malaria within endemic areas [3, 9, 21, 22]. In order to use data from health care facilities to estimate effectiveness of control programs, the passive surveillance system has to be based on an adequate testing system [23]. Following WHO guidelines [24], Kenya's public health system has implemented a diagnosis-based malaria treatment policy for all age groups [9]. This policy has streamlined the collection of countrywide data that can be used to target areas with high resource needs for intervention.
Improved malaria testing practices at health care facilities in Kenya have indicated that a high proportion of febrile cases are not linked to Plasmodium infection [25]. Many diseases present in sub-Saharan Africa can manifest malaria-like symptoms, and only testing can lead health care practitioners to make correct diagnoses and subsequently prescribe the correct treatment [26]. While some of these diseases are well known and endemic in Kenya (e.g., influenza, pneumonia, enteric fevers), others are considered to be emerging (e.g., Rift Valley fever, chikungunya, dengue) [27–29].
In this study, data collected from one hospital located in coastal Kenya were used to: (1) calculate the fraction of fevers due to malaria; (2) describe the space–time pattern of malaria occurrence; (3) identify areas where non-malarial fever illnesses were more frequent; and, (4) assess the ability of passive surveillance to capture the short- and long-term effects of enhanced LLIN distribution for local populations at risk for malaria.
Discussion
Fever is the most common symptom exhibited by people seeking health care in Kenya [
41
–
43
]. The study results demonstrated that georeferenced information obtained through testing febrile cases for malaria can be used to evaluate the spatial and temporal heterogeneity in patterns of
Plasmodium
infection in a district-level or sub-county sized study area. Additionally, these data allowed associating a significant effect on the prevalence of malaria among febrile cases with mass deployment of LLINs, (which occurred during the summer of 2012). Finally, the study findings highlighted the presence of clusters of low prevalence of malaria in febrile cases in communities closer to the Indian Ocean shoreline.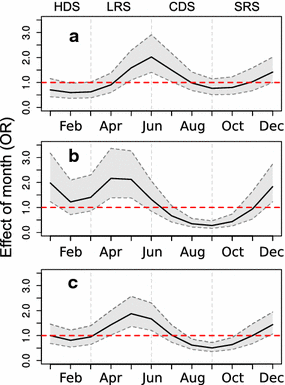 The prevalence of malaria among febrile cases increased following the start of the two rainy seasons, when the frequent rains likely increased the abundance of breeding sites for Anopheles mosquitoes. This effect was more marked in the less developed communities, and could also be statistically linked to the presence of nearby rice paddies. In coastal Kenya, past research has indicated that rice fields become flooded during the rainy seasons and become optimal breeding sites for Anopheles mosquitoes for several months thereafter [44, 45]. The flooding period of paddies typically results in an increase of vector abundance in adjacent communities, likely followed by higher levels of transmission levels of Plasmodium spp. [46].
The seasonal trend of malaria prevalence among febrile cases was significantly associated with mosquito infestation levels recorded in sampled households. A significant reduction was observed in the proportion of infested houses from 2009 to 2013. This can probably be linked to the mass LLIN distribution campaign performed in the study area [47], as similar control efforts have demonstrated a decrease in infestation levels elsewhere [48, 49]. The proportion of fever cases who tested positive for malaria decreased significantly in the months following the mass deployment of LLINs. However, the observed reduction lasted less than 18 months after the distribution of LLINs. These findings are consistent with the previously recorded mean time of effectiveness of LLINs in coastal Kenya [50]. Moreover, studies have shown that bed net use declines after approximately 1 year of utilization as the bed nets are perceived as less effective due to accumulated damage [51–53].
Spatial analysis identified geographical hot spots of malaria risk in the central portion of the study area. The same areas were also indicated as being at high risk by the STAR model, which simultaneously accounted for the presence of rice fields, seasonality and each community's level of development. Model results suggested the presence of additional factors not included as predictors in the performed model that may also play an important role in the spatial heterogeneity of malaria prevalence in surveyed populations. For instance, the model did not include information regarding the socio-economic status of enrolled individuals or other information concerning potentially important larval sites, such as the presence of permanent or seasonal ponds. These factors could have further affected the spatial heterogeneity of malaria prevalence. Such breeding sites (flooded, wet areas) increase the risk of infection in the surrounding communities and, accordingly, malaria hot spots are often identified near these areas [10, 54]. High malaria levels in poor communities can be attributed to the natural materials used to build houses (mud walls and grass-thatched roof), which provide optimal resting places for mosquitoes [55, 56]. However, the aforementioned environmental risk factors can also be found in some more developed communities, and these can increase the risk of malaria for people living in these areas as well [57]. This could explain why the STAR model identified some more developed communities as being at high risk of infection as well.
With regard to age, individuals aged three to 18 years showed a high probability of testing positive for malaria, and individuals 9 years of age had the highest estimated probability of malaria-positive fever. These results are consistent with previous findings based on active surveys performed in communities of the study area [10]. Additional studies in Uganda and Western Kenya [15, 20] have also shown the effectiveness of passive surveillance in identifying age groups that should be targeted by control systems.
Collection of data at health care facilities is more cost-effective than testing for malaria at the community level and can be easily maintained year round [15]. However, these types of data only include those community members who have sought medical attention. Information on malaria prevalence obtained by screening febrile cases cannot be used for accurate estimations of the true malaria prevalence in communities [58, 59]. Nevertheless, the analyses demonstrated that data recorded at health facilities can be used to determine those areas where Plasmodium circulation is very high. Studies performed in Rwanda have shown that active surveillance informed by data previously collected by passive surveillance can be used to analyse malaria hot spots and identify the likelihood of asymptomatic cases at community level [54].
Among the tested febrile cases, 28.5 % tested positive for malaria, which indicates that a wide proportion of febrile cases were due to other causes. Similar low malaria prevalence among febrile cases has been reported in other endemic countries of sub-Saharan Africa [25, 26, 60, 61]. In the study area, fever symptoms recorded in adults and inhabitants of more developed communities were more likely to be linked to non-malaria infections. Community clusters with high non-malaria febrile illness were found close to the coastline where levels of malaria prevalence are low [10]. Several prospective studies have found that febrile cases are often due to bacterial or viral diseases that mimic symptoms of malaria (e.g., dengue, chikungunya, leptospirosis, ehrlichiosis, brucellosis, enteric fevers) [25, 26]. New, emerging diseases are often misdiagnosed as malaria because they have similar symptoms, and this may be especially common for individuals with dengue fever who are, in practice, often treated with anti-malarials but without benefit [28, 62].
Conclusions
The results obtained from data recorded at the Msambweni Hospital allowed describing temporal and spatial of malaria risk. These findings also suggested that passive surveillance can be an effective and low-cost method to monitor the impact of mass LLIN distribution. This information can be used by surveillance and control agencies for more effective targeting of interventions based on LLIN distribution or IRS. Notably, the study results highlighted that the majority of fevers in coastal Kenya were not linked to smear-positive malaria. Improved testing for proper diagnosis of febrile cases at health care facilities could further define geographical hot spots and seasonality of these other competing causes of life-threatening and disabling infections, and, consequently, allow health systems to apply better, cause-specific control.
Abbreviations
LLINs:

long-lasting insecticide-treated bed nets
ACT:

artemisimin-based combination therapy
LRS:

'long rains' season
SRS:

'short rains' season
HDS:

hot dry season
CDS:

cool dry season
STAR:

structured additive regression
GAMM:

generalized additive mixed model
WHO:

World Health Organization
IRS:

indoor residual spraying
AIC:

Akaike information criteria
Declarations
Authors' contributions
CHK, UK and FM conceived and designed the experiments; FM, ADL, PLM, JM, HB, and DM performed the experiments; DB, FM, UK, and CHK analysed the data; DB, UK, CHK, and FM wrote the paper. All authors read and approved the final manuscript.
Acknowledgements
The authors thank communities of all the study villages for their continued support. We also thank the many Vector Borne Disease Control Unit (VBDCU) laboratory technicians, Gibson Waweru, Emily Kurera, Juma Hamadi, Collins Odawo, Henry Maleka, Joyce Bongo, Joyce Bandika, Huessin Mohamend Kitsongo, Lucy Njoka, Said Lipi, Peter Siema, Omar Kallum, Charles Ng'ang'a, Elton Mzungu, and Alex Osore for their dedication and meticulous microscopy. We shall not forget Christine Mambori Lucas for excellent data entry. This research was supported by NIH grants TW008067 (CH King/U Kitron) and AI102918 (AD LaBeaud).
Competing interests
The authors declare that they have no competing interests.
Open AccessThis article is distributed under the terms of the Creative Commons Attribution 4.0 International License (http://creativecommons.org/licenses/by/4.0/), which permits unrestricted use, distribution, and reproduction in any medium, provided you give appropriate credit to the original author(s) and the source, provide a link to the Creative Commons license, and indicate if changes were made. The Creative Commons Public Domain Dedication waiver (http://creativecommons.org/publicdomain/zero/1.0/) applies to the data made available in this article, unless otherwise stated.
Authors' Affiliations
(1)
Department of Environmental Sciences, Emory University, Atlanta, USA
(2)
Department of Environment and Health Sciences, Technical University of Mombasa, Mombasa, Kenya
(3)
Department of Pediatrics, Stanford University, Stanford, USA
(4)
Center for Global Health and Diseases, Case Western Reserve University, Cleveland, USA
(5)
Vector-Borne Diseases Control Unit, Msambweni County Referral Hospital, Kwale, Msambweni, Kenya
(6)
Ministry of Health Kwale County, Mombasa, Kenya
(7)
Vector-Borne Diseases Control Unit, Ministry of Health, Nairobi, Kenya
(8)
Department of Zoology, University of Oxford, Oxford, UK