The role of extracellular vesicles in malaria biology and pathogenesis
Malaria Journal
2017
16:245
Received: 28 March 2017
Accepted: 5 June 2017
Published: 9 June 2017
Abstract
In the past decade, research on the functions of extracellular vesicles in malaria has expanded dramatically. Investigations into the various vesicle types, from both host and parasite origin, has revealed important roles for extracellular vesicles in disease pathogenesis and susceptibility, as well as cell–cell communication and immune responses. Here, work relating to extracellular vesicles in malaria is reviewed, and the areas that remain unknown and require further investigations are highlighted.
Keywords
Extracellular vesiclesExosomesMicroparticlesMicrovesiclePathogenesis Plasmodium Malaria
Conclusions
There has been considerable research on the roles of EVs, originating from either the host or the parasite, in malaria biology and pathogenesis. Host-derived MVs have been implicated in severe malaria pathogenesis. These MVs are released from various cell types, but those of endothelial and platelet origin have been most commonly found to mediate pathology, including induction of cytoadhesion of iRBC, and effects on microvasculature in the brain. EVs of parasitic origin have also been investigated in vivo and in vitro, in both human samples and mouse models. These EVs have been shown to contain parasite material, induce pro-inflammatory responses, transfer functional microRNA, and mediate cell–cell communication between parasites in vitro, allowing a mechanism of nucleic acid exchange as well as quorum sensing (Fig.
1
). Additionally,
Plasmodium
exosomes can induce antibody-mediated immune protection in mouse models, and have the potential to provide more effective vaccine delivery strategies. Nevertheless, it is still unclear what roles these EVs might play during active infection in humans, and what global modulatory effects they have on the host, thus additional research in this field is still warranted.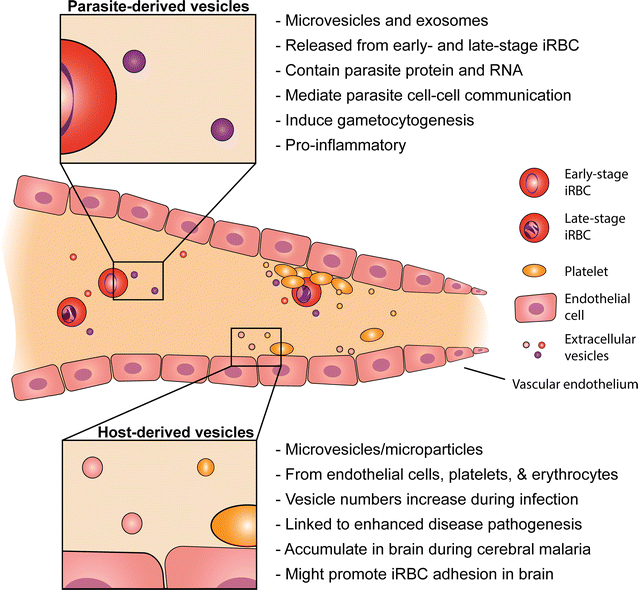 Abbreviations
EV:

extracellular vesicle
MV:

microvesicle
iRBC:

infected red blood cell
uRBC:

uninfected red blood cell
MVB:

multi-vesicular body
Declarations
Authors' contributions
NGS wrote the manuscript; LC and EE critically reviewed the manuscript. All authors read and approved the final manuscript.
Acknowledgements
Not applicable.
Competing interests
The authors declare that they have no competing interests.
Consent for publication
All authors read and approved the manuscript for publication.
Funding
EE was supported by NHMRC Grant APP106722. The funders had no role in study design, data collection and analysis, decision to publish, or preparation of the manuscript.
Publisher's Note
Springer Nature remains neutral with regard to jurisdictional claims in published maps and institutional affiliations.
Open AccessThis article is distributed under the terms of the Creative Commons Attribution 4.0 International License (http://creativecommons.org/licenses/by/4.0/), which permits unrestricted use, distribution, and reproduction in any medium, provided you give appropriate credit to the original author(s) and the source, provide a link to the Creative Commons license, and indicate if changes were made. The Creative Commons Public Domain Dedication waiver (http://creativecommons.org/publicdomain/zero/1.0/) applies to the data made available in this article, unless otherwise stated.
Authors' Affiliations
(1)
Population Health and Immunity Division, Walter and Eliza Hall Institute of Medical Research, Parkville, Australia
(2)
Department of Medical Biology, University of Melbourne, Parkville, Australia
(3)
Department of Biochemistry and Genetics, La Trobe Institute for Molecular Science, La Trobe University, Melbourne, Australia
(4)
Weatherall Institute of Molecular Medicine, University of Oxford, Oxford, UK