In silico epitope mapping and experimental evaluation of the Merozoite Adhesive Erythrocytic Binding Protein (MAEBL) as a malaria vaccine candidate
Received: 24 February 2017
Accepted: 18 December 2017
Published: 10 January 2018
Abstract
Background
Technical limitations for culturing the human malaria parasite Plasmodium vivax have impaired the discovery of vaccine candidates, challenging the malaria eradication agenda. The immunogenicity of the M2 domain of the Merozoite Adhesive Erythrocytic Binding Protein (MAEBL) antigen cloned from the Plasmodium yoelii murine parasite, has been previously demonstrated.
Results
Detailed epitope mapping of MAEBL through immunoinformatics identified several MHCI, MHCII and B cell epitopes throughout the peptide, with several of these lying in the M2 domain and being conserved between P. vivax, P. yoelii and Plasmodium falciparum, hinting that the M2-MAEBL is pan-reactive. This hypothesis was tested through functional assays, showing that P. yoelii M2-MAEBL antisera are able to recognize and inhibit erythrocyte invasion from both P. falciparum and P. vivax parasites isolated from Thai patients, in ex vivo assays. Moreover, the sequence of the M2-MAEBL is shown to be highly conserved between P. vivax isolates from the Amazon and Thailand, indicating that the MAEBL antigen may constitute a vaccine candidate outwitting strain-specific immunity.
Conclusions
The MAEBL antigen is promising candidate towards the development of a malaria vaccine.
Background
Malaria is one of the most nefarious infectious diseases of humans and continues to have a devastating global impact upon health and well-being, mainly among children under the age of five and pregnant women. Annually, about 200 million cases are reported and almost 600,000 deaths occur [1]. Despite the recent relative progress towards a Plasmodium falciparum vaccine, the development of a vaccine to protect individuals from Plasmodium vivax is still incipient, jeopardizing the Malaria Vaccine Roadmap [2], and consequently the whole malaria eradication agenda. Currently, the difficulty to grow P. vivax in vitro for long periods [3] challenges ongoing strategies for identification of novel vaccine candidates against this parasite. Considering these roadblocks, an approach to develop vaccines against P. vivax might rely on the use of malaria antigens conserved amongst species.
Recently, the immunogenicity of M2 MAEBL (Merozoite Adhesive Erythrocytic Binding Protein) domain of Plasmodium yoelii has been demonstrated. This vaccine candidate conferred 90% protection in immunized mice after lethal challenge and corresponding antisera inhibited significantly erythrocyte invasion by P. yoelii [4]. MAEBL is a membrane protein that belongs to the erythrocyte binding protein (ebl) family [5–8] and exhibits homologous regions to the DBL-EBP (Duffy binding like–Erythrocyte binding protein) and to the apical membrane antigen 1 (AMA1) [7–9]. MAEBL is a conserved antigen expressed in blood-stage late forms, in the salivary gland sporozoite and also during the late liver stage [10, 11].
Immunoinformatics, in which computational approaches select the most appropriate vaccine candidate and algorithms predict T- and B-cell immune epitopes [12], is an alternative to overcome limitations imposed by the lack of knowledge in terms of P. vivax biology.
Here, an immunoinformatics strategy was used, that identified the MAEBL antigen as a promising interspecies and interstrain malaria vaccine candidate and the pan-reactivity of the P. yoelii M2-MAEBL antisera against P. falciparum and P. vivax was investigated.
Results
Detailed in silico epitope mapping of the P. yoelii Merozoite Adhesive Erythrocytic Binding Protein (MAEBL)
MHC class I and II epitope mapping
In silico epitope mapping identified two predicted epitopes for MHC class I, for each of the H-2Kb and H-2Db alleles (Additional file 2). Epitope QNYYSFTNL for the H-2Kb allele presented the highest score between all programs used, whereas the NQNINLVKL epitope for allele H-2Db was among the top ten with the highest scores. Initial epitope screening for MHC class II using Rankpep resulted in the identification of 19 epitopes. However, after further analysis with IEDB and NetMHCII, only two epitopes were common between all softwares (Additional file 2).
B-cell epitope mapping
Using BCPRED, 35 predicted epitopes with a score above 0.8 were identified. Each of these was further analysed using Vaxijen software in order to confirm antigenicity, resulting in a total of 25 epitopes with a score higher than 0.5 (Additional file
3
). BLAST searches with these epitopes against human malaria parasite sequences revealed that 12 epitopes present homology to both
P. falciparum
and
P. vivax
sequences. Although epitopes were largely scattered evenly throughout the peptide (Fig.
2
), interestingly, 8 out of these 12 conserved epitopes fall within the M2 domain of MAEBL (Additional file
3
, Fig.
2
).

Immunofluorescence and invasion inhibition assays with P. falciparum and P. vivax isolates
Bearing in mind the conserved feature of MAEBL amongst
Plasmodium
species, investigated the ability of
P. yoelii
M2-MAEBL antisera pool was investigated as previous described [
39
], to recognize blood schizonts of
P. falciparum
(3D7) and
P. vivax
harvested from infected patients. Their reactivity was analysed by indirect immunofluorescence assay (IFA). As shown in Figs.
3
a, b,
P. yoelii
antisera raised against M2-MAEBL recombinant protein cross-react with both human parasites. Although the pattern observed at the IFA (Fig.
3
a, b) is different from the one previously observed at the Leite et al. [
4
]. As a control, sera from mice injected with complete/incomplete Freund's adjuvant (CFA/IFA) were used. To further validate the pan reactivity of the anti-sera raised against the M2 region of the PyMAEBL protein the sera against HEK cells expressing on their surface PvMAEBL or PfMAEBL fragments or unrelated antigens was tested. Only HEK cells expressing the PvMAEBL and the PfMAEBL showed reactivity (Fig.
4
). Next, to verify if M2-MAEBL antisera cross-reactivity could interfere on the parasite invasion process to erythrocytes, functional ex vivo invasion assays using two
P. falciparum
and four
P. vivax
isolates were performed. The MAEBL antisera inhibited up to 40–60% invasion of the FVT402
P. falciparum
isolate; however, no inhibition was observed for the MKK183 isolate (Fig.
3
c). Nevertheless, Prime Boost (PB) (described in "
Methods
" section) or MAEBL antisera inhibited at higher levels the FVT402 isolate than the 3D7
P. falciparum
culture. As expected, no newly invaded erythrocytes were observed when the protease inhibitor E64 was added to the assays. Functional invasion analyses using different
P. vivax
isolates (Fig.
3
d) demonstrated that
P. yoelii
M2-MAEBL antisera (PB and MAEBL) inhibited erythrocyte invasion by most of the isolates tested. Inhibition levels (up to 90%) observed were comparable to anti-Duffy antibodies, which block the DARC receptor essential for
P. vivax
invasion, however no statistical difference was observed. In general, PB antisera inhibited invasion at higher levels than MAEBL, probably due to the difference between immunization regimens. No inhibition was observed in the presence of sera from mice immunized with only CFA/IFA.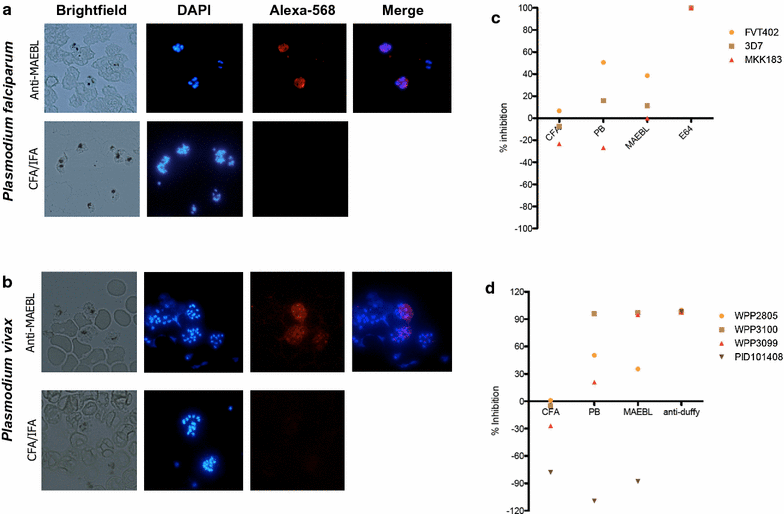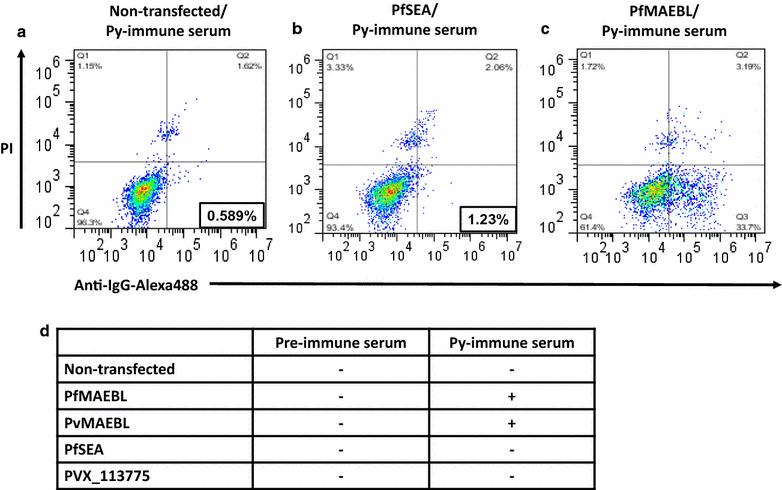 Alignment of the M2 maebl domain sequences
The M2 maebl domain of P. vivax of nine patients from three different areas in the Amazon was sequenced (Additional file 4). The isolates were compared to three Thai isolates as well as the reference strain Sal-1 sequences previously deposited in PlasmoDB. A high degree of similarity was observed among all sequences, with only two SNPs differentiating the Brazilian and Sal-1 sequences from Thai parasites (Additional file 4). These findings may largely explain the similar inhibitory levels observed in functional assays amongst different isolates and reinforce the validity of using the P. vivax Sal-1 strain genome available at PlasmoDB for immunoinformatics analysis.
Discussion
Functional assays from previous work have suggested that MAEBL is a suitable malaria vaccine candidate [4]. For this reason, MAEBL was studied in further detail here, through a conjugation of detailed epitope mapping in silico and further experimental evaluation. Epitope mapping identified four MHC classes I and II putative epitopes within the P. yoelii MAEBL antigen, which resulted from a consensus between different prediction programs. It has been shown that MAEBL is expressed not only in blood stages, but also in midgut and salivary gland sporozoites [11, 40, 41] suggesting that it may be important for the establishment of a successful pre-erythrocytic infection of the parasite. As such, in light of the discovery of a malaria vaccine, selecting antigens that present MHC class I and II epitopes should be prioritized given the mounting evidence that antigen-specific CD8+ and CD4+ immune responses contribute for protection from sporozoite challenge both in animal models and human malaria [42]. In addition, it was determined that the MAEBL antigen contains at least 25 predicted B-cell epitopes that are likely to elicit antibody-dependent immune responses, which have been widely shown to be important for protection against blood-stage antigens [42]. Although these epitopes were scattered throughout different domains of MAEBL, more than half of them (fourteen) are located within the M1 and M2 ligand domains, which have been confirmed to bind to mouse erythrocytes [9], suggesting their role in cell invasion. Moreover, all but one of these fourteen epitopes lying in the M1 and M2 domains are conserved between P. yoelii, P. vivax and P. falciparum. It has been shown that a particular epitope (YVSSFIRPDYETKCPPRYPL) present in the P. falciparum MAEBL M2 domain is highly immunogenic and capable of binding human HLA with high avidity [43]. Interestingly, the present bioinformatics predictions identified an epitope with a very similar sequence (SSFIRPDYETKCPPRYPL) that is conserved between P. yoelii, P. falciparum and P. vivax. Since the M2 peptide was used here in the immunization experiments, the extant conservation of this and the other epitopes may largely explain the pan-reactivity observed and further suggests that this peptide may be a promising candidate for a malaria vaccine targeting more than one parasite species. In fact, previous experimental MAEBL epitope mapping revealed that anti-MAEBL IgM and IgG antibodies displayed strong responses against fragments located in the M2 region [4].
Plasmodium merozoites may use multiple pathways to invade red blood cells. The latter point is supported by data from previous experiments in which MAEBL knockout Plasmodium berghei strain ANKA parasites were still able to invade red blood cells in vivo [11]. Although erythrocyte invasion by Plasmodium merozoites seems to be largely host-specific, different Plasmodium species keep several structurally and functionally homologous adhesins that play important roles during invasion, which enable them to, in some cases, invade red cells of heterologous host species [44]. It was shown that proteins from P. falciparum and P. yoelii bound to heterologous host red cell receptors, likely through their conserved motifs; suggesting homologies between Plasmodium ligands [44]. Bioinformatics analyses show high similarities between the functional and genomic sequences across Plasmodium species [45, 46]. Also, studies suggest preservation of erythrocyte binding function of phylogenetically distant Plasmodium species [45]. These observations indicate that interspecies conserved epitopes that map within conserved functional motifs could be promising candidates for the development of effective vaccines.
MAEBL is an antigen expressed during the blood and liver stages and is essential for sporozoite invasion of mosquito salivary glands [11]. MAEBL is also implicated in the invasion of merozoites into new erythrocytes, though not essential at this stage. The ability of anti-MAEBL antibodies to inhibit the invasion of merozoites of P. falciparum was demonstrated here. Considering that MAEBL seems to be a highly conserved antigen and expressed at different parasite stages, determination of its potential as a vaccine is paramount. Indeed, it has recently been shown that M2 MAEBL immunization confers 90% mice survival against lethal challenge with P. yoelii parasites [4].
Furthermore, the pan-reactivity of the anti-sera raised against rPyM2-MAEBL was revealed, which is based on the M2 domain of the P. yoelii MAEBL antigen. In addition, the fact that HEK cells expressing the PvMAEBL and the PfMAEBL showed reactivity presents a counter proof of the pan-reactivity of the anti-sera raised against the PyMAEBL M2 region and thus validated the ex vivo assays. An IFA pattern different from the article published by Leite et al. Was detected [4]. Here, a cytosolic staining was observed and previously an apical staining was described. This difference could be justified by the fact that the anti-serum could recognize different Plasmodium proteins. These antibodies were able to recognize and inhibit at high levels the invasion of P. falciparum and P. vivax (mainly) collected from infected patients in Thailand, suggesting that antibodies against one Plasmodium species recognize several antigens from other species [34, 47, 48] and the presence of homologous molecules with interspecies conserved epitopes.
Conclusions
Combined immunoinformatics and experimental approach strategies confirmed the potential of the MAEBL antigen as a malaria vaccine candidate. Whilst the MAEBL may be unlikely to confer sterile immunity if used as the sole component of a vaccine, it may be combined with other antigens towards the synthesis of a fully effective chimeric subunit vaccine. Moreover, the P. yoelii mouse model can be used to test human malaria parasite antigens for their immunogenicity and efficacy as vaccine candidates.
Declarations
Authors' contributions
PC, RBM, TL and LA performed the immunoinformatics and sequence analyses. JAL, RS, NB, CJ, SCPL, BR and YSG carried out laboratory work. MVGL, DYB, MUF, ISS, FN and LR participated in the data analyses and helped to draft the manuscript. PC and FTMC conceived the study and wrote the final version of the manuscript. All authors read and approved the final manucsript.
Acknowledgements
We would like to thank Professor Francois Nosten (Mahidol-Oxford Tropical Medicine Research Unit, Mahidol University, Thailand) for providing the P. vivax UMS203 infected red blood cells which were obtained from malaria patients at Shoklo Malaria Research Unit, Tak province, Thailand.
Competing interests
The authors declare they have no competing interests.
Availability of data and materials
All data and materials are available upon request.
Consent for publication
Not applicable.
Ethics approval and consent to participate
All animal experiments and procedures were performed in accordance with relevant guidelines and regulations of the Ethical Committee for Animal Research of the University of Campinas and were approved under Protocol No. 1437-1.
Clinical isolates of P. vivax and P. falciparum infected blood from malaria Thai patients were collected at Shoklo Malaria Research Unit (Thailand) with written informed consent. All samples above were collected in accordance with relevant ethical guidelines and regulations of the University of Oxford, Centre for Clinical Vaccinology and Tropical Medicine and the Ethics committee of Faculty of Tropical Medicine, Mahidol University, under the approved protocols OXTREC 027-025 and MUTM 2008-215 from.
Samples from patients in the Amazon were collected after informed consent was obtained from each subject and in accordance with relevant guidelines and regulations of the ethics committee of the Fundação de Medicina Tropical—Dr. Heitor Vieira Dourado (protocol CAAE-0044.0.114.000-11).
Funding
This work was supported by Fundação de Amparo à Pesquisa do Estado de São Paulo (FAPESP—Grant # 2012/16525-2), Instituto Nacional de Ciência e Tecnologia de Vacinas (INCTV) and the Conselho Nacional de Desenvolvimento Científico e Tecnológico (CNPq). RBM was supported by a CAPES fellowship. JAL and NB were sponsored by FAPESP fellowships. CC was supported by a CNPq fellowship. PC, MVGL, MUF and FTMC are CNPq research fellows in productivity. This study and RS and BR received funding from SIgN under the Agency for Science, Technology and Research (A*STAR, Singapore).
Publisher's Note
Springer Nature remains neutral with regard to jurisdictional claims in published maps and institutional affiliations.
Open AccessThis article is distributed under the terms of the Creative Commons Attribution 4.0 International License (http://creativecommons.org/licenses/by/4.0/), which permits unrestricted use, distribution, and reproduction in any medium, provided you give appropriate credit to the original author(s) and the source, provide a link to the Creative Commons license, and indicate if changes were made. The Creative Commons Public Domain Dedication waiver (http://creativecommons.org/publicdomain/zero/1.0/) applies to the data made available in this article, unless otherwise stated.
Authors' Affiliations
(1)
Global Health and Tropical Medicine Centre (GHTM), Instituto de Higiene e Medicina Tropical (IHMT), Universidade Nova de Lisboa, Lisbon, Portugal
(2)
GenoBio, Instituto de Patologia Tropical e Saúde Pública, Universidade Federal de Goiás, Goiânia, Brazil
(3)
PPG-SOMA, Centro Universitário de Anápolis, Anápolis, Brazil
(4)
Laboratory of Tropical Diseases-Prof. Dr. Luiz Jacintho da Silva, Department of Genetics, Evolution, Microbiology and Immunology, University of Campinas-UNICAMP, Campinas, Brazil
(5)
Singapore Immunology Network, Agency for Science, Technology and Research (A*STAR), Singapore, Singapore
(6)
Instituto Carlos Chagas, Fundação Oswaldo Cruz-FIOCRUZ, Curitiba, Brazil
(7)
Instituto Leônidas e Maria Deane, Fundação Oswaldo Cruz-FIOCRUZ, Manaus, Brazil
(8)
Fundação de Medicina Tropical-Dr. Heitor Vieira Dourado, Gerência de Malária, Manaus, Brazil
(9)
Department of Parasitology, University of São Paulo-USP, São Paulo, Brazil
(10)
Department of Clinical and Toxicological Analyses, Pharmaceutical Sciences, University of São Paulo-USP, São Paulo, Brazil
(11)
Shoklo Malaria Research Unit, Mahidol Oxford Tropical Medicine Research Unit, Faculty of Tropical Medicine, Mahidol University, Mae Sot, Thailand
(12)
Department of Microbiology and Immunology, University of Otago, Dunedin, New Zealand