Plasmodial sugar transporters as anti-malarial drug targets and comparisons with other protozoa
Malaria Journal
2011
10:165
Received: 3 April 2011
Accepted: 15 June 2011
Published: 15 June 2011
Abstract
Glucose is the primary source of energy and a key substrate for most cells. Inhibition of cellular glucose uptake (the first step in its utilization) has, therefore, received attention as a potential therapeutic strategy to treat various unrelated diseases including malaria and cancers. For malaria, blood forms of parasites rely almost entirely on glycolysis for energy production and, without energy stores, they are dependent on the constant uptake of glucose. Plasmodium falciparum is the most dangerous human malarial parasite and its hexose transporter has been identified as being the major glucose transporter. In this review, recent progress regarding the validation and development of the P. falciparum hexose transporter as a drug target is described, highlighting the importance of robust target validation through both chemical and genetic methods. Therapeutic targeting potential of hexose transporters of other protozoan pathogens is also reviewed and discussed.
Keywords
MalariaArtesunateCutaneous LeishmaniasisBabesiaBlood Stage
Background - Malaria burden and drug resistance
Today drug-resistant malaria is a persistent global health threat, resulting in an estimated one million human deaths worldwide. Of all malarial species, infection with Plasmodium falciparum is the cause of the greatest death toll, hitting sub-Saharan Africa hardest. Following the emergence of chloroquine resistance more than half a century ago, new drugs were introduced as alternative treatment regimens. The efficacy of these drugs deteriorated quickly, for some of them at an alarming rate, as malarial parasites evolved multiple mechanisms of drug resistance. For example, the first reports of sulphadoxine-pyrimethamine and atovaquone resistance arrived in the same year as their introduction [1]. With worsening resistance to all available anti-malarials in Southeast Asia, artemisinins, extracted from a plant used in traditional Chinese medicine for over two millennia, found worldwide application. Artemisinins are highly potent and safe anti-malarials, which are effective against multidrug-resistant P. falciparum[2–5].
One of the major goals identified to control malaria has been to prolong the lifespan of existing drugs by using drug-combination treatments. Artemisinin-based combination therapy (ACT) today includes artesunate-mefloquine, artemether-lumefantrine, artesunate-amodiaquine, artesunate-sulphadoxine-pyrimethamine and dihydroartemisinin-piperaquine [6]. ACT is currently recommended by WHO as the first-line treatment for uncomplicated malaria whereas recommendations for the treatment of severe malaria include artesunate or quinine given parenterally, followed by a course of an ACT [6]. Given the essential role of artemisinins in anti-malarial treatment, it is of great concern that resistance to artemisinins has recently emerged at the Thai-Cambodian border region [7–9]. While immediate action is necessary to conquer the spread of artemisinin resistance, the development of new tools to tackle malaria is even more urgent. The availability of the complete P. falciparum genome has facilitated identification of a series of novel candidate targets. This includes a large number of solute transport proteins that are underexploited as potential anti-malarial targets [10]. Here we describe recent advances in the development of the P. falciparum hexose transporter, PfHT, as a novel drug target.
Conclusions
Hexose transporters of the three most pathogenic malarial parasites,
P. falciparum
,
P. vivax
and
P. knowlesi
, have been validated as novel drug targets. In addition to an essential role of plasmodial hexose transporters during parasite blood stages, these transporters may also have a crucial role for liver and insect stages of malarial parasite life cycles (see Figure
4
for summary).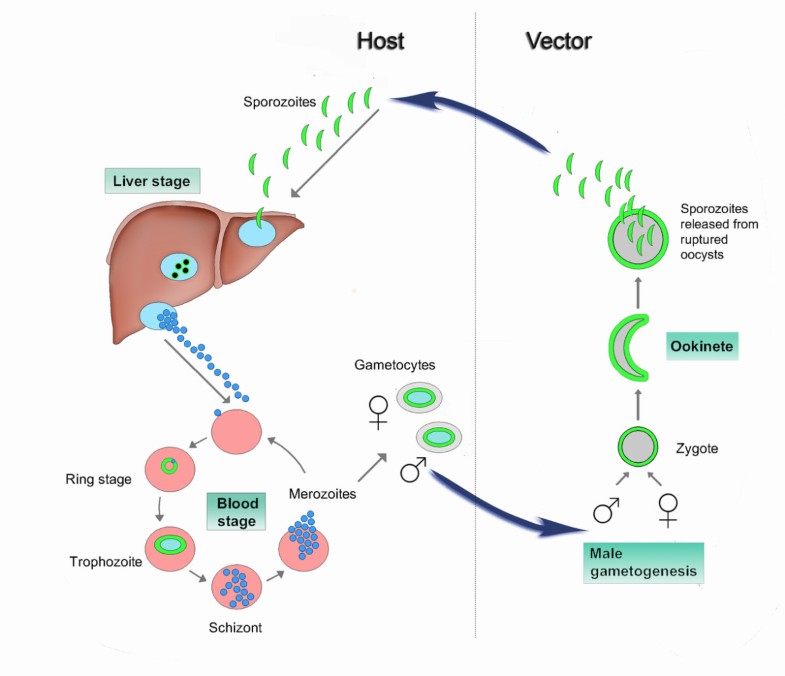 Glucose transport has also been found to be essential for the viability of T. brucei and L. mexicana infectious stages. Thus, inhibition of hexose transport may present an attractive approach in the development of other new anti-parasitic drugs, in addition to the discovery of novel anti-malarials.
Abbreviations
BboHT1:

Babesia bovis hexose transporter 1
GLUT1/5:

mammalian facilitative glucose transporter 1/5
LmGT1/3:

Leishmania mexicana glucose transporter 1/3
PfHT:

Plasmodium falciparum hexose transporter
THT1/2:

Trypanosoma brucei hexose transporter 1/2.
Declarations
Acknowledgements and Funding
This work was funded by European Commission projects ANTIMAL (Grant No. 018834) and MALSIG (Grant No. 223044) and the Wellcome Trust (Grant No. 076441). HMS is a Research Career Development Wellcome Trust Fellow.
Authors' Affiliations
(1)
Centre for Infection, Division of Cellular and Molecular Medicine, St. George's, University of London, London, UK
(2)
Centre for Parasitic Zoonoses, Institute for Medical Research, University of Belgrade, Belgrade, Serbia
Copyright
© Slavic et al; licensee BioMed Central Ltd. 2011
This article is published under license to BioMed Central Ltd. This is an Open Access article distributed under the terms of the Creative Commons Attribution License (http://creativecommons.org/licenses/by/2.0), which permits unrestricted use, distribution, and reproduction in any medium, provided the original work is properly cited.