Human cerebral malaria and Plasmodium falciparum genotypes in Malawi
Received: 15 November 2011
Accepted: 7 February 2012
Published: 7 February 2012
Abstract
Background
Cerebral malaria, a severe form of Plasmodium falciparum infection, is an important cause of mortality in sub-Saharan African children. A Taqman 24 Single Nucleotide Polymorphisms (SNP) molecular barcode assay was developed for use in laboratory parasites which estimates genotype number and identifies the predominant genotype.
Methods
The 24 SNP assay was used to determine predominant genotypes in blood and tissues from autopsy and clinical patients with cerebral malaria.
Results
Single genotypes were shared between the peripheral blood, the brain, and other tissues of cerebral malaria patients, while malaria-infected patients who died of non-malarial causes had mixed genetic signatures in tissues examined. Children with retinopathy-positive cerebral malaria had significantly less complex infections than those without retinopathy (OR = 3.7, 95% CI [1.51-9.10]).The complexity of infections significantly decreased over the malaria season in retinopathy-positive patients compared to retinopathy-negative patients.
Conclusions
Cerebral malaria patients harbour a single or small set of predominant parasites; patients with incidental parasitaemia sustain infections involving diverse genotypes. Limited diversity in the peripheral blood of cerebral malaria patients and correlation with tissues supports peripheral blood samples as appropriate for genome-wide association studies of parasite determinants of pathogenicity.
Keywords
Plasmodium falciparum Cerebral malariaGenotypingMolecular barcodeHistopathologyAutopsy
Background
The global Plasmodium falciparum parasite population is highly diverse, especially in antigens transported to the erythrocyte surface where they can interact with the human immune system [1, 2]. The major question being addressed, "Are there parasite genetic determinants of cerebral malaria and can we identify them?" requires careful step-wise considerations. Background multiplicity of Plasmodium falciparum infection in both asymptomatic and symptomatic individuals is high in Malawi due to intense transmission. Several sequencing approaches using material directly from tissue or peripheral blood have been useful for SNP discovery at the population level. Understanding sequencing data from mixed infections however has been difficult to interpret and quantify for an individual parasite genotype within a single patient. Previously, attempts to evaluate individual var gene transcripts from patients by sequencing showed a vast array of clones per patient [3]. Therefore, this study steps back and asks the question at the whole-genome level.
Previously, a 24 marker, single nucleotide polymorphisms (SNP) TaqMan assay (i.e. a molecular barcode) was developed for genotyping P. falciparum parasites in the laboratory and it was introduced here for the current field study of clinical samples [4]. The molecular barcode assigns a unique identity to parasite clones, which can be followed during in vitro culture. SNPs, which are fixed mutations in a population, are theoretically not prone (as is the case with multiple repeat regions) to alterations from season to season or during culture adaptation. The molecular barcode is simpler to perform than capillary electrophoresis with msp-1 and -2 and requires only an RT-PCR device; thus, it is amenable to field deployment. The molecular barcoding is used in the present study: a) to evaluate the performance of the tool in clinical samples which are likely to be a mixture of multiple clones, and b) to understand the possible quantitative proportion data provided by this technique in field samples.
The initial approach was to explore the performance of the molecular barcode in autopsy tissue and blood in patients with retinopathy-positive and retinopathy-negative cerebral malaria, comparing the barcode results with msp-1 and -2 data [5]. The molecular barcode was then analysed exclusively in the peripheral blood of living patients with clinically defined cerebral malaria, comparing results in patients with and without malarial retinopathy.
Three hypotheses were tested:
1 The P. falciparum variant(s) in the peripheral blood mirror those in the tissues (as suggested from indirect evidence [6]). Support for this hypothesis would facilitate studies of malaria pathogenesis because parasites in the peripheral blood are more readily accessible than those in the relevant tissues.
2 The molecular barcode corroborates previously published data suggesting that more severe malaria illnesses are associated with less complex infections [5, 7–11]. Important co-factors were included in this analysis, one of these being the date of admission (i.e. time point in the malaria season), since increasing acquisition of immunity during the course of a season might have an effect on clinical infections.
3 Patients with cerebral malaria have a single predominant parasite genotype.
Results
Sample collection and performance of the molecular barcode
A total of 114 tissues samples (six organs from 19 autopsies) plus six peripheral blood samples from six of the 19 autopsy patients were analysed in the retrospective study. Prospectively, 137 patients had peripheral blood collected on FTA, of whom 25 patients were excluded either because they had either insufficient DNA by quantification or because they had no evidence of peripheral parasitaemia on microscopy. For the 112 patient samples that were barcoded, a total of 2,736 individual SNP assays were performed, with 207 reaction failures (7.6%) and 466 heterozygous calls (17%); the baseline allele frequencies were different between the study population and the global collection previously studied, with one assay (SNP 14A) being non-informative in the Malawi samples (Table
1
and Additional File
2
: Table S2) [
4
]. The molecular barcodes of 103 patients were analysed, 69 with and 34 without malaria retinopathy; nine samples were excluded owing to greater than five failed reactions out of 24. Fifty-two samples contained single/low complexity infections (zero, one, or two heterozygous calls) while 51 samples had more complex populations (≥ three heterozygous calls, maximum number observed in a sample = 19).
Table 1
Comparison of baseline characteristics of (A) the 19 autopsy patients presented in the first part of the study and (B) the admitted patients presenting with or without features of malaria retinopathy in the second part of the study
| Characteristic | Cerebral Malaria (+/− SMA) | Non-CM (including SMA) | P* |
| --- | --- | --- | --- |
| | (N = 10) | (N = 9) | |
| | Median (IQR) | | |
| Age [months] | 24 (18-70) | 25.5 (17-39) | 0.64 |
| Time [weeks]† | 13.6 (9.4 - 16.4) | 10 (9-14.3) | 0.49 |
| Haematocrit [%] | 18 (14-31) | 29.5 (22-40) | 0.15 |
| Parasitaemia [p/ul] | 275,200 (11,399-572,880) | 98,518 (4,716-286,850) | 0.25 |
| Characteristic | Retinopathy Positive (N = 69) | Retinopathy Negative (N = 34) | P* |
| | Median (IQR) | | |
| Age [months] | 38 (25-56) | 51 (31-67) | 0.19 |
| Time [weeks]† | 7.4 (4.3, 12.9) | 10.4 (4.1, 17.4) | 0.44 |
| Haematocrit [%] | 22 (18, 27) | 30 (25, 34) | 0.0003 |
| Parasitaemia [p/ul] | 101,176 (31,590-366,070) | 70,230 (42,871-211,680) | 0.71 |
Hypothesis 1: Retrospective autopsy study shows limited parasite complexity in brain and tissue of cerebral malaria patients
Autopsy material was analysed and the genotypes of parasites sequestered in tissues and circulating in the peripheral blood were determined (Figure
1
and Table
2
). The parasite molecular barcodes across tissues within an individual were nearly identical (i.e. parasites found in the heart, lungs, colon, and, when available, peripheral blood, were the same as those found in the brain - Figure
2
and Additional File
3
) in patients with retinopathy-positive CM (with or without severe anaemia). It is important to note that this included some mixed infections (i.e. many heterozygous calls), primarily in the CM + SMA patients, that were still conserved across tissues, suggesting the total body population was composed of the same mixture of
P. falciparum
genetic variants. More complex infections with heterogeneity across tissues were found more commonly in the patients without evidence of retinopathy who had a range of other demonstrable causes of death. In addition, the peripheral blood reflected the extent of parasite complexity found in tissues (Additional File
3
).
Table 2
Comparison of the major alleles encountered in the Malawi consecutive patient data set in one season (n = 112) compared with the same allele for the set of global parasites previously published (n = 114).
| Assay | Malawi | Original | Difference | z-score | p-value |
| --- | --- | --- | --- | --- | --- |
| 1 | 0.6446 | 0.8690 | 0.2244 | -7.1029 | <0.05 |
| 2 | 0.9099 | 0.8475 | 0.0625 | 1.8546 | NS |
| 3 | 0.6591 | 0.6885 | 0.0294 | -0.6786 | NS |
| 4 | 0.8182 | 0.6446 | 0.1736 | 3.8716 | <0.05 |
| 5 | 0.7653 | 0.7698 | 0.0045 | -0.1150 | NS |
| 6 | 0.6269 | 0.6154 | 0.0115 | 0.2520 | NS |
| 7 | 0.6270 | 0.4640 | 0.1630 | 3.4894 | <0.05 |
| 8 | 0.8130 | 0.8034 | 0.0096 | 0.2576 | NS |
| 9 | 0.7481 | 0.5873 | 0.1608 | 3.4871 | <0.05 |
| 10 | 0.6391 | 0.6111 | 0.0280 | 0.6130 | NS |
| 11 | 0.6529 | 0.3220 | 0.3309 | 7.5603 | <0.05 |
| 12 | 0.5620 | 0.4274 | 0.1346 | 2.9058 | <0.05 |
| 13 | 0.6504 | 0.5289 | 0.1215 | 2.5985 | <0.05 |
| 14 | 0.7241 | 0.6239 | 0.1002 | 2.2087 | <0.05 |
| 15 | 0.5489 | 0.5124 | 0.0365 | 0.7791 | NS |
| 16 | 0.7652 | 0.4872 | 0.2780 | 5.9392 | <0.05 |
| 17 | 0.5556 | 0.6032 | 0.0476 | -1.0392 | NS |
| 18 | 0.6330 | 0.5124 | 0.1206 | 2.5768 | <0.05 |
| 19 | 0.5909 | 0.6250 | 0.0341 | -0.7519 | NS |
| 20 | 0.6692 | 0.6230 | 0.0462 | 1.0183 | NS |
| 21 | 0.5231 | 0.4318 | 0.0913 | 1.9671 | <0.05 |
| 22 | 0.5766 | 0.3953 | 0.1813 | 3.9591 | <0.05 |
| 23 | 0.6866 | 0.6518 | 0.0348 | 0.7795 | NS |
| 24 | 0.9231 | 0.5897 | 0.3333 | 7.2356 | <0.05 |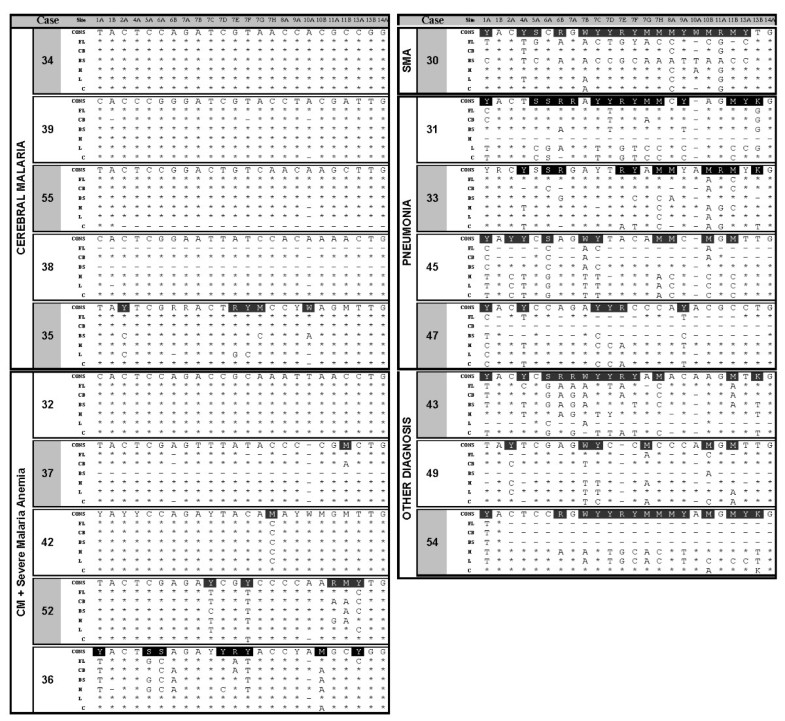 Hypothesis 2: Prospective clinical study shows limited parasite complexity in peripheral blood of patients with cerebral malaria
When comparing retinopathy-positive to retinopathy-negative clinical patients, 77% of retinopathy-positive patients had single/low complexity infections including 28 samples with zero heterozygous calls suggesting a single genotype (Figure
3
). The unadjusted OR for having positive malarial retinopathy in individuals with a low complex infection was 3.70. A sensitivity analysis was performed using only molecular barcodes with one failure, etc. up to five failures within an individual barcode and the same unadjusted odds ratio was calculated (3.7-4.2), which was significant (
P
-value < 0.01). Patients with and without malaria retinopathy were clinically similar except for haematocrit (retinopathy-positive < < retinopathy-negative; Table
2
). When adjusted for haematocrit, parasite density (confounding variable), and the effect of time, the OR for a single/less complex (ci more complex) infection having retinopathy was 4.8 (Table
3
).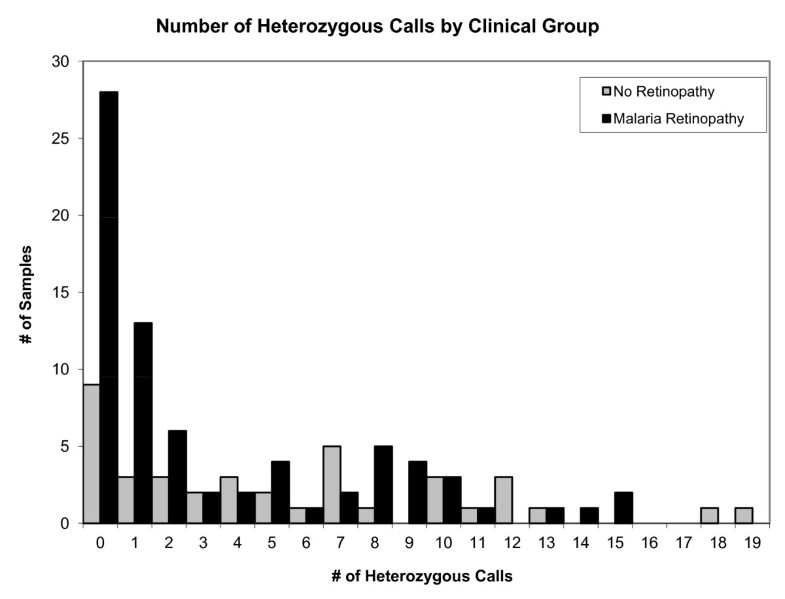 Table 3
Association between malaria retinopathy and infections caused by a single/less complex genotypes (vs three or more).
Single/Less Complex

Genotype

Multiple

Genotypes

(< 3 Het. Calls)

(=3 Het. Calls)

(N = 52)

(N = 51)

Retinopathy

42 (81%)

27 (53%)

No retinopathy

10

24

Logistic Regression

(N = 67 with and 32 without retinopathy)

Unadjusted Model†

OR

(95% CI)

P*

Single/Less Complex (vs. 3 Hets)

3.7

(1.51-9.10)

0.003

Adjusted Model†

Single/Less Complex (vs. ≥ 3 Hets)

4.82

(1.59-14.30)

0.003

Hematocrit

0.84

(0.79, 0.96)

< 0.0001

Parasites/μl (natural logarithm)

1.36

(0.996, 1.85)

0.046

Time (weeks from January until date of sample collection)

0.87

(0.77-0.92)

0.001
Hypothesis 3: There is not a single genotype that causes cerebral malaria
Despite the preponderance of single/less complex parasite populations in cerebral malaria patients, there was no unique genotype or group of genotypes associated with cerebral malaria in different patients.
Observation: The genetic complexity of infections decreased over the malaria season
The complexity of infections in both patient groups decreased over the six months during which data were collected (i.e. from start to end of the malaria season). Retinopathy-positive CM patients had consistently and significantly fewer heterozygous calls per patient (
p
-value = 0.00007, Figure
4
) than retinopathy-negative patients, throughout the period of study.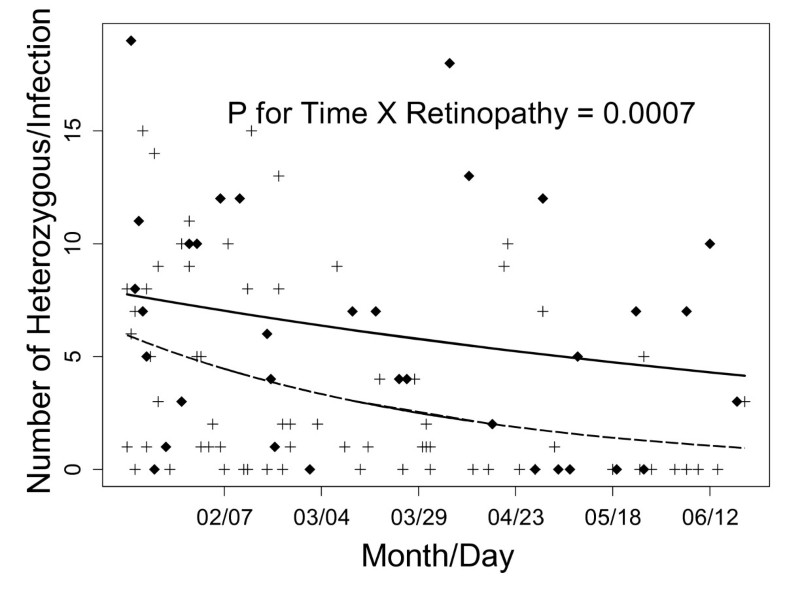 Discussion
Malaria parasites cause more than 200 million clinical infections per year with 800,000 deaths, due primarily to P. falciparum in sub-Saharan African children [12, 20]. Paediatric malaria mortality is largely restricted to non- and semi-immune children, and commonly results from cerebral malaria (CM) [21]. The clinical diagnosis of CM is strongly associated with the pathological finding of parasite sequestration (attributable to cytoadherence of parasites to endothelium) within the cerebral vasculature [18, 22]. The definitive diagnosis of CM relies on post-mortem examination of the brain either by autopsy or supra-orbital sampling [13]; yet, the pathogenesis of CM and etiology of death in fatal cases remain poorly understood.
Genotyping using msp-1 and -2 (or any polymorphic locus by PCR without quantification) provides an accurate count of the number of genotypes present in a sample. Because the majority of these assays are nested PCR reactions, they can detect very small amounts of any contributing genome; however, the relative contributions of a given genome cannot be determined without specialized secondary techniques (such as capillary electrophoresis). Previous work using standard msp-1 and -2 genotyping has shown that patients who have an acute malaria illness (i.e. who present with symptoms and peripheral parasitaemia) of any degree of severity tend to have genetically less complex infections than asymptomatic patients screened in the same population [7, 10, 11]. When quantitative methods are applied to msp-1 and -2 using capillary electrophoresis and fluorescent tags, patients presenting with acute malaria illness have been shown to present with a dominant msp allele (as determined by relative quantities of individual msp alleles) [8, 9]. These two observations, taken together, suggest that patients with an acute malaria illness are often ill with dominant genotypes (i.e. a single or small set of similar genotypes composing the largest proportion of the total circulating parasite biomass). This study focused exclusively on children who meet the clinical case definition of cerebral malaria, all of whom had P. falciparum parasitaemia. Patients were separated solely on the presence (retinopathy-positive CM) or absence (retinopathy-negative CM) of malaria retinopathy to ask what the differences are in genetic components of infection between these two phenotypes using the molecular barcode technique. Genotyping by msp-1 and -2 has been used to evaluate these patients previously [5] and the current study supports and extends those observations to show a dominant genotype by barcoding.
Previous studies have shown that malaria retinopathy is strongly associated with pathological confirmation of cerebral parasite sequestration, while parasitaemic comatose patients without malaria retinopathy represent a diverse group of non-malarial diseases [17, 18]. This current data support the concept of limited parasite diversity in cerebral malaria patients and are consistent with mathematical models and immunological evidence from a broad range of studies [23–34]. These results validate the previous msp-1 and msp-2 data; importantly, they demonstrate that the molecular barcodes from peripheral parasitaemia mirror those generated from sequestered parasites in various tissues and this genotype is predominant in CM [5]. Histological observations in children dying of non-malaria causes have demonstrated a paucity of sequestration in the many tissues examined in such patients (unpublished data, manuscript pending) [5, 35]. By contrast, patients dying of cerebral malaria have dense parasite sequestration throughout the body on histological examination [5, 35]. The study was designed assuming that parasites found in the peripheral blood of retinopathy-negative patients are likely to be incidental to the patient's illness and are not reflective of a dense sequestered mass of parasites (in contrast to the situation in patients with retinopathy).
The number of heterozygous calls within individual patients with retinopathy-positive CM decreased over the malaria season, suggesting that complexity of infection is a product of time. This could be explained by a decreasing rate of parasite inoculations, or an increasingly broad acquisition of immunity in the population as the season progresses. Clinically evident infections may, as immunity accumulates, tend to occur only in patients inoculated with new genotypes for which no immunity has developed.
Parasites from peripheral blood and parasites found in tissues at autopsy had the same conserved barcode identification within an individual patient in CM patients. Less complex infections in the peripheral blood were more common in patients with stringently characterized cerebral malaria (standard clinical case definition plus retinal examination) and include apparently single genotypes fairly frequently (35%). However, there was not a single global conserved barcode genotype associated with cerebral malaria. The tissues of patients without cerebral malaria showed different signals in different tissues, and this heterogeneity is reflected in the peripheral blood samples. The corresponding histological tissue slides from these patients show very few sequestered parasites suggesting that the signal from individual tissues came from either small collections of sequestered parasites and/or parasite DNA within phagocytic macrophages. Cerebral malaria patients had less complex infections in tissue (average of 1.6 heterozygous calls per sample = two to three genotypes/sample), a finding consistent with the earlier study in which the complexity was characterized using msp-1 and msp-2 genotyping (average of 1.9 genotypes per sample) and with the literature (Additional file 1: Table S1) [5].
What remains unknown is the full range of diversity within a single cerebral malaria patient with such an enormous sequestered burden. The autopsy data presented here are from patients who died from the illness; thus, single/low complexity infections may be more likely to result in death. The observations made in this clinical cohort suggest that a wider range of diversity is possible within the individual with or without retinopathy, although in these clinical patients those with retinopathy had significantly less complex infections than those without.
Conclusions
Using a novel molecular barcode assay, previous findings were confirmed that in patients with various syndromes associated with P. falciparum infection, the genetic complexity of the parasite population is lowest in CM, intermediate in CM combined with severe anaemia, and highest in subjects with incidental parasitaemia. The complexity of P. falciparum infections as measured in peripheral blood decreases during the malaria season in all patient groups, being always lowest in CM. Most patients with CM harbour a parasite population dominated by a single genetic variant that is identical throughout both the blood and organ sites, but the predominating variant differs between patients. Parasites retrieved from peripheral blood have a genetic composition similar to those sequestered in tissues. Peripheral blood is more readily available than deep tissues and, unlike deep tissue, can be obtained from patients with non-fatal as well as fatal malaria, allowing for very large collections of patient data sets. Techniques have recently become available for sequence analysis directly from patients that not only identify but quantify genome contributions. Data from this study support the use of peripheral blood samples to study the contribution of parasite genetics to the clinical syndrome of cerebral malaria.
Declarations
Acknowledgements
We would like to thank the parents and families of Malawi for their continued support of this ongoing project as well as the children of Malawi for their participation. We are honoured to work with a team of expert clinicians in Malawi who admit and care for the patients in these studies including Alice Muiruri, Paul Pensulo, Ashley Mpakiza, Yamikani Chimalizeni, Kondwani Kawaza, and Emmie Mbale. We extend very special thanks to the indispensable team in Malawi that made and continues to make the autopsy study possible: George Liomba, Charles Dzamalala, Samuel Crocodile Wassmer, Dumizulu Tembo, Fingani Mphande, Wales Namanya, Johannes Kaliwambe, Laston James Mbewe. Lastly, thanks very much to Dr James Colborn (CDC, Idaho) for his invaluable review and discussion of the manuscript. This work was supported by the US National Institutes of Health (TET, RO1 AO34969; DAM, K23 AI072033), by the Bill and Melinda Gates Foundation (Broad Institute & Harvard School of Public Health), and by The Wellcome Trust (JM, 080964)
Authors' Affiliations
(1)
Department of Pathology, Brigham and Women's Hospital, Boston, USA
(2)
The Blantyre Malaria Project, University of Malawi College of Medicine, Blantyre, Malawi
(3)
Department of Immunology and Infectious Disease, Harvard School of Public Health, Boston, USA
(4)
College of Medicine, Malawi-Liverpool-Wellcome Trust Clinical Research Programme, Blantyre, Malawi
(5)
Liverpool School of Tropical Medicine, University of Liverpool, Liverpool, UK
(6)
Broad Institute, Cambridge, USA
(7)
Department of Nursing, School for Health Sciences, Simmons College, Boston, USA
(8)
College of Osteopathic Medicine, Michigan State University, East Lansing, USA
(9)
College of Medicine, University of Malawi, Blantyre, Malawi
(10)
Center for Systems Biology, Department of Organismic and Evolutionary Biology, Harvard University, Cambridge, USA
Copyright
© Milner et al; BioMed Central Ltd. 2012
This article is published under license to BioMed Central Ltd. This is an Open Access article distributed under the terms of the Creative Commons Attribution License (http://creativecommons.org/licenses/by/2.0), which permits unrestricted use, distribution, and reproduction in any medium, provided the original work is properly cited.