Artemisinin resistance in rodent malaria - mutation in the AP2 adaptor μ-chain suggests involvement of endocytosis and membrane protein trafficking
Malaria Journal
2013
12:118
Received: 5 December 2012
Accepted: 26 February 2013
Published: 5 April 2013
Abstract
Background
The control of malaria, caused by Plasmodium falciparum, is hampered by the relentless evolution of drug resistance. Because artemisinin derivatives are now used in the most effective anti-malarial therapy, resistance to artemisinin would be catastrophic. Indeed, studies suggest that artemisinin resistance has already appeared in natural infections. Understanding the mechanisms of resistance would help to prolong the effective lifetime of these drugs. Genetic markers of resistance are therefore required urgently. Previously, a mutation in a de-ubiquitinating enzyme was shown to confer artemisinin resistance in the rodent malaria parasite Plasmodium chabaudi.
Methods
Here, for a mutant P. chabaudi malaria parasite and its immediate progenitor, the in vivo artemisinin resistance phenotypes and the mutations arising using Illumina whole-genome re-sequencing were compared.
Results
An increased artemisinin resistance phenotype is accompanied by one non-synonymous substitution. The mutated gene encodes the μ-chain of the AP2 adaptor complex, a component of the endocytic machinery. Homology models indicate that the mutated residue interacts with a cargo recognition sequence. In natural infections of the human malaria parasite P. falciparum, 12 polymorphisms (nine SNPs and three indels) were identified in the orthologous gene.
Conclusion
An increased artemisinin-resistant phenotype occurs along with a mutation in a functional element of the AP2 adaptor protein complex. This suggests that endocytosis and trafficking of membrane proteins may be involved, generating new insights into possible mechanisms of resistance. The genotypes of this adaptor protein can be evaluated for its role in artemisinin responses in human infections of P. falciparum.
Keywords
MalariaArtemisininDrug resistanceGenomicsPlasmodium chabaudiMutationEndocytic machinery
Background
Without an effective vaccine, prevention and treatment of human malaria has traditionally relied on chemoprophylaxis and/or chemotherapy [1]. However, Plasmodium falciparum has developed resistance to nearly every anti-malarial drug introduced to date, compromising its control. Resistance arises via the selection of parasites bearing specific mutations, and is decisive in determining the effective lifetime of anti-malarial agents.
Artemisinin combination therapy (ACT) is now a widely used anti-malarial treatment. The artemisinin component is a highly effective and rapidly acting drug [2]. The understanding of its mode of action is incomplete [3, 4], but independent lines of evidence from a number of laboratories suggest that its action depends upon its endoperoxide group and activation by haem or other iron sources [3]. Downstream, it may localize close to the digestive vacuole (DV) [5] and effect changes in DV morphology [6] or the distribution, endocytosis and digestion of haemoglobin [7]. Alternatively, it has been suggested that artemisinin may inhibit the Ca2+-ATPase (PfATP6) [8].
Alarmingly, recent data indicate that resistance to artesunate, one of several artemisinin derivatives (ARTDs), is emerging in Cambodia and Thailand [9–14]. Molecular (DNA) markers of resistance are therefore required urgently. These tools will help to monitor the evolution of resistance, to establish rational treatment policies and to design drug combinations that delay the evolution of resistance. At present however, in P. falciparum, there are no universally accepted and validated molecular markers of artemisinin resistance in the field. Polymorphisms in PfATPase6 [15, 16] or amplification of the multidrug resistance gene, Pfmdr1[17–19] have been investigated. However, no correlation was found between variants of these genes and in vivo responses to ARTDs in the first suggested cases of resistance along the Thai/Cambodian border [20, 21].
Candidate gene approaches may not focus on the critical genes nor grasp the full complexity of the drug response mechanisms. Instead, analysis of genetic haplotype variation and conservation and geographic differentiation using genome-wide SNP typing of P. falciparum parasites from Southeast Asia (Thailand, Cambodia and Laos), where resistance to ARTDs is emerging, has identified candidate regions associated with slow parasite clearance rates after drug treatment [21], particularly in a region on chromosome 13. No specific genes in this region were identified as candidates for influencing artemisinin response.
Other experimental studies that do not prejudge the critical genes are especially informative; for example, the in vitro generation of mutant P. falciparum parasites resistant to drugs. Parasites resistant to ARTs have been generated and mdr1 duplications identified [22], but often the phenotypes and genetic changes have tended to be unstable in the absence of drugs [23, 24]. Genetic linkage analysis of the experimental P. falciparum Hb3 x Dd2 cross has shown that three loci, including pfmdr1 and two additional loci (on chromosomes 12 and 13) [24] that were associated with artemisinin (ART) responses or the potential to evolve ART resistance, but neither of these parental parasites offered a distinct ART-R phenotype.
In vivo
experimental studies using the rodent malaria
Plasmodium chabaudi
can circumvent some limitations faced by
in vitro
experimentation. A lineage (strain AS) of genetically stable mutant parasite clones that are resistant to various drugs has been generated by experimental evolution under drug selection (Figure 
1
). The genetic mutations conferring resistance to pyrimethamine, sulphadoxine, chloroquine, mefloquine, lumefantrine and artemisinin have been mapped using efficient genetic linkage mapping (population based genome-wide scans of selection) and Illumina whole-genome sequencing [
25
–
28
]. The identification of the critical mutations exploits four important features relevant to the present study. Firstly, the resistance phenotype appears at the same time/position in the lineage as the critical mutation. Secondly, the mutation will lie at the bottom of a 'selection valley' (genomic region selected by drug). Thirdly, these studies exploited a previously completed reference genome sequence isogenic to the progenitor parasite, AS-sens. Fourthly, the numbers of point mutations (genome-wide) fixed at each step by selection or during cloning are very small, typically 1–3 [
26
].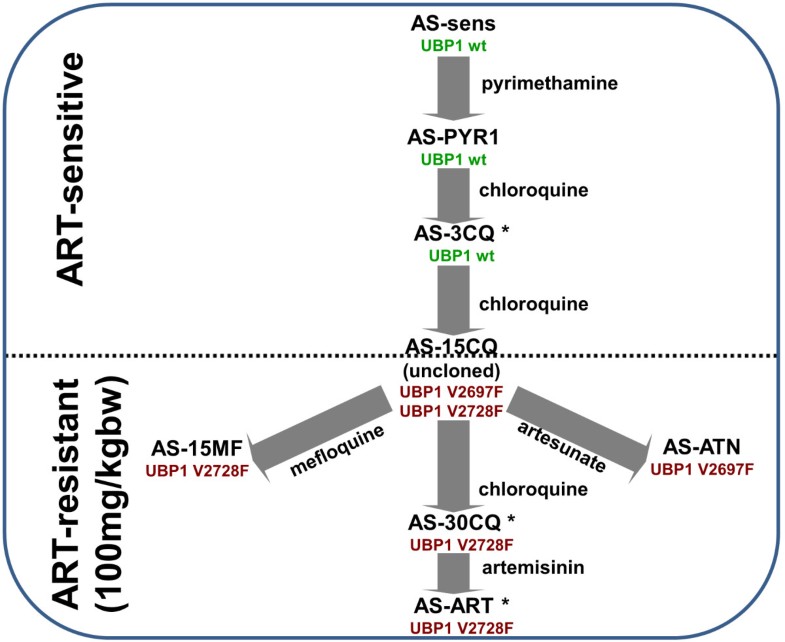 For artemisinin, a mutation in a de-ubiquitinating enzyme (V2728F ubp1) was proposed previously as the critical determinant of an artemisinin-resistance (ART-R) phenotype [25] in parasite AS-30CQ (Figure 1). This ubp1 mutation has also been shown to contribute to resistance to mefloquine and lumefantrine [27] and higher doses of chloroquine [26], as well as ARTs, suggesting that ubp1 may mediate parasite responses to multiple drugs, as does mdr1 duplication [27].
Here, another parasite, AS-ART (Figure 1), derived from AS-30CQ after prolonged and progressive ART selection [29], is investigated. An increased ART-R phenotype is characterized and a single point mutation in its genome is defined. The 3D structures of homologues of the mutated protein are investigated for possible functional consequences. Allelic variations of the P. falciparum orthologue of the mutated gene are defined in a set of P. falciparum field samples.
Methods
Ethics
All animal work was conducted according to relevant national and international guidelines: in Portugal, after approval by the Ethics Committee of the Instituto de Higiene e Medicina Tropical of Lisbon, Portugal, under PARECER 2/2006 from 1 August, 2006 and in the UK, in compliance with the UK Animals (Scientific Procedures) Act 1986.
Parasite lines, maintenance, parasite preparation and DNA extraction
All the parasite clones used in this study are members of the AS lineage (Figure 1). Three parasite clones were used: i) AS-3CQ, a parasite that is resistant to low levels of chloroquine [34]; ii) AS-30CQ, that is resistant to high levels of chloroquine [34]; and, iii) AS-ART, which was derived from AS-30CQ through multiple sub-inoculations in mice under increasing doses of artemisinin (ART) [29]. All parasites were routinely inoculated, passaged in CBA mice (four to six weeks) and cryopreserved as previously described [30]. Parasites were prepared and DNA extracted as previously described [35], ensuring that host white cells were removed by CF11 cellulose (Whatman) and Plasmodipur filters (Eurodiagnostica). DNA samples from other clones within the lineage were used to determine the earliest appearance of specific mutations within the lineage. All animal work was conducted according to relevant national and international guidelines: in Portugal, after approval by the Ethics Committee of the Instituto de Higiene e Medicina Tropical of Lisbon, Portugal, under PARECER 2/2006 from August 1st 2006 and in the UK, in compliance with the UK Animals (Scientific Procedures) Act 1986.
In vivo ART drug tests
In vivo ART response phenotypes were assessed as follows. Four to six-week-old inbred CBA mice were divided into nine groups of three mice each. Mice in groups 1–3 were inoculated with 10exp6 parasitized red blood cells (pRBC) of AS-3CQ, AS-30CQ or AS-ART, respectively and given the diluting solvent DMSO orally (untreated controls). Treatment groups 4–6 were inoculated with 10exp6 pRBC of either AS-3CQ, AS-30CQ or AS-ART and treated with an oral daily dose of 200 mg ART kg-1 mouse bodyweight, administered for a total of three consecutive days, starting day 1 post-inoculum (pi). Treatment groups 7–9 were inoculated with 10exp7 pRBC of either AS-3CQ, AS-30CQ or AS-ART and treated with 200 mg ART kg-1 mouse bodyweight, administered for a total of five consecutive days. Individual percentage (%) parasitaemia was followed from day 4 pi onwards and up to day 15 in the case of untreated control mice. For treated mice, % parasitaemia was first assessed one day after the last day of treatment and up to day 18 pi. Results were expressed as daily average % parasitaemia ± standard error from the three mice within each experimental group.
Genome-wide resequencing
Clone AS-sens was previously resequenced with the Illumina® platform using 36 bp single reads [25]. Clone AS-ART was also re-sequenced using 36 bp single-end reads. Individual sequence strings (reads) from AS-sens and AS-ART were aligned against the isogenic AS reference genome assembly (AS-WTSI [36], provided by the Wellcome Trust Sanger Institute, using two different software packages: MAQ (Mapping and Assembly with Quality) [37] and SSAHA2 (Sequence Search and Alignment by Hashing Algorithm) [38]. The AS-WTSI sequence data consisted of a recently completed assembly and annotation made available during this investigation. Detection of SNPs was performed with Samtools [39] and MAQ, using default parameters, as described in Hunt et al.[25]. Small (≤3 bp) indels were detected using Samtools internal algorithm only. The list of single nucleotide polymorphisms (SNPs) and small indels were further filtered by removing mutations proposed for both AS-sens and AS-ART and that therefore did not arise within the AS lineage. Heterozygous and "multiple variant" SNPs, as well as small indels called by less than three reads and less than 50% of the total reads were also removed. Larger indels (>3 bp) and CNVs were detected with both MAQ and SSAHA2 using "comparative coverage" analysis, which measures the ratio of the relative coverage (local coverage divided by overall mean coverage) in AS-ART relative to AS-sens. A comparative coverage ratio >1.5 over 200 bp for defining CNVs and <0.25 over 10 bp for defining indels (both adjusted for different genome coverage in AS-sens and AS-ART) were used, as previously described [25]. Unlike previous work, "comparative coverage" analysis was also performed using MAQ. This required running the "pileup" command on both the AS-ART and AS-sens reads using the variable "-q 1" (which excludes reads with a mapping quality <1). The pileup files thus produced were then used for "comparative coverage" analysis with custom made scripts, similarly to the SSAHA2 approach. Confidence levels were assigned to mutations based on the following criteria: a) Samtools quality scores (for SNPs) and b) identification by both MAQ and Samtools (for SNPs and large indels/CNVs). All high confidence putative point mutations proposed by MAQ and/or Samtools were verified by di-deoxy sequencing. Only limited verification was done for potential indels and CNVs. Small indels were defined as "low confidence" mutations by default, due to a majority of calls being confirmed as false positives by di-deoxy sequencing in this and other studies [25, 28].
Protein structure-function analysis
The P. chabaudi AP2-μ sequence was used to search the protein structure database (PDB) for homologues. The closest match found was the μ chain of AP2 from Rattus norvegicus, with a bit score of 167 and an E-value of 2e-41. 11 different structure entries of this and related proteins and complexes were present in the PDB. Structure 2PR9 was selected because of the level of R-factors (R: 0.204, R-free: 0.240) and its resolution (2.51Å).
The I-TASSER server [40] was used to construct a homology model of the P. chabaudi homologue, with the R. norvegicus 2PR9 structure as a template onto which the P. chabaudi sequence was modelled. The same method was used to construct a P. falciparum μ model.
Plasmodium falciparum ap2-μ genotyping
In order to investigate the genetic variation in the P. falciparum ap2-μ gene in natural infections, DNA was extracted from field samples collected in Africa and South America, as well as from the reference strain 3D7, according to the method described by Plowe and co-workers [41]. The P. falciparum ap2-μ gene was thus sequenced in a subset of 24 P. falciparum isolates collected within the scope of previous studies, of which eight were from Rwanda [42], eight from São Tomé [43] and eight from Brazil [44].
The sequence of the P. falciparum orthologue of the ap2-μ gene (accession no. PF3D7_1218300) was retrieved from PlasmoDB and used as template for designing primers to amplify its open reading frame using an overlapping PCR fragment strategy (see Additional file 1). PCR assays were performed with 1 μl of DNA into a 50 μl mixture containing 0.2 μM of each primer, 1.5 mM MgCl2, 0.2 mM deoxynucleoside triphosphates and 1.25 units of GoTaq® Flexi DNA Polymerase (Promega).
PCR products were analysed by ethidium bromide-stained agarose 2% gel electrophoresis and sequenced directly in both sense and antisense directions with the appropriate PCR amplification primers.
Conclusions
An increased artemisinin resistance phenotype in a lineage of P. chabaudi drug-resistant parasites was identified. Genome-wide re-sequencing identifies a single point mutation in a critical part of the AP2 adaptor μ-chain. This mutation is predicted to increase artemisinin resistance by modulating clathrin-mediated endocytosis. Analysis of the orthologous gene in P. falciparum field isolates demonstrates existing genetic variation in the human malaria parasite.
Lastly, the possibility was considered that mutations in a different gene(s) may play a role in responses to artemisinin derivatives in P. falciparum. However, further than assigning particular mutations to ART resistance phenotypes, it is suggested that a potentially novel biological pathway through which artemisinin resistance may occur may be involved.
Declarations
Acknowledgements
Research was supported by Medical Research Council (MRC), UK (G0400476) and Fundação para a Ciência e a Tecnologia (FCT), Portugal (PTDC/SAU-MII/65028/2006). For personal support, we thank Centro de Malária & Doenças Tropicais.LA/IHMT Universidade Nova de Lisboa (PC), CAPES/PVE of Brazil (PC), FCT (AM, GH, LR, SB), Scottish Enterprise (DH), the Darwin Trust (KM), MRC (RF, PH), Wellcome Trust (PH) and School of Biological Science, University of Edinburgh (PH). GH, AM, LR and STB were each supported by the Fundação para a Ciência e a Tecnologia (FCT) of Portugal (grant numbers SFRH/BD/63129/2009, SRFH/BPD/35017/2007, SFRH/BD/31518/2006 and SFRH/BD/25096/2005, respectively). DNA sequencing was carried out in the GenePool Genomics Facility in the University of Edinburgh and we thank Marian Thomson, Karim Gharbi and other GenePool staff for assistance with sequencing. Members of the Pathogen Genomics group at the Wellcome Trust Sanger Institute and core sequencing and informatics groups gave valuable access to the P. chabaudi genome sequence, assembly and annotation data. We thank the staff of the following institutions for the P. falciparum samples used in this study: Centro Nacional de Endemias, São Tomé, Democratic Republic of São Tomé and Princípe, Secretaria de Vigilância em Saúde, Instituto Evandro Chagas, Belém, Pará, Brazil and the National Malaria Control Program, Kigali, Rwanda. Artemisinin was a kind gift from Dafra Pharma.
Wellcome Trust will fund all Open Access charges for any work carried out or partially carried out under one of their grants. Article Processing Charges were supported by grant number 082611: Wellcome Trust Centre In Development (Centre for Immunity, Infection and Evolution). Principal PI: Prof. Rick Maizels.
Authors' Affiliations
(1)
Centro de Malaria & Doenças Tropicais, LA/IHMT/Universidade Nova de Lisboa, Lisbon, Portugal
(2)
Institute for Immunology and Infection Research, School of Biological Sciences, University of Edinburgh, Edinburgh, UK
(3)
Institute for Structural and Molecular Biology, School of Biological Sciences, University of Edinburgh, Edinburgh, UK
(4)
Prince Leopold Institute of Tropical Medicine, Antwerp, Belgium
(5)
Centre Muraz/Institut de Recherche en Sciences de la Santé, Bobo Dioulasso, Burkina Faso
(6)
National Malaria Control Programme, Kigali, Rwanda
(7)
Centre of Immunity, Infection and Evolution, School of Biological Sciences, University of Edinburgh, Edinburgh, UK
(8)
Instituto de Patologia Tropical e Saúde Pública/Universidade Federal de Goiás, CAPES/Brazil, Goiânia, Brazil
(9)
London School of Hygiene and Tropical Medicine, London, UK
(10)
Wellcome Trust Sanger Institute, Hinxton, Cambridgshire, UK
Copyright
© Henriques et al.; licensee BioMed Central Ltd. 2013
This article is published under license to BioMed Central Ltd. This is an Open Access article distributed under the terms of the Creative Commons Attribution License (http://creativecommons.org/licenses/by/2.0), which permits unrestricted use, distribution, and reproduction in any medium, provided the original work is properly cited.