Human malarial disease: a consequence of inflammatory cytokine release
Received: 25 August 2006
Accepted: 10 October 2006
Published: 10 October 2006
Abstract
Malaria causes an acute systemic human disease that bears many similarities, both clinically and mechanistically, to those caused by bacteria, rickettsia, and viruses. Over the past few decades, a literature has emerged that argues for most of the pathology seen in all of these infectious diseases being explained by activation of the inflammatory system, with the balance between the pro and anti-inflammatory cytokines being tipped towards the onset of systemic inflammation. Although not often expressed in energy terms, there is, when reduced to biochemical essentials, wide agreement that infection with falciparum malaria is often fatal because mitochondria are unable to generate enough ATP to maintain normal cellular function. Most, however, would contend that this largely occurs because sequestered parasitized red cells prevent sufficient oxygen getting to where it is needed. This review considers the evidence that an equally or more important way ATP deficency arises in malaria, as well as these other infectious diseases, is an inability of mitochondria, through the effects of inflammatory cytokines on their function, to utilise available oxygen. This activity of these cytokines, plus their capacity to control the pathways through which oxygen supply to mitochondria are restricted (particularly through directing sequestration and driving anaemia), combine to make falciparum malaria primarily an inflammatory cytokine-driven disease.
Keywords
Tumour Necrosis FactorMalariaMetabolic AcidosisMigration Inhibitory FactorFalciparum Malaria
Background
The mechanism of the disease caused by Plasmodium falciparum, arguably the pathogen that causes the most human suffering, has been hotly debated for many decades. Clearly, rational adjunct therapy depends on getting this right. For over twenty years the central debate has come from two apparently opposing camps. One champions the mechanical hypothesis, based on the concept of insufficient oxygen reaching vital organs, and the other the cytokine hypothesis, in which excessive release of pro-inflammatory cytokines are the primary driving force of disease and death. The former concept stresses the uniqueness of the pathophysiology of falciparum malaria compared to that of other severe systemic infectious diseases, whereas the latter sees malaria as having fundamentally the same basis as these other conditions, with the adhesive property of parasitized erythrocytes giving it no more than a distinctive flavour.
Critical analysis of the mechanism of falciparum malarial disease would not have been possible without the seminal work of Peter Mitchell [1, 2], who identified mitochondria as the ATP-generating powerhouse of aerobic cells, and thus of all aerobic organisms. Among the doors this opened was the opportunity to understand severe infectious disease by seeing it through the perspective of these organelles. This review largely discusses the relative contribution to disease processes of mitochondria being prevented from getting enough oxygen, and being able to use all the oxygen that reaches them, and the combined effects of these two influences. This includes blood flow restriction in microvessels by parasitized red cells that adhere to endothelial walls (sequestration), the potential restriction to oxygen supply that is unique to falciparum malaria. As discussed below, the broader literature is consistent with the view that sequestration during severe disease is not a passive event that is simply an amplification of what occurs early in infection and in tolerant individuals, but one in which location and avidity of adherence, and, therefore, pathogenic effects, are controlled by inflammatory cytokines.
Despite advances in understanding diseases clinically very similar to falciparum malaria in terms of inflammatory cytokines, enthusiasm for the mechanical obstruction hypothesis seems at least as strong as ever [3–5]. Although much literature now demonstrates dependence of the mechanisms of poor oxygen delivery on excess inflammatory cytokine release, even the most recent members of the vaso-occlusion school [5] still see the cytokine theory of disease as an alternative to be argued against rather than as an essential component of their own disease model. Hence it is timely to bring together an update of the evidence why cytokines are regarded as so central to this disease. In particular, it seems warranted to summarize how broadly the harmful influences of the inflammatory cytokines are now known to extend. By introducing concepts in infectious disease in general, and then moving to the particular case of falciparum malaria, this review expands on these functionally interconnected consequences of excess production of inflammatory cytokines.
Systemic infectious diseases and inflammatory cytokines
There is now remarkably widespread acceptance that cytokines such as TNF and interleukin-1 (see "cytokine storm" in Google) are the essential mechanism of systemic disease caused by infectious agents. Indeed, one would be hard pressed to find an alternative explanation now current for the anorexia, tiredness, aching joints and muscles, fever and sleepiness that patients experience in any systemic infection, including both vivax and falciparum malaria. Neither is it disputed that exacerbated release of these same mediators is the best current line of investigation for the mechanism of severe and life-threatening illness, such as sepsis [6] and influenza [7]. The difficulty, confined to falciparum malaria, is to get its broad acceptance in a research community that has traditionally seen its disease as unique, mechanistically separated from other infectious conditions by the presence of sequestered parasitized red cells often seen in certain intravascular locations at autopsy. To some researchers sequestered parasites are still necessary and sufficient for illness from falciparum malaria to occur, and to cause fatality [4, 8]. Much of this section will include parallels between malaria and similar diseases caused by other pathogens, and basic research done on the effects of inflammatory cytokines on normal cells. It also recounts, for the present-day audience, the malarial origin of this concept of disease pathogenesis.
Mitochondria unable to use available oxygen, a primary effect of inflammation
Inflammatory cytokines reduce ability of mitochondria to use oxygen
One of the many actions of the cytokines responsible for systemic inflammation is to disable oxidative phosphorylation within mitochondria. This is reflected in the hyperlactataemia commonly seen in severe infectious disease, and correlating with outcome. This is not to suggest that oxygen supply and its utilization are not often limited simultaneously, and interact. Indeed, if toxin is replaced by its downstream consequence (the effects of pro-inflammatory cytokines) such interaction was proposed for malaria by Meleney over 60 years ago [94].
Both sepsis and malaria researchers have shown that injecting TNF, the prototype inflammatory cytokine, increased in both diseases, causes hyperlactataemia [95, 96], and blood lactate levels in severe malaria have proved to correlate closely with levels of both TNF and interleukin-1 [97]. Nevertheless, it is fair to say that sepsis researchers, without the tradition of a primary role for sequestration to defend, have been more receptive than malariologists to the systemic inflammatory explanation for altered carbohydrate metabolism, and more readily pursued it. Thus, they were more open than most of their malaria counterparts for the insights of the early 1990s, when newer techniques demonstrated that oxygen tension in tissues was actually increased (not decreased, as the literature predicted) in septic rats [98], patients [99], and pigs [100]. This implied an inability of mitochondria to utilize oxygen, forcing glycolysis to compensate, as best it can, for the energy deficit. The next insights came from groups who developed the cytokine-induced mitochondrial dysfunction model of disease [101–103] and, thus, provided an inflammation-based explanation for a shutdown of aerobic glycolysis, a consequent increased rate of glycolysis, and thus lactate production, metabolic acidosis and cellular energy depletion. In any disease with high levels of inflammatory cytokines this mimics poor oxygen supply. An important difference, however, is that the effects of the nitric oxide through which mitochondrial shutdown largely operates are reversible [104, 105], whereas frank hypoxia, through vaso-occlusion, as evidenced by the stroke literature, is less so. Thus, the former, not the latter, is consistent with the marked reversibility of metabolic comas [106], a term advocated [21, 107] to include human malaria.
This approach to understanding energy balance in sepsis has been followed successfully on a number of cell types, including hindlimb skeletal myocytes, gut wall cells, and hepatocytes. The wide range of tissues in which these concepts have been demonstrated adds to the arguments on systemic origins of lactate in sepsis and malaria. For example, inflammatory cytokines have been shown to cause contractile dysfunction [108, 109] and also energy depletion [110, 111] through effects, often mediated through induced nitric oxide [109, 112], on cardiac muscle. Likewise, in diaphragmatic skeletal muscle there is evidence of cytokine-induced nitric oxide [113, 114] and oxygen-derived free radicals [115] combining to form peroxynitrite [116, 117] and this causing dysfunction of mitochondria in myocytes, leading to energy depletion and thus muscular contractile failure. The outcome here is to reduce the patient's ability to counter acidosis by blowing off CO2.
An additional pathway through which the inflammatory cytokines may reduce oxygen consumption is through peroxynitrate (OONO-), a product of NO (from iNOS induced by these cytokines) and superoxide, overactivating poly(ADP ribose) polymerase-1 (PARP-1) [118]. This can deplete cellular stores of NAD+, and efforts to resynthesise it can deplete ATP as well (reviewed in reference [119]). Moreover, NAD+ is essential for glycolysis, so its depletion can be expected to impair glycolytic input into mitochondria. These concepts were reviewed in depth in a malaria context a few years ago [107].
Mitochondria starved of oxygen, a secondary effect of inflammation
This section summarizes the ways in which inflammatory cytokines indirectly limit the supply of oxygen to cells, and thus further reduce the capacity of their mitochondria to generate ATP through oxidative phosphorylation. There are good arguments from the basic literature that they may do so through directing sequestration towards organs that are particularly oxygen-sensitive. Being a new concept in the malarial world, this literature is examined here in some detail. In addition, anaemia, cardiac insufficiency, or insufficient circulating volume (see below, and Figure 3) can all be driven by inflammatory cytokines. Again, infectious disease in general is outlined before focussing on the particular case of falciparum malaria.
Practical consequences of these changes
Hyperlactataemia in malaria and other infectious diseases
Hyperlactataemia, a recognized marker of falciparum malaria severity, is at the centre of controversies relevant to the theme of this review. Its discussion requires some basic biochemical background. The lactate anion has complex roles in biology. Hyperlactataemia may be associated with acidosis, a normal pH, or alkalosis [239], and can occur in viral and rickettsial diseases [240], as well as (see below) sepsis and malaria. In synopsis, most lactate is generated during glycolysis, which essentially consists of oxidising glucose, a six-carbon structure, into two three-carbon molecules of pyruvate. This is reduced to lactate through the action of pyruvate dehydrogenase, a reaction that avoids pyruvate accumulating, and supplies NAD+ to keep glycolysis going. Thus lactate can be formed as a byproduct of glycolysis, which can occur in all metabolically active tissues and supplies ATP, albeit in small amounts, independently of the presence of oxygen. Every mole of glucose metabolised by anaerobic glycolysis to carbon dioxide and water yields 4 moles of ATP, whereas oxidative phosphorylation within mitochondria yields 32 moles of ATP. When oxygen usage falls (whether through poor supply or poor utilisation) ATP generation falls, and glycolysis is accelerated to compensate, as much as possible, for this energy loss. A consequence is oversupply of the byproduct, lactate, but from a disease perspective this is a side issue compared to insufficient ATP generation, even though the two may correlate well. Enhanced glycolysis under aerobic conditions can also increase lactate production. The metabolic acidosis secondary to this failure of mitochondrial energy production, which high lactate often accompanies, is a consequence of this energy failure, and inevitably accompanies it in severe inflammatory illnesses, including malaria and sepsis.
The body's supplies of glucose, including stores of its polymer, glycogen, are not unlimited, so when glycolosis is enhanced for any period it sooner or later runs out of fuel. Gluconeogenesis fills the breech as much as possible, but it soon fails because substrate supplies are limiting [241]. These events are reflected in the hypoglycaemia that has often been reported in severe malaria [242] and sepsis [243, 244]. When seen in this context hypoglycaemia in these diseases is no longer a primary cause of harm, such as when driven by hyperinsulinaemia, but an inevitable consequence of over-exuberant, typically anaerobic, glycolysis.
Origin of the high circulating levels of lactate
Poor oxygen delivery to mitochondria
In the 19th century an association had been noted between hypoxia and lactate accumulation in tissues, and a progression of logic through the physical exercise literature [245] led to lactate levels being seen not only as a marker for poor oxygen delivery in disease states, but also a consequence of it, and the cause of the acidosis. For some time hyperlactataemia has been regarded as a functionally relevant marker for a poor prognosis in both sepsis [246] and malaria [247]. It is now well accepted that hyperlactataemia correlates with a poor prognosis in paediatric falciparum malaria in Africa [97, 177, 248]. Although the sepsis world now discusses several origins for the lactate increase, including inflammation-induced mitochondrial dysfunction [103], in falciparum malaria it is still generally attributed to a reduced oxygen supply, mostly through microvascular occlusion by sequestered parasitized erythrocytes [70]. Unfortunately, the traditional conceptual approach (in which not only are acid properties attributed to the lactate anion but lactate and lactic acid are equated and used interchangeably) is dying hard in the malaria world.
Recent publications [4, 238] promote the traditional view by arguing that lactate/pyruvate ratios are higher in malaria than in sepsis (but see [249]), and can therefore be explained only by hypoxia through vaso-occlusion [4, 70]. However, it seems difficult to envisage a mechanism whereby insufficient oxygen reaching tissue mitochondria would generate higher lactate/pyruvate ratios than would its poor utilisation once there. Indeed an inadvertent positive control of mitochondrial dysfunction, seen as the side effects of treatment of HIV patients with nucleoside reverse transcriptase inhibitors that cause mitochondrial toxicity [250], can generate lactate/pyruvate ratios up to double that recently reported for severe malaria [4, 70], and as high as any value reported for the severest adult cases in Thailand [251].
In order to test the possibility that sequestration is essential for these changes in skeletal muscle sections, tissues previously stained for other purposes [71, 252] have been recently re-examined for adhering parasitized red cells. Since skeletal muscle is a tissue with one of the highest rates of oxygen consumption [253], it is predictably a large generator of lactate when anaerobic respiration dominates, whether triggered by oxygen insufficiency from vascular occlusion by sequestering parasitized erythrocytes or its adequate presence, but under-utilisation, through mitochondrial dysfunction. To address the vaso-occlusion possibility, 1–3 tissue sections from chest wall and/or diaphragm from each of 27 previously described [71] fatal malaria cases of African paediatric malaria were examined blind by three observers. Negligible sequestered parasites were observed in 24 of 27 cases (unpublished data), including 15 displaying a 3+ or more sequestration score in cerebral capillaries. In the light of the high thrombomodulin levels on endothelial cells in vessels in skeletal muscle [166], and its implications for expression of adhesion molecules (Figure 1b), this is not surprising. Unfortunately, lactate assays were not performed on this patient series. Nevertheless the high incidence of hyperlactataemia in fatal cases from this same population [254] implies that the incidence of skeletal muscle sequestration would need to be considerably higher than observed for this hyperlactataemia to have its origins in impeded oxygen delivery to this main glucose-consuming organ.
Poor oxygen usage by mitochondria
The concept termed cytopathic hypoxia [103], is now considered to be a major contributor to the pathogenesis of sepsis. This is consistent with the evidence from animal models that neutralizing TNF prevents [255] or reverses [256] metabolic acidosis in experimental sepsis, although the indirect action of TNF on oxygen delivery, through its effects on endothelial activation, and thus platelet and leukocyte adhesion, can also be expected to contribute in vivo. In addition, inhibiting TNF successfully treated the metabolic acidosis of sepsis in a double blind trial in premature infants [257], and immunizing mice against GPI, a malarial toxin selected for its capacity to induce TNF production, inhibited metabolic acidosis in a mouse malaria model [65]. These outcomes are equally likely to apply in any disease in which levels of the pro-inflammatory cytokines, including TNF, are raised, and metabolic acidosis occurs. Studies on muscle ATP depletion during severe sepsis in patient material [258] and experimental animals [259] have provided data consistent with these arguments. It would be most instructive to repeat these same experiments with muscle biopsies from malaria cases.
Since the inflammatory cytokines that cause mitochondrial shutdown are prominent in both sepsis and malaria [38, 39] it can be inferred that this organelle dysfunction is an equally plausible cause of reduced ATP synthesis and increased lactate accumulation in both diseases, correspondingly diminishing the need to invoke the argument based on parasite-induced vascular occlusion to explain these changes in malaria. Moreover, the mitochondrial ultrastructural damage that correlates with lowered oxidative phosphorylation in a sepsis model [260] parallels that described by Maegraith in monkey malaria [261]. In recent decades few malaria researchers have remarked on the demonstration, by Maegraith's group, decades ago, of the now topical inhibition of mitochondrial function in malaria [262, 263]. In our opinion these were landmark observations that paved the way for a role for severe systemic inflammation in causing the metabolic acidosis and contributing to the raised lactate levels seen in severe malarial disease. Indeed, in 1954 this group discussed the concept of functional hypoxia in malaria arising from interference with oxygen acceptance by tissue cells [264].
Hypoxia and TNF both induce HIF-1
Hypoxia-inducing factor-1 (HIF-1) is a transcription factor that regulates activation of several genes responsive to low oxygen, including erythropoietin, vascular endothelial growth factor, glycolytic enzymes, and glucose transporters. These pathways need to be switched on whenever aerobic respiration is reduced, since they are essential for the body to generate as much ATP as it can. As evidence that both poor oxygen delivery and its poor utilization through the inhibitory effect of inflammatory mediators on mitochondria produce the same functional and, therefore, clinical end results, it should be noted that TNF [265] has, even in normoxic cells, the same HIF-1-inducing ability as has hypoxia [266]. This is predictable from the ability of TNF to shut down mitochondria (eg via the reversible effect of nitric oxide on cytochrome c [104]), the oxygen sensor that regulates HIF [267]. It provides a plausible explanation for the accelerated rate of aerobic glycolysis sometimes reported in sepsis [268], which can increase pyruvate and lactate levels in the absence of hypoxia [269].
Should cytokine-accelerated glycolysis occur under aerobic conditions, any resultant hyperlactataemia cannot be expected to be associated with acidosis, since protons are generated by ATP hydrolysis in mitochondria, and pH remains constant. The desirability of enhancing HIF-1 in systemic inflammatory states, in which category the presence of excess pro-inflammatory cytokine production places malaria, has recently been reviewed [270]. MIF, a pro-inflammatory mediator shown to be upregulated dramatically in a number of tissues in both severe falciparum malaria and sepsis [271], also accelerates glycolysis [272], so can be expected to contribute to the hypoglycaemia and hyperlactataemia of both diseases. As with HIF-1, both hypoxia [273] and TNF [42] upregulate MIF. Since anti-MIF antibody prevents hypoglycaemia and increases fructose 2,6-biphosphate in TNF (-/-) mice administered endotoxin, MIF is argued to act independently of TNF [42]. The relative importance and interaction of HIF-1 and MIF in this context have not yet been examined, but these activities of TNF and MIF nevertheless stress that an understanding of malarial disease needs a broader vision than simple vascular occlusion.
Metabolic acidosis
Metabolic acidosis is not a disease, but a symptom of a serious underlying process. As recently summarized [274], metabolic acidosis is defined as a decrease in blood pH secondary to a decrease in the bicarbonate concentration. The decrease in bicarbonate concentration may be secondary to an excess of acids that will consume bicarbonates, reflecting the open character of this buffering system, or to a loss of bicarbonates through the digestive or the renal route. These authors [274] note that importance of the metabolic acidosis may be appreciated by measuring the change in bicarbonate concentration from the normal, or the base excess, which gives a better assessment of the acid load because it takes into account the buffering of the non-bicarbonate systems. Despite the impression that much malaria literature gives, metabolic acidosis is not unique to this disease, being seen in viral, rickettsial and bacterial infections [240] as well as acute gastroenteritis, where its prevalence is higher than in malaria [275].
Lactate: a cause, marker, or neither in the acidosis of malaria or sepsis?
The notion persists in some malaria circles that excess lactate accumulation causes the metabolic acidosis that correlates with a poor clinical outcome, and therefore warrants therapeutic reduction [4, 276]. Accordingly, these authors argue that lowering lactate levels with sodium dichloroacetate (DCA), an inhibitor of pyruvate dehydrogenate kinase, would be sufficient to ameliorate the metabolic acidosis of falciparum malaria [4, 276, 277]. In our view the current literature on systemic inflammatory diseases does not support this. To successfully treat metabolic acidosis DCA would need to increase oxygen consumption so that oxidative phosphorylation takes over from anaerobic glycolysis as the dominant ATP producer, and the protons generated when ATP is resynthesized from ADP and inorganic phosphate are re-consumed, increasing pH to normal levels [278].
A recent editorial in Critical Care Medicine [
279
] has lucidly summarized the key points of the mechanism of metabolic acidosis in sepsis, a condition that shares systemic inflammation and a range of its consequences with severe malaria (Table
2
). These authors do not accept that lactate is the cause of the acidosis associated with hypoxia. Instead, they note the evidence that cellular acidosis during hypoxia, be it from limited oxygen supply or utilisation, arises from the hydrolysis of non-mitochondrial ATP. Every time a molecule of ATP undergoes hydrolysis, a proton is released. When oxygen is readily available, the products of this reaction, including protons, are recycled by mitochondria, and pH does not change. During hypoxia, however, the mitochondrial turnover rate drops below the rate of ATP hydrolysis, so protons are being produced faster than they can be recycled, and intracellular pH falls once buffering capacity is exceeded. Since these reactions are independent of lactate levels, merely reducing the level of this anion can therefore no more be expected to increase survival rate in falciparum malaria than it did in sepsis [
280
]. Indeed, it could in theory harm comatose patients, since there is evidence that lactate helps brain tissue survive hypoxic and hypoglycaemic episodes [
281
–
283
], and the lactate shuttle is proving to be how astrocytes protect neurons from metabolic stress [
284
]. Moreover, infusing enough lactate into patients with severe sepsis to cause hyperlactataemia did not cause acidosis, but an alkalosis [
285
].
| | Influenza encephalopathy | Cerebral malaria |
| --- | --- | --- |
| seizures/coma after high grade fever | + | + |
| metabolic acidosis | + | + |
| hyperlactataemia | + | + |
| serum TNF, IL-6, sTNFRI up | + | + |
| serum nitrite/nitrate up | + | + |
| CSF TNF, IL-6, sTNFRI up | + | + |
| multiple organ failure, sequelae | + | + |
| thrombocytopaenia | + | + |
| damage to vascular endothelial cells | + | + |
| brain oedema/damage to BBB | + | + |
| apoptosis in neurons/glial cells | + | + |
| evidence of active caspase-3 (brain) | + | + |
| caspase-cleaved PARP (brain) | + | + |
Even when considerable lactate is generated under these conditions, it is now evident that other anions contribute much more than it does to the strong ion difference (SID) that, through influencing the body's buffering capacity, has a considerable influence on acidosis in sepsis [286, 287] and falciparum malaria [275, 288]. Thus lactate, while to some degree a useful marker of metabolic acidosis in malaria and sepsis, seems not to be a cause of it, and therefore not a worthwhile therapeutic target.
The basic biochemistry of these pathways, in which protons are consumed when ATP regeneration occurs aerobically, but accumulate, lowering the pH, when ATP regenerates anaerobically, was elegantly set out by Dennis in 1991 [289]. Others have noted the difficulty in separating the effects of acidosis from those of hypoxia. Since much evidence points to hypoxic cells preferring an acidotic environment [274], they question the wisdom of unthinkingly reversing acidosis. Establishing whether increased circulating lactate levels merely indicate a dominance of anaerobic glycolysis over oxidative phosphorylation in cellular energy generation, or whether it is innately harmful because its formation generates acidosis during oxygen-independent glycolysis, clearly has treatment implications.
Effect of cytokine-induced defective respiratory muscle function on acidosis
The importance of hyperventilation in helping to get rid of the excess CO2 that accumulates in metabolic acidosis, inactivating the bicarbonate buffering system, is well accepted in sepsis [290], and mechanical ventilation is used, as necessary, to facilitate its removal. The decrease in blood pH will depend on the PaCO2, which reflects the respiratory response to the metabolic disorder. As reviewed [274], if the metabolic acidosis is isolated and the patient can breathe unassisted, the importance of the hyperventilation is predictable, and simple formulas (the most common used being: PaCO2 = 1.5 [HCO3-] + 8) give the PaCO2 from the HCO3 value. This has a parallel in the clear lung severe respiratory distress of falciparum malaria, with deep stressful breathing, first described in paediatric patients in coastal Kenya a decade ago. This hyperventilation predicted over three times the likelihood of a fatal outcome than did coma alone, and was recognized as a consequence of the underlying severe metabolic acidosis [236, 291]. Logically this should prove to be associated with high circulating levels of pro-inflammatory cytokines.
This need to breath heavily for an extended period demands much work of the muscles of the chest wall and diaphragm. Unfortunately, the pro-inflammatory cytokines that contribute to the acidosis also generate the inducible form of nitric oxide synthase (iNOS) in skeletal muscle in animal models of sepsis [
292
] and patients with this condition [
117
]. This is associated with poor muscle contractility, and thus a reduced capacity to self-correct acidosis through deep breathing. There is evidence to link this causally with inflammatory cytokine-induced nitric oxide and oxygen-derived free radicals causing mitochondrial dysfunction within the muscle of the diaphragm. This is in keeping with a similar functional role for the strong iNOS staining (Figure
4a
) in chest wall skeletal muscle of fatal malaria and sepsis cases in African children [
71
]. Diaphragm skeletal muscle (unpublished) show the same picture (Figure
4b
). Intense staining of skeletal muscle for iNOS in sepsis [
293
] and malaria [
71
] is consistent with the large difference recently found in nitrite/nitrate levels in the same tissue between survivors and non-survivors admitted into intensive care because of sepsis [
258
]. These samples were subsequently analysed paramagnetically, and changes consistent with a decreased concentration of mitochondrial Complex I iron-sulphur redox centres, which are particularly susceptible to nitric oxide, were linked to a fatal outcome [
294
].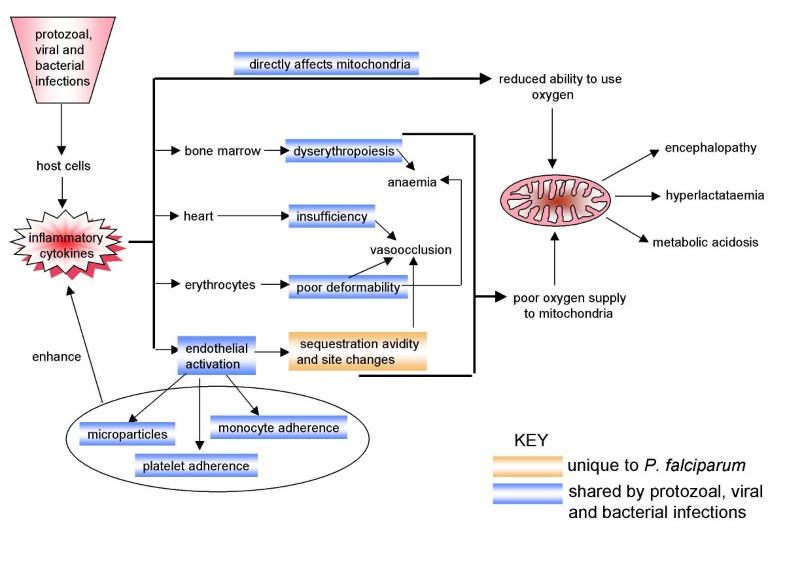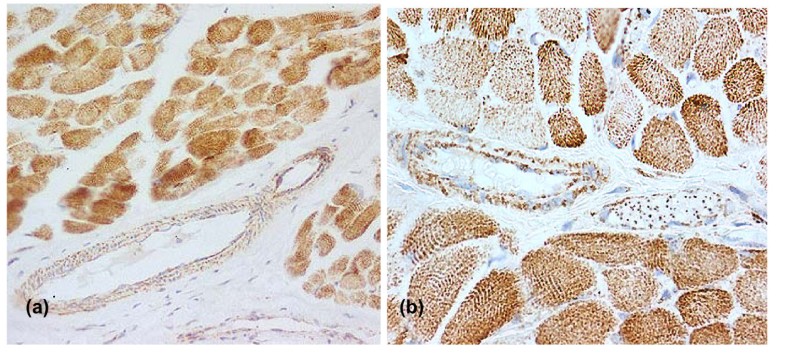 More recently, the function of mitochondria in the diaphragm muscle of rats treated with bacterial endotoxin, which induces, in man as well as rat, the range of pro-inflammatory cytokines raised in both sepsis and malaria, has been examined in detail. A range of genes for proteins required for the mitochondrial electron transport chain are downregulated [295], resulting in reductions in various key subunits of Complexes I, III, IV and V of the transport chain, and a large fall in mitochondrial oxygen consumption [296]. Energy production and thus work ability of skeletal muscle is decreased. New data from these workers' laboratory provides a rationale, in terms of preventing this mitochondrial dysfunction, for the haemoxygenase-1 (HO-1) has been reported to be greatly increased in key tissues in falciparum malaria and sepsis [252]. In brief, they found that administering an HO-1-inducing agent, haemin, before endotoxin, protects mice against endotoxin-induced mitochondrial dysfunction in diaphragm and cardiac muscle, including failed ATP generation [297]. They note the possibility of adopting this principle, if not this agent, in treating severe sepsis. Malaria is an obvious extrapolation worth exploring.
In summary, lactate is an approximate, but workable, marker for metabolic acidosis, which in turn is a good marker for hypoxia, the primary pathophysiological lesion in these diseases. Whether arising from (a) poor supply of oxygen to mitochondria (through vasco-occlusion, low circulating volume, anaemia or cardiac insufficiency) or (b) reduced cellular utilisation of oxygen through mitochondrial dysfunction (in response to severe systemic inflammation) the outcome is essentially the same. The presence of inflammatory markers and the nature of the illness implies that mitochondrial dysfunction is the constant, and poor oxygen delivery the variable, in a synergistic whole.
Neurological involvement in malaria
Inflammatory cytokines offer insights into differences between childhood and adult malaria
There are real differences in the nature of the disease in children and adults. For example, severe anaemia is much more common for a given parasite density in young children than in older children and adults [300], and seizures follow a similar pattern [357]. In contrast, cerebral malaria is less common in the very young, and the pulmonary and renal complications seen in adults are very uncommon in children [300]. Moreover, children can experience a type of clear lung respiratory distress not reported in adults [358], implying a more severe metabolic acidosis driven by the need to blow off excess CO2 and restore normal pH. This is consistent with hypoglycaemia (from high glucose consumption feeding the anaerobic state that is causing proton accumulation) being a characteristic of childhood malaria more than of adult cases.
The cytokine theory of disease provides directions that could lead to an understanding, currently lacking, for these age differences. For instance, generation of nitric oxide, which has been instrumental in the Na+/K+-ATPase inhibition thought to cause poor red cell deformability, and thus shorten erythrocyte life span, is higher in younger children [359, 360]. Additional nitric oxide generated by a systemic inflammatory response would add to this higher base level, reducing red cell deformability correspondingly more in the very young. This could be tested. Likewise, pulmonary and renal organ failure being common in severely affected adults, but virtually absent in children [300], has an exact parallel in the age differences for the inflammatory response that follows trauma [361]. This has been explained in terms of the different balance of inflammatory cytokines generated from normal peritoneal cells collected from children vs adults [362, 363]. There seems no reason why these data, derived from normal human cells, should not be equally applicable to any human systemic inflammatory state, including malaria. This enhanced anti-inflammatory response of young children can also be expected to minimize the proposed focussing of sequestration during severe illness in this age group, contributing to their low incidence of cerebral malaria [300].
Conclusion
In broad terms, the essential mechanism of death in falciparum malaria disease is agreed by many researchers: a functional tissue hypoxia that forces an unsustainable dependence on anaerobic metabolism. An unresolved key question is whether the tissue hypoxia arises (a) because insufficient oxygen reaches the mitochondria through either vascular occlusion from sequestered parasitized red cells acting alone, or in combination with anaemia or (b) because excessive release of inflammatory cytokines, induced by malarial toxin(s), render mitochondria unable to use oxygen to generate energy from oxidative phosphorylation. Although wearing contemporary clothes, this is the same dichotomy that was present a hundred years ago. Current basic literature suggests that inflammatory cytokines are very much the dominant partner, having amongst their powers the capacity to shut down bone marrow, make red cells prematurely poorly deformable, and channel sequestration towards certain sites, dictated by inate local thrombomodulin concentration (Figure 1). Thus cytokines and poor oxygen delivery should not be viewed as alternative theories of malarial disease pathophysiology. Instead, the latter is one of the consequences of the former.
Declarations
Acknowledgements
This research was funded by the National Health and Medical Research Council of Australia and the Ben Brown Fund. The authors gratefully acknowledge, chronologically, Frank Cox, Jean-Louis Virelizier, Betsy Richards, Brian Maegraith, Chris Bryant, Michael Boyle, Kirk Rockett and Melissa Awburn for invaluable input and encouragement.
Authors' Affiliations
(1)
School of Biochemistry and Molecular Biology, Australian National University, Canberra, Australia
(2)
John Curtin School of Medical Research, Australian National University, Canberra, Australia
Copyright
© Clark et al; licensee BioMed Central Ltd. 2006
This article is published under license to BioMed Central Ltd. This is an Open Access article distributed under the terms of the Creative Commons Attribution License (http://creativecommons.org/licenses/by/2.0), which permits unrestricted use, distribution, and reproduction in any medium, provided the original work is properly cited.