Malaria epidemiological research in the Republic of Congo
Malaria Journal
2016
15:598
Received: 3 September 2016
Accepted: 15 November 2016
Published: 23 December 2016
Abstract
Background
Reliable and comprehensive information on the burden of malaria is critical for guiding national and international efforts in malaria control. The purpose of this review is to provide an overview of published data and available information on malaria resulting from field studies/investigations conducted in the Republic of Congo (RoC) from 1992 to 2015, as baseline for assisting public health authorities and researchers to define future research priorities as well as interventions.
Methods
This review considers data from peer-reviewed articles and information from the National Malaria Control Programme reports, based on field investigations or samples collected from 1992 to 2015. Peer-reviewed papers were searched throughout online bibliographic databases PubMed, HINARI and Google Scholar using the following terms: "malaria", "Congo", "Brazzaville", "prevalence", "antimalarial", "efficacy", "falciparum", "genetic", "diversity". Original articles and reviews were included and selection of relevant papers was made.
Results
Twenty-eight published articles were included in this review and two additional records from the National Malaria Control Programme were also considered. The majority of studies were conducted in Brazzaville and Pointe-Noire.
Conclusion
The present systematic review reveals that number of studies have been conducted in the RoC with regard to malaria. However, their results cannot formally be generalized at the country level. This suggests a need for implementing regular multisite investigations and surveys that may be representative of the country, calling for the support and lead of the Ministry of Health.
Keywords
Malaria Plasmodium falciparum ReviewHealth researchRepublic of Congo
Background
Malaria is a life-threatening disease caused by protozoan parasites of the genus Plasmodium that are transmitted to humans through the bites of infected Anopheles mosquitoes. Five different Plasmodium species have been demonstrated to infect humans: Plasmodium falciparum, Plasmodium vivax, Plasmodium ovale, Plasmodium malariae and Plasmodium knowlesi. Of these, P. falciparum is the most dangerous, with the highest rates of complications and mortality [1].
The scaling-up of interventions has reduced the number of malaria cases and deaths between 2000 and 2015 [2–4]. In 2000, the World Health Organization (WHO) estimated 262 million cases of malaria globally, leading to 839,000 deaths against 214 million cases and 438,000 deaths in 2015 [2]. Sub-Saharan Africa remains the region with the highest disease burden and accounts for 88 and 90% of the global clinical cases and deaths, respectively [2].
The Republic of Congo (RoC) is one of the 54 countries where malaria transmission is still high [
2
]. The country is located in the central-western part of sub-Saharan Africa, along the Equator, laying between latitudes 4°N and 5°S, and longitude 11° and 19°E (Fig.
1
). It occupies a total surface of 342,000 km
2
with a population estimated to be 4,800,000 inhabitants, with 61% of its total population living in the two biggest cities, namely Brazzaville and Pointe-Noire [
5
]. Accordingly, the RoC is one of the most urbanized countries in Africa. The capital, Brazzaville, is located along the Congo River, in the south of the country, immediately across from Kinshasa, the capital of the Democratic Republic of Congo. Since the country is located on the Equator, the climate is consistently humid year-round, with the average day temperature of 25 °C and night between 16 and 21 °C [
6
]. Two-thirds and one-third of the surface area of RoC is covered by forests and savannah, respectively. The average yearly rainfall ranges from 1100 mm in the south to over 2000 mm in the central and north parts of the country. The rainy season which lasts 9 months, has two rainfall maxima: one in March–May and another in September–November [
6
]. The dry season is from June to August. A recent entomological survey in RoC jointly conducted by the WHO and the Ministry of Health and Population (MHP) showed that the transmission dynamic of malaria in the country follows two different patterns: (1) a year-round perennial transmission in forest areas, with an estimated entomological inoculation rate (EIR) of 200–1000 infective bite/person/year, and (2) a seasonal transmission in savanna areas where the high transmission period lasts 7–10 months and is directly correlated with the rainfall and the EIR is estimated to be 80–200 infective bites/person/year [
7
]. Despite considerable efforts and progress in malaria control over the past decades [adoption of artemisinin-based combination therapy (ACT) for the treatment of uncomplicated malaria in 2006, using either artemether–lumefantrine (AL) or artesunate–amodiaquine (ASAQ), use of intermittent preventive treatment with sulfadoxine-pyrimethamine for pregnant women (IPTp-SP), mass distribution of long-lasting insecticide-treated mosquito nets (LLINs) from 2008 to 2012 and free anti-malarial treatment for children aged >15 years since 2008], it remains one of the important public health problems [
8
]. All over the country,
P. falciparum
is the predominant malaria parasite and
Anopheles gambiae
the predominant mosquito vector. The latest estimations from the National Malaria Control Programme (NMCP) indicate that clinical malaria account for 47.9% of all outpatient consultations in public hospitals, 64.8% of hospital admissions and 18.4% of deaths [
5
].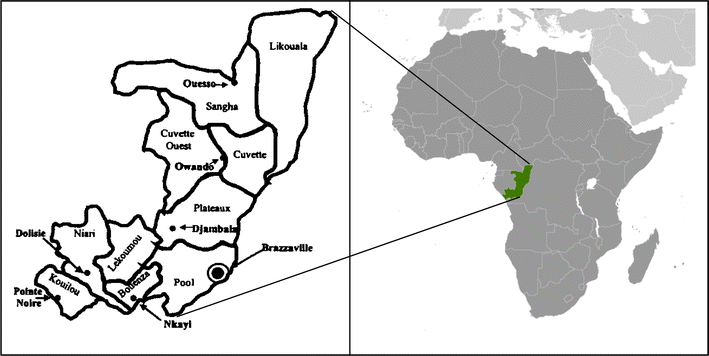 Clearly, the country is still struggling with the control phase where expensiveness of the control program as well as its sustainability, resistance of the parasite to anti-malarial drugs and that of vectors to insecticides are some of the challenges. However, some research publications have reported a decrease in clinical malaria prevalence in Southern and Northern sentinel sites of the country [9, 10].
The purpose of this review was to provide an overview of published data and available information from the NMCP of the MHP on malaria situation in RoC including prevalence/incidence trends, vectors, anti-malarial drug efficacy and parasite genetics based on field studies conducted from 1992 to 2015. This may assist in defining future research and intervention priorities.
Methods
Search strategy
To collect research data on malaria in RoC, peer-reviewed articles have been retrieved from online bibliographic databases PubMed, HINARI and Google scholar using the following keywords: "malaria", "Congo", "Brazzaville", "1992", "prevalence", "antimalarial", "efficacy", "falciparum", "genetic", "diversity", "resistance", "markers". Reference lists of selected papers were used as leads for identification of additional studies. The Boolean operators "AND", "OR" and ">" were used to combine two or three terms. In addition, reports from the NMCP were reviewed at the NMCP headquarters in Brazzaville. Predefined medical subject heading (MeSH) was not used to avoid restricting searches.
Study/document selection and data consideration
Studies were included in the review if they explicitly reported on one of the considered aspect of malaria in RoC with: (1) samples collected in the country, (2) a clear description of the methods section (providing the following information: study area, period of sample collection, type of samples collected and study population) and (3) no review articles. An overall of 33 studies were retrieved from the search of peer-reviewed papers, of which five were excluded because of duplications (similar analysis on same samples or study population) or they were review articles. Therefore, 28 studies including full text articles, and short reports written in English or in French were selected and reviewed. Two additional documents from the NMCP were considered (Fig.
2
).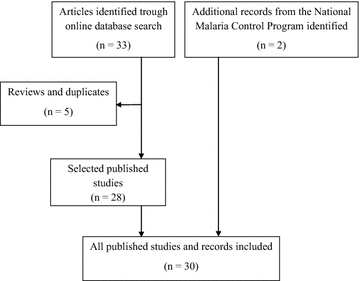 Discussion
The purpose of this review is to provide an overview of published data and available information on malaria situation in RoC and to identify gaps in knowledge in order to contribute in research-based solutions adapted for the country. In the present review, as the first goal, we attempted to determine if there was any change in malaria epidemiology in RoC from 1992 to 2015, with regard to malaria parasites and vectors and in the presentation of the disease as well. The year 1992 was chosen because the first national policy for malaria control established by the NMCP was adopted that year. Besides, all the research institutions including those involved in malaria research were nationalized.
As a summary, during almost 24 years, a total of 28 studies published in peer reviewed journals were conducted the RoC in relation to different aspects of malaria infection. Concerning malaria burden, lower rates of malaria parasite infection in children and adults were observed in studies conducted from 2009 to 2015 compared to those conducted from 1992 to 2006 regardless of the diagnostic method (microscopy or PCR). This is suggestive of a decline malaria prevalence and incidence during the past 7 years and might be attributable to the scaling-up of malaria interventions in the country with the support of Global fund for HIV/AIDS, malaria and tuberculosis, including the use ACT which are freely provided to children of ≤15 years in public health facilities since 2008 associated with mass distribution of LLINs from 2008 to 2012. Further evidence on sustainability of the trend to the years later is important to ascertain such attributes.
With regard to Plasmodium species distribution, P. falciparum is by far the predominant malaria parasite occurring in the country accounting for almost 100% of malaria cases [11]. This observation on the extreme predominance of P. falciparum in the RoC is in accordance with findings from studies conducted in other Central African countries [39, 40].
The genetic diversity of P. falciparum was characterized trough different studies and the MOI was also determined. These two parameters are known to be good indicators of the level of premunition of populations living in endemic areas and correlate with the extent of the parasite population diversity as well as the transmission intensity [41, 42]. They are also important determinants of malaria control interventions. Overall, a significant diversity of P. falciparum population has been observed in all the studies and this is representative of areas with holo- or hyper-endemic malaria transmission. The High genetic diversity remains similar before and after introduction of ACT in 2006 and scaling up of control measures in the RoC. This implies that most of the parasite clones are still persisting and the interventions did not have impact on specific P. falciparum clones. Lower values of the MOI (1.3–1.7) have been obtained in studies conducted after these interventions than those conducted before (2.2–2.3). This trend, in addition to low rates of parasite carriage observed in studies conducted after 2006 may suggest that the implemented control measures have resulted in a substantial decrease of transmission. However, this needs to be assessed by conducting entomological studies that allow determination of the EIR in each area, which correlate well with the level of malaria transmission.
Vector control is one of the main interventions for an effective malaria control programme. To be successful, this intervention needs to rely on availability of data on vector population, level of transmission and insecticide resistance. Unfortunately, only one publication was found [33] and this reflects a major gap in knowledge about the malaria situation in RoC. In that study, 523 An. gambiae complex specimens were collected and the specimen identification revealed that all were An. gambiae s.s., of which, 95.4% were further molecularly characterized as the S-form. Importantly, these vectors were found to be highly resistant to multiple insecticide classes. This review would classify entomological research as a key priority in the country. Moreove, as An. funestus, An. coustani and An.hancocki were found to be potential minor malaria vectors [5], their implication in malaria transmission and the level of resistance to insecticides have yet to be further elucidated.
Since the utilization of ACT for the treatment of uncomplicated malaria, monitoring studies are required to detect any emergence of artemisinin resistant strains as it has been already reported from South East Asia [43, 44]. Overall in vivo efficacy studies conducted so far provided evidence of good efficacy of currently recommended ACT in RoC. It is observed that only one study analysed mutations on P. falciparum K13 propeller gene in isolates from RoC [32], and it would be important that local scientists screen regularly isolates from different parts of the country. Chloroquine and SP were banned for the treatment of uncomplicated malaria in the RoC since 2006 due to high level of parasite resistance. Studies conducted five to seven years after their withdrawal still show high rates of parasites carrying mutations associated with resistance to these two molecules. This would like to suggest that these molecules remain inactive, despite the fact that SP is still used as intermittent preventive treatment in pregnant women. Moreover, the presence of the 540 dhps mutation (in P. falciparum isolates collected in 2011–2012) [36], which was absent before SP withdrawal [23], and higher level of quintuple dhfr/dhps mutations might suggest that SP resistance become more pronounced.
As a second key priority highlighted by this review is the limited number of publications on malaria in pregnancy in RoC. For instance, there is no data on malaria parasites collected from pregnant women before the introduction of ACT and the first data were published in 2013 [9]. The researchers from Congo working on malaria are also involved in the Central Africa Network on Tuberculosis, HIV/AIDS and Malaria (CANTAM) which aims at building capacities for the conduct of clinical trials. Therefore, it would be of interest to test alternative drugs for preventing malaria during pregnancy in Congolese women.
Conclusion
A total of 28 peer reviewed articles and two official documents from the NMCP were included in this review and have shown that malaria is still endemic in the country. Unfortunately, the majority of studies were conducted in Brazzaville followed by Pointe-Noire (the two main cities). Therefore, results cannot formally be generalized. We note two major positive points: ASAQ and AL are highly efficacious in treatment of uncomplicated malaria and there is substantial reduction of malaria transmission since introduction of ACTs in the country. However, a strong resistance to SP is observed in parasites collected from Congolese pregnant women.
Abbreviations
WHO:

World Health Organization
RoC:

Republic of Congo
EIR:

entomological inoculation rate
ACT:

artemisinin-based combination therapy
AL:

artemether–lumefantrine
ASAQ:

artesunate–amodiaquine
IPTp-SP:

intermittent preventive treatment with sulfadoxine–pyrimethamine for pregnant women
LLIN:

long-lasting insecticide-treated net
NMCP:

National Malaria Control Programme
MHP:

Ministry of Health and Population
MeSH:

medical subject heading
PCR:

polymerase chain reaction
RDT:

rapid diagnostic test
msp2:

merozoite surface protein 2 gene
msp1:

merozoite surface protein 1 GENE
MOI:

multiplicity of infection
pfcrt:

Plasmodium falciparum chloroquine resistance transporter
dhfr:

dihydrofolate reductase
dhps:

dihydropteroate synthase
K13:

Klech-13
SNP:

single nucleotide polymorphism
HIV/AIDS:

human immunodeficiency virus/acquired immune deficiency syndrome
CANTAM:

Central Africa Network on Tuberculosis, HIV/AIDS and Malaria
Declarations
Authors' contributions
KKF carried out the web search, collected documents from the NMCP and drafted the manuscript, NF drafted and reviewed the manuscript. Both authors read and approved the final manuscript.
Acknowledgements
Funding was provided by Fondation Congolaise pour la Recherche Medicale (Grant No. 0111).
Competing interests
The authors declare that they have no competing interests.
Open AccessThis article is distributed under the terms of the Creative Commons Attribution 4.0 International License (http://creativecommons.org/licenses/by/4.0/), which permits unrestricted use, distribution, and reproduction in any medium, provided you give appropriate credit to the original author(s) and the source, provide a link to the Creative Commons license, and indicate if changes were made. The Creative Commons Public Domain Dedication waiver (http://creativecommons.org/publicdomain/zero/1.0/) applies to the data made available in this article, unless otherwise stated.
Authors' Affiliations
(1)
Fondation Congolaise Pour la Recherche Médicale, Brazzaville, Republic of Congo
(2)
Faculty of Sciences and Techniques, University Marien Ngouabi, Brazzaville, Republic of Congo
(3)
Institute for Tropical Medicine, University of Tübingen, Tübingen, Germany