Sustainable malaria control: transdisciplinary approaches for translational applications
Malaria Journal
2012
11:431
Received: 30 October 2012
Accepted: 14 December 2012
Published: 26 December 2012
Abstract
With the adoption of the Global Malaria Action Plan, several countries are moving from malaria control towards elimination and eradication. However, the sustainability of some of the approaches taken may be questionable. Here, an overview of malaria control and elimination strategies is provided and the sustainability of each in context of vector- and parasite control is assessed. From this, it can be concluded that transdisciplinary approaches are essential for sustained malaria control and elimination in malaria-endemic communities.
Keywords
Plasmodium Anopheles DDTVector controlAnti-malarial drugs
Background
Malaria is still the most important parasitic disease in humans, caused by Plasmodium spp. parasites that are transmitted through the bite of female Anopheles mosquitoes. Despite recent massive global efforts in malaria control, about 40% of the world's population in 108 countries still live under the constant risk of malaria infection[1]. The World Health Organization estimates that ~225 million clinical malaria episodes occur annually and more than 80% of malaria-associated deaths in the world occur in sub-Saharan Africa[1]. This disease, therefore, rates as one of the major health, socio-economic and developmental challenges facing many of the world's poorest countries. As a disease of poverty, it forms a major impediment to economic development on the African continent, as it is responsible for the loss of ~US$12 billion of gross domestic product annually. The Millennium Development Goals of the United Nations Development Programme underscore the importance of combating malaria in Target 6C: "to have halted and begun to reverse the incidence of other major diseases by 2015". Malaria is both one of the major disease role players and, in the African context, one of the three major causes of childhood mortality. Thus, clear motivation exists supporting global control of the disease and sustainably eliminating it in areas where transmission has been successfully interrupted. Ultimately, the vision of global eradication should drive all current initiatives, investments and decision-making.
A number of international initiatives have been established to coordinate efforts for its control, elimination and, ultimately, eradication. Towards this end, the Global Malaria Action Plan was adopted in 2007, supported by the WHO/Roll Back Malaria Partnership[2] and global funding mechanisms including the Global Fund and the Bill & Melinda Gates Foundation. Currently, 81 countries are enforcing malaria control while 25 are in pre-elimination and prevention-of-reintroduction phases, with four countries recently being declared malaria free[1]. Under the WHO definition, "malaria elimination" refers to a situation where there is zero local transmission, whereas "eradication" is defined as the permanent zero worldwide incidence of malaria infection[1].
Conclusions
Despite many of the challenges facing malaria control programmes, several countries have been able to achieve malaria elimination. Countries currently at malaria control and pre-elimination stages need to be vigilant and systematic in their pursuit of elimination to ensure sustainability. Continued funding by governments of malaria-endemic regions is imperative to further sustain and progress malaria control and elimination programmes. Moreover, the international community has to invest heavily in novel research and development agendas if the ultimate aim of malaria eradication is to be achieved.
Transdisciplinary approaches are essential in order to sustain control and elimination of this complex disease. Specific focus areas under the auspices of both vector and parasite control must include consideration of the impact of control measures on human health of the affected communities (Figure 
3
). In the context of parasite control, transdisciplinary initiatives combining expertise from parasite biology, medicinal chemistry, drug discovery, mathematical modelling and bioinformatics-based data mining and predictions, and indigenous knowledge systems provide opportunities to streamline the sustained pipeline of novel chemical entities that target weak points in the parasite's biology. Vector control strategies are highly reliant on transdisciplinary approaches, as depicted by IVM. Thus, transdisciplinary measures include those that appear to contribute to six key elements of IVM: 1) integrated approaches requiring entomology, chemistry, biochemistry, engineering and environmental health; 2) inter-sectoral collaborations including health, agriculture, environment and planning sectors; 3) evidence-based decision making requiring entomologists, parasitologists, epidemiology, medicine and policy research; 4) Advocacy and social mobilization within social and political sciences and community health; 5) legislation within public health and environmental law and 6) capacity-building between e.g. social sciences and health education etc. Additionally, collaborations between vector biologists, entomologists, engineers, chemists, natural product specialists, mathematical modelling, climate change specialists and public health researchers would further strengthen such programmes. Community involvement, education and sustained malaria case management are essential for any application of transdisciplinary vector control programmes.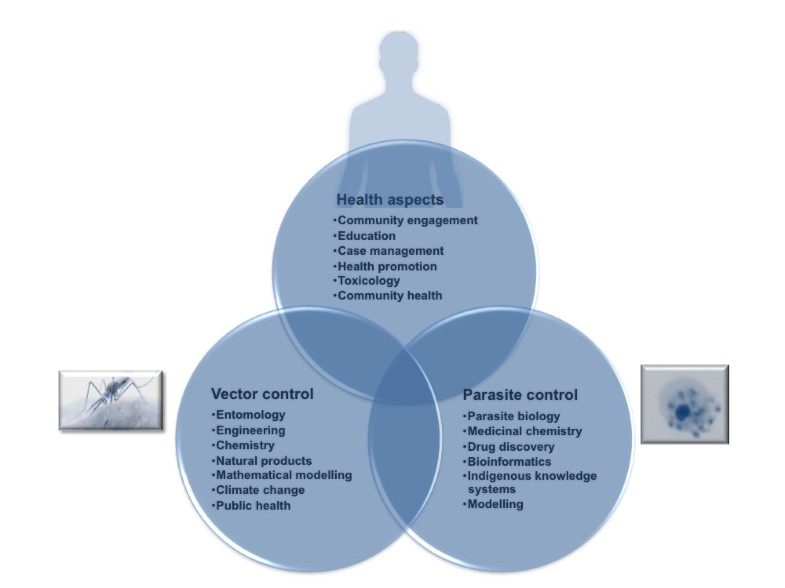 The successful integration of these transdisciplinary research approaches therefore holds immense promise for translationary applications, especially if they can originate in malaria-endemic countries in Africa that will lead to benefitting malaria-endemic communities and further ensures sustained malaria control and elimination.
Abbreviations
DDT:

Dichlorodiphenyltrichloroethane
DDE:

Dichlorodiphenyldichloroethylene
IRS:

Indoor residual spraying
ITN:

Insecticide-treated net
ITWLs:

Insecticide-treated wall linings
IVM:

Integrated vector management
WHO:

World Health Organization.
Declarations
Acknowledgements
We thank Abraham I Louw for careful reading of the manuscript. All authors are supported by the University of Pretoria as members of the University of Pretoria Centre for Sustainable Malaria Control (http://www.malaria.up.ac.za).
Authors' Affiliations
(1)
Department of Biochemistry, University of Pretoria, Pretoria, South Africa
(2)
University of Pretoria Centre for Sustainable Malaria Control (UP CSMC), University of Pretoria, Pretoria, South Africa
(3)
Department of Chemical Engineering, University of Pretoria, Pretoria, South Africa
(4)
International Centre of Insect Physiology and Ecology, Nairobi, Kenya
Copyright
© Birkholtz et al.; licensee BioMed Central Ltd. 2012
This article is published under license to BioMed Central Ltd. This is an Open Access article distributed under the terms of the Creative Commons Attribution License (http://creativecommons.org/licenses/by/2.0), which permits unrestricted use, distribution, and reproduction in any medium, provided the original work is properly cited.