Assessment of therapeutic responses to gametocytocidal drugs in Plasmodium falciparum malaria
Malaria Journal
2014
13:483
Received: 8 November 2014
Accepted: 29 November 2014
Published: 9 December 2014
Abstract
Indirect clinical measures assessing anti-malarial drug transmission-blocking activity in falciparum malaria include measurement of the duration of gametocytaemia, the rate of gametocyte clearance or the area under the gametocytaemia-time curve (AUC). These may provide useful comparative information, but they underestimate dose-response relationships for transmission-blocking activity. Following 8-aminoquinoline administration P. falciparum gametocytes are sterilized within hours, whereas clearance from blood takes days. Gametocytaemia AUC and clearance times are determined predominantly by the more numerous female gametocytes, which are generally less drug sensitive than the minority male gametocytes, whereas transmission-blocking activity and thus infectivity is determined by the more sensitive male forms. In choosing doses of transmission-blocking drugs there is no substitute yet for mosquito-feeding studies.
Keywords
MalariaFalciparum MalariaArtesunatePrimaquineGametocyte Carriage
Background
The objective of anti-malarial drug treatment is to cure the malaria infection as rapidly, reliably and safely as possible [1]. In endemic areas there is another important public health consideration and that is to stop the treated infection being transmitted to anopheline mosquitoes, and thereby to other people. Treating the asexual stage infection effectively prevents generation of young gametocytes and it also prevents recrudescences (which are associated with increased gametocyte carriage rates). This reduces the transmission potential of the treated infection [2]. Plasmodium falciparum differs from the other malaria parasites of humans in that the emergence of gametocytaemia is delayed with respect to asexual parasitaemia. The anti-malarial drugs which are used to treat falciparum malaria also kill young developing sexual stage parasites but they have little or no activity against the mature transmissible gametocytes. Treated infections are an important source of transmission especially in areas of low, unstable malaria transmission. Artemisinin combination treatment (ACT), the first-line treatment for falciparum malaria, reduces gametocyte carriage more than do other anti-malarial treatments [3–6], but even ACTs do not eliminate mature transmissible P. falciparum gametocytes [3–9]. Preventing these patients' infections from transmitting falciparum malaria requires treatment with a specific gametocytocide, and the only generally available drug is the 8-aminoquinoline, primaquine [6–8, 10]. Primaquine rapidly sterilizes the infection, thereby reducing its transmissibility [10]. Given together with an effective treatment for the asexual stage parasites, only one dose is required. Historically this dose has been 0.5-0.75 mg base/kg [11]. Primaquine taken with food is generally well tolerated. The main adverse effect of the 8-aminoquinolines is dose-dependent oxidative haemolysis in people with glucose-6-phosphate dehydrogenase (G6PD) deficiency [10, 11]. G6PD deficiency is very common in many malaria-endemic regions. In some areas concerns over safety in patients with G6PD deficiency have limited deployment of primaquine as a gametocytocide [11].
In efforts to contain and eliminate artemisinin-resistant falciparum malaria it is particularly important that all possible measures to reduce malaria transmission are taken. The World Health Organization (WHO) has recently recommended that the single primaquine dose for use as a
P. falciparum
gametocytocide (given together with an ACT) should be reduced to 0.25 mg base/kg as this lower dose is safer and, on the basis of the available data from direct transmission-blocking assessments from mosquito-feeding studies, was considered to be as effective as higher doses in reducing transmissibility [
12
–
14
] (Figure
1
). Others have provided guidance on primaquine doses based on studies using only indirect measures reflecting
P. falciparum
gametocytaemia clearance [
15
]. This overview assesses the therapeutic relevance of the different measures that have been used as a basis for treatment recommendations for
P. falciparum
gametocytocides (notably primaquine).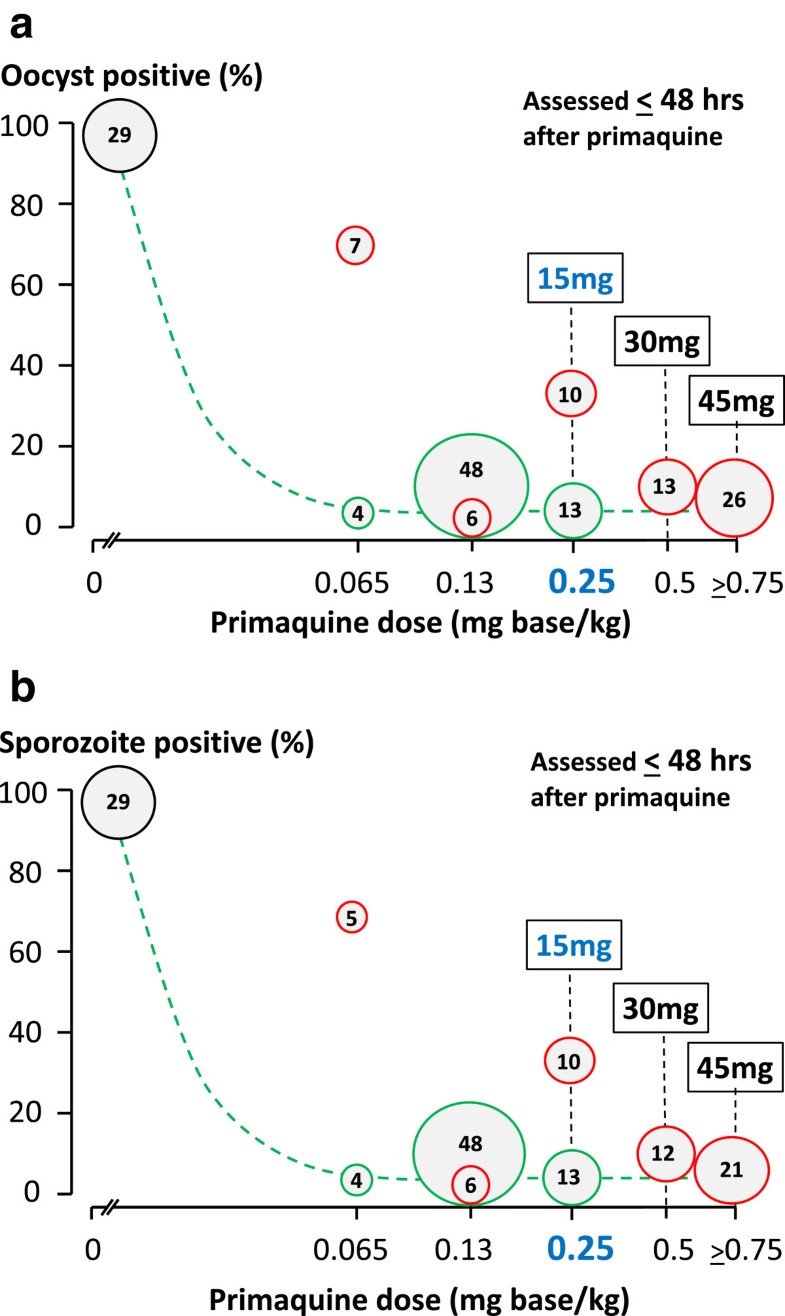 Discussion
Assessment of anti-malarial drug transmission-blocking activity in vivo is problematic. Mosquito-feeding studies assess directly the effect for which the drug is prescribed (i.e., to block transmission of malaria) but they are difficult and laborious, and there are few data as a consequence. Fortunately there is renewed interest in these assessments and more information to guide evaluations of transmission-blocking effects drugs and vaccines will soon become available. Meanwhile indirect measures based on quantitation of gametocytaemia provide a guide to the comparative activity of different drugs or different drug dosages - but they make a number of assumptions. Critically current gametocyte clearance measures probably underestimate significantly the inhibitory effects of 8-aminoquinolines on infectivity. This compromises dose-response assessments both for the time of onset and the magnitude of transmission-blocking activity. The unique studies of Rieckmann et al. in which volunteers were infected with P. falciparum and managed to a steady state of parasitaemia highlights the discrepancies between total gametocytaemia, mosquito oocyst development, sporozoite formation, and the infectivity of these mosquitoes to naïve volunteers [52, 61] (Figure 8). Early observations on the greater sensitivity of male gametocytes to plasmoquine (pamaquine) [33], the more rapid clearance of male gametocytes [34], and the recent study showing large differences between the drug susceptibility of male and female gametocytes [32] provide further reason to be cautious in interpreting drug comparisons based on total gametocytaemia quantitated by microscopy or predominantly female gametocytaemia assessed by quantitation of Pfs25 transcripts. The degree of underestimation by indirect assessments is unclear as there have been few simultaneous comparisons. A comparison of different studies (albeit with different patient groups, designs, drug dosages, etc.) in P. falciparum infections (summarized in Figures 1 and 7) suggests a significant difference. If infectivity is determined by the susceptibility of male gametocytes, then this comparison would suggest that male gametocytes may be more than three times more susceptible to primaquine than females (Figures 6 and 10) but further studies are required to determine whether these predictions are correct. On the other hand, it seems very unlikely that these indirect assessments based on gametocyte clearance overestimate transmission-blocking activity so they do set an upper limit for a dose-response relationship which may be useful.
More direct assessments of drug effects on male and female gametocytes individually such as the P. falciparum dual gamete formation assay (Pf DGFA) are an advance [62, 63], and histochemical methods may distinguish live from dead gametocytes, but for the present for dose-response assessments there is no substitute for mosquito-feeding studies (although close attention must be given to the specific design of these assays to ensure that the outcomes can be interpreted and compared usefully) [45–49]. Primaquine is the only generally available drug, which rapidly and reliably reduces the transmissibility of P. falciparum malaria infections from patients presenting with patent gametocytaemia. Unfortunately the 8-aminoquinolines require hepatic bioactivation which compromises ex vivo assessments. Characterizing sex-specific markers and assessing the pharmacokinetic-pharmacodynamic relationship for primaquine's gametocytocidal activity on male and female gametocytes in vivo is a research priority. Ideally dose-response assessments should be performed by comparing the infectiousness of gametocytaemic blood to anopheline mosquitoes before and after different doses, preferably with assessment of both oocyst and sporozoite formation, plasma primaquine concentration measurement (and CYP2D6 genotyping) [64]. Given the pharmacokinetic properties and the documented rapidity of onset (particularly for inhibition of sporozoite formation) testing before and eight to 24 hours after dosing would reduce variability in the feeding mosquitoes.
Conclusion
Despite their difficulty, mosquito-feeding studies still remain the 'gold standard' for the assessment of transmission-blocking dose-response relationships. More information is needed on the relative susceptibility of male and female gametocytes and the kinetics of male and female gametocyte killing, together with direct comparisons with infectivity assessments, before indirect measures can be used confidently to make dosage recommendations.
Declarations
Acknowledgements
In appreciation of Bob Sinden and his extensive contribution to our understanding of malaria transmission. NJW, EAA, JR, FMS, MI, KC, SP, CC, GB, CA, CJW, WRJT, LvS, AMD, NPJD, and FHN are supported by the Wellcome Trust (Programme Grant 089179) and were part of the Wellcome Trust Mahidol University Oxford Tropical Medicine Research Programme funded by the Wellcome Trust. MJD, CD, TB, RG and IC are supported by the Bill and Melinda Gates Foundation (MD: OPP1043501, CD: OPP1034789, TB: OPP1024438 and OPP1034789, RG and IC A115501); AR is supported by the Medicines for Malaria Venture (MMV 08/2800). The Wellcome Trust also supports ACE (090558), CD (091924) and RNP (091625). MJD, KS and PG are supported by the WorldWide Antimalarial Resistance Network.
Authors' Affiliations
(1)
Mahidol Oxford Tropical Medicine Research Unit, Faculty of Tropical Medicine, Mahidol University, Bangkok, Thailand
(2)
Centre for Tropical Medicine and Global Health, Nuffield Department of Medicine, University of Oxford, Oxford, UK
(3)
Department of Life Sciences, Imperial College, London, UK
(4)
Myanmar Oxford Clinical Research Unit, Yangon, Myanmar
(5)
London School of Hygiene and Tropical Medicine, London, UK
(6)
Department of Molecular Tropical Medicine and Genetics, Faculty of Tropical Medicine, Mahidol University, Bangkok, Thailand
(7)
Department of Clinical Tropical Medicine, Faculty of Tropical Medicine, Mahidol University, Bangkok, Thailand
(8)
Mahidol Vivax Research Unit, Faculty of Tropical Medicine, Mahidol University, Bangkok, Thailand
(9)
Shoklo Malaria Research Unit, Faculty of Tropical Medicine, Mahidol University, Mae Sot, Thailand
(10)
Oxford University Clinical Research Unit, Hospital for Tropical Diseases, Ho Chi Minh City, Vietnam
(11)
Lao-Oxford-Mahosot Hospital-Wellcome Trust Research Unit, Microbiology Laboratory, Mahosot Hospital, Vientiane
(12)
Global and Tropical Health Division, Menzies School of Health Research and Charles Darwin University, Darwin, Australia
(13)
Division of Clinical Pharmacology, Department of Medicine, University of Cape Town, Cape Town, South Africa
(14)
Malaria Research and Training Centre, Department of Epidemiology of Parasitic Diseases, Faculty of Medicine and Odonto-Stomatogy, University of Sciences, Techniques and Technologies of Bamako, Bamako, Mali
(15)
Liverpool School of Tropical Medicine, Liverpool, UK
(16)
Global Health Group, UCSF Global Health Sciences, San Francisco, USA
(17)
World Wide Antimalarial Resistance Network, Churchill Hospital, Oxford, UK
Copyright
© White et al.; licensee BioMed Central. 2014
This article is published under license to BioMed Central Ltd. This is an Open Access article distributed under the terms of the Creative Commons Attribution License (http://creativecommons.org/licenses/by/4.0), which permits unrestricted use, distribution, and reproduction in any medium, provided the original work is properly credited. The Creative Commons Public Domain Dedication waiver (http://creativecommons.org/publicdomain/zero/1.0/) applies to the data made available in this article, unless otherwise stated.