Assessing anti-malarial drug effects ex vivo using the haemozoin detection assay
Malaria Journal
2015
14:140
Received: 26 December 2014
Accepted: 17 March 2015
Published: 1 April 2015
Abstract
Background
In vitro sensitivity assays are crucial to detect and monitor drug resistance. Plasmodium falciparum has developed resistance to almost all anti-malarial drugs. Although different in vitro drug assays are available, some of their inherent characteristics limit their application, especially in the field. A recently developed approach based on the flow cytometric detection of haemozoin (Hz) allowed reagent-free monitoring of parasite maturation and detection of drug effects in culture-adapted parasites. In this study, the set-up, performance and usefulness of this novel assay were investigated under field conditions in Gabon.
Methods
An existing flow cytometer (Cyflow Blue) was modified on site to detect light depolarization caused by Hz. Blood from malaria patients was incubated for 72 hrs with increasing concentrations of chloroquine, artesunate and artemisinin. The percentage of depolarizing red blood cells (RBC) was used as maturation indicator and measured at 24, 48 and 72 hrs of incubation to determine parasite growth and drug effects.
Results
The flow cytometer was easily adapted on site to detect light depolarization caused by Hz. Analysis of ex vivo cultures of parasites, obtained from blood samples of malaria patients, showed four different growth profiles. In 39/46 samples, 50% inhibitory concentrations (IC50) were successfully determined. IC50 values for chloroquine were higher than 200 nM in 70% of the samples, indicating the presence of chloroquine-resistant parasites. For artesunate and artemisinin, IC50 values ranged from 0.9 to 60 nM and from 2.2 nM to 124 nM, respectively, indicating fully sensitive parasites.
Conclusion
Flow cytometric detection of Hz allowed the detection of drug effects in blood samples from malaria patients, without using additional reagents or complex protocols. Adjustment of the initial parasitaemia was not required, which greatly simplifies the protocol, although it may lead to different IC50 values. Further investigation of set-up conditions of the Hz assay, as well as future studies in various settings should be performed to further determine the usefulness of this assay as a tool for rapid resistance testing in malaria-endemic countries.
Keywords
Malariafield trialAnti-malarial sensitivity testingResistanceFlow cytometryHaemozoin
Background
In the last decade, the number of malaria deaths has decreased in large part due to the availability of effective treatments, in particular artemisinin combination therapy (ACT) [1]. However, these achievements are in danger and might even be reversed because parasites with prolonged parasite clearance times (PCT), observed in patients treated with ACT, have emerged in Southeast Asia [2,3]. Indeed, this is considered an early sign of the development of parasite resistance [2,3] and a major concern in the fight against malaria, as illustrated by the WHO Global Plan for Artemisinin Resistance Containment issued in 2011 [4]. Artemisinin resistance, currently defined as prolonged PCT, has spread across Southeast Asia [5]. Recently, a Vietnamese patient who apparently acquired malaria in Angola failed to respond to intravenous artesunate/clindamycin and an oral ACT after returning to Vietnam [6]. It is not unlikely that it will emerge in sub-Saharan Africa, and drug sensitivities should be monitored pro-actively. In this scenario, in vitro sensitivity assays may play a crucial role in the future. In vitro assays allow reducing host-related factors and thus, provide an objective insight into the intrinsic sensitivity of malaria parasites.
Several phenotypic and genotypic methods have been developed and tried for drug testing in the field [7]. Genetic resistance markers are known for some anti-malarial drugs, but are not yet able to predict sensitivity to all commonly used anti-malarial drugs [8]. Only recently, alterations in the kelch13 gene were linked to delayed parasite clearance in artemisinin-treated patients [9]. Thus, phenotypic assays continue to be important for detection of resistance and validation of genetic markers. The main phenotypic assays successfully used to detect drug resistance in the field include: (i) the microscopic schizont maturation test [10]; (ii) the incorporation of radioactive hypoxanthine [11]; (iii) ELISA assays for detection of pLDH [12] and HRP2 [13] antigens; and, (iv) fluorescent-based techniques using either fluorometry [14] or flow cytometry [15] to detect parasite DNA/RNA. However, inherent limitations are common, especially during field applications. The supply, handling and disposal of radioactive isotopes are major obstacles. Microscopy is labour-intensive and subjective, although it has a rather quick turn-around time (24–30 hrs) when compared to other techniques, especially ELISA-based methods, which can take up to 72 or even 96 hrs [16,17]. Moreover, assays may require the use of, often, expensive antibodies or DNA/RNA stains, highlighting the issues of adequate storage and cold chain as well as limited shelf life.
Regarding flow cytometry, the majority of cytometric methods apply combinations of dyes to reliably detect infected red blood cells (iRBC), which implies a complex multiparameter analysis [15,18]. Ideally, if parasite maturation was detectable using a direct and simple measurement of a product from the parasite, the need for additional reagents would be avoided.
Haemozoin (Hz) is produced in increasing amounts by the parasite as it matures inside the iRBC, constituting an optimal maturation indicator [10]. Measuring Hz with a simple flow cytometry method allows detection of parasite maturation and drug effects as early as 18 hrs after incubation in culture-adapted laboratory strains [19].
The objectives of this study were to evaluate if the Hz detection assay could be easily set up in a remote malaria-endemic area, and to assess whether anti-malarial drug effects could be detected in wild-type strains obtained from malaria patients, using a simple protocol.
Methods
The study was carried out at the Centre de Recherches Médicales de Lambaréné (CERMEL) in Gabon, a malaria-endemic region in Africa. Ethical approval was obtained from the Institutional Review Board of the Medical Research Unit (CERMEL) of the International Foundation of the Albert Schweitzer Hospital.
Samples
EDTA anti-coagulated blood samples from malaria patients were obtained from the Clinical Analysis Laboratory of the Albert Schweitzer Hospital after the samples had been processed for full blood count (FBC). Malaria diagnosis and parasite loads (number of parasites/μl of blood) were determined by standard microscopic observation of Giemsa-stained thick blood films. Briefly, parasitaemia was quantified by counting the number of parasites per microscopic field from a defined volume of blood (10 μl) spread on a defined area (1.8 cm2), as described elsewhere [20]. RBCs from these blood samples were washed twice in culture medium before further use.
Flow cytometric detection of depolarized side-scattered light
Flow cytometric analysis was performed using a CyFlow® Blue (Partec, Münster, Germany) available on site. The existing configuration, which was modified on site for this study and is shown in Figure
1
, consisted of forward scatter (FSC), side scatter (SSC) and three fluorescent detectors (FL1, FL2 and FL3). A set of four optical filters was necessary, as shown in Figure
1
B: (1) a 500-nm dichroic mirror; (2) a 50:50 beam-splitter; (3) a 488-nm vertical polarizer; and, (4) a 488-nm horizontal polarizer. Briefly, a 500-nm dichroic mirror (DM) (B1) was placed on the site of the original 540-nm DM and the other original 500-nm DM was replaced by a 50:50 beam-splitter (B2), which allowed the creation of two SSC detectors (Figure
1
). A 488-nm filter coupled with a polarizer in the same orientation as the incident laser beam (vertical) was placed in front of one of the SSC detectors. Another 488-nm filter coupled with a polarizer perpendicularly orientated in relation to the laser beam (horizontal) was placed in front of the other SSC detector, allowing the detection of light depolarization (Figure
1
C). The optical components required to modify the optical bench of flow cytometers can be obtained directly from the instruments' manufacturer.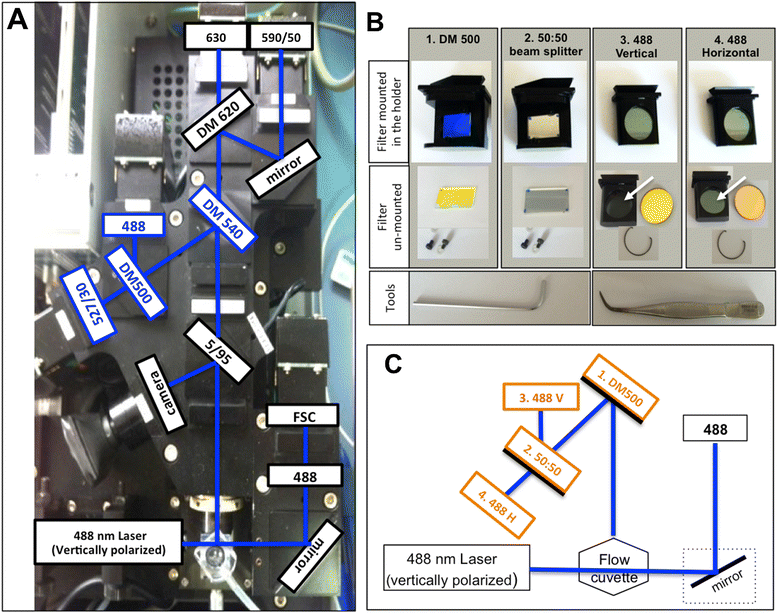 Anti-malarial drugs
Samples were tested against different concentrations of chloroquine, artesunate and artemisinin (Sigma Aldrich, St Louis, MO, USA). Stock solutions of chloroquine were prepared in sterile water, and artemisinin and artesunate were prepared in pure methanol. Doubling concentrations, ranging from 25 to 200 nM for chloroquine and from 0.12 to 128 nM for artemisinin and artesunate, were prepared from the stock solutions in in complete malaria culture medium (CMCM), which consists of RPMI 1640 supplemented with 25 mM HEPES, 2.4 mM L-glutamine, 50 μg/mL gentamicin, 0.5% w/v Albumax, 11 mM glucose, 1.47 mM hypoxanthine and 37.3 mM NaHCO3.
Each drug concentration was tested in triplicate.
Haemozoin detection assay
RBCs obtained from malaria patients were diluted at a haematocrit of 5% in CMCM. To simplify the assay, the parasitaemia was not adjusted so that, eventually, the use of uninfected blood could be avoided. A volume of 100 μL was distributed into the wells of a 96-well plate, previously loaded with 100 μL of anti-malarial drugs at different concentrations, or 100 μL of CMCM for the drug-free controls, respectively. Plates were incubated for 72 hrs at 37°C in 5% CO2 atmosphere. Flow cytometric measurements were performed at 24, 48 and 72 hrs of incubation. Parasite maturation from ring-stage to schizonts was assessed based on the increase in the percentage of Hz-containing cells overtime, as described before [19]. To assess parasite replication (re-invasion), the same samples were stained with SYBR green I at 1x (Invitrogen, Carlsbad, CA, USA), as described elsewhere [19].
Histidine-rich protein-2 (HRP2) enzyme-linked immunosorbent assay (ELISA)
For the HRP2-ELISA, RBCs were diluted in CMCM at a haematocrit of 3%. Parasitaemia was adjusted to 0.05% using RBCs obtained from healthy volunteer donors. A volume of 100 μL was distributed into the wells of a 96-well plate, previously loaded with 100 μL of anti-malarial drugs at different concentrations or 100 μL of CMCM for the drug-free controls. Plates were incubated for 72 hrs at 37°C in 5% CO2, after which they were frozen at −20°C until the HRP2-ELISA was performed according to standard procedures [21].
Data analysis
Flow cytometry results were analysed using FlowJo software (version 9.0.2, Tree Star Inc., Oregon, USA). Depolarizing events were defined in plots of SSC
versus
depolarized-SSC, as those with a signal above the background observed in the uninfected control (gate in Figure
2
A and B). To determine SYBR green I-positive cells, green fluorescence (FL1)
versus
red fluorescence (FL3) plots were used. The FL1 detector had a 527/30 band-pass filter and FL2 had a 620-nm long-pass filter. SYBR green I-positive events were established based on a stained uninfected control and had to be adjusted at each time point, always using the uninfected SYBR green I-stained sample from the corresponding time point. A non-linear regression model (sigmoidal dose–response/variable slope) was used to calculate the individual 50% inhibitory concentrations, with SigmaPlot-Systat Software (Chicago, IL, USA). Only those samples with a ≥2 ratio of drug-free control to highest drug concentration were included.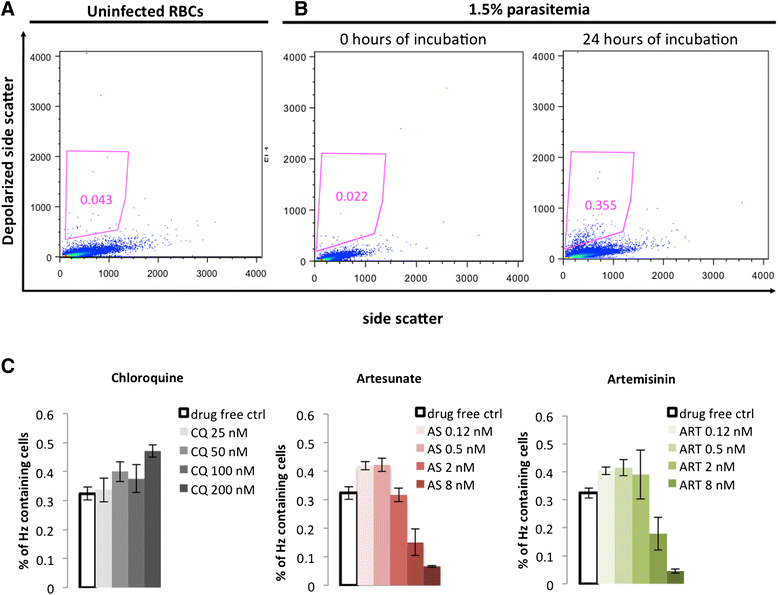 Conclusion
This study conducted in the field showed flow cytometry could be easily implemented and performed in field conditions. Flow cytometric detection of Hz could be used as an alternative tool to assess drug effects on parasites obtained directly from patients' blood samples, without the need for additional reagents or complex protocols. However, further optimization of the Hz assay regarding its set-up conditions, for example, changing the haematocrit, may contribute to obtain IC50 values more comparable to the ones that have been previously reported [13,59].
Future studies should be performed in various settings, to further investigate the Hz assay and its usefulness as a tool for rapid resistance testing in malaria-endemic countries.
Declarations
Acknowledgements
This work was supported by the Luso-American Foundation (FLAD-LACR grant: B-A.V-109-09/07). MR acknowledges Fundação para a Ciência e a Tecnologia for doctoral grant (SFRH/BD/84530/2012) and Fundação Calouste Gulbenkian for the Award CAML/Gulbenkian for Travel ACGT fellowship. The authors acknowledge the Albert Schweitzer Hospital's central clinic laboratory staff who provided the samples from malaria patients, the co-directors of CERMEL: Dr Akim Adegnika, Dr Bertrand Lell and Dr Maxime Selidji Agnandji and, finally, Dr Marguerite Massinga Loembe, Head of the CERMEL Research Laboratory.
Authors' Affiliations
(1)
Instituto de Medicina Molecular, Faculdade de Medicina de Lisboa, Lisbon, Portugal
(2)
Centre de Recherches Médicales de Lambaréné - CERMEL, Albert Schweitzer Hospital, Lambaréné, Gabon
(3)
Institut für Tropenmedizin, Universität Tübingen, Tübingen, Germany
(4)
Centre of Tropical Medicine and Travel Medicine, Amsterdam Medical Centre, University of Amsterdam, Amsterdam, The Netherlands
(5)
Instituto de Microbiologia, Faculdade de Medicina, Lisbon, Portugal
Copyright
© Rebelo et al.; licensee BioMed Central. 2015
This is an Open Access article distributed under the terms of the Creative Commons Attribution License (http://creativecommons.org/licenses/by/4.0) which permits unrestricted use, distribution, and reproduction in any medium, provided the original work is properly credited. The Creative Commons Public Domain Dedication waiver (http://creativecommons.org/publicdomain/zero/1.0/) applies to the data made available in this article, unless otherwise stated.