Simulation models predict that school-age children are responsible for most human-to-mosquito Plasmodium falciparum transmission in southern Malawi
Malaria Journal
2018
17:147
Received: 30 November 2017
Accepted: 24 March 2018
Published: 3 April 2018
Abstract
Background
Malaria persists in some high-transmission areas despite extensive control efforts. Progress toward elimination may require effective targeting of specific human populations that act as key transmission reservoirs.
Methods
Parameterized using molecular-based Plasmodium falciparum infection data from cross-sectional community studies in southern Malawi, a simulation model was developed to predict the proportions of human-to-mosquito transmission arising from (a) children under 5 years old (U5s), (b) school-age children (SAC, 5–15 years), (c) young adults (16–30 years), and (d) adults > 30 years. The model incorporates mosquito biting heterogeneity and differential infectivity (i.e. probability that a blood-fed mosquito develops oocysts) by age and gametocyte density.
Results
The model predicted that SAC were responsible for more than 60% of new mosquito infections in both dry and rainy seasons, even though they comprise only 30% of this southern Malawi population. Young adults were the second largest contributors, while U5s and adults over 30 were each responsible for < 10% of transmission. While the specific predicted values are sensitive to the relative infectiousness of SAC, this group remained the most important contributor to mosquito infections under all realistic estimates.
Conclusions
These results suggest that U5 children play a small role compared to SAC in maintaining P. falciparum transmission in southern Malawi. Models that assume biting homogeneity overestimate the importance of U5s. To reduce transmission, interventions will need to reach more SAC and young adults. This publicly available model can be used by others to estimate age-specific transmission contributions in epidemiologically similar sites with local parameter estimates of P. falciparum prevalence and bed net use.
Keywords
MalariaTransmission reservoirsSchool-age childrenSimulation model Plasmodium falciparum Gametocytes
Background
Although malaria control interventions have reduced parasite prevalence in some regions, ambitious efforts have caused little reduction in many settings with high endemicity [1–6]. Progress toward elimination requires understanding why current strategies fail. One potential explanation is that they do not adequately target sources of human-to-mosquito Plasmodium transmission. Defining the primary human reservoirs of transmission, or people who contribute most to infecting competent vectors, requires an understanding of infection patterns in human populations, variations in infectivity when bitten, and differential likelihoods of being bitten by female Anopheles.
Southern Malawi is one area where, despite high coverage of insecticide-treated nets (ITNs), the malaria burden remains high. Recent cross-sectional studies have found that 5–15-year old, school-age children (SAC) have the highest prevalence of Plasmodium falciparum infection [7], are more likely to carry gametocytes when parasitaemic [8], and are less likely to use bed nets [9] than children under five (U5s) and adults over 15 years. These findings suggest that SAC may be important human-to-mosquito transmission reservoirs in that area, but their contribution has not been quantified.
Several skin- or membrane-feeding studies in other sites have calculated age-specific contributions of human infectious reservoir populations [10–18]. While they elucidated the difference between infected and infectious humans, most models did not consider whether mosquito feeding heterogeneity influences which people are key transmission reservoirs. Indeed, highly infectious people who are never bitten cannot contribute to transmission, while weakly infectious people who are frequently bitten might contribute considerably. Mosquito feeding frequency has been found to increase with the age of human hosts, possibly due in part to increasing body surface area [18–22]. Recently, Gonçalves et al. [18] matched mosquito blood meals to their human sources and found evidence of extreme heterogeneity in biting frequency by age. In the high-transmission setting of Burkina Faso, adults were bitten 20 times as often as U5s, and SAC were bitten 7 times as often as U5s, and, accordingly, the adult contribution to transmission was underestimated when considering only the proportion of infectious people by age [18]. Assuming blood-feeding homogeneity limits the estimation of true transmission contributions.
The present study aimed to estimate human, age-specific transmission of P. falciparum to mosquitoes, based on 3 years of surveillance data from southern Malawi, using a model that incorporated heterogeneity in mosquito exposure to different age-groups due to differential ITN use and likelihood of being bitten. The hypothesis was that SAC are the primary contributors to transmission, particularly during the dry season. A secondary aim was to develop a simple modelling tool to enable researchers or policy-makers in other settings to evaluate relative transmission by different human groups using key surveillance data on parasite prevalence and ITN use.
Results
Input data
SAC had the highest parasite prevalence in both seasons (Table
2
). Using age distributions from the 2008 census, an estimated 12% of
P. falciparum
carriers at the end of the dry season were U5s, 50% were SAC (5–15 years), 26% were young adults (16–30 years), and 11% were adults over 30. The pattern was similar, but slightly more evenly distributed, at the end of the rainy season, when SAC comprised 44% of
P. falciparum
infections.
Table 2
Population characteristics by season and estimated distribution of human reservoirs of infection
Age group

% of population (N a /N) [27] (%)

Dry season

Rainy season

P. falciparum prevalence (qPCR), α a (%)

ITN usage, σ a (%)

% of P. falciparum infectionsa (%)

P. falciparum prevalence (qPCR), α a (%)

ITN usage, σ a (%)

% of P. falciparum infectionsa (%)

Children (< 5 years)

18.2

7.7

53.4

12.4

13.6

70.1

13.8

SAC (5–15 years)

30.0

18.9

33.6

50.2

26.6

49.0

44.3

Young adults (16–30 years)

27.2

10.8

59.7

26.0

16.3

65.3

24.6

Adults (> 30 years)

24.7

5.2

56.4

11.3

12.7

63.0

17.4
Most infections had 0 or < 1 gametocyte/μL detected. Higher densities (> 200 gametocytes/μL) were more common during the rainy season and in children than adults, but comprised a small proportion of infections in both seasons. The predicted distributions are displayed with the average qPCR-based prevalences by age and season in Fig.
2
.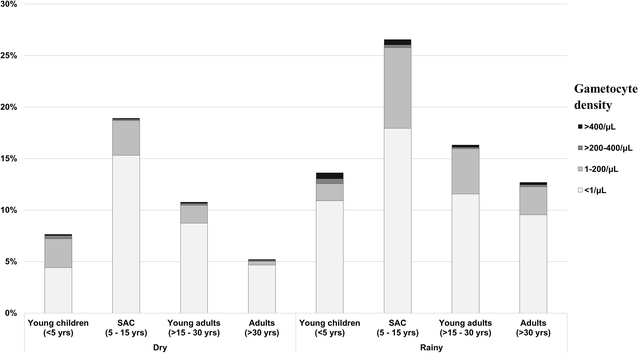 Estimates of transmission contribution and sensitivity to biting homogeneity assumptions
Figure
3
displays the predicted contributions to transmission by age under three assumptions: (1) mosquito feeding was completely homogeneous by age, as in many prior infectivity studies, (2) ITNs reduced feeding on people using them, but mosquitoes were otherwise equally likely to bite people regardless of age, and (3) ITNs reduced feeding and the biting likelihood differed by age. Notably, there was very little seasonal difference in the age-specific contributions to new mosquito infections under any condition.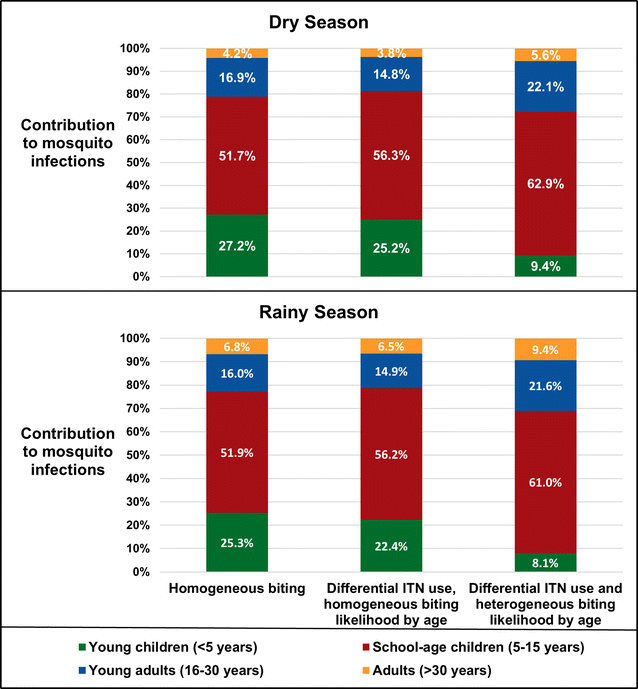 Despite comprising only 30% of the population, all three models predicted that SAC caused the majority (> 50%) of human-to-mosquito transmission of P. falciparum in southern Malawi in both seasons (Fig. 3). Relaxing the biting homogeneity assumption to account for heterogeneous ITN use and likelihood of biting based on body size increased SAC's predicted transmission contribution to more than 60%. Adults over 30, who comprised ~ 25% of the population, were estimated to contribute little (< 10%) to new mosquito infections in either season under all heterogeneity assumptions.
Incorporating differential ITN use had less impact than assuming homogeneous likelihood of biting based on age/body size. Assuming homogeneous biting overestimated the contribution of U5s, who have small body surface area and high ITN use, and underestimated the contributions of SAC and young adults. Models that assumed homogeneous biting by age roughly tripled the predicted transmission contribution of U5s (who comprised 18.2% of the population), from 9.4 to 25.2% during the dry season, and 8.1 to 22.4% during the rainy season. Incorporating biting heterogeneity reduced their predicted contributions to < 10% and made young adults, who comprised 27.2% of the population, the second largest transmission contributors at 21.6 and 22.1%.
Sensitivity analyses for human infectivity to mosquitoes by age
Given the uncertainty in the parameter value for infectivity by age, 4356 simulations were run per season with
κ
<5
and
κ
SAC
ranging from 0.75 to 4.0, incorporating mosquito biting heterogeneity and gametocyte density-dependent effects (Fig.
4
). SAC were the largest contributors to transmission in southern Malawi under all age-dependent infectivity simulations, even for the most extreme conditions in which other age groups' contributions were maximized (Fig.
5
). SAC were responsible for > 50% of transmission if they were at least 20% more infectious than young adults during the dry season and 25% more infectious than young adults during the rainy season, regardless of the relative infectivity of U5s. Young adults (16–30 years) were the second largest contributors to new mosquito infections under all potential infectivity scenarios for both seasons, although in most scenarios they were responsible for a smaller proportion of new transmission than their 27.2% share of the population. Adults over 30, who comprise 24.7% of the population, were responsible for < 10% of transmission in all dry season simulations and most rainy season simulations (Figs.
4
,
5
).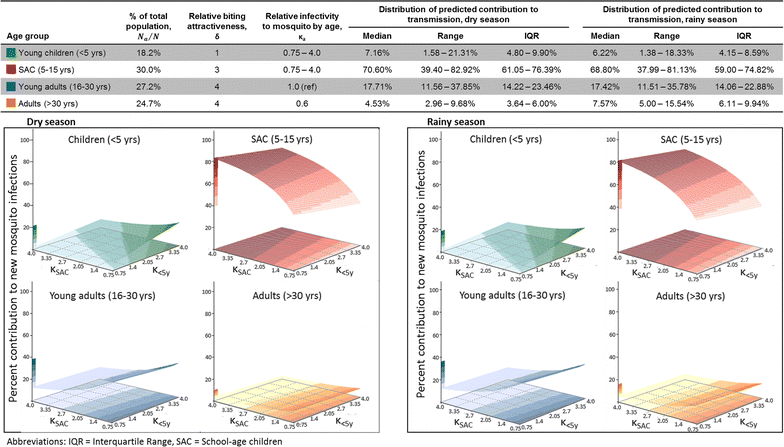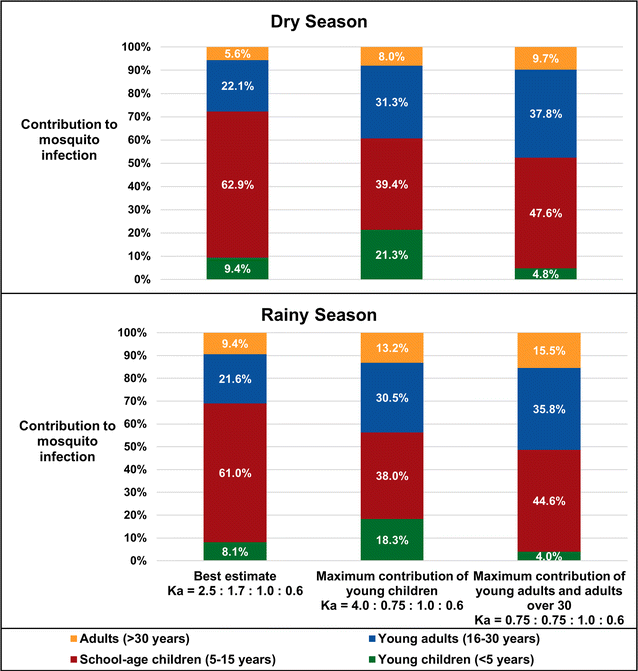 On the other hand, the predicted transmission contribution of U5s was sensitive to both their infectivity and the infectivity of SAC. Children under five comprise 18.2% of the population, but could only have contributed ≥ 18.2% of new mosquito infections if they were highly infectious relative to all other age groups, particularly during the rainy season. During the rainy season, even in the most extreme simulation, U5s would only have contributed a maximum of 18.3% of transmissions (Fig. 5). In the majority of simulated conditions, they were responsible for < 10% of transmission. In all simulations, they contributed less to transmission than SAC and young adults.
Discussion
Using recent molecular parasite data and reported ITN use in southern Malawi, this model estimated that SAC were responsible for > 60% of P. falciparum transmission to mosquitoes during both the dry and rainy seasons. The model estimated that young adults (16–30 years) were the second largest contributors to transmission; U5 children and adults over 30 years were each predicted to have caused < 10% of mosquito infections in most simulations. The proportion of mosquito infections attributable to each human age group did not differ considerably by season. Lacking human-to-mosquito infectivity data from skin or membrane feeding, sensitivity analyses were performed under a reasonable range of estimates of relative infectivity by age after accounting for gametocyte density distributions. If U5s are far more infectious to mosquitoes than all other age groups at a given gametocyte density, their estimated transmission contribution approached 20%, but SAC and young adults remained the largest and second largest contributors in these simulations. These findings may help explain P. falciparum's persistence in the area despite considerable malaria control efforts in the past decade which targeted groups at high risk of disease—pregnant women and children under five.
Predictions about the transmission reservoir are sensitive to heterogeneity in mosquito biting, particularly in evaluating the contribution of U5s. Several prior lab studies of infectivity have made simple estimates of age-specific transmission contributions; however, those reports assumed homogeneous mosquito feeding [10–17]. The model presented here, like those of Stone et al. [21] and Gonçalves et al. [18], demonstrated that such a homogeneity assumption considerably overestimates the contribution of U5s and underestimates that of older age groups. In their mosquito blood meal source matching study, Gonçalves et al. [18] found that the degree of heterogeneity in mosquito biting by human age was different for their high and moderate transmission sites. The biting frequency ratio in the high transmission site was even more extreme than that used by Stone et al. and the model presented here, at 1:7:20 for U5s compared to SAC and adults 16 years and older, but the increase in biting frequency with age was moderate (1:2.3:2.1) and did not achieve statistical significance in the low/moderate intensity transmission site in Kenya. Given the sensitivity of transmission dynamics to this parameter, future research should better quantify heterogeneity in human exposure to feeding mosquitoes to more accurately identify key P. falciparum transmission reservoirs, and assess the factors which drive variation in this age-specific biting heterogeneity in different geographic settings.
The results presented here using recent empirical data from southern Malawi predict high transmission contribution from SAC, and are consistent with those of Stone et al. [21] which were based on generic sub-Saharan African estimates of parasite prevalence and population distribution. This suggests that the findings may be generalizable to other sub-Saharan African settings with high P. falciparum endemicity. A worksheet of the model calculations that other researchers can utilize in their specific contexts with, at a minimum, age-specific data on (1) population distribution; (2) estimated PCR prevalence; and (3) frequency of ITN use is provided as Additional file 3. Results should be interpreted with caution in settings with different malaria epidemiology, particularly those near elimination or where non-falciparum malaria is common.
A potential limitation of the study was the use of four compartments for gametocyte density, and the subsequent need to average the density-dependent transmission probability within each compartment. The estimation of parameters for each compartment based on Churcher et al. [24] resulted in a lower relative likelihood of transmission for the highest density categories compared to that applied in some other models [26]; however, the very small proportion of high density gametocyte carriers in this community-based population makes the model relatively insensitive to changes in the value selected for that compartment. This limitation would be critical, however, if the few high density gametocyte carriers are disproportionately likely to be fed upon by mosquitoes, essentially driving transmission as 'superspreaders'. As seen in this model, transmission patterns may be highly sensitive to heterogeneity in blood feeding. More research matching blood meals to specific human sources is needed to understand mosquito feeding patterns in real-world settings. If it is discovered that a select few superspreaders are responsible for the majority of Plasmodium transmission, this would have significant limitations for targeting interventions aimed at control and/or elimination.
Further, the model is static and depends on measured prevalence data, without regard for the causes of differential prevalence of infection by human age. While this should not limit inferences about transmission contributions for the time-period studied, design of effective interventions will require better understanding of whether differences in infection prevalence are a result of differences in risk of infection, natural infection clearance time, frequency of anti-malarial treatment, or some combination of these.
Conclusions
This model predicted that SAC and young adults were responsible for > 80% of all new mosquito infections in southern Malawi, with SAC contributing ~ 60% overall despite comprising only 30% of the population. A critical implication is that malaria elimination is unlikely in persistent settings like southern Malawi unless researchers and policy-makers develop interventions that can successfully reduce transmission from these groups, who are often asymptomatic and submicroscopically infected. More sensitive rapid detection methods and development of safe/effective drugs for transmission reduction are therefore fundamental to further progress toward malaria eradication.
Abbreviations
ICEMR:

International Center of Excellence for Malaria Research
ITN:

insecticide-treated net
LDH:

lactate dehydrogenase
qPCR:

quantitative polymerase chain reaction
qRT-PCR:

quantitative reverse transcription polymerase chain reaction
SAC:

school-age children
U5s:

children under 5 years of age
Declarations
Authors' contributions
JEC performed molecular testing, assisted with data and sample collection, completed data cleaning, created the statistical models, performed all model analyses, and drafted the manuscript. LMC assisted with data and sample collection and management, contributed to the design and conduct of the cross-sectional study, aided with conceptual design of the simulation models, and provided critical review of the manuscript. AGB assisted with conceptual design of the model, estimation of model parameters, and provided critical review of the manuscript. AN performed molecular testing and provided critical review of the manuscript. JK performed literature reviews, assisted with estimation of model parameters, and provided critical review of the manuscript. KBS managed data processing and molecular testing and provided critical review of the manuscript. DM and TET both contributed to the design and conduct of the cross-sectional study and provided critical review of the manuscript. MKL contributed to the design and conduct of the cross-sectional study, aided with conceptual design of the model, and provided critical review of the manuscript. MLW aided with conceptual design of the model, estimation of model parameters and interpretation of results, and provided critical review of the manuscript. All authors read and approved the final manuscript.
Acknowledgements
Our sincere thanks to the field team, staff coordinators, laboratory technicians, and study participants from the cross-sectional studies, without whom this analysis would not be possible. We would also like to thank Dr. Matthias Marti for provision of the Pf.2004 TdT P. falciparum strain used for gametocyte standard curves, and Drs. Andre Lin Ouedraogo, Edward A. Wenger, and Philip A. Eckhoff from IDM for providing detailed infectivity data related to their 2016 publication to enable additional stratification that was not included in the original published analysis [17].
Competing interests
The authors declare that they have no competing interests.
Availability of data and materials
The models supporting the conclusions of this article are included as Additional files 4 and 5 for Berkeley Madonna modelling software, and can be provided in other formats upon request. The raw data used to estimate parameters for this model are part of an ongoing study. All data will be deidentified and made available after the study's conclusion.
Consent for publication
Not applicable.
Ethics approval and consent to participate
The study which provided raw data for parameter estimation relevant to southern Malawi was approved by the independent Institutional Review Boards of the University of Malawi College of Medicine, the University of Maryland, Baltimore, and Michigan State University. Informed consent was obtained for all individuals included in the study.
Funding
This work was supported by the National Institute of Allergy and Infectious Diseases (NIAID) [U19AI089683 and R21AI107421] and the National Institute of General Medical Sciences (NIGMS) [K12 GM000708] at the National Institutes of Health (NIH).
Publisher's Note
Springer Nature remains neutral with regard to jurisdictional claims in published maps and institutional affiliations.
Open AccessThis article is distributed under the terms of the Creative Commons Attribution 4.0 International License (http://creativecommons.org/licenses/by/4.0/), which permits unrestricted use, distribution, and reproduction in any medium, provided you give appropriate credit to the original author(s) and the source, provide a link to the Creative Commons license, and indicate if changes were made. The Creative Commons Public Domain Dedication waiver (http://creativecommons.org/publicdomain/zero/1.0/) applies to the data made available in this article, unless otherwise stated.
Authors' Affiliations
(1)
Department of Epidemiology, School of Public Health, University of Michigan, Ann Arbor, USA
(2)
Division of Malaria Research, Institute of Global Health, University of Maryland School of Medicine, Baltimore, USA
(3)
Blantyre Malaria Project, University of Malawi College of Medicine, Blantyre, Malawi
(4)
College of Osteopathic Medicine, Michigan State University, East Lansing, USA
(5)
Malaria Alert Centre, University of Malawi College of Medicine, Blantyre, Malawi
(6)
Center for Insect Science and Department of Epidemiology and Biostatistics, University of Arizona, Tucson, USA