Pharmacokinetic properties of intramuscular versus oral syrup paracetamol in Plasmodium falciparum malaria
Malaria Journal
2016
15:244
Received: 21 January 2016
Accepted: 12 April 2016
Published: 27 April 2016
Abstract
Background
Fever is an inherent symptom of malaria in both adults and children. Paracetamol (acetaminophen) is the recommended antipyretic as it is inexpensive, widely available and has a good safety profile, but patients may not be able to take the oral drug reliably. A comparison between the pharmacokinetics of oral syrup and intramuscular paracetamol given to patients with acute falciparum malaria and high body temperature was performed.
Methods
A randomized, open-label, two-treatment, crossover, pharmacokinetic study of paracetamol dosed orally and intramuscularly was conducted. Twenty-one adult patients with uncomplicated falciparum malaria were randomized to receive a single 600 mg dose of paracetamol either as syrup or intramuscular injection on day 0 followed by a single dose administered by the alternative route on day 1. Paracetamol plasma concentrations were quantified frequently and modelled simultaneously using nonlinear mixed-effects modelling. The final population pharmacokinetic model was used for dose optimization simulations. Relationships between paracetamol concentrations with temperature and parasite half-life were investigated using linear and non-linear regression analyses.
Results
The population pharmacokinetic properties of paracetamol were best described by a two-compartment disposition model, with zero-order and first-order absorption for intramuscular and oral syrup administration, respectively. The relative bioavailability of oral syrup was 84.4 % (95 % CI 68.2–95.1 %) compared to intramuscular administration. Dosing simulations showed that 1000 mg of intramuscular or oral syrup administered six-hourly reached therapeutic steady state concentrations for antipyresis, but more favourable concentration–time profiles were achieved with a loading dose of 1500 mg, followed by a 1000 mg maintenance dose. This ensured that maximum therapeutic concentrations were reached rapidly during the first 6 h. No significant relationships between paracetamol concentrations and temperature or parasite half-life were found.
Conclusions
Paracetamol plasma concentrations after oral syrup and intramuscular administration in patients with acute falciparum malaria were described successfully by a two-compartment disposition model. Relative oral bioavailability compared to intramuscular dosing was estimated as 84.4 % (95 % CI 68.2–95.1 %). Dosing simulations showed that a loading dose followed by six-hourly dosing intervals reduced the time delay to reach therapeutic drug levels after both routes of administration. The safety and efficacy of loading dose paracetamol antipyretic regimens now needs to be established in larger studies.
Keywords
ParacetamolPharmacokineticsFalciparum malariaIntramuscularRandomized crossover trialAntipyreticNONMEM
Background
The clinical features of all human malarias start non-specifically with influenza-like symptoms, including fever. Rising temperatures initially cause shivering, mild chills, worsening headaches, malaise, and loss of appetite. Fever in malaria is initially usually irregular. In untreated infection, the fever in Plasmodium falciparum can regularize to a 2-day cycle (tertian malaria), although this is more variable than in infections with Plasmodium vivax. Before treatment in synchronous infections classic periodic 'paroxysms' typically occur every 2 days (three in P. malariae infections) characterized by an abrupt steeply rising temperature to >39 °C with intense headache, uncomfortable 'cold chills' with peripheral vasoconstriction, and often frank rigors with shaking limbs and teeth chattering [1]. These paroxysms are more likely with relapses, and although firmly established in the history and nomenclature of malaria, they are rarely observed today in the era of prompt and effective anti-malarial drug treatment. In adult patients with severe P. falciparum malaria, 60 % present with fever ≥38 °C. There is increased mortality in hyperpyrexic patients (>40.5 °C) [2]. Fever in malaria is associated with anorexia, nausea and vomiting, which exacerbate dehydration due to insensible losses. Fever may also increase sequestration of infected red blood cells and thus potentially contribute to clinical deterioration in severe malaria patients. The increased metabolic rate associated with fever exacerbates anaerobic glycolysis in vital organs affected by microvascular obstruction [3]. The World Health Organization (WHO) recommends giving regular paracetamol every 6 h if core temperatures exceed 38.5 °C [4, 5]. Studies without pharmacokinetic assessments have shown conflicting results regarding the effects of paracetamol on fever and parasite clearance in patients with uncomplicated malaria [6–8]. In practice, achieving therapeutic (antipyretic) plasma concentrations may be compromised, since paracetamol is often given irregularly at low doses and patients who are nauseated or unconscious will be unable to take paracetamol orally. Paracetamol given orally or via a nasogastric tube is subjected to approximately 20 % first-pass metabolism [9–11]. Pharmacokinetic studies show that higher dosing is required to achieve therapeutic serum concentrations when paracetamol is given by the rectal route [12–14]. Due to the practical obstacles of delivering adequate suppository doses to adults, the majority of patients are under-dosed by this route [15].
In many malaria-endemic countries intramuscular paracetamol is used widely as an antipyretic in patients with malaria, particularly in those unable to take oral medication. However, relative bioavailability and antipyretic efficacy of intramuscular paracetamol in patients with malaria have never been investigated. A study of intramuscular paracetamol in children undergoing minor surgery showed that intramuscular paracetamol achieved higher drug levels compared to suppositories [16]. However, in sick patients with poor muscle perfusion the relative bioavailability of intramuscular paracetamol could be reduced. To determine the preferred route of administration, a randomized, crossover, pharmacokinetic comparison of paracetamol given by the intramuscular route versus oral/nasogastric tube route in patients with acute falciparum malaria and high fever was conducted.
Results
Baseline characteristics
Twenty-one adults with acute falciparum malaria were included in this analysis (Fig.
1
). Admission temperature ranged from 38.1 to 41.2 °C. Baseline characteristics are shown in Table
1
. Of the 21 patients, seven received extra doses of paracetamol during the 2-day study period. One patient in Group 1 withdrew from the study 12 h after the initial oral dose and did not receive the intramuscular dose on the second day. One patient in Group 2 was given extra oral doses starting 6 h after the initial intramuscular study dose for high fever (>39 °C) and did not receive the scheduled oral study dose the second day. Participants in Group 2 were older, weighed less and had increased ALT and ALP concentrations compared to Group 1 (Table
1
). One patient in Group 2 was subsequently diagnosed as having severe malaria based on a total bilirubin >3 mg/dl with a parasitaemia >100,000/μl. Concomitant drugs taken by the patients included dimenhydrinate (n = 2), metoclopramide (n = 4) and domperidone (n = 1). No patient reported excessive alcohol intake.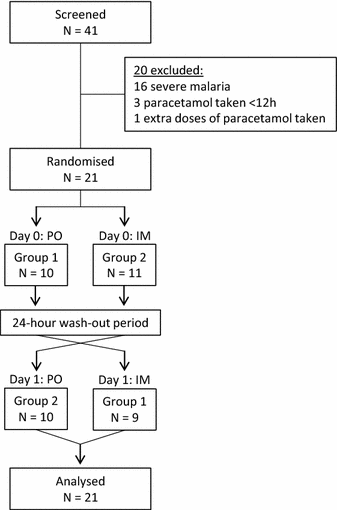 Table 1
Baseline characteristics stratified by treatment group
Variable

Total

Group 1

Group 2

(n = 21)

(n = 10)

(n = 11)

Age (years)

25 (22–37; 15,54)

23 (20–30; 15,37)

33 (22–52; 20–54)

Males (%)a

19 (90)

9 (90)

10 (91)

Weight (kg)

58 (55–63; 47,70)

60 (58–65; 55,70)

55 (50–60; 47,70)

Temperature (°C)

39.6 (39.0–40.5; 38.1,41.2)

40.1 (38.2–40.5; 38.1,41.2)

39.4 (39.0–40.5, 38.6,40.8)

Heart rate (beats/min)

100 (92–115; 80,122)

109 (95–120; 92,122)

94 (90–104; 80,120)

Parasitaemia (parasites/μl)b

47,573 (19,769–114,477)

46,793 (13,117–166,929)

48,293 (11,436–203,926)

Haematocrit (%)

44 (38–46; 22,54)

44 (36–45; 34,51)

45 (41–48; 22,54)

Creatinine (μmol/l)

101 (87–112; 70,136)

99 (83–113; 70,131)

105 (92–111; 81,136)

BUN (mg/dl)

16 (15–22; 12,34)

15 (14–21; 13,34)

16 (15–22; 12,29)

AST (IU/l)

40 (27–49; 14,132)

32 (26–42; 14,67)

45 (30–52; 25,132)

ALT (IU/l)

16 (10–28; 9,40)

11 (10–15; 9,28)

26 (16–36; 9,40)

ALP (IU/l)

88 (69–105; 54,311)

72 (63–96; 54,218)

98 (87–116; 70,311)

Total bilirubin (mg/dl)

1.6 (1.2–2.2; 0.6,6.9)

1.9 (1.5–2.4, 1.0,2.7)

1.3 (0.9–1.6; 0.6,6.9)

Indirect bilirubin (mg/dl)

0.4 (0.3–0.5; 0.2,2.4)

0.5 (0.4–0.6; 0.2,0.7)

0.4 (0.3–0.4, 0.2,2.4)
Pharmacokinetics
Of the 21 patients, 363 plasma paracetamol concentrations were included in the pharmacokinetic analysis. Paracetamol concentration–time data were well described by a two-compartment disposition model. Adding an additional disposition compartment improved the model fit P < 0.05), but not goodness-of-fit plots and visual predictive checks. However, the main driver of this significant improvement in model fit was one patient, resulting in a non-significant (P > 0.05) improvement in model fit when this patient was omitted. Furthermore, the terminal half-life estimated from the three-compartment disposition model was unrealistically long (median terminal half-life of 600 h) compared to extensive previous investigations (1.5–2.5 h) [26]. Thus, the two-compartment disposition model was carried forward. Zero-order absorption for intramuscular administration and first-order absorption for oral administration best described the absorption phase of paracetamol compared to all other absorption models (ΔOFV > −62.1).
Allometric scaling of pharmacokinetic parameters did not improve model fit significantly. Thus, body weight was not incorporated into the final model. The stepwise covariate search showed no significant relationships in this population. Inter-individual variability in the duration of zero-order absorption and apparent of volume of distribution were less than 1 % and fixed to zero, without affecting the OFV. Parameter estimates from the final paracetamol pharmacokinetic model are shown in Tables
2
and
3
.
Table 2
Parameter estimates of the final population pharmacokinetic model of paracetamol in patients with falciparum malaria
Parameter

Population estimatea

(%RSE)b

95 % CIb

IIV (%CV)a

(%RSE)b

95 % CIb

FIM

1 fixed

–

–

–

FPO

0.844 (8.4)

0.682–0.951

287 (49.1)

76.5–1038

DURIM (h)

0.689 (6.2)

0.621–0.784

–

–

ka,PO (h−1)

4.15 (44.5)

1.95–9.73

232 (49.7)

39.9–574

CL (l/h)

10.7 (16.9)

7.35–14.7

81.8 (69.7)

24.4–164

VC (l)

45.5 (8.5)

36.7–51.5

–

–

Q (l/h)

10.3 (36.8)

4.80–20.1

77.4 (44.0)

21.1–105

VP (l)

11.3 (42.7)

5.01–29.0

428 (46.5)

112–2351

σ

0.376 (7.8)

0.316–0.436

–

–
Table 3
Secondary parameters of paracetamol after intramuscular and oral syrup administration in patients with falciparum malaria
| Secondary parameters | Intramuscular administration | Oral administration | P value |
| --- | --- | --- | --- |
| CMAX (mg/l) | 11.4 (10.8–11.8) | 8.52 (7.42–9.55) | <0.0001 |
| TMAX (h) | 0.689 (fixed) | 0.705 (0.577–1.00) | 0.442 |
| t1/2 (h) | 3.18 (2.67–4.30) | 3.03 (2.07–3.53) | 0.196 |
| AUC0–12 (h × mg/l) | 37.9 (27.5–44.9) | 31.6 (27.0–39.3) | 0.229 |
The final paracetamol pharmacokinetic model showed satisfactory goodness-of-fit diagnostics (Fig.
2
) and visual predictive performance (Fig.
3
). Eta-shrinkage was less than 30 % except for inter-individual variability of inter-compartmental clearance and absorption rate constant (54.9 and 35.8 %, respectively). The numerical predictive check after intramuscular administration resulted in 1.11 % (95 % CI 0.556–12.2 %) and 2.22 % (95 % CI 1.11–10.6 %) of observations below and above the simulated 90 % prediction interval, respectively. The numerical predictive check after oral administration resulted in 1.09 % (95 % CI 0–12.6 %) and 6.56 % (95 % CI 1.09–10.9 %) of observations below and above the simulated 90 % prediction interval, respectively.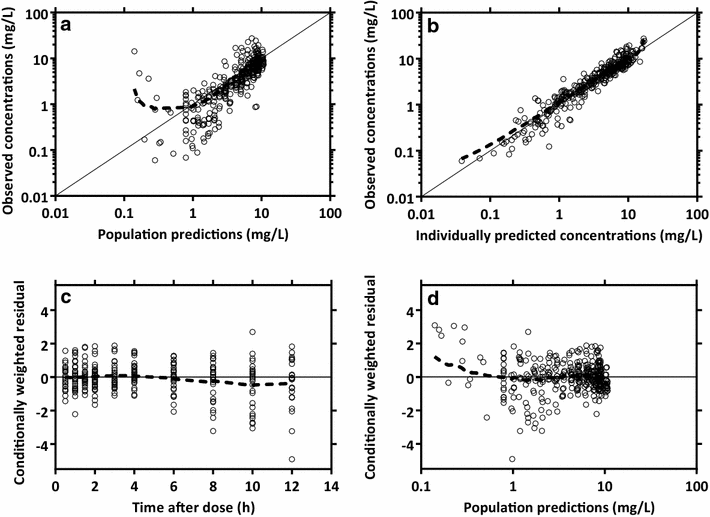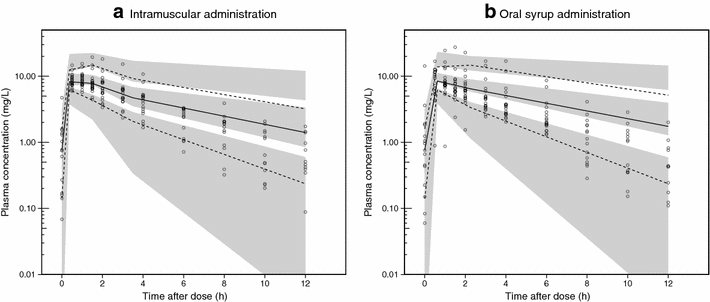 Two simulated dosing regimens of 1000 mg intramuscular and oral syrup every 6 h (Fig.
4
) achieved mean steady state therapeutic levels of paracetamol (>10 mg/l). However, lower peak concentrations were seen after the first dose, which suggested the need for a 1500 mg loading dose in order to achieve a rapid onset of maximum therapeutic efficacy (Fig.
4
). A fixed maintenance dose of 600 mg intramuscular or oral syrup every four hours also showed adequate steady state concentrations but this regimen failed to reach the therapeutic levels during the first 6 h after administration (Fig.
4
).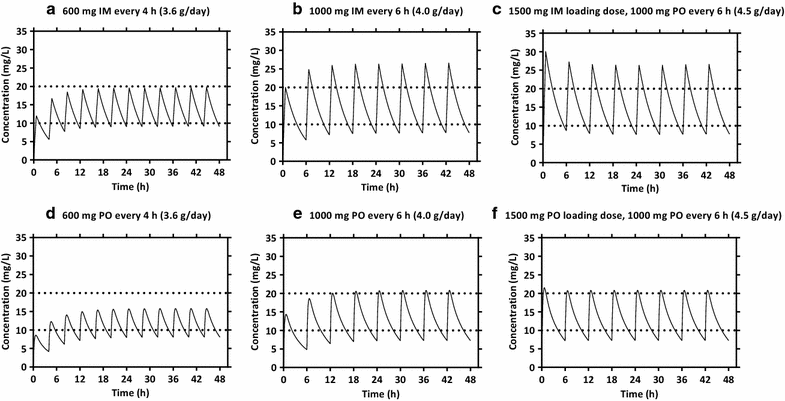 The linear regression analysis showed no statistically significant relationship between CMAX and temperature reduction two hours post-dose (P = 0.65). There was a trend of a longer parasite half-life with higher CMAX but this was not statistically significant (P = 0.20). When stratified by administration route, the relationship between the intramuscular CMAX and parasite clearance half-life was more evident (P = 0.030). However, the pharmacodynamic model assessing the relationship of paracetamol concentrations and the relative change in parasite clearance half-life showed no statistical improvement of adding paracetamol concentrations as a direct-effect on the estimated parasite clearance rate (ΔOFV = −2.85). Adding a hypothetical effect-compartment to account for a delayed effect of paracetamol on parasite clearance (hysteresis) showed no improvement of the model (ΔOFV = −0.06).
Discussion
Although paracetamol has been used clinically as an antipyretic for over 100 years, there is a paucity of literature describing its pharmacokinetic properties after intramuscular administration. Paracetamol is by far the most widely used antipyretic in malaria, one of the most common causes of fever in tropical countries. Patients with malaria often vomit, particularly with high fever, and in cerebral malaria are unconscious, so the intramuscular route provides an alternative administration option (in the absence of a bleeding tendency). In this study the disposition of paracetamol was best described by a two-compartment disposition model, which is consistent with previous pharmacokinetic reports [27]. Since one-compartment structural models of oral syrup paracetamol pharmacokinetics have been reported, separate analyses of structural models for intramuscular and oral administration were performed [28]. The results showed that the two-compartment disposition of the final pharmacokinetic model was driven by the intramuscular data. A one-compartment disposition model was adequate for oral syrup administration demonstrating that the rapid distribution phase after parenteral administration was obscured by the oral absorption phase. As expected, the absorption of paracetamol administered intramuscularly and orally was best described by zero-order and first-order absorption, respectively. A more flexible transit absorption model did not result in a statistical improvement when fitting the absorption data after oral administration. This may be a consequence of few data in the absorption phase. The CMAX was observed at approximately 40 min after both intramuscular and oral administration, which is also similar to previous reports [26, 29]. However, few data points in the absorption phase might bias these estimates and they should be interpreted with caution. The relative oral bioavailability compared to intramuscular administration was 84.4 % (95 % CI 68.2–95.1 %). This is in agreement with a previously reported absolute oral bioavailability of paracetamol syrup of 87 % [30]. This bioavailability of oral tablets of paracetamol is usually reported as slightly lower (i.e., 63–90 %), presumably because of better absorption of syrup formulation [31, 32]. The CMAX of paracetamol after intramuscular and oral administration (600 mg) were 11.4 and 8.52 mg/l, respectively. The lower CMAX of oral paracetamol is explained by incomplete absorption and the first-pass metabolism that occurs during absorption before paracetamol enters the systemic circulation, and the slower absorption obscuring distribution from an apparent central compartment [9]. While the pharmacokinetics of paracetamol in severe falciparum malaria have not been studied, the bioavailability of oral paracetamol may be even lower given the decrease in gastric emptying [33] and splanchnic blood flow [34] observed in severe malaria. Slower absorption of intramuscular paracetamol would also be expected in severe malaria. Although the bioavailability of intramuscular paracetamol is higher than the oral route, the relatively high cost of a 3 day course (1 g every 6 h) of parenteral paracetamol (intramuscular: 4.87 USD* (Atlantic Laboratory); intravenous: 53.28 USD* (generic Perfalgan) *excluding additional costs of administration) compared to oral paracetamol (tablets: 0.24 USD; syrup: 2.40 USD) [35] and the limited availability restrict the global use of parenteral paracetamol.
The population pharmacokinetic model of paracetamol showed large inter-individual variability in most pharmacokinetic parameters, probably due to small sample size and limited data for each route of administration. However, the visual predictive check of the final pharmacokinetic model suggested adequate predictive performance.
Dosing simulations of a 1500 mg loading dose followed by a maintenance dose of 1000 mg every 6 h resulted in more favourable paracetamol plasma concentration–time profiles, reaching maximum therapeutic concentrations rapidly after the first dose. This suggests that a loading dose might be needed for a rapid onset of maximum antipyretic effects. Dosing simulations of intramuscular and oral syrup paracetamol administered at a dose of 600 mg every 4 h showed that this regimen reached therapeutic steady state concentrations but with a delayed onset of action. However, the total daily dose of paracetamol that would be administered with the loading dose regimens would be 4.5 g/day, which is above the recommended maximum daily adult dose of 4 g.
Administration of tablets and suppositories may not reach therapeutic concentrations because of lower bioavailability compared to orally administered paracetamol syrup [15, 26, 36–38]. Thus, currently recommended dose regimens for tablets and suppositories may not be sufficient to reach similar steady-state concentrations compared to paracetamol syrup. Therefore, the limited effect of paracetamol on fever clearance reported in uncomplicated malaria studies that administer suppositories or tablets, or do not directly observe therapy, may reflect sub-therapeutic paracetamol levels [6, 39].
Paracetamol is potentially hepatotoxic and total adult doses over 4 g/day are not generally recommended. Although not used widely, high doses of paracetamol have been studied both as single loading doses and as multiple dosing regimens that exceed 4 g/day. A single 2 g dose of intravenous paracetamol for post-operative pain has been shown to be efficacious and safe in patients undergoing dental surgery compared to a 1 g dose [40]. A multiple dose regimen of 2 g intravenous paracetamol followed by 1 g every 6 h (total, 5 g in 24 h) in healthy subjects showed no drug accumulation during the regimen and no hepatotoxicity at 72 h after the first dose [41]. The mean CMAX measured 15 min after the 2-g intravenous infusion was 67.9 ± 21.8 μg/ml, which is below the toxic range. Multiple-dose regimens of 6 g per day for 3 days (1 g orally every 4 h) studied in stroke patients showed a significant temperature lowering effect and no significant hepatotoxicity compared to placebo [42, 43]. In the current study, a simulated 1500 mg loading dose followed by 1000 mg every 6 h achieved therapeutic concentration–time profiles of paracetamol rapidly when administered by either route. Although the total daily dose of this regimen (4.5 g/day) exceeds the recommended maximum adult daily dose, the simulated maximum plasma concentrations were well below the potential hepatotoxic threshold concentration of 150 mg/l measured 4 h post-dosage [44]. Also, the bioavailability of the loading dose paracetamol regimen administered by intramuscular and oral syrup routes is expected to be lower than the intravenous (5 g/day) regimen used in other studies [41]. Evidently, larger clinical safety and efficacy assessments of this regimen would be required to confirm the general applicability of loading doses of paracetamol in this population.
Febrile temperatures have been shown to accelerate and increase cytoadherence of parasitized erythrocytes in vitro [3]. In a study of African children receiving regularly dosed rectal paracetamol, it was suggested that those receiving paracetamol had a prolonged parasite clearance time compared to patients treated with mechanical antipyresis [6]. One hypothesis is that paracetamol reduces fever, which may then result in less cytoadherence, sequestration and thus increase circulating peripheral blood parasitaemia. This effect could be interpreted as a prolonged parasite clearance time. The pharmacodynamic model in this study showed that higher paracetamol concentrations resulted in an insignificant temperature reduction, and there was a trend to prolongation of parasite clearance rate. The lack of a significant pharmacodynamic effect observed in this study is likely due to the single daily low dose of paracetamol administered and the small sample size.
The small sample size and limited number of pharmacokinetic samples are limitations of the current study. Larger studies are warranted to determine the safety and efficacy of the proposed loading dose regimen.
Conclusions
The population pharmacokinetic properties of paracetamol were characterized after both intramuscular and oral syrup administration. Oral bioavailability was estimated as 84.4 % relative to intramuscular administration in patients with acute uncomplicated falciparum malaria. Modelling and simulation showed that 1 g of paracetamol administered six-hourly by intramuscular or oral syrup routes predicted therapeutic steady-state concentration–time profiles. Maximum therapeutic steady-state concentrations were reached more rapidly by adding a loading dose to the standard regimen. This pharmacokinetic analysis showed that sub-therapeutic paracetamol concentrations are reached after a single 600 mg dose of paracetamol, which may explain the insignificant temperature lowering effect of paracetamol observed in this study. The safety and efficacy of the loading dose regimens needs to be established in this population to ensure that adequate antipyretic dosing is administered to patients with uncomplicated falciparum malaria.
Declarations
Authors' contributions
PT, PN, WC, RR, NJW, and AMD conceived of and conducted the study. PT analysed plasma paracetamol concentrations. TW and JT performed the pharmacokinetic analysis. TW, KP, NJW, AMD, and JT contributed to the analysis and interpretation of the data. TW and KP drafted the manuscript. All authors critically revised the manuscript for content and approved the final manuscript. All authors read and approved the final manuscript.
Acknowledgements
We thank the patients, staff and directors at Mae Sot Hospital, for making this study possible. We also thank Dr. Chintana Mokaves and staff at the Toxicology Unit, Department of Pathology, Faculty of Medicine, Ramathibodi Hospital, Thailand, for drug analysis. This investigation was part of the Wellcome Trust-Mahidol University-Oxford Tropical Medicine Research Programme supported by the Wellcome Trust of Great Britain. Part of this work was also supported by the Bill and Melinda Gates Foundation. The funding bodies did not have any role in the collection, analysis and interpretation of data, in the writing of the manuscript, or in the decision to submit the manuscript for publication.
Competing interests
The authors declare that they have no competing interests.
Open AccessThis article is distributed under the terms of the Creative Commons Attribution 4.0 International License (http://creativecommons.org/licenses/by/4.0/), which permits unrestricted use, distribution, and reproduction in any medium, provided you give appropriate credit to the original author(s) and the source, provide a link to the Creative Commons license, and indicate if changes were made. The Creative Commons Public Domain Dedication waiver (http://creativecommons.org/publicdomain/zero/1.0/) applies to the data made available in this article, unless otherwise stated.
Authors' Affiliations
(1)
Mahidol-Oxford Tropical Medicine Research Unit, Faculty of Tropical Medicine, Mahidol University, Bangkok, Thailand
(2)
Nuffield Department of Medicine, Centre for Tropical Medicine and Global Health, University of Oxford, Oxford, UK
(3)
Primary Care Unit, Siriraj Hospital, Mahidol University, Bangkok, Thailand
(4)
Lao-Oxford-Mahosot Hospital-Wellcome Trust Research Unit, Mahosot Hospital, Vientiane, Lao People's Democratic Republic
(5)
Department of Medicine, Mae Sot Hospital, Mae Sot, Thailand